Hey everyone. Capone in Chicago here.

I've said it before, and I'll say it again: I feel lucky every time I get to interview Vera Farmiga. Since seeing her play a drug-addicted, single mother in 2004's DOWN TO THE BONE, I've believed she's one of the finest actresses working today. She's also an intelligent, enlightened person whose perspective on her work and career is clear and well articulated.

Before her Oscar-nominated performance in UP IN THE AIR, most people only knew her as essentially the woman in THE DEPARTED, or perhaps you remember her as Paul Walker's sexy-as-hell wife in RUNNING SCARED (an experience I felt necessary to discuss in this interview given Walker's recent passing). Or as the maybe-crazy mom in either JOSHUA or ORPHAN. And if you didn't blink, you may have seen her as the philosophical Russian prostitute in Anthony Minghella's BREAKING AND ENTERING. She was appropriately authoritative as the military scientist guiding Jake Gyllenhaal through the SOURCE CODE, and as the snooty small-town actress in HENRY'S CRIMES, opposite Keanu Reeves. Her directed debut, HIGHER GROUND, also marked what I believe to be the single best performance of her career and the first time she worked with you sister Taissa (who played her character as a young girl).

But let's just look at what Farmiga has accomplished in the last year. With just the right balanced levels of smothering, overly protective and crazy, she made what should have a been a complete throwaway of a TV series, "Bates Motel" into a highly enjoyable show with her as mother Bates (Season 2 begins March 3 on A&E). By taking the material and role of Lorraine Warren seriously, she turned THE CONJURING not only into one of the scariest and most successful films of 2013, but also one of the finest (with an inevitable sequel likely to be announced soon).

And somewhere in all of these, Farmiga also managed to shoot AT MIDDLETON, an indie co-starring Andy Garcia and sister Taissa once again (this time playing her daughter) about two parents, each bringing their kids to tour a potential college and forming unlikely friendships in the process. It occurred to me as I was watching this film that I rarely, if ever, get to see Vera Farmiga cut loose in a comedic sense like she does here, and it was quite enjoyable watching her act reckless and silly after piling on the dramatic and series roles for the last 10 years.

This is the fourth time I've been fortunate enough to interview Farmiga, which I'm pretty sure means we're engaged at this point; I'll have to check the handbook to confirm that. If not, I hope I get future opportunities to pick her brain about the types of roles she's drawn to, acting, and all manner of other interesting topics. As I mentioned earlier, I did want to get her remembrances about working with Paul Walker on RUNNING SCARED, arguably the best pure performance of his career, which including a few truly intimate scenes with Farmiga. Her comments are actually quite moving. Please enjoy my latest chat with the great Vera Farmiga…






Vera Farmiga: Hello, Steve. How are you?



Capone: Good. How are you?



VF: I'm good.



Capone: I believe this is the fourth time I've interviewed you.



VF: I know. I know that. But we didn't talk for THE CONJURING, did we?



Capone: No, we didn't. I wish. Speaking of which, I've got to say what all of you did with THE CONJURING truly elevated the horror genre in ways it hasn't been since really like the '70s. And now it's showed up on people's year-end lists for 2013. That has to be rewarding.



VF: That's so cool. Yeah, I know. As you know, I cherish my collaborations with Patrick [Wilson] and with James [Wan], and I really have an admiration for the woman that I play. I think it's an important story; I'm not just making another horror flick,. I really think this is the go-to gal for over the last five decades that people have gone to for discernment on certain negative mysticism. It's a crazy subject matter. It's bigger than my brain can contemplate. So, I'm hoping to see CONJURING 2 sooner than later.



Capone: I was going to ask you, is there a chance that we'll get to further adventures of Lorraine and Ed [Warren]?



VF: I think so. There are so many more stories to tell, and obviously it was a vital thing for New Line, and it seems implausible to not go for number 2 and even number 3. But, I don't know anything concrete just yet. I think it's being figured out right now. Because of course, we'd love to have James Wan at the helm, and he's experienced a certain measure of…stress recently.



Capone: He's got a tough job ahead of him, yeah. As you probably know, in some of the conversations that came up after Paul Walker passed away, it seemed like the one thing everyone agreed on was that RUNNING SCARED was not only the best movie he ever made, but the best performance he ever gave. You were obviously such an integral part of that and perhaps even drew that performance out of him to an extent.



VF: Yeah, man, that just ignites my heart, and it brings a tear to my eye because I can genuinely call him one of my favorite scene partners ever. We did some really intimate work. My knowing him came at a really transitional phase in my life, and not only were we playing husband and wife but we would work out everyday together, and he just was kindness personified. He really had that dazzling smile of his. You can't fake that, man. It's a testament to who he was, and the purity and the goodness of who he was. We recently communicated through James Wan [who is directing FAST & FURIOUS 7] when we were in San Francisco, and James and I saw each other, and we sent blessings each others' ways and regards. He's always held such a special place in my heart because it was such a formative experience for me. I had just done DOWN TO THE BONE, and Marty's film [THE DEPARTED], and this is one of my first chances at playing a leading character in a film, and I couldn't have asked for a more willing participant and a sweetheart of a guy. That film became kind of more successful in that rental afterlife. I think it had a bigger shelf life there.



Capone: It's still one I revisit from time to time; it's a great, really beautiful-looking film. I will close this prologue by saying I'm also like a religious admirer of what you're doing on "Bates Motel," and I wish we had more time to talk about it.



VF: I'm sure we'll find time to talk about it. I think in another month, I'm sure we'll revisit this. Season 2 is going to be pretty splendid I think. I've never had the luxury of shooting a season 2 on a television show. I've done two before this, and I've never had the opportunity to do a 13-episode arc. So, it's really cool what happens in Season 2, when you solidify your collaboration with the writers;they honor what your fortes are as an actor. You go deeper, even deeper because there's a viable friendship that's set up with your castmates, and there's a kind of trust and a way to push each others buttons. There's just a bigger trust and a love that's established, so it's really cool and wacky what happens with Season 2.



Capone: I can't even wait. One of the times we spoke was when you came through Chicago with HIGHER GROUND, we talked about you directing your sister. But to have her play your daughter...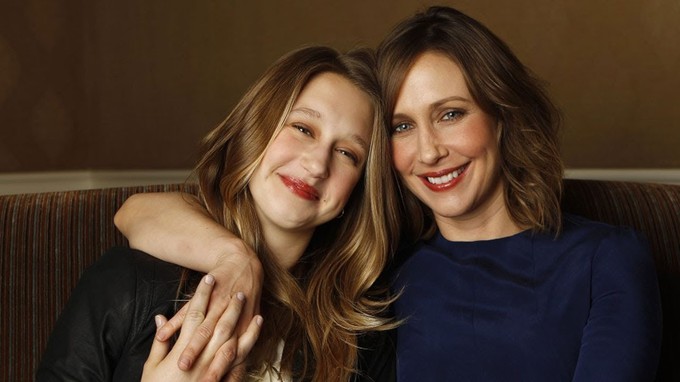 VF: [laughs] You know what? To me it was an obvious choice, and it was my obvious choice. If Andy didn't bring it up to me, the second thing I would have said to Andy is "Can my sister Taissa play my daughter?" Yeah, I may be biased, but she has something very very special, and it's very raw because she never had any ambitions to become an actor. She's been on a bunch of sets, but playing this opposite Taissa was going to be so visceral to me. Taissa, whom I love like a daughter. She is my daughter; she's my surrogate daughter. I'd like to think that I've been a pretty significant role model in her life. I look to her and she still looks to me even now to see if everything is really okay. This is the funny thing, she was texting me from the Golden Globes, and I'm sitting at home in Vancouver, and she's texting me "Who's Warren Beatty, because I have a meeting with him at 8:30."



Capone: That's bizarre.

VF: I know, and it was very relevant to us and who we are to each other. Shortly after HIGHER GROUND, this opportunity came for her career. I had put her on tape for "American Horror Story" Season 1. I'd put her on tape for BLING RING, for Sofia Coppola. We'd worked in that capacity, and she got both jobs. So, she was comfortable being directed by me, because we didn't share scenes in that. So this was our first time actually sharing the screen, and at this point, I directed her through all of these vignettes and these audition jobs, which she got. So, I just wanted a real turn with her, because I find her to be a fascinating actor as far as generationally speaking. She was my top choice to play my daughter, and it's not just nepotism.

At the same time, this is like life imitating art, where at the time of shooting it, I see her at this very precarious age, this very fragile age of 18. She's turning into womanhood, and all these opportunities are coming her way. I'm on this see-saw watching her go up, up, up. Look at her, there she goes. It's her turn. And I think it was incredibly relevant to what was happening between her and my mom at the time. My mom was still chaperoning her on set, meanwhile, Taissa was limiting the scenes she can watch and how much time she gets exiled to the trailer, and watching my sister grow up. It's the same thing. I have these issues of parenting and identity with her. I've had a really meaningful role in her rearing and so god, yeah, I feel some empty-nest syndrome when it comes to Taissa. I even call her Gytta all the time--Gytta's is my 3-year[old daughter's name, and those names are interchangeable. I call her Gytta, and I call Gytta Taissa.

Capone: It's funny that you're in this movie together, but for most of the movie you're apart.



VF: I know, I know. To be honest with you, Steve, the last time I spent any quality time with her was on the set of this movie. Now I have to just rely on text messaging and long-distance i-chats from New Orleans where she's shooting.



Capone: The emotional epicenter of your character is that acting class improv scene. Tell me about that. Was that actually improvised?

VF: No, and I've got to say, I'd love to take credit for chemistry, and all of this clever stuff, this fanciful stuff that happens, but [co-writer] Glenn German and Adam Rodgers, the director [and co-writer], they had the hardest job and they started out with this like pristine piece of paper, and without their writing I would be absolutely powerless. There's a certain measure of improvisation, of course, that lends itself especially to establish chemistry and a carefree relationship. Andy's a very good friend of mine, and we were friends very immediately. He is someone that is very easy to be around, and I have a tremendous respect for him as an actor.

So for me, the only pride that I can take is in knowing my strength lies in allowing myself to be dependent on the other players. With Taissa it's relevant to our relationship, so what you see is what you're getting. But with Andy, that scene is so beautiful. The actress that plays the drama teacher is I think Daniella's [Garcia-Lorido, Andy Garcia's daughter who has a role in the film] acting teacher; she is an acting teacher, and so the very whimsical fanciful part where we walk into the class--the film is very much a story about entrances and exits--so when we enter this holy space of a theater it felt like the real deal. Well, it was; it was an actual theater at Washington State University. You walk in, and there's just a room full of props. So therein lies Adam's wisdome to just let us freestyle it, but everything else is scripted.--the actual dialogue part of that was all scripted, not improvised at all. Garcia-Lorido But it is a real pivotal place for both of us, because it's the moment of truth telling, which is so analogous to our experiences as actors going through these rigorous programs that we both went through. As an actor, you really do strive for complete freedom and relaxation, which you go though as a physical and spiritual experience. It's just honesty. And this is a very revelatory time. I think Eve says "I'm profoundly unhappy." Meanwhile what you see until this point has been a gal who's quite energetic and exuberant and passionate and willing. It's such a contradiction to what's actually going on inside of her.

Capone: I will admit, I'm still debating to myself whether the heartbreaking things that Edith says on stage are ones that she has spoken before to her husband, or has rehearsed in her head but never actually had the nerve to say to him.



VF: You know, it's really interesting, and I wish you had been my acting coach during this scene, because I think it's both. I think it's both. I think that's what you do as an actor anyway, if you've been given the circumstances of the scene and you're trying to bring your knowledge of the situation to it, your life experience, but also you're imagination. You can only use yourself and your experience as the basis of it, and you apply yourself accordingly based on what you have. You pull from everything. You pull from what you have said, what you wish you could have said, what you want to say, what's not too late to say. Garcia-Lorido And that's what's so painful about this story and this beautiful aspect to the story that I love, and that really speaks to me is that it teaches you how to re-commit and re-invest and re-explore. And it teaches you that openness is vitality, and risks have got to be taken, and you can't just like wait for inspiration to happen. You have to go after with a mace. If you can't examine life, it's not worth living. Yes, it's a love story between two people, but they go home and hopefully will apply what they've learned from this experience. Also, it's such an ambiguous ending. You don't know what their choices are.



Capone: Are you going to direct something again, other than your sister's audition tapes?



VF: [laughs]I will. At the moment, I think I'd make more money actually directing her audition tapes and taking a 20 percent fee, so I would be very happy. But I will; I'm just developing the story. It's a collaboration with my husband, who produced HIGHER GROUND. We're finding that vital story, and I'm not sure what it is; it's still in development at the moment. I've got my hands full with "Bates" and I did THE JUDGE with Robert Downey Jr. [due out in October], and that's all coming up. Between my commitments as an actress and also as having a full-time job as mother to a 3 and a 5 year old and being a full-time wife, it's a tall order. But when I find the story that is so relevant to me, then it'll happen and I'm looking forward to it.



Capone: Great. It's always revitalizing to talk to you every so often. Thank you so much.



VF: Aw, thanks, Steve. Thank you too. Take care.



-- Steve Prokopy
"Capone"
capone@aintitcool.com
Follow Me On Twitter