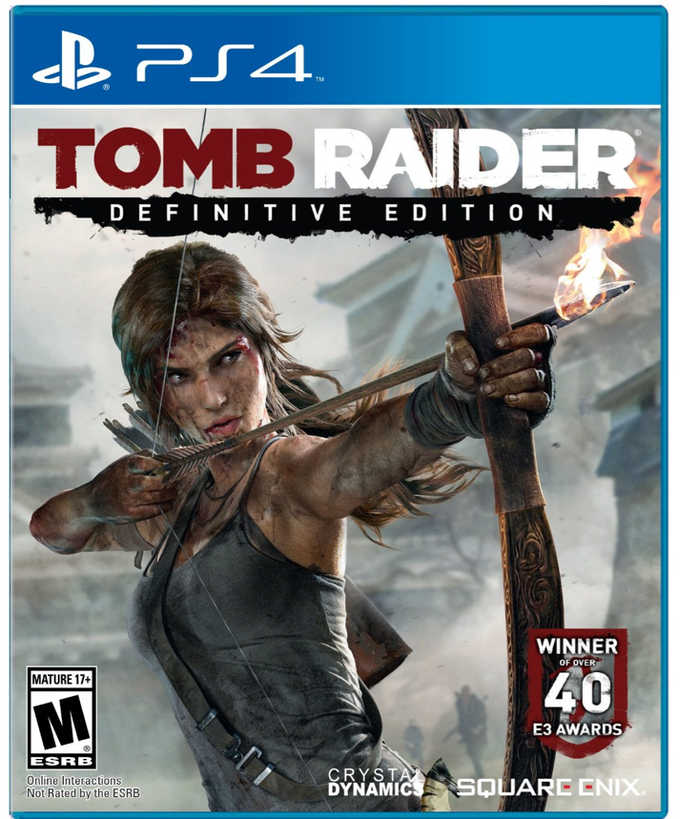 As we've mentioned previously here on the site, last year's rather amazing TOMB RAIDER reboot game is enjoying a substantial re-presentation which upscales the title for "next generation consoles" (I guess that would be "current generation consoles" now) - adding a few bells and whistles along the way.
TOMB RAIDER: DEFINITIVE EDTION was originally announced to bow early this week - but over this weekend, a few retailers evidently pushed it onto shelves early. Thus, my review was unprepared until now (the original embargo date, which was unexpectedly lifted Friday), and you may actually be able to find TR: DE in stores this very moment.
THE ELEPHANT IN THE ROOM: if you owned the previous generation of TOMB RAIDER on XBOX 360 or PlayStation 3, is this release a crass double dip, or worthy of a new investment of time and money?
If you enjoyed the original iteration of the game, you'll find largely similar gameplay here…with a few tweaks to accommodate the peripheral goodies found on XBOX ONE (herein XB1) or PlayStation 4 (herein PS4). The tweaks to gameplay alone won't redefine how you perceive this newly upshifted title.
However, if you previously found yourself impacted or affected by the TOMB RAIDER reboot's undeniable style and atmospherics, you may well be taken back by the sensory onslaught afforded by this conversion. In short, TOMB RAIDER: DEFINITIVE EDITION is essentially the same game, but a significantly enhanced experience. As for whether previous owners should consider a 'double dip?' Depends on how you related to the earlier version. If you want a different game, this wouldn't be it. However, the visceral and visual impact of this DEFINITIVE EDITION can not be questioned. Although I received review copies, now that I've seen and played this title first hand? I would've been happy to spend my money on it - on either console.
WHAT 'TWEAKS' AM I TALKING ABOUT ABOVE?
As previously reported, TOMB RAIDER: DEFINITIVE EDITION has enhanced its graphics considerably for XB1 and PS4 release. Environmental details are fleshed out with considerable nuance. The Lara Croft rendering/model has been reworked - her hair now responds more fully to motion and wind, etc.
Such aesthetic upgrades don't sound terribly meaningful at face value, but…as the saying goes… 'The Devil's in the Details'….and the tweaking of so many small elements results in a substantively different whole in terms of what's on-screen, and how we relate to it.
GAMEPLAY TWEAKS include (and are not limited to): the XB1 version utilizes the new Kinect to introduce what is essentially a 'lean to see' feature - allowing players, when a prompting icons appear, to physically lean to shift the perspective of the action on-screen. This doesn't (appear) to do a great deal to affect how one plays this particular game. However, I can very much imagine such abilities being utilized brilliantly in…say…first person shooters (peering around corners, for example). Perhaps this function is deployed accordingly deeper into the game, which I've not played all the way through as of this posting?
I don't know if he PS4 camera (I've yet to actually locate on in stores, and people are price gouging on eBay) offers the same or similar capabilities. I don't believe it would as I don't believe it can track motion, but don't take this to the bank.
PS4 and XB1 both utilize voice commands, allowing players to call up maps, change weapons, etc. These voice commands can work through Kinect's on-board mic, through XB1 headsets, through the PlayStation Camera's on-board mic, or through the headset included with PS4 DualShock controllers. Weapons changes can also be prompted more traditional via controller buttons - which I found myself defaulting to out of instinct more often than not.
PS4 also utilizes its controller's on-board speaker to increase the dimensionality of the game's soundscape. Voices reading diary entries, for example, are mirrored on screen and through the controller - creating an eerie, ghostly reverb effect. Certain sound effects are also pumped trough the controller (bone crunching). The light bar in front of the PS4's controller responds to on-screen action - a nifty and even pretty gimmick which, unfortunately, many players may overlook as that part of the controller is regularly pointed away from the player during a gameplay session.
THE XB1 / PS4 COMPARISON. TOMB RADER: DEFINITIVE EDITION runs at a higher frame rate on PS4. The textural/presentational difference between the PS4 and XB1 is imminently notable. The XB1's lower frame rate better retains the Neill Blomkampian 'beautiful grittiness' of the previous generation release - where as the PS4's higher frame rate lends a glossier sheen to proceedings which sometimes feels almost too smooth.
The PS4 version of the game sometimes feels a tad darker than its XB1 counterpart, occasionally muting the detail in backgrounds (mountain ranges, etc). In some nighttime forest scenes, for example, I felt like I was struggling less to discern nighttime action on the XB1 - and working harder to make out "X" in the shadows on PS4. Yes, the visual settings on both my TV and consoles were fully calibrated. I also found the rendering of fire on the PS4 to be (occasionally) less nuanced and consistent when compared to the XB1. Some sites have reported frame rate stutters and whatnot with the XB1 version - I encountered no such issues with the XB1 version, but have noticed (repeatedly) the very subtlest of hiccuping on the PS4 versions.
OVERALL GRAPHICS WIN? Goes to the PS4. For all of the nitpicks mentioned above, the strength of the escalated frame rate cannot be ignored, and a bolder palette in terms of depth of color, overall vividness and clarity, and other factors are impossible to deny. Whereas I could go on and on regarding the whopping visual discrepancies between the PS4 and XB1 versions of CALL OF DUTY: GHOSTS (which looks infinitely better on PS4 for my money), I happily and strongly assert that the XB1 version of TR:DE is nothing to sneer at. And…while it does feel under-amped when stacked against the PS4…the the XB1 even flavor manages to offer a few advantages over its competitor (that ambient brightness I mentioned above being one of them). So, those with XBOX ONEs need not feel neglected - you're getting a very fine package with this one.
IT IS WORTH IT. TOMB REAIDER: DEFINITIVE EDITION is not a 'crass money grab' as some have charged. Those revisiting the title via this upgrade will find TOMB RAIDER experience changed enough to feel fresh, worthy, and well considered. I sat down to merely 'poke around' the new DEFINITIVE EDITION…and report back to y'all. I now suspect I'll be playing the game all the way through, again. In many regards, the game plays better a second time around.
Those visiting this rebooted iteration of TOMB RAIDER for the first time on either XB1 or PS4 will discover the very best action/cinematic game released for Next Gen consoles to date; they will be greeted by what remains one of the most moving and harrowing gameplay experiences to hit any console in quite some time. One could legitimately assert that this rebooted TOMB RAIDER (both previous and this gen) goes on a tad too long, and can be a bit too repetitive. But the whole of this package towers tall as a significant gaming achievement, and as a standard towards which other games should reach. A standard deftly and shrewdly raised by the TOMB RAIDER: DEFINITIVE EDITION. A standard which will hopefully be equalled, or bested, in the sequel this title so very much deserves.
—————-
Glen Oliver
"Merrick"
- e-mail
- Twitter
- Google +