ROMEO AND WHOLIET - Sylvester McCoy version [via BeyondTheMarquee]
Glen here…
…with a quick look at interesting happenings from the WHOverse, and a look at WHO'S CHANGING, a new documentary which Docbackers may very well appreciate.
SOME WONDERFUL BTS PHOTOS FROM THE FILMING OF THE 50th TRAILER
Remember this?
You can find some awesome photos from that trailer's creation HERE and HERE. Special thanks to AICN reader Greg for the heads up about this.
DOCTOR WHO COMICS HEADING TO TITAN
This press release from BBC Worldwide discusses the matter…
================
DOCTORWHO REGENERATES WITH TITAN COMICS
BBC Worldwide and Titan Comics team up
for all-new DoctorWho comic book adventures
New York, NY – January 21, 2014 – In the universe of DoctorWho regenerations bring not only a new Doctor but often a fresh look and feel to the series and BBC Worldwide is bringing that same approach to DoctorWho comics as it signs a new deal with Titan Comics. The deal will open up the world of DoctorWho and provide fans with new stand alone adventures featuring the Tenth Doctor, Eleventh Doctor and after the new series launch, the Twelfth Doctor. Creative and production teams will be announced in the coming weeks and the first comic books will be released in 2014.
The DoctorWho Christmas special, The Time of the Doctor, saw Matt Smith's Eleventh Doctor regenerate into the Twelfth Doctor, played by Peter Capaldi. The next season is now in production and will premiere in 2014. In 2013, DoctorWhoset ratings and social media records for BBC AMERICA.
DoctorWho is sold to over 200 territories across the world and last year was awarded the Guinness World Record for the largest TV drama simulcast ever after the 50th Anniversary special was broadcast to 98 countries at the same time as well in thousands of cinemas across the globe.
Titan Comics is the comics and graphic novel division of global publishing giant Titan, a pioneer that has proven itself over three decades with internationally-recognized brands such as James Bond and Sherlock Holmes, as well as creator-owned successes like Tank Girl, Lenore, and Death Sentence. Titan's magazine division is the largest publisher of licensed entertainment properties in the US.
================
NEW DOCTOR WHO FIGURES ANNOUNCED
Some new DW figures from Character Options have been announced.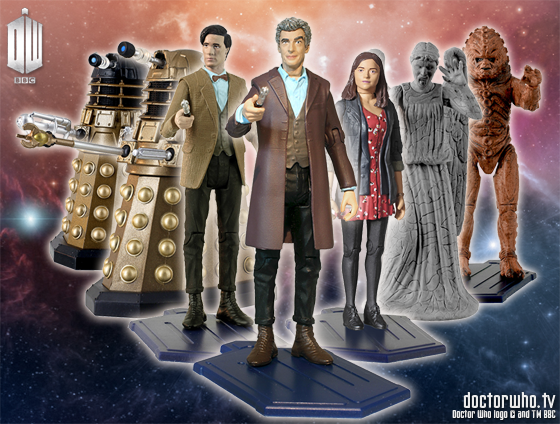 Several thoughts/notes here:
1) That is a totally inaccurate paint job on Capaldi's figure - his attire is supposed to represent the clothes he was wearing when he regenerated from Matt Smith in The Time of the Doctor, but the color scheme is all wrong. In short, that is NOT the 12th Doctor's 'regular' / 'new' costume - which was assumed widely when these figs were announced. We've yet to see Capaldi's 'Doctor' attire - I've confirmed as much with trusted sources.
2) Did they use Robert De Niro's likeness as a reference point when sculpting Jenna Coleman's figure. Good…God.
3) Where the Matt Smith figure? I'm not seeing one there. (ahem) Evidently Character Options now employs blind and fingerless children to shape their toys. They, and BBC, can and should do better.
Image via The Official Doctor Who Facebook page. Thanks to Docbacker Jared for point us towards these.
WHO'S CHANGING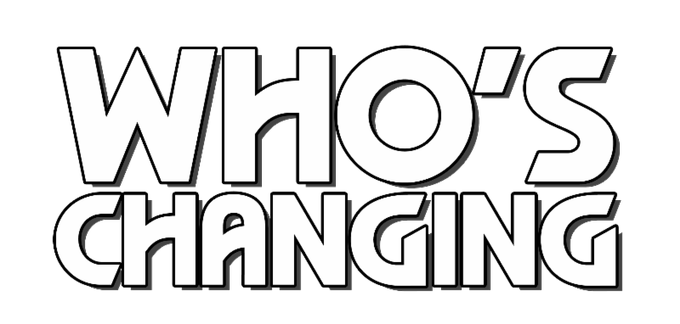 I'd originally intended to offer a more substantive write up about WHO's CHANGING, a new documentary exploring the origins of and current status of WHO fandom. Alas, an overzealous frenzy of file cleaning on my part resulted in the inadvertent deletion of many of my notes - and there simply isn't enough time to re-start that research process. So, I'm working from memory here. I suppose if Andrew Lloyd Webber's cat can delete an entire musical, my fucking up like this isn't exactly the end of the universe. Yet it's annoying, all the same.
With this in mind…
WHO'S CHANGING would not be a good vehicle with which to introduce folks interested in the franchise to its long and storied history; the film pointedly works on the assumption that its viewer is already fairly well steeped in WHO lore (both televised and real world) and makes numerous references to personalities and episode titles as if the viewer is 'on the inside.' In other words, someone on the "outside" looking in may find this picture utterly bewildering.
This said, WHO'S CHANGING is a very well considered and adroitly navigated journey through WHOvianness, chronicling the slow and precarious development of DW fandom through a clumsy and awkward pre-Internet era, to the first ever DOCTOR WHO convention (with a few fun photos from the event), culminating with a look into DW fandom's current state of affairs.
The topics up for consideration include (and are not limited to): interviewee's earliest memories of DOCTOR WHO (which, interestingly, frequently involve regeneration), interviewee's "favorite Doctor," the differences between US fans and UK fans (fascinating perspective on this from actors who've appeared on the show), the impact of US fandom on DW fandom in general (one example: DW actors didn't expect pay to show up at DW events, until American conventions started paying them), the insertion of "sexiness" into DW (i.e. "hot" Doctors and companions, not literally sex scenes), the insertion of 'will they/won't they' tension into DOCTOR WHO (i.e. 'romance' and variations there of), the unquestionable impact of the Smith/Moffat era (making the show more accessible to a broader global audience than ever before), cosplay, crossplay (folks dressing up as characters of the opposite gender), the creativity of WHOvians, and more.
And it's here that WHO'S CHANGING falls into a strange paradox: on one hand, it crams an astonishing amount of material into a relatively scant 81 minute running time; there is very little sense of 'Oh! They forgot ___!' or 'They should've ___' - and this is no small accomplishment. Conversely, a larger-than-it-probably-should've been proportion of the documentary focuses on cosplay and crossplay (I'm sure the participants in these segments would disagree). While both topics are interesting, insightful, and one can easily sense the earnestness of interviewees, it does feel like WC jumps track a bit with these segments…and that perhaps the time allotted to these fields might've been divided with one or two more topics of possible interest (DW's impact on Science Fiction and pop culture in general could've been expanded on, for example).
Such quibbles aside, every title which commands a passionate fan following could benefit from a project like WHO'S CHANGING. It's easy…far too easy…for a fan base to become too narrow in its interpretation of the production they love, or too militant about what 'should' or 'should not' happen on the show, or in fandom in general. WG does a very nice job at stripping away all of the bullshit which sometimes clouds fandom, reminding us of its simplest, purest joys. It's a great way to get back in touch with one's WHOvian roots, so to speak. Which is in no way a bad thing for WHO, and a re-grounding many other fans of numerous other properties could benefit from as well.
Including insight from Louise Jameson (companion Leela), Sophie Aldred (companion Ace), Simon Fisher-Becker (current WHO's Dorium Maldovar), Neve McIntosh (current WHO's Madame Vastra), Catrin Stewart (current WHO's Jenny Flint), Caitlin Blackwood (current WHO's young Amelia Pond), Dan Starkey (current WHO's Commander Strax), script editors Gary Russell and Eric Saward, scriptwriters Andrew Smith (Full Circle), Jane Espenson (TORCHWOOD: MIRACLE DAY, BUFFY, BATTLESTAR GALACTICA) and James Moran (Tennant WHO's The Fires of Pompeii)… along with a bevy or personages from DOCTOR WHO's ancillary industries (audios, novels, comics, scripters, etc)…WHO'S CHANGING will become available on demand HERE next week - or its DVD can be found HERE.
—————-
Glen Oliver
"Merrick"
- e-mail
- Twitter
- Google +
DOCBACK CODE OF CONDUCT
1) a Docback should be about completely open and free discourse regarding all things WHO with, obviously, some variation on subject matter from time to time - the real world intervenes, discussions of other shows are inevitable, etc.)...
2) converse, agree, disagree, and question as much as you want - but the freedom to do so is NOT a license to be rude, crass, disrespectful, or uncivilized in any way. Not remaining courteous and civil, as well as TROLLING or undertaking sensational efforts to ignite controversy, will result in banning. Lack of courtesy may receive one (1) warning before a ban is instigated. Obvious Trolling or Spamming will result in summary banning with no warning.