Terry Gilliam is trying again to bring his vision of DON QUIXOTE to the screen.
He attempted this a while back, in a Johnny Depp starring project which was endlessly beleaguered, famously abortive, and the posthumous subject of a fascinating and frank documentary called LOST IN LA MANCHA (Amazon, or streamable through Netflix).
Via his Facebook page, Gilliam has revealed a piece of concept art from his new run on the project - from Dave Warren, who worked with Gilliam on THE ZERO THEOREM and THE IMAGINARIUM OF DOCTOR PARNASSUS - he was also Art Director on SNOW WHITE AND THE HUNTSMAN and Tim Burton's SWEENY TODD movie).
Says Gilliam on his Facebook post…
Dreams of Don Quixote have begun again. Dave Warren has started doodling. Will we get the old bastard back on his horse this year? Human sacrifices welcomed. Stay tuned.
Here's the art…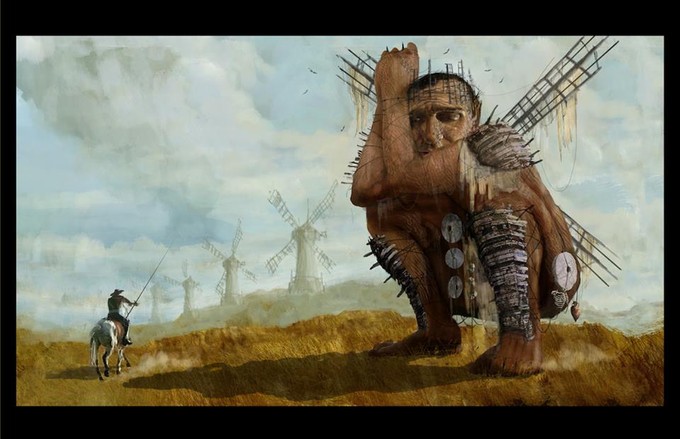 While it's tempting to make a 'tilting at windmills' joke about this latest push on the project - I won't. Actually, I'd love to see this film come to fruition, and love to see Gilliam finally realize a notion which has been a passion of his for some time. Although, maybe no Johnny Depp this time?
—————-
Glen Oliver
"Merrick"
- e-mail
- Twitter
- Google +