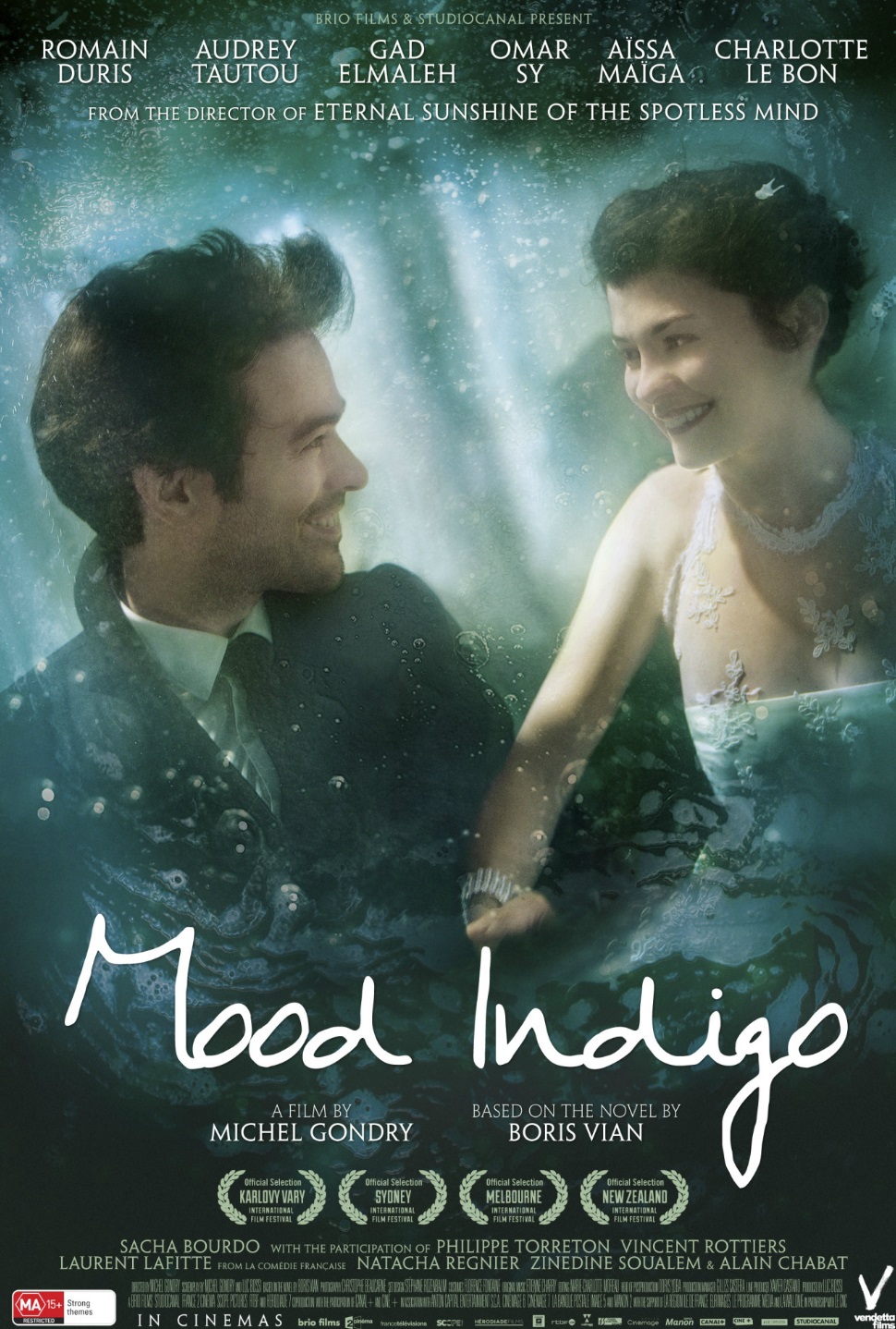 Nordling here.
I adored MOOD INDIGO when I saw it at Fantastic Fest. It's charming, whimsical, and emotional as hell. But the film's vocabulary may take some getting used to, but I can see an audience for this movie, and loyal fans of Gondry will eat this movie up like the strange confections that we see in the movie.
Drafthouse Films thinks so too, as they have picked up MOOD INDIGO for distribution. Whimsy is hard to get right, but Gondry seems to have effortlessly done it, and audiences will see for themselves later this year. Here's the press release:
AUSTIN, TX - January 13, 2014 - Drafthouse Films, the film distribution arm of the Alamo Drafthouse Cinema, announced today the acquisition from Studiocanal of US rights to acclaimed auteur Michel Gondry's (Eternal Sunshine Of The Spotless Mind) return to the surreal landscape of emotion and imagination Mood Indigo. Showcasing Gondry's signature whimsical aesthetics, gorgeous cinematography and colorfully eccentric characters, Mood Indigo is a love story set in a charmingly surreal Paris about two newlyweds, Chloe (Audrey Tautou, Amélie, Coco Before Chanel) and Colin (Romain Duris, The Beat My Heart Skipped), whose whirlwind courtship is tested when an unusual illness plagues Chloe; a flower begins to grow in her lungs. Adapted from Boris Vian's novel L'Ecume des jours, the romantic saga was produced by Luc Bossi of Brio Films and also stars Omar Sy (The Intouchables), Aïssa Maïga (Caché) and Gad Elmaleh. A multi-city traditional theatrical platform release is planned for 2014.

Already receiving high praise from its World Premiere at the Karovly Vary Film Festival,Mood Indigo was equally well received with its US debut at Fantastic Fest in September with a shorter cut Gondry created for international audiences.

"

Mood Indigo

is propelled by sharp, witty dialogue complimented by Gondry's continually stupendous sense of visual capture." according to Bill Graham of

thefilmstage.com

and Todd Ghilchrist of The Wrap says the film "perfectly balances Gondry's ornamental creativity and the verité storytelling of his more recent work, combining refined style and raw emotion into one devastating, beautiful package. It's also (Gondry's) most accomplished and powerful film in almost a decade."

"Reading Boris Vian accompanied my adolescence and participated to the development of my creativity," says director Michel Gondry, "I was honored to be asked to direct an adaptation of his most famous work. I put all of me into it."

"Not since Amelie have we seen Audrey Tautou so undeniably whimsical and charming," says Drafthouse Films founder Tim League. "and her storybook romance with co-star Romain Duris is set perfectly within a quirky, visually-stunning fantasyland that only Michel Gondry could imagine."

The deal was negotiated by James Emanuel Shapiro on behalf of Drafthouse Films and Vanessa Saal Senior VP international sales at Studiocanal.

About Mood Indigo

The surreal and poetic tale of Colin, an idealistic and inventive young man, and Chloé, a young woman who seems like the physical embodiment of the eponymous Duke Ellington tune. Their idyllic marriage is turned on its head when Chloé falls sick with a water lily growing in her lung. To pay for her medical bills in this fantasy version of Paris, Colin must go out to work in a series of increasingly absurd jobs, while around them, their apartment disintegrates and their friends, including the talented Nicolas, and Chick - a huge fan of the philosopher Jean-Sol Partre - go to pieces.
I can't wait to see it again. It's one of those movies that may not get a huge audience, but of the people who do see it, they'll be fiercely in love with it.
Nordling, out.