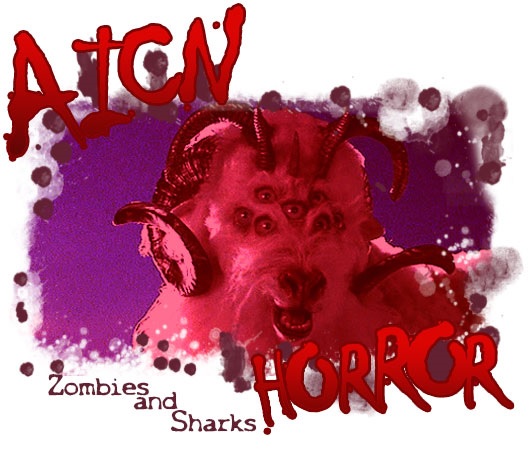 Logo by Kristian Horn
What the &#$% is ZOMBIES & SHARKS?
---
Greetings, all. Ambush Bug here with another AICN HORROR: ZOMBIES & SHARKS column. This week I bring you ghost hunters, yeti-monsters, haunted priests, disasters, blood cults, and a spider Sir Mix-A-Lot would love. On with the horror reviews!
Today on AICN HORROR

(Click title to go directly to the feature)
Retro-review: TWILIGHT ZONE Collector's Box Set: Season 1, Episodes 1-6 (1959)
Retro-review: CORRUPTION (1968)
Retro-review: Drive-In Collection - BLOOD THIRST (1971)
Short Cuts: UNDER THE DARK WING (2013)
12 DISASTERS (2012)
DEVIL'S PASS (2013)
BIG ASS SPIDER (2013)
HERETIC (2012)
PARANORMAL ACTIVITY: THE MARKED ONES (2014)
Advance Review: AMERICA'S MOST HAUNTED (2013)
And finally… Josh MacDonald's GAME!
---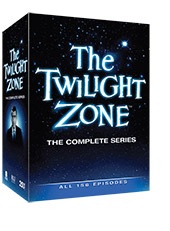 Retro-review: Collecting the entire series in a new Collector's Box Set on DVD from Image Entertainment!
TWILIGHT ZONE SEASON ONE (1959)
Episodes 1-6
Retro-reviewed by Ambush Bug
Let's go back to the beginning. I've had a chance to look at the last two seasons of THE TWILIGHT ZONE over the last few months. Now we'll ,jaunt back to the first season to see where it all began. This was a season where Serling was honing his talent as a storyteller and the series was just beginning to show the signs of being one of the most influential horror/sci fi series of all time. So here we go with Season One…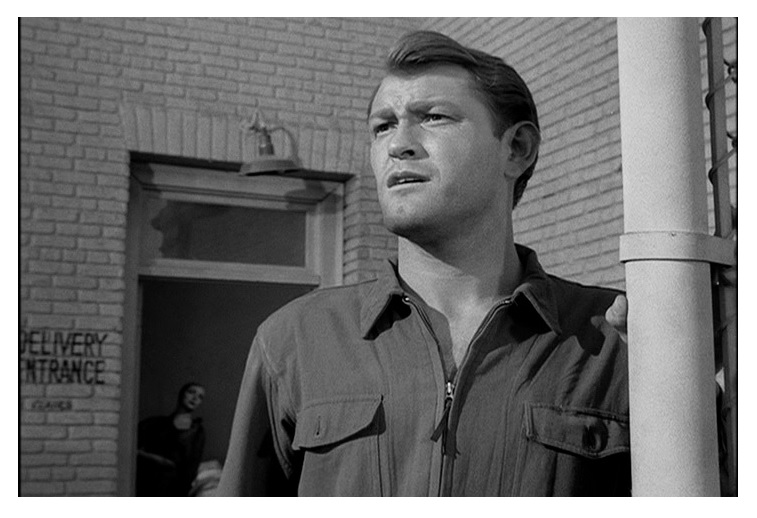 Episode 1.1: Where Is Everybody?
Directed by Robert Stevens
Written by Rod Serling
Starring Earl Holliman, James Gregory
Starting off the series is a good one. "Where Is Everybody?" is a plot that is often seen in TWILIGHT ZONE; a man enters a town not knowing anything about it and finding it to be completely unpopulated. The fun is seeing the man handle this predicament and having it slowly chip away at his sanity. Earl Holliman does a great job as the central "Last Man On Earth" and shades of both Masterson's classic tale I AM LEGEND as well as Will Smith's version are obvious as the streets only seem to be filled with mannequins instead of people. Serling's views toward the military are highlighted as well, but I've already said too much about this expertly paced little classic.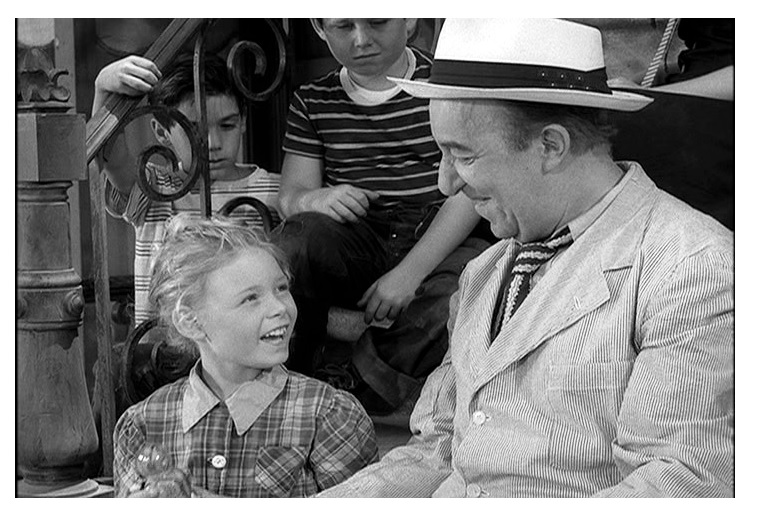 Episode 1.2: One For The Angels
Directed by Robert Parrish
Written by Rod Serling
Starring Ed Wynn, Murray Hamilton, Dana Dillaway
Ed Wynn stars as a humble street toy salesman who learns his time is up when Death shows up to take him away at midnight. In the meantime, a young girl is hit by a car and Wynn must use every one of his salesman skills to distract Death from taking her away. This is one of the sweeter episodes that is sure to make your heart warm at the sacrifice Wynn makes to save one of his child customers. Fantastically acted and heartfully written, this is one of the best of the first episodes.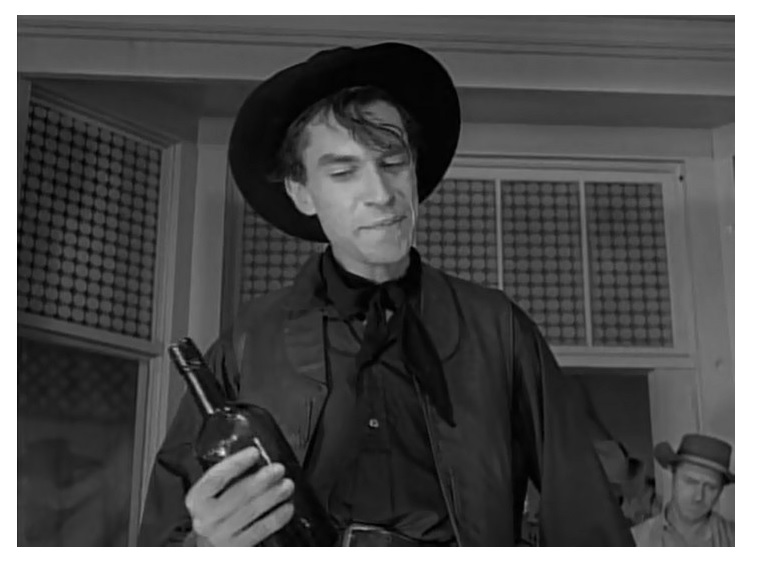 Episode 1.3: Mr. Denton on Doomsday
Directed by Allen Reisner
Written by Rod Serling
Starring Dan Duryea, Martin Landau, Jeanne Cooper, Ken Lynch, Malcolm Atterbury, Doug McClure
Dan Duryea stars as a drunken former sharpshooter who is given a chance to be the fastest draw in the West again. Second chances have always been a common plot point in TZ and here this one highlights the range this series had in scope in terms of when and where the Twilight Zone can happen. Martin Landau is great as the villain all in black and the feel good ending is a less obvious comment on the barbaric times than most of Serling's more preachy anti-violence endeavors.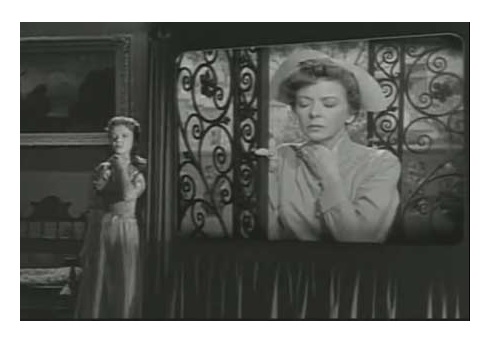 Episode 1.4: The Sixteen Millimeter Shrine
Directed by Mitchell Leisen
Written by Rod Serling
Starring Ida Lupino, Martin Balsam, Jerome Cowan, Ted DeCorsia, Alice Frost
I liked this haunting little number, mainly because of the layered performance by Ida Lupino as an aging actress who refuses to fade out of the spotlight. Lupino shines here as she desperately fools herself into being relevant still in a profession that often turns its back once a certain age approaches. It's funny how some things never change. TZ go-to Martin Balsam turns in one of his more reserved performances here as Lupino's agent who tries desperately to save her from retreating completely into her past work.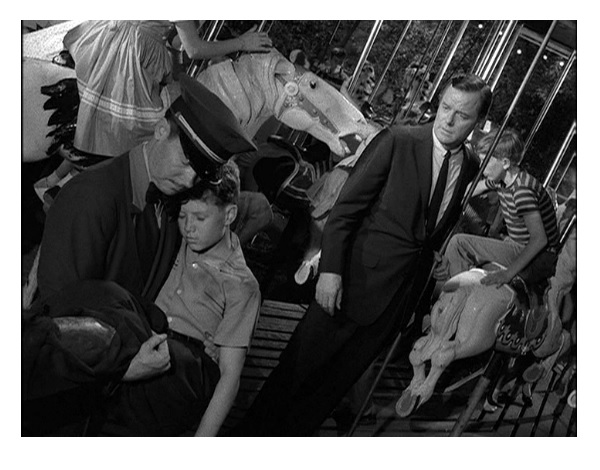 Episode 1.5: Walking Distance
Directed by Robert Stevens
Written by Rod Serling
Starring Gig Young, Frank Overton, Irene Tedrow, Joseph Corey, Ron Howard, Michael Montgomery
Returning to one's past, already something hinted at in "Mr. Denton on Doomsday" is a plot point returned to in this story of a man who stops to get him car worked on during a business trip and finds himself close to his childhood home. When he walks to his old burg, he finds the town unchanged since he left it. In fact, it's as if he's gone back into time as he meets his parents and his younger self. Confused and frantic, Young does a fantastic job of entering the unknown here, but its disheartening that Serling is already repeating himself this early into the series. Still, the appearance of a pre-ANDY GRIFFITH Ronny Howard is enough to make this one bring a smile to your face.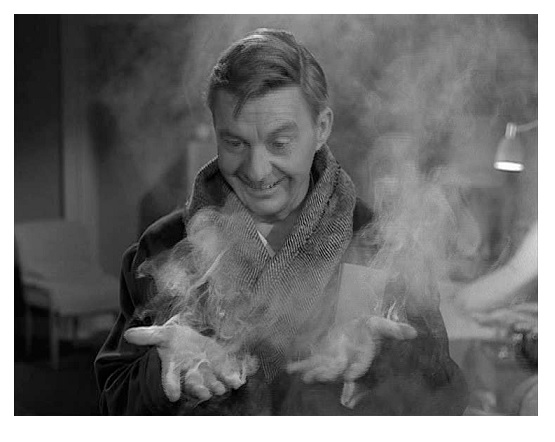 Episode 1.6: Escape Clause
Directed by Mitchell Leisen
Written by Rod Serling
Starring David Wayne, Virginia Christine, Thomas Gomez
This short and not so sweet little ditty focuses on another "deal with the devil" episode, this one focusing on a hypochondriac afraid of death and his reaction to what happens when death is taken out of the picture. David Wayne shows his wicked side as the hypochondriac turned daredevil even though his transition between the two extremes happens off camera. I'd have preferred a more gradual leap from panicking at the slightest cough to leaping in front of subways for kicks, but I'm sure time was a factor in this half-hour long episode. Still, it's another example of the limited wells Serling often pulled from in these episodes as a deal with the devil is one that I've seen over and over just in these three seasons and twice before this very week.
Previous TWILIGHT ZONE Episode Reviews!
Season 4: Episodes 4.1-4.5, 4.5-4.8, 4.9-4.13, & 4.14-4.18
Season 5: Episodes 5.1-5.7, 5.8-5.14, 5.15-5.21, 5.22-5.28, & 5.29-5.36


Look for more TWILIGHT ZONE Episode Reviews soon!
---
Retro-review: New on DVD from Grindhouse Releasing!
CORRUPTION (1968)
aka CARNAGE, LASER KILLER
Directed by Robert Hartford-Davis
Written by Derek Ford, Donald Ford
Starring Peter Cushing, Sue Lloyd, Noel Trevarthen, Kate O'Mara, Billy Murray
Retro-reviewed by Ambush Bug
Though I'm sure looking back 50 years the styles and trends of today will look utterly ridiculous, one can't help but laugh at some of the things that go on in this grimy schlocker starring one of the true greats in horror cinema; CORRUPTION.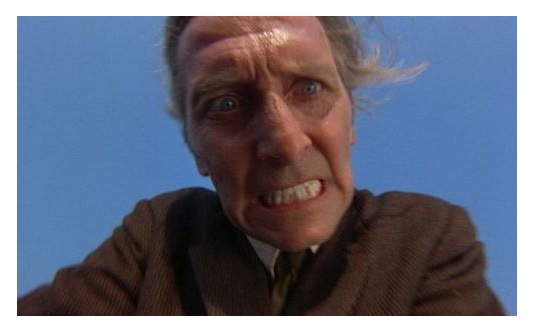 A brilliant surgeon, Sir John Rowan (Peter Cushing) catches the eye of a gorgeous model Lynn Noland (Sue Lloyd), but when she takes the square doctor to one of her shagadellic parties, he feels and looks completely out of place. Lynn shuns her fiancé's urgings to leave and decides to take some risqué photographs with her photographer friend. Rowan's objections to the photo shoot result in a scuffle and a light smashes into Lynn's face, scarring her badly. Roman dedicates his life to making his beloved beautiful again, even if he has to resort to murder. Thus begins a madcap medical thriller CORRUPTION aka CARNAGE aka the title I can't help but love, LASER KILLER. CORRUPTION seems to be Cushing's DR. PHIBES like film as he bends all ethics and breaks all laws to please his narcissistic wife, murdering one woman after another to steal their pituitary glands which is crucial in a new process he developed…which also involves a large laser.
Cushing, as always, is amazing, although his stiff and stern demeanor is somewhat the butt of the jokes in this film. While Lynn seems to care for him at the beginning, Cushing's character grows weaker as the film goes on as he frantically begins a murder spree, despite his lack of skill in that arena. Sue Lloyd is good here as well as the manipulative Lynn whose true face is more evil than the scarred one she received. I couldn't help but feel sorry for Cushing's Rowan who loves his wife truly, but is clearly manipulated by the vain woman. The gorgeous Kate O'Mara (THE VAMPIRE LOVERS) plays Lynn's sister Val who is fantastic every time she appears on screen with those enchanting blue eyes. For my money, Rowan should have dropped the vain snit and gone for Val who is painted as a much more sympathetic character.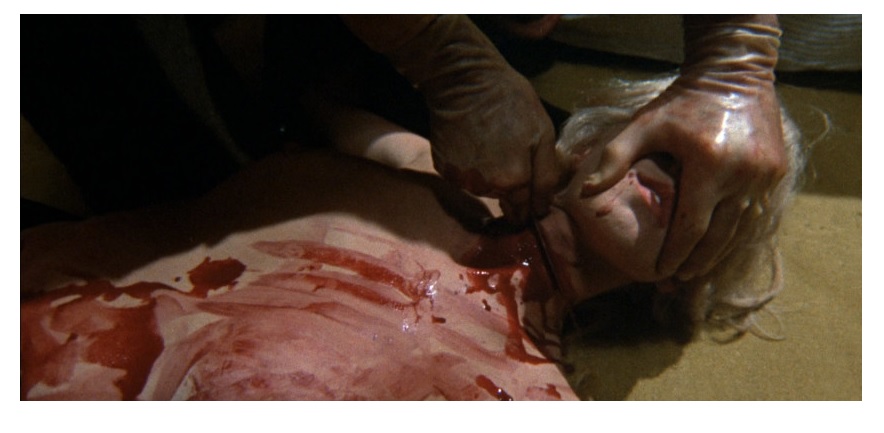 The opening scene is the type that seemed to inspire those outrageous party scenes in the AUSTIN POWERS films and is sure to make you laugh. But the laughter won't end there as a later plot twist has an intended victim act as a spy for a home invasion gang whose leader is decked out in a cape. Another one of the gang members wears circular glasses and a plastic hat. Though these guys are supposed to be the third act conflict, their appearance is more comical than threatening.
Despite the goofy costumes and over the top swingers party, CORRUPTION is a pretty hardcore film for its time. The kills are messy and gruesome and somewhat uncharacteristic for the usually composed Cushing. I couldn't help but be impressed at how all-in Cushing is in these scenes which required quite a lot of wrestling with women and smearing of blood. Nevertheless, CORRUPTION is a grimy little number which both highlights some laughable styles and some pretty savage acts.
Check out this NSFW trailer below. I think they're trying to tell us that no woman will want to go home after seeing this film, but I could be mistaken…
---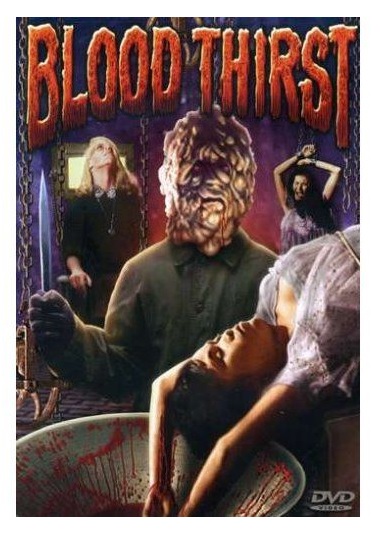 Retro-review: Available on DVD from Vinegar Syndrome!
Drive-In Collection: BLOOD THIRST (1971)
aka BLOOD SEEKERS, HORROR FROM BEYOND
Directed by Newt Arnold
Written by N.I.P. Dennis
Starring Robert Winston, Katherine Henryk, Yvonne Nielson, Vic Diaz, Vic Silayan, Bruno Punzalan, Eddie Infante
Retro-reviewed by Ambush Bug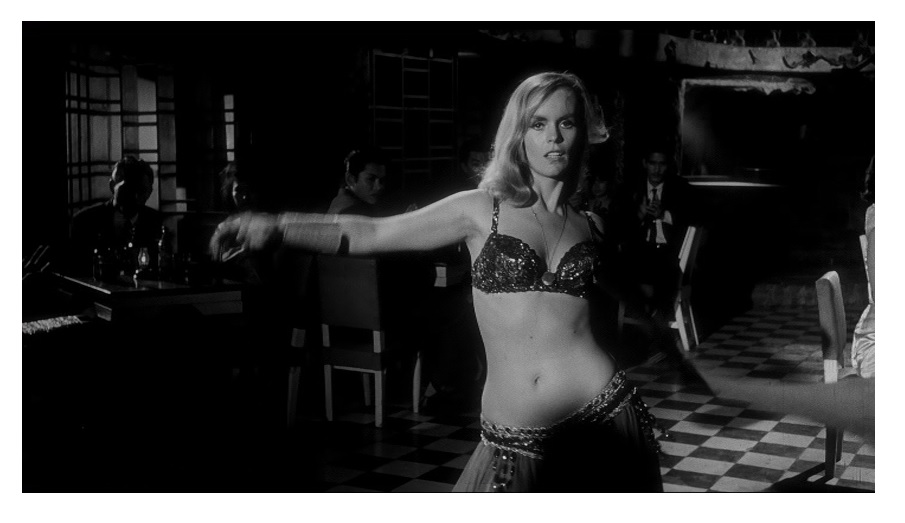 What BLOOD THIRST lacks in strength of plot and logic, it makes up for in pure charm. Filmed completely in the Philippines, the film is pretty much a cliché from start to finish, but still, due to some lovable and loony characters and some moments of cheesy weirdness, the film turns out better than it should be.
The film begins with a young woman leaving work alone only to be attacked my some kind of monster with a melty face. Though it isn't graphic in the least, it's called a sex crime by the local authorities and they call in a private detective who specializes in these crimes to crack the case. That PI is Adam Rourke (Robert Winston) and he's as charming as all get out. Like Humphrey Bogart by way of James Bond, Rourke is grizzled around the edges, but still is a walking magnet for trouble and the ladies. Possessing a powerful karate chop (which he uses on every occasion sometimes with some effectiveness/sometimes not) and a mannequin he uses for numerous different distractions, Rourke is on the case which leads him to a nightclub owner named Calderon (played by the seedy Vic Silayan) and a enchanting dancer named Serena (Yvonne Nielson) who immediately catches Rourke's private eye.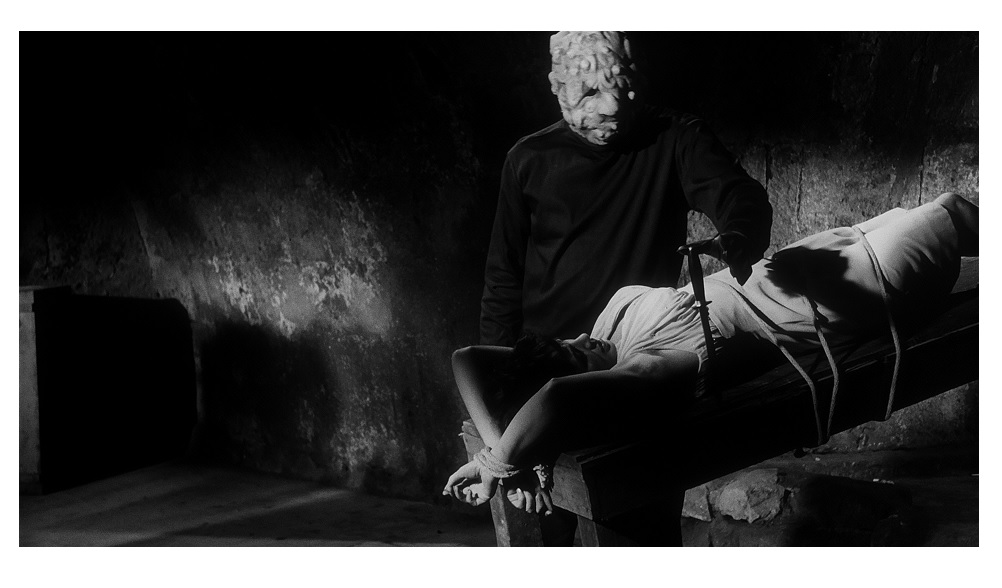 While the plot is as twisty and turny as they come, Rourke's charm is what makes the whole thing gel. A blood cult of sorts seems to be the cause of these blood drained corpses, but before the mystery is solved you have to have some fun scenes with a legless undercover cop and a random fat dude who appears and disappears out of nowhere at just the right time to help Rourke out of a sticky wicket. It's goofy fun—so much that you don't care that it makes not a lick of sense.
This film is paired with THE THIRSTY DEAD, which I will review next week, and seemingly paired with the film because both seem to be about blood cults. Those who live that drive in feel have a lot to dine into with this Vinegar Syndrome release.
---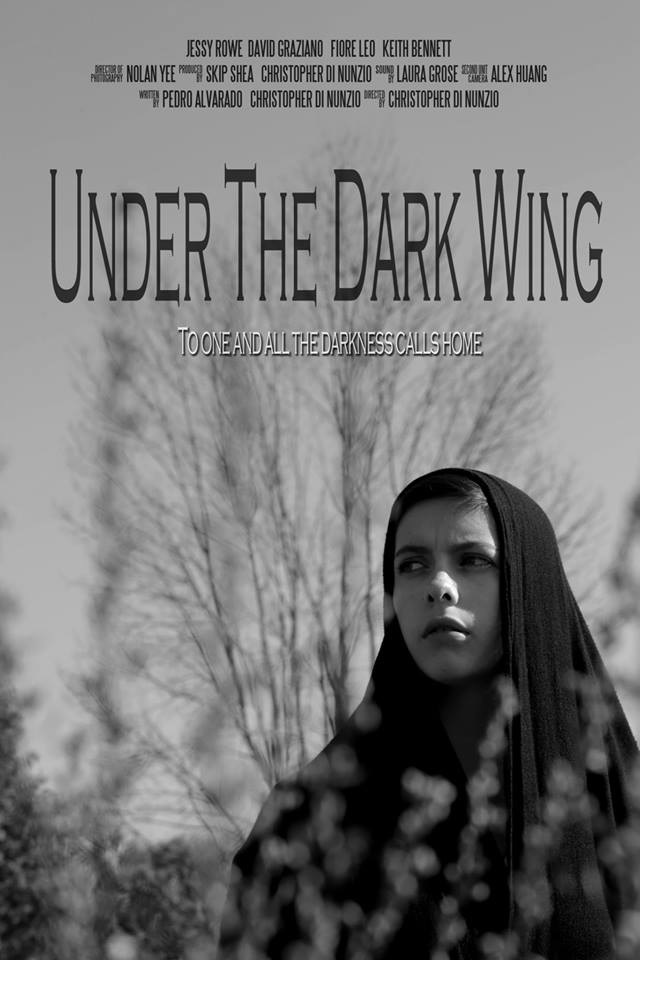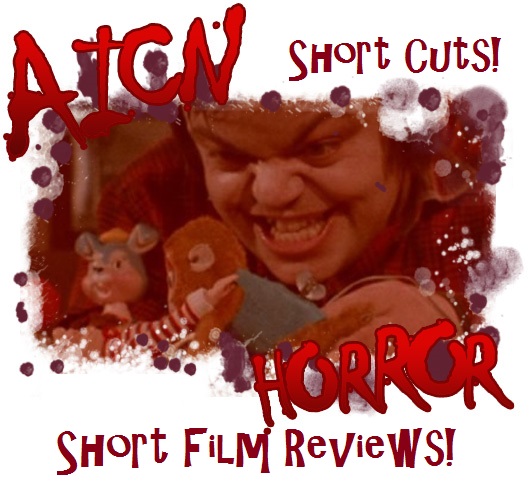 Short Film Review: currently touring festivals!
UNDER THE DARK WING (2013)
Directed by Christopher Di Nunzio
Written by Pedro Alvarado, Christopher Di Nunzio
Starring David Graziano, Fiore Leo, Jessy Rowe, Keith Bennett
Find out more about this film here and on Facebook here
Reviewed by Ambush Bug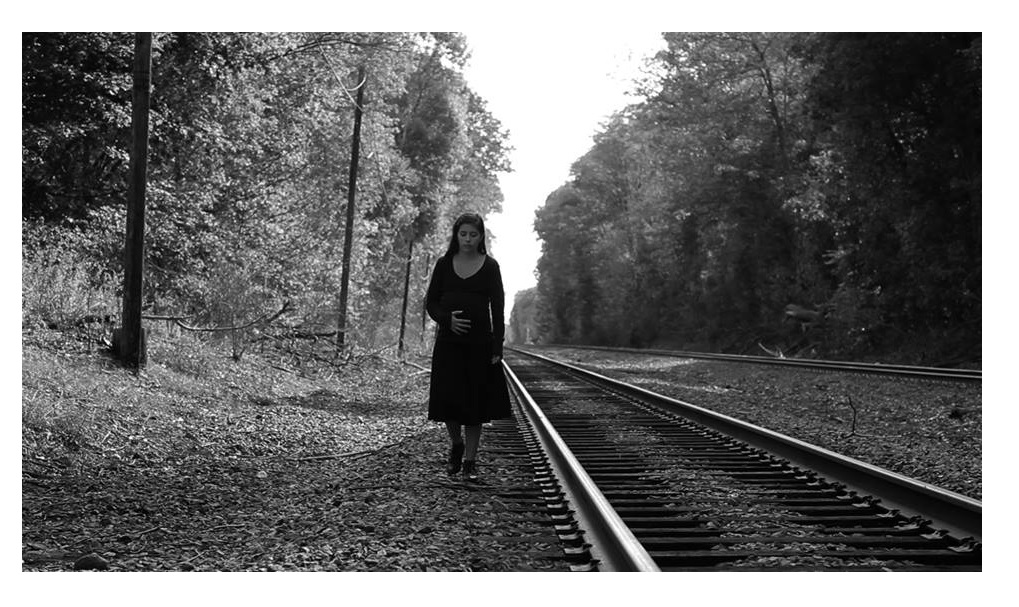 Christopher Di Nunzio (who helmed the short
HER HEART STILL BEATS, a twisted take on the Telltale Heart I reviewed a while back
) is back with another shortie about a hitman, a mob boss, and a pregnant teenager. Sounds like an odd mix, but when a hitman can't find it in him to kill the goth mother to be, the act of kindness proves to be their downfall. Something evil is afoot here and it's not the mobsters.
This fifteen minute film moves briskly and while some of the dialog is a bit choppy in the delivery department, Di Nunzio gives the entire thing a dire tone and moody feel by making the darks in this black and white feature endless and forboding.
I'm hoping one of these days I'll be checking out a feature length film by Di Nunzio and when this short film is available, I'll definitely be sharing this one with the rest of you guys. In the meantime, if you're lucky, you'll catch UNDER THE DARK WING at a film fest near you.
Under The Dark Wing Trailer (Official Trailer) from Christopher Di Nunzio on Vimeo.
---
New this week from Anchor Bay!
12 DISASTERS (2012)
aka 12 DISASTERS OF CHRISTMAS
Directed by Steven R. Monroe
Written by Rudy Thauberger
Starring Ed Quinn, Magda Apanowicz, Holly Elissa, Roark Critchlow, Andrew Airlie, Ryan Grantham, Greg Kean, Kaj-Erik Eriksen
Reviewed by Ambush Bug
Just in case you missed it on ScyFy, 12 DISASTERS is available on DVD this week. Now, I know most of the films made for that channel are utter crap and there's a lot of that going on in this that is pretty damn stenchy. But because the writers of this one stretched plausibility so far that I couldn't help but be impressed at the sheer amount of bullshit this film tries to pull off.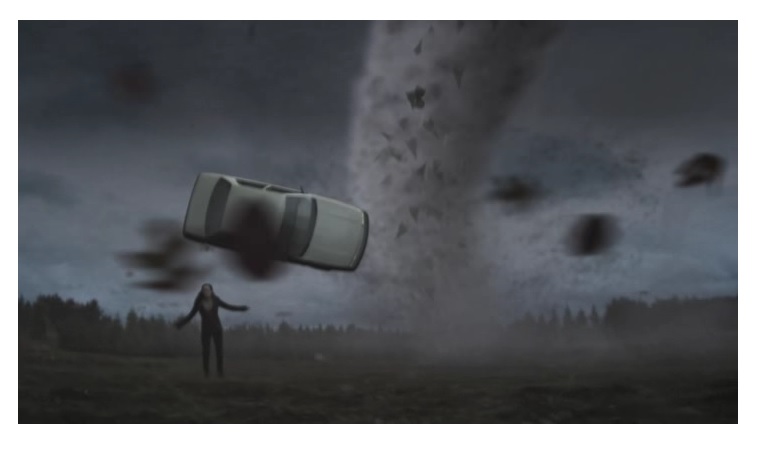 Apparently, the Mayans prediction for the end of the world happening on 2012 was right not only that, but they wrote a little song about it. Though it lacks the tribal bongo parts and I'm not sure how the Mayans knew about leaping lords and such, the 12 DAYS OF CHRISTMAS is actually a precautionary tale meant to warn us all about the coming apocalypse. Now, somehow 5 golden rings must be gathered in the small town of Calgary in order to stop the coming apocalypse. Yep, the fate of the world is up for grabs in a small Canadian town. The Mayans predicted that…
The script is completely idiotic, but the actors are going for gold here. The effects are your typical ScyFy Cg, meaning that it's a shade more depthy than a Hanna Barbera cartoon, but dammit if they didn't make me laugh out loud a few times as ice spears fall from the sky, red gas disintegrates anyone it touches, tornadoes appear from nowhere and a dome over the city causes anything that passes through it to freeze and crumble. All form of natural physics, common sense and good taste are tossed out with the figgy pudding, but they throw it all at you at such a rapid pace that it's almost endearing. None of this film makes sense. None of it is scary. None of it is plausible, but for sheer mindless entertainment, it'll do the trick.
---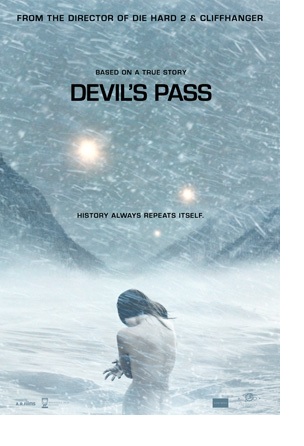 New on DVD from IFC Midnight
DEVIL'S PASS (2013)
aka DYATLOV PASS INCIDENT
Find it on Netflix here!!
Directed by Renny Harlin
Written by Vikram Weet
Starring Holly Goss, Matt Stokoe, Luke Albright, Ryan Hawley, Gemma Atkinson
Available from IFC Midnight; find out more about this film here and on Facebook here
Reviewed by Ambush Bug
These days, most horror fans wish found footage films were never found, and with the inundation of these cheaply made films in the past few years, I understand the sentiment. Still, a good movie is a good movie, found footage film or not, and a likable cast and some pretty gripping moments of horror and suspense make DEVIL'S PASS, formerly known as THE DYATLOV PASS INCIDENT, footage you might find interesting.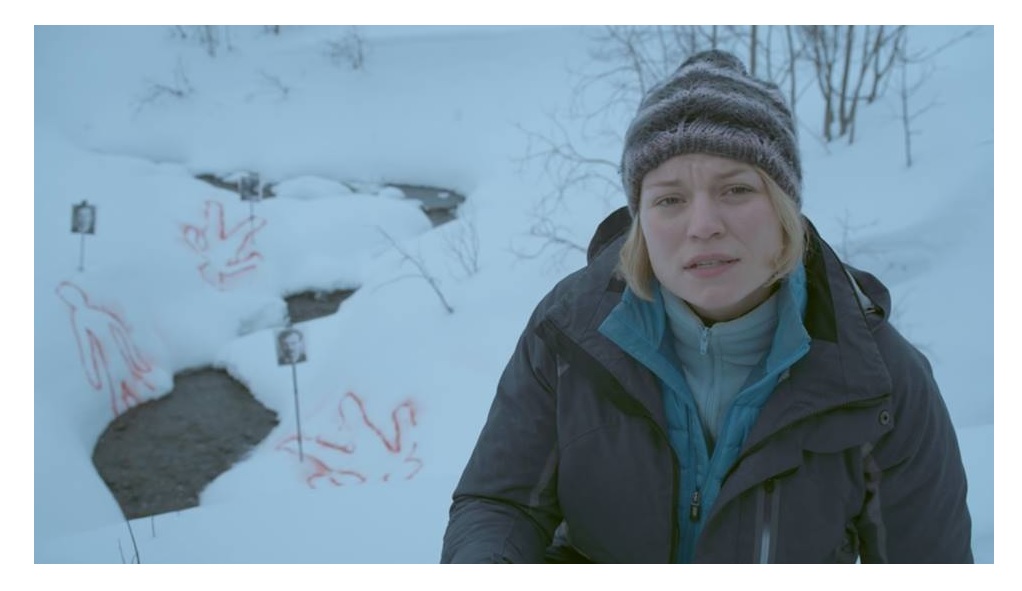 Directed by CLIFFHANGER, DIE HARD 2, and NIGHTMARE ON ELM STREET 4 director Renny Harlin, one might think a director of this caliber would shy away from filmmaking often reserved for first time and amateur filmmakers. While THE BAY proved to be somewhat of a disappointment despite the fact that it was directed by an established director like Barry Levinson behind the camera, DEVIL'S PASS shows the scruffy Finnish Harlin going back to his more renegade style of filmmaking which landed him his chance at doing NIGHTMARE 4 in the first place. Here, Harlin is able to capture big thrills and avoid a lot of the contrivances often found in these types of film.
Sure, occasionally the camera falls in just the right spot one or two times in order to capture some key scene and there might be an occasional moment where the cameraman should probably drop the camera and run for his life instead of filming, but these moments are few and far between and Harlin keeps the action moving at a breakneck pace from the beginning of this school trip, which hopes to follow the exact route a team of explorers took in 1959 only to be found soon after, dead by mysterious means in the snow. The fact that this incident is a real mystery only adds to the ominous tone Harlin creates.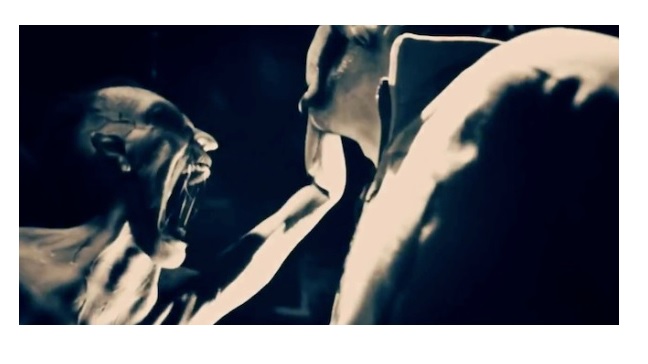 While everything from nuclear testing to UFOs comes up as possible explanations for the explorers deaths, Harlin crams a whole bunch of them into one potent mixture with ingredients I'll keep secret since I think the combination of these elements make this film all the more special. All I can say is that somehow, Harlin makes it all work and comes up with a possible albeit far-fetched explanation as to what happened to the explorers and the students following in their footsteps in this film. Sure the explanation presented here is not very probable, but it makes for an entertaining yarn nevertheless.
The likable cast led by the spunky Holly Goss is better than most actors found in these types of films and does a good job at keeping everything flowing naturally. I also loved the things that happen in the periphery and behind the filmmakers that they don't notice, such as creatures crawling through the snow in the background or through a tunnel in the distance. This adds more to the found footage aspect because it again embraces the immediacy of something accidentally caught on camera without it feeling staged. Add in some decent (yet not perfectly rendered) CG monsters and other fantastic effects and you've got a truly unique found footager that is a cut above the low budget fodder usually found in this genre. This one is definitely one of the better caught on camera style films I've seen this year and makes for a thrilling ride pretty much from its ominous start to its wickedly clever finish.
---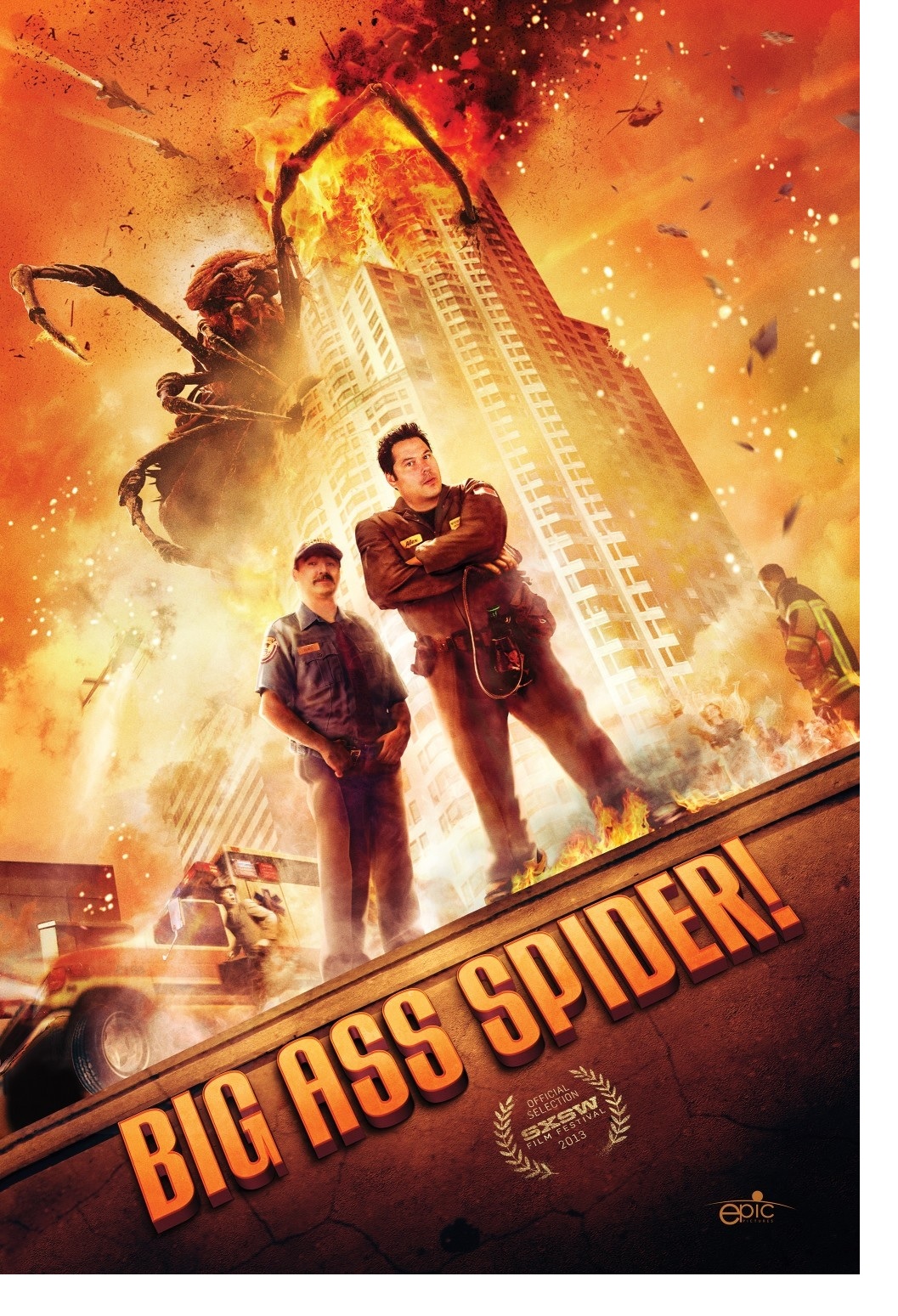 New this week on DVD!
BIG ASS SPIDER! (2013)
Directed by Mike Mendez
Written by Gregory Gieras
Starring Greg Grunberg, Lin Shaye, Ray Wise, Clare Kramer, Patrick Bauchau, Lombardo Boyar, Lloyd Kaufman
Find out more about this film on Facebook here
Reviewed by Ambush Bug
Spiders have a long history in horror from films like EARTH VS THE SPIDER, William Shatner vs KINGDOM OF SPIDERS, Frank Marshall's ARACHNOPHOBIA, Tibor Takacs' ICE SPIDERS, EIGHT LEGGED FREAKS,
Tibor Takacs' SPIDERS 3-D
,
CAMEL SPIDERS
, and most recently
Christopher R. Mihm's THE GIANT SPIDER
. Now, while those films vary in quality, all of them get one thing right; they make spiders creepy and crawly and things that you do not want to touch or get near. There's something about spiders with the spindly legs, their beady eyes, and their tendency to lay eggs in our brains that ooks out just about everyone. Being the creep that I am, I had a tarantula when I was a kid, so on one level, the eight legged suckers don't bother me as much as most. But on a basic reptilian brain level, I still get creeped out by a spider when I'm caught unawares and I think that in order to make an effective spider film one has to get in tune with that basic, primal fear in order to do so.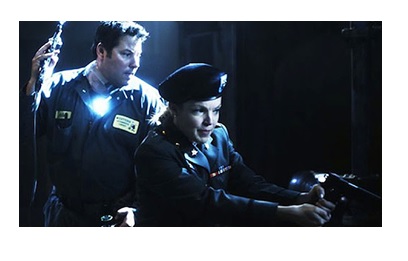 Director Mike Mendez has made an over the top comedy about an arachnid of monstrous proportions. The creepy crawly stabs foot-deep divots into the ground when it walks, swats helicopters out of the sky, and topples buildings. This is, after all, a story about a big ass spider. But the most effective parts of BIG ASS SPIDER aren't the giant monster mayhem scenes, but the smaller scale ones. Namely, the comedy and the build-up creep factor.
To start off, Greg Grunberg is a funny dude. I always thought he was one of the best parts of HEROES when the show was in its prime and when he pops up here and there in bit parts in films, it's always fun and memorable. In BIG ASS SPIDER Grunberg as exterminator Alex Mathis gets to shine as he is the star, front and center. The comments he makes under his breath, the snark he delivers which somehow also come off as sincere, the faultless delivery of lines that should be jaw droppingly cool or pants shittingly intense coming from anyone, come off as hilarious when performed by Grunberg. He's the big loser you can't help but cheer for despite the fact that he looks like he couldn't hurt a fly and in this role that makes him all the more likable as the unlikely hero. I'm hoping that after his starring role here he will get some chances at some bigger roles because the guy's great here.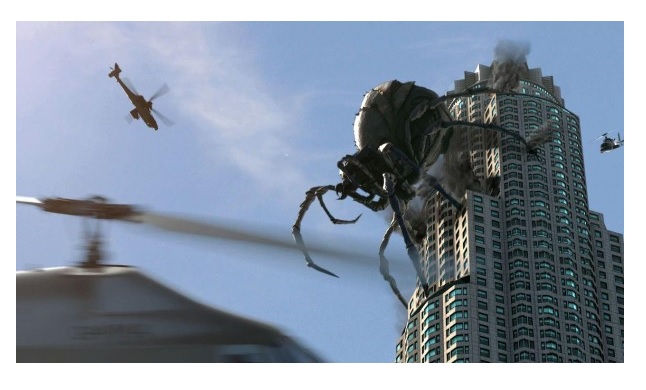 Adding to the fun is Lombardo Boyar who plays hospital security guard Jose Ramos. The pairing of Boyar and Grunberg is fantastic the whole way through and though the two guys just met, they click in this film like they've been at this bug busting business for years. The back and forthings between these two actors is what makes this movie so much fun and it allows the film to be about much more than a spider running amok in LA.
Now, as I said above, Mendez does two things right in this film (first being the comedy). The second part the director nailed was the creepy bits that lead up to the spider gone wild. There are quite a few scenes at the beginning as the spider is only about a foot tall that are genuinely creepy and will make the arachnophobes watching pull their legs to their chins in fear. The attention to the spindly legs and soulless black eyes and the way the spider moves through the shadows as it stalks its prey are all expertly done in the opening moments of the film. There's an especially effective scene where the spider exhibits its craftiness by setting up a trap to catch a bum for food by dangling a quarter from a web. Just like a common house fly, when the bum goes for the treat, he gets caught and soon it' buffet time for spidey. The added coolness that the spider spits a venom that melts off faces is just added gravy.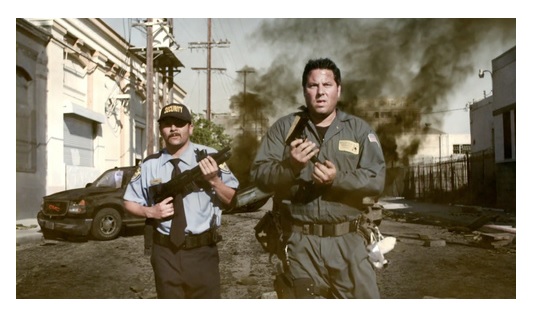 The latter scenes of BIG ASS SPIDER are by far the weakest as the effects seams begin to show occasionally in the broad daylight attacks as the spider skitters through parks stabbing victims with its legs and climbs up and down buildings. While the effects are better than most of the mid-level budgeteers out there, these latter scenes are somewhat weak. But by this time, I already kind of fell in love with this film what with the performances and the ooky beginnings.
Cameos by Lin Shaye and Lloyd Kaufman are fun to see, as is Ray Wise in a beefier role as a military higher up. There's a plot point about government science gone awry and the occasional sidebar as the spider kills another group of people on its way to lay babies to make more spiders with large posteriors, but the reason you're going to like this film is because of the likable characters of Alex (Grunberg) and Jose (Boyar). They carry the film and elevate what might have turned out to be another ScyFy Original reject to something much, much more fun. From the inspired opening set to a remake of the Pixies "Where Is My Mind" to the tongue that firmly resides in the cheek area throughout the runtime, BIG ASS SPIDER is one of the better spider horrors in quite a while.
---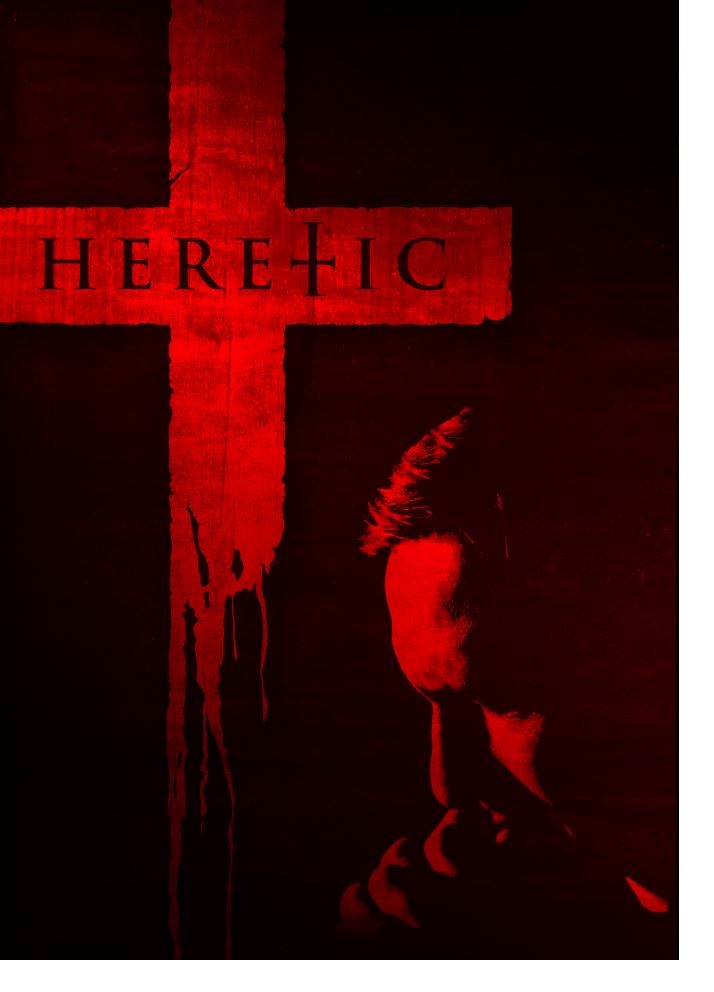 In select theaters this week in the UK/coming soon to the US!
HERETIC (2012)
Directed by Peter Handford
Written by Peter Handford
Starring Andrew Squires, Michael J. Tait, James Zakeri, Holly Fletcher, Will Fox, Jodie McEnery, Jen Nelson, Jeff Clift
Find out more about this film here and on Facebook here
Reviewed by Ambush Bug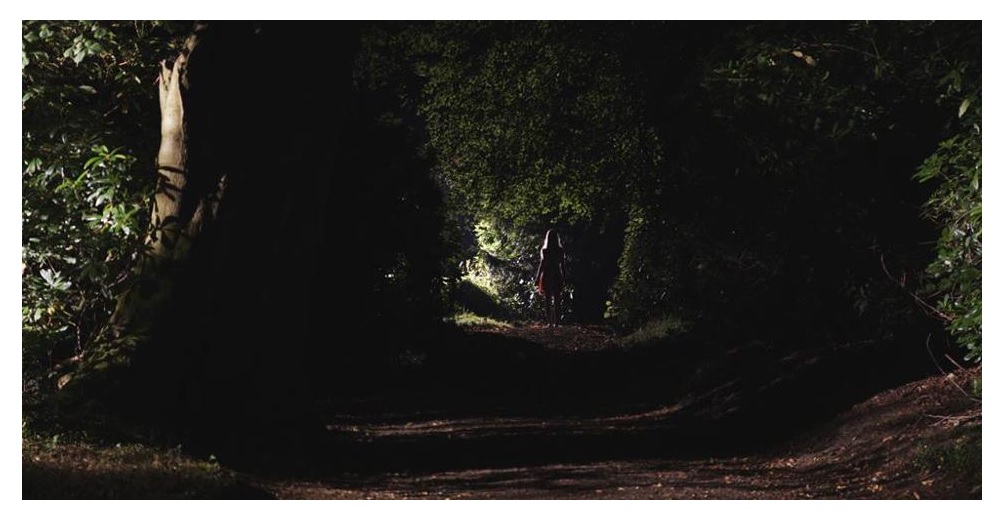 This especially acidic take on organized religion is also a very entertaining little shocker focusing on a priest who has lost his faith after he refuses to talk with one of his parishioners who is pregnant and considering an abortion and she then kills herself. The mystery is deeper and seedier than that involving some incest and murderous intent, but this film seems to be wanting to tick all of the hot button topics and flip them the finger. For that, I have to applaud it.
Andrew Squires plays the burdened priest Father James Pallister who returns home after a long retreat away from the tragedy to attend the funeral of the girl's father. The town opens him with opens arms, but James is still distraught. Drunk and wandering through the village, James finds himself at the girl's home and finds himself mysteriously locked inside. More bizarre and haunting imagery commences as James is visited by numerous people who welcomed him back into town earlier; a suspicious investigator, a flirty parishioner, a fellow priest, and another girl with a problem strangely similar to the first girl's problem. Throughout the night, James sees the ghost of the dead girl and her father who hanged himself and is pushed to the brink of his beliefs and sanity.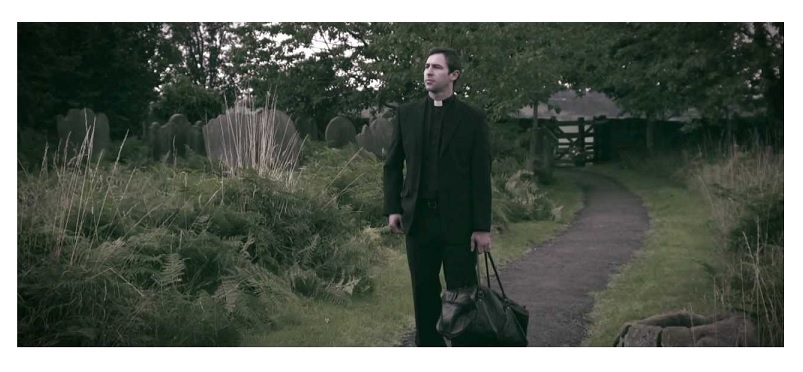 Simple and claustrophobic, most of this film takes place inside a single home abandoned and left to deteriorate. In this sense, the director/writer Peter Hanford is very successful in delivering some truly scary scenes of the tormented priest. Story-wise, the film felt a bit light, as if it went on about a half hour too long for what its worth. Still Hanford delivers a biting commentary on the loopholes of the Catholic Church, how ineffectual the priesthood often is in these complicated times, and how the hold of ancient tome that can be devastating and no help at all.
Filled with fantastically creepy sounds and noises, a deep dark tone, and a claustrophobic set, HERETIC is not going to be pleasing any devout Catholics, but those with a more open mind about religion are bound to find it intriguing and pretty scary.
---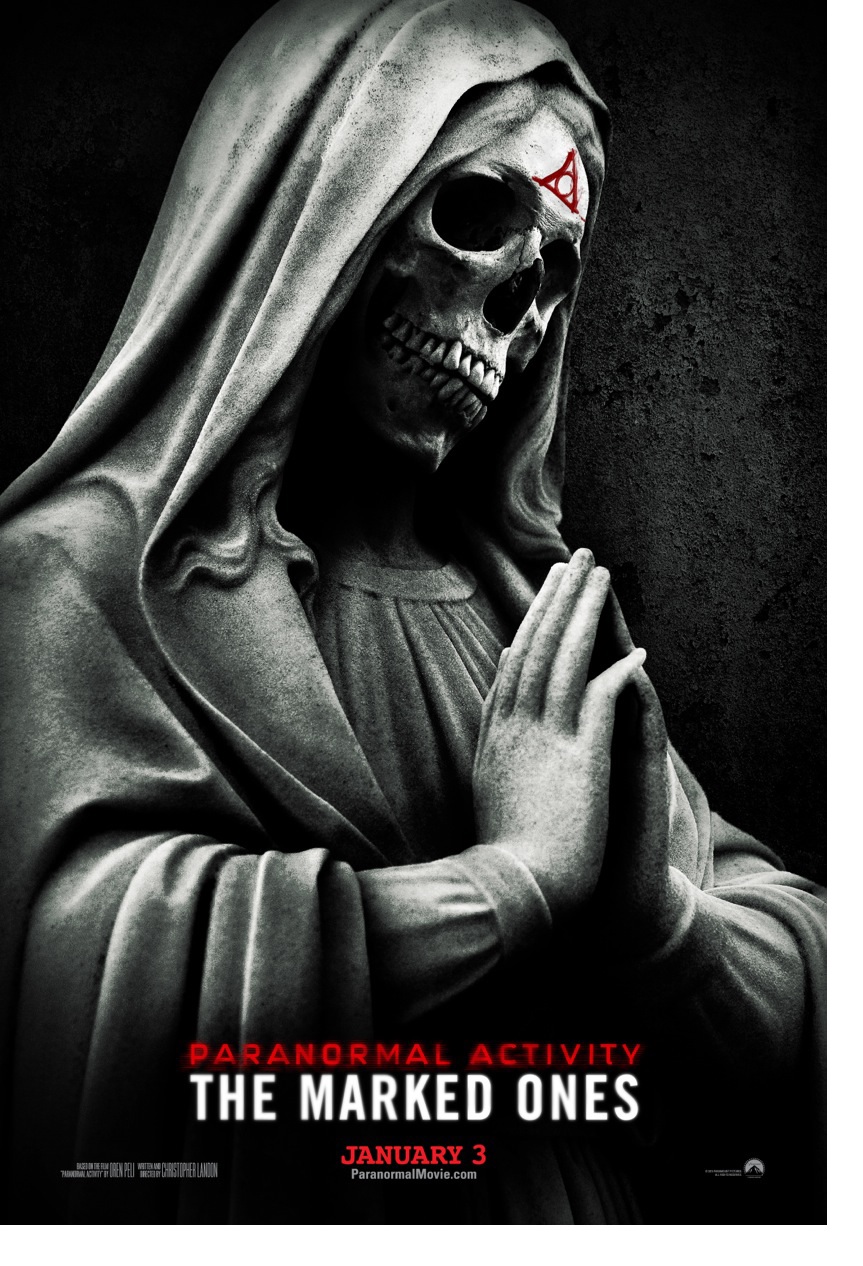 Now in theaters!
PARANORMAL ACTIVITY: THE MARKED ONES (2014)
Directed by Christopher B. Landon
Written by Christopher B. Landon
Starring Andrew Jacobs, Jorge Diaz, Gabrielle Walsh, Renee Victor, Noemi Gonzalez, David Saucedo, Gloria Sandoval, Richard Cabral, Carlos Pratts, Juan Vasquez, Alonso Alvarez
Find out more about this film here
Reviewed by Ambush Bug
Due to holiday and personal commitments, I didn't get a chance to see PARANORMAL ACTIVITY: THE MARKED ONES before it was released last week and after seeing it this week I'm kind of glad I didn't because in order to get into the issues I have with the film, I really need to venture into SPOILER territory. Now usually, I try to avoid spoilers in reviews, but since this film has been out a week and most everyone who was itching desperately to see the film will have already seen it, I really don't feel the need to hold back from spoilers. I also think that I might wait until the week after for a lot of my big budget/big release horror reviews since I think it will spark more discussion than a review posted on the day of the release when no one really has had a chance to see it yet and properly get into the rights and wrongs that occurred in the film. If you haven't seen PARANORMAL ACTIVITY: THE MARKED ONES, check out some of the other reviews from my compatriots here at AICN. Their opinion is as good as mine and I think they avoided spoilers. But here, let's get to spoiling and discussing this baby.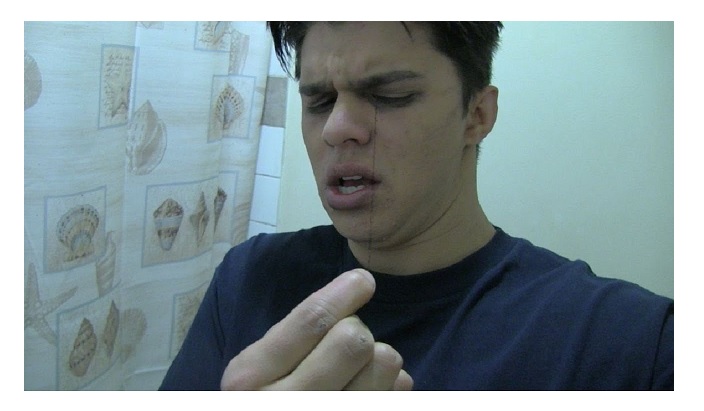 Dubbed as a tertiary tale that occurs in the continuity of the other films, but telling a story that occurs outside of the family plagued by some kind of unseen and otherworldly force from the first three films, THE MARKED ONES introduces us to a whole new cast who share an addiction to record every moment of their lives. While the film takes it's sweet time at the beginning letting us get to know the lead characters, Jesse (the film's star…sort of, played by Andrew Jacobs), Hector (the dude holding the camera most of the time, played by Jorge Diaz), and to a lesser extent Marisol (Gabrielle Walsh, who has very little to do in the story other than scream occasionally and look dumbfounded at the camera). When school valedictorian Oscar (Carlos Pratts) is seen leaving the home of a neighbor rumored to be a bruja (Spanish for witch) and then later seen fleeing the apartment again after the witch is murdered, Jesse and Hector's playful interest in the spooky neighbor becomes serious and the two venture into the witch's abandoned home only to leave with a curse. Jesse feels the bulk of the curse and immediately feels its effects; levitating in the air, having super strength, and what seems like an inability to be harmed. But before this turns into an unintentional sequel to CHRONICLE, Jesse's new gifts become curses and while the camera is recording, we see him get sucked further and further into the world of witchcraft and the unknown.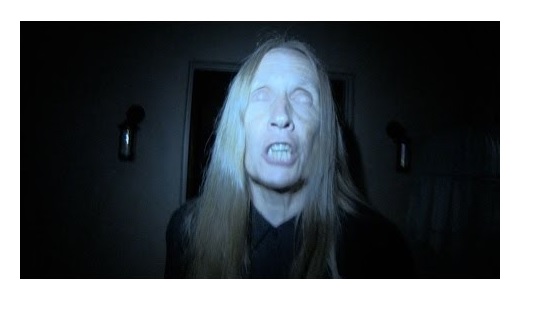 The thing that bothered me the most in this installment of PARANORMAL ACTIVITY was that it simply wasn't as scary as the rest of them. I counted three times when I jumped in this film—which is two more than the lame last installment, but infinitely less than the feeling of utter dread and edge-of-your-seatness I felt in the first two films. There are a few decent jump scares as something either appears out of nowhere as the camera swings around or something leaps at'cha from the darkness accompanied by a loud noise which is more of a reflex reaction to the sound than a real start from anything that truly causes terror. The feeling of dread that is so well achieved in the first two films and even the third is lessened in effect since the camera is never still a second in this film, allowing no real time for those slow creeping chills. This film simply doesn't have the patience to sit still that long. Here everything is jumping out at you like a hick-town funhouse which may cause an immediate start to one's ticker, but it's a fear that fades as quickly as it happens. Even the few startling moments that did occur are telegraphed so far in advance the effect is dead before it even hits as characters look into the camera and say "There's nothing here." with a big space to the left or right of them—just the right size for someone to jump out of the darkness at them. Had this been the first horror film I've ever seen, maybe that would have got me. But this ain't my first rodeo and I know the readers of this column are too savvy enough to fall for it as well.
The acting in this film is actually pretty good with Jacobs and Diaz offering up some likable characters. The parts of this film I actually liked the most were the build-up scenes where we get to know these people as individuals. Usually in these types of films, this is the part I'm dying to speed through, but the likability of these two characters make it all the more entertaining, especially given the detail that these are two Hispanic characters offering us a window into a world that is often not seen in mainstream cinema. The scenes where Hector accidentally films gang members doing a drug deal from across the street and then is noticed by them was by far more tense than the ghostly happenings that happen afterwards. The same goes for the scene where two punks try to steal Jesse's backpack show that the dangers of simply living in the neighborhood these two good-hearted kids grew up in is more dangerous than most hell houses seen in the privileged families seen in the previous sequels.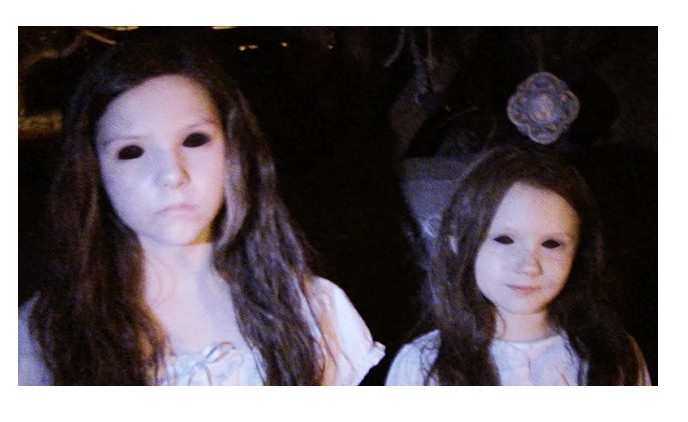 That said, the "story" of THE MARKED ONES is flawed as can be. Other than the fact that Oscar may be the first born of a family, there's no reason for him to be at the bruja's house at the beginning and furthermore no reason for him to be there the night of her death. There are plenty of first-borns out there—if you think of it, all families have one. So why Oscar? You won't find an answer in this film. Also from a simple structural standpoint, Hector turns out to be the star of the story, though the camera is constantly focused on Jesse who should be the star. It's through Hector that we experience fear and while the other PA films had their main actor going through a transformation throughout the whole film, this one seems to lose its focus once Jesse turns to the dark side. A later scene has Jesse turning on Hector, telling him that the camera is his best friend and not Jesse himself. For some reason, this point, which should have been impactful to any emotional connection that should have happened by this point, fell flat either from the delivery, or maybe from the fact that we really don't know whose story this is at this point and who's right or wrong. Or maybe the connection between bros is just not as resonant as the connection of marriage that is used in the previous films.
One of the main complaints of the PARANORMAL ACTIVITY films is that the overall story moves like an inchworm in slo-mo with the only bit relevant to the overall mythos happening in the final seconds. PA4 was the worst of this with the only thing of relevance literally happening in the last five seconds. Here there is some progression; some definition to the unknowns hinted at in the first few films. The subject of time travel is breached and the use of a mystical doorway which takes the one crossing though it to evil places is introduced. While this might be considered an expansion, I have to air my disappointment that this is the direction the story is taking. Time travel seems to be the new "thing" to do these days with +1, LOOPER, and other films fucking with the space time continuum lately. But somehow, tying this film back into the realm mastered by Doc Emmet Brown just doesn't feel…scary to me. I guess any explanation of what's behind the curtain is going to be a disappointment since through the span of five films, expectations as to the reveal are going to be gargantuan, but making a decision to show what happened off camera at the end of the first PARANORMAL ACTIVITY as Katie kills Micah definitely lacks the punch the original off-screen kill had.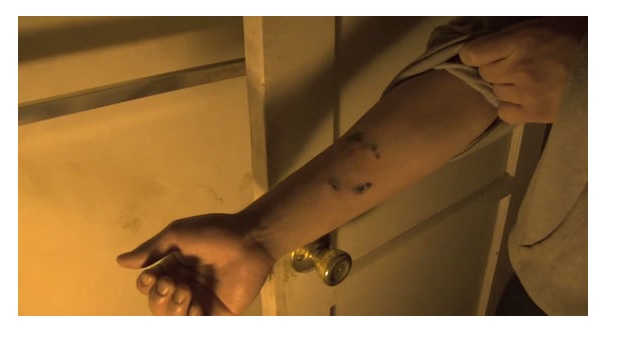 The bombastic ending with gangsta' gunz a-blazin' is definitely a move to pander to the younger demo who said they were bored with the patient pace of the earlier ones. Something exploding and seeing witches being blown back as they advance with knives in a gunfight is fun to see, but scary it is not and just because something is 'sploding doesn't necessarily mean something is happening in the story. Even the witchy things like pulling a two foot long hair from your eyes or seeing little somethings move under one's skin are fun, but lack punch. The one scene that did effect me involving the Chihuahua being held to the ceiling by an unknown force affected me only due to my concern that the dog seemed genuinely scared in this scene, but hurting a dog is the lowest common denominator in touching the heart and concern for an innocent animal is not pants-shitting scares by a long shot.
Don't get me wrong. I have found stuff to love in all four PARANORMAL ACTIVITY films prior to this one. I'm not one of those people who hated the series from the beginning. But PARANORMAL ACTIVITY: THE MARKED ONES most grievous sin is that it ventures too far away from what made the original film scary in the first place. I'm all for evolution and change. I want to see something different in sequels and not a retread from the original. But what worked in PARANORMAL ACTIVITY was very simple; a dark room, a static camera, an increasing sense of unease—all occurring while someone is asleep and thinking they are safe and sound in bed. That's what made me fear to turn out the light when I watched the original film and the sequel after it. None of that happened with THE MARKED ONES. With there being so many found footage films out there, the PARANORMAL ACTIVITY series at least made itself distinct by smartly using the static camera motif to fondle our expectations in interesting ways. By switching to the hand-held camera motif full force, THE MARKED ONES simply becomes one with the found footage herd that has been stampeding through bargain bins since the original film hit. Knowing that THE MARKED ONES is a tale from the periphery is a good thing, though, since maybe it can be the place where mistakes can be made and maybe after an abysmal PARANORMAL ACTIVITY 4, the next sequel (scheduled to be released later in the year) will get back on course with the stuff that scared us in the first place.
---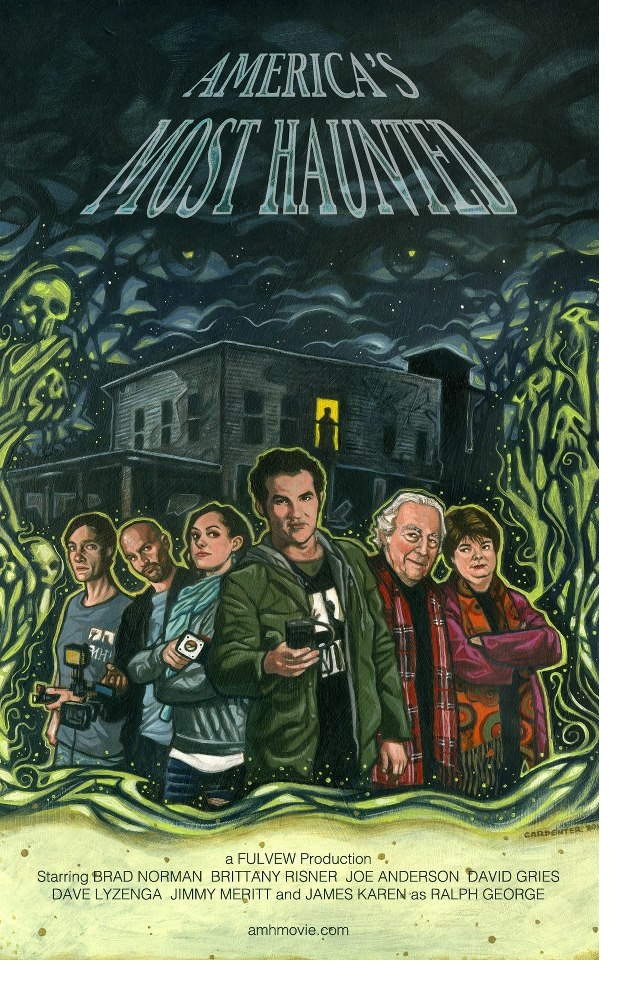 Advance Review: Currently touring festivals!
AMERICA'S MOST HAUNTED (2013)
Directed by Chris Randall
Written by Joe Anderson, Chris Randall
Starring Brad Norman, James Karen, Brittany Risner, Joe Anderson, David Gries, Dave Lyzenga, Jimmy Meritt, Sue Ellen Pabst, Daniel Falicki, Amy McFadden,
Find out more about this film here and on Facebook here
Reviewed by Ambush Bug
Being an unabashed fan of Ghost Hunting shows, I have to admit, I have grown a bit tired of them as of late. I whole-heartedly believe there is something out there all unknown and other-worldly (or at least I want to believe), but there's no way these strange occurrences can occur every week for a television show. The bumps in the night and voices picked up in EVP's are all fun to speculate upon, but most of the time it's the camera man coughing or some stage hands knocking over shit. I know. I used to work on one of those shows about twenty years ago, and while I can't comment on all of those shows, I do know that being a production assistant on the one I worked on, I may have inadvertently contributed to the ghost hunt with the occasional fart, puff of cigarette smoke, or clumsy fumbling of equipment. But I do want to believe, so I understand the drive ghost hunters have.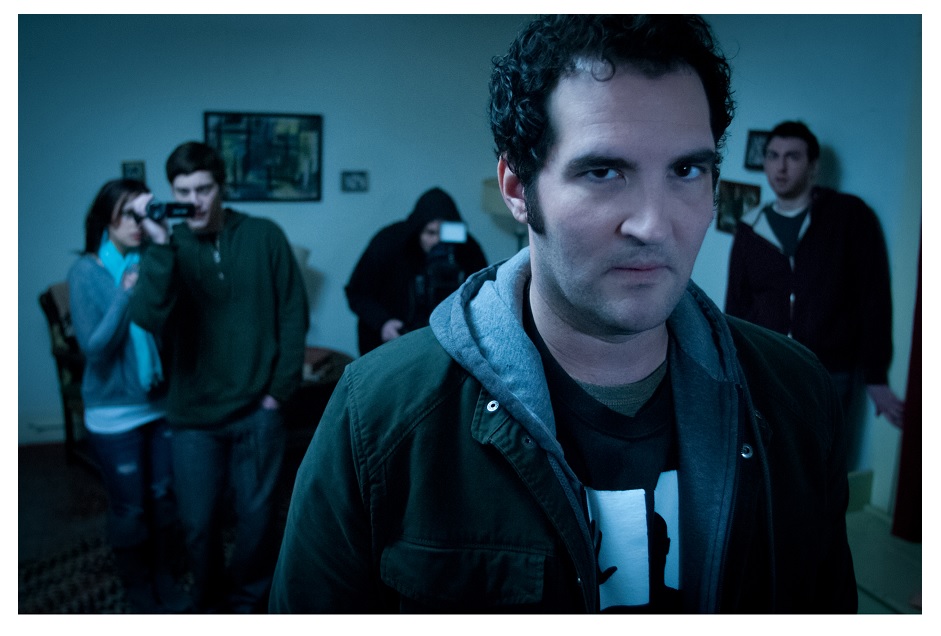 The crew depicted in the film AMERICA'S MOST HAUNTED is the type who feel as if they've seen and done it all. They've given up the ghost so to speak. The hot girl of the group has a meeting in LA that she is distracted with. The macho lead talks tough to the spirits with terms like "Let's get that ghost." much like the bros from GHOST ADVENTURES posturize for the ghosts in that outrageously inane show. And the rest of the crew are scurrying around behind the scenes to make up spooky shit because "ghost don't perform on cue" and boring does not make good television. But when this jaded group of PI's (Paranormal Investigators) show up to with all of their tricks at an already haunted house, the team isn't really prepared for the real thing.
The most effective bits of AMERICA'S MOST HAUNTED occur in the first half when we are just teased with glimpses of the paranormal. Doors slam. Shadows move. A blur of a figure is caught off camera. These scenes are extremely effective and director/writer Chris Randall and writer Joe Anderson do a good job of allowing the otherworldly to creep in rather than slap us in the face with it. There's a particularly effective scene as a ghost hunter sees a ghost hiding under a bed, only part of the ghost can be seen, and the ghost says "Hide." to the ghost hunter that got the hairs on the back of my neck to stand at attention. For these opening scenes alone, I'm recommending this film as better than any ghost hunting show you're ever going to see.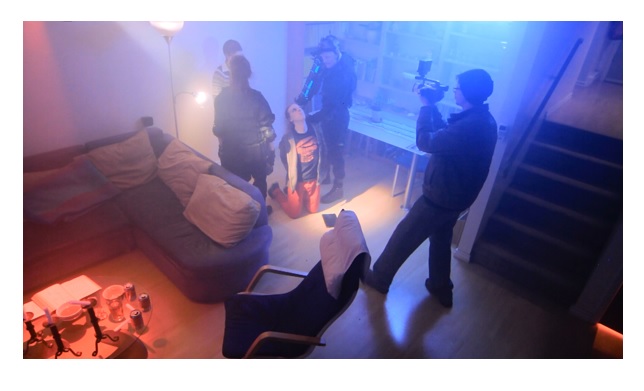 That said, I wish the filmmakers would have gone the less is more approach and not shown the ghosts so clearly in the latter half. Seeing someone walking around in a green screen set to transparency just isn't that scary and while it's what we want to see in the ghost hunting shows, I think what we want to see in a ghost story is something scary. Bizzare blobs or moving shapes would have been much more effective than these see-thru specters.
That said, there are some solid laughs as the ghost hunters realize the situation they found themselves in is more paranormal than normal. I laughed quite a lot at this film and I think if you're a fan of ghost hunting shows, you will too. Though the ghosts loose a little of their boo in the latter half of this film, the spooky first half makes AMERICA'S MOST HAUNTED one of the better spectral sleuthing flicks of late.
---
And finally…Written and directed by Josh MacDonald, the same guy who brought us the awesome THE CORRIDOR (review here), GAME is described as
Three deadly pursuers. One terrified woman... but the game is about to change.
This one is a goodie and proof that MacDonald knows what it takes to cause chills and thrills. Find out more information on GAME on Facebook here!
See ya next week, folks!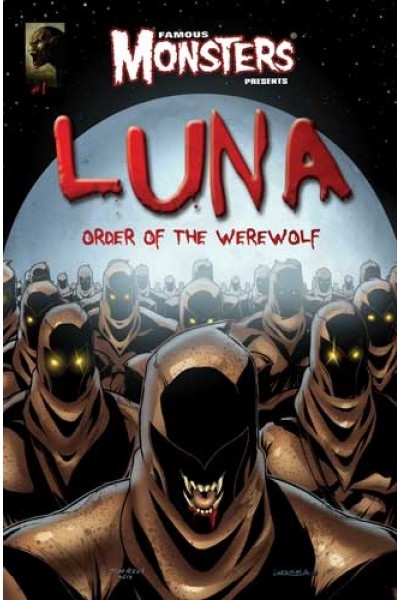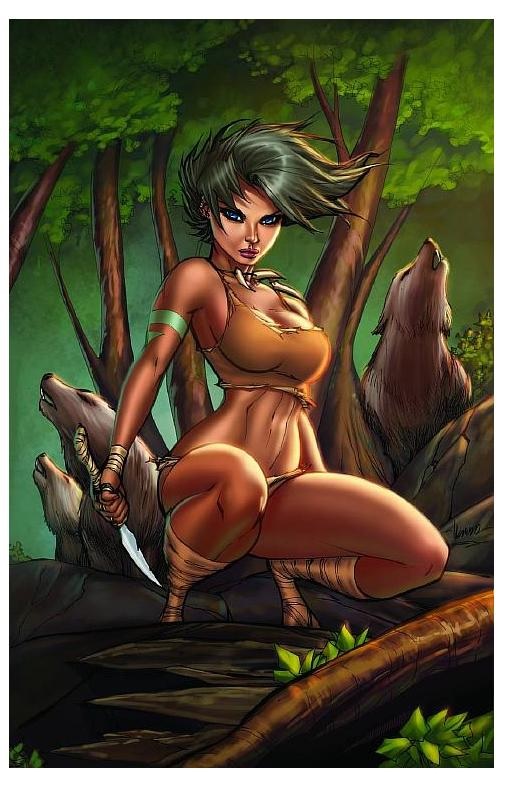 Ambush Bug is Mark L. Miller, original @$$Hole/wordslinger/writer of wrongs/reviewer/interviewer/editor of AICN COMICS for over 12 years & AICN HORROR for 4. Mark's written comics such as THE TINGLERS & WITCHFINDER GENERAL, DEATHSPORT GAMES, NANNY & HANK (soon to be a feature film from Uptown 6 Films), Zenescope'sGRIMM FAIRY TALES Vol.13 & UNLEASHED: WEREWOLVES – THE HUNGER and a chapter in Black Mask Studios'OCCUPY COMICS. FAMOUS MONSTERS' LUNA: ORDER OF THE WEREWOLF (co-written with Martin Fisher) will be available soon in trade. Mark also wrote the critically acclaimed GRIMM FAIRY TALES PRESENTS THE JUNGLE BOOK and its follow up THE JUNGLE BOOK: LAST OF THE SPECIES! Follow Ambush Bug on the Twitters @Mark_L_Miller.
---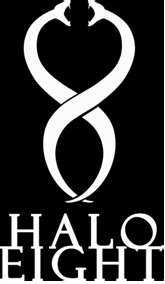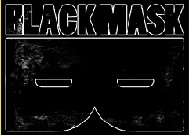 Find out what are BLACK MASK STUDIOS and OCCUPY COMICS here and on Facebook here!


Interested in illustrated films, fringe cinema, and other oddities?
Check out Halo-8 and challenge everything!
---
Find more AICN HORROR including an archive of previous columns on AICN HORROR's Facebook page!