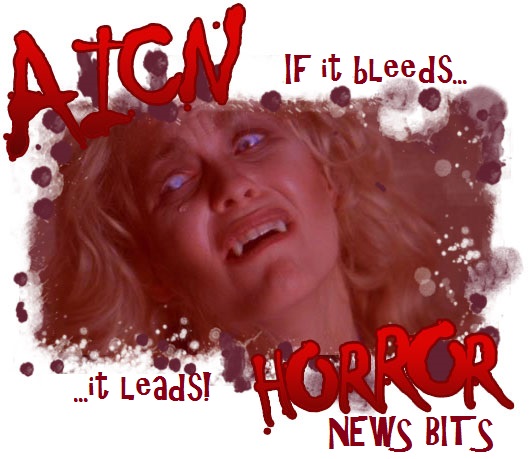 Logo by Kristian Horn
What the &#$% is ZOMBIES & SHARKS?
---
Greetings, all. It's Ambush Bug with some more horror news—bite size, just how you zombies like it!
---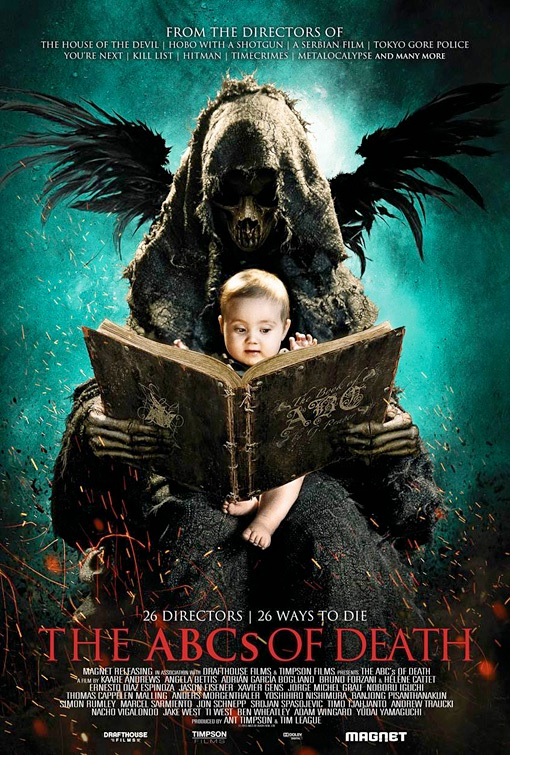 ABC'S OF DEATH gets fractional with Indie Filmmakers 1.5 Edition!
For those of you who can't wait until later this year when the ABC'S OF DEATH 2 comes out, Drafthouse Films and Timpson Films announced this week that they will be releasing a spin-off anthology celebrating their personal favorite "M" submissions for the upcoming ABC'S OF DEATH film. The best 26 shorts will be put together in one stand alone piece called ABC'S OF DEATH 1.5 featuring;
Maria Ivanova's "M is for Mactation", Tim Rutherford & Cody Kennedy's "M is for Magnetic Tape", Christopher Younes' "M is for Maieusiophobia", Dante Vescio & Rodrigo Gasparini's "M is for Mailbox", Summer Johnson's "M is for Make Believe", Peter Czikrai's "M is for Malnutrition", Michael Schwartz's "M is for Manure", Steve Daniels' "M is for Marauder", Zac Blair's "M is for Marble", Eric Pennycoff's "M is for Mariachi", Todd Freeman's "M is for Marriage", Jeff Stewart's "M is for Martyr", Gigi Saul Guerrero's "M is for Matador", Wolfgang Matzl's "M is for Meat", Ama Lea's "M is for Mermaid", Joe & Lloyd Staszkiewicz's "M is for Merry Christmas", Carlos Faria's "M is for Mess", Nicholas Humphries' "M is for Messiah", Brett Glassberg's "M is for Mind Meld", Álvaro Núñez's "M is for Miracle", Barış Erdoğan's "M is for Mobile", Carles Torrens' "M is for Mom", Travis Betz's "M is for Moonstruck", Peter Podgursky's "M is for Mormon Missionaries", Mia'Kate Russell's "M is for Muff", & Jason Koch & Clint Kelly's "M is for Munging."
ABCs OF DEATH 1.5 will be released digitally from Drafthouse Films in early 2014, and will screen at select Alamo Drafthouse cinemas. Magnet Releasing will be unveiling ABCs OF DEATH 2 on VOD, in cinemas, and on DVD and BluRay in 2014.
---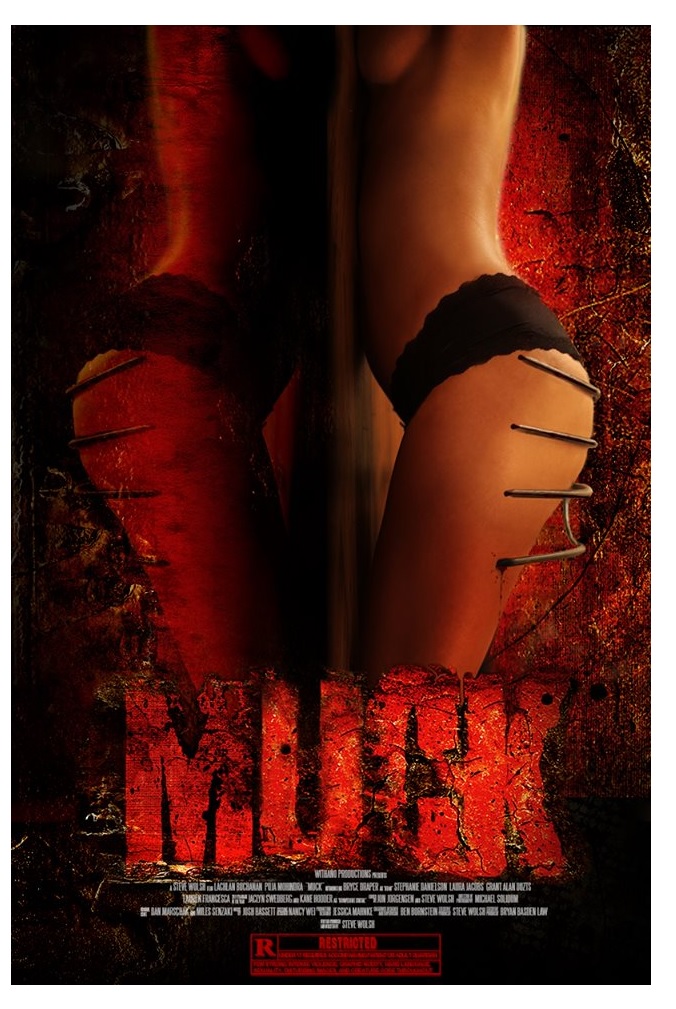 Get ready for three times the MUCK!
MUCK is shaping up to be quite the film with stars Kane Hodder and Playboy Playmate of the Year Jaclyn Swedberg all set to get dirty in this throwback slasher/monster movie. The film is described as;
Muck is the highly stylized and hyper-violent middle chapter of a true horror trilogy that unfolds like a love letter to horror fanatics everywhere. Filmed completely on the Red Epic in ultra HD without any CGI, Muck simultaneously pushes the limits of what can ...
MUCK is wrapped and ready to go and the busy folks behind the film are hard at work on the prequel to the film as MUCK is the middle chapter of a trilogy. This is the first time an indie horror film to begin production of a prequel before the original has its official release date. I can't wait to see this one.
Follow MUCK on the Facebooks here!
And below is the trailer to get you excited about it!
---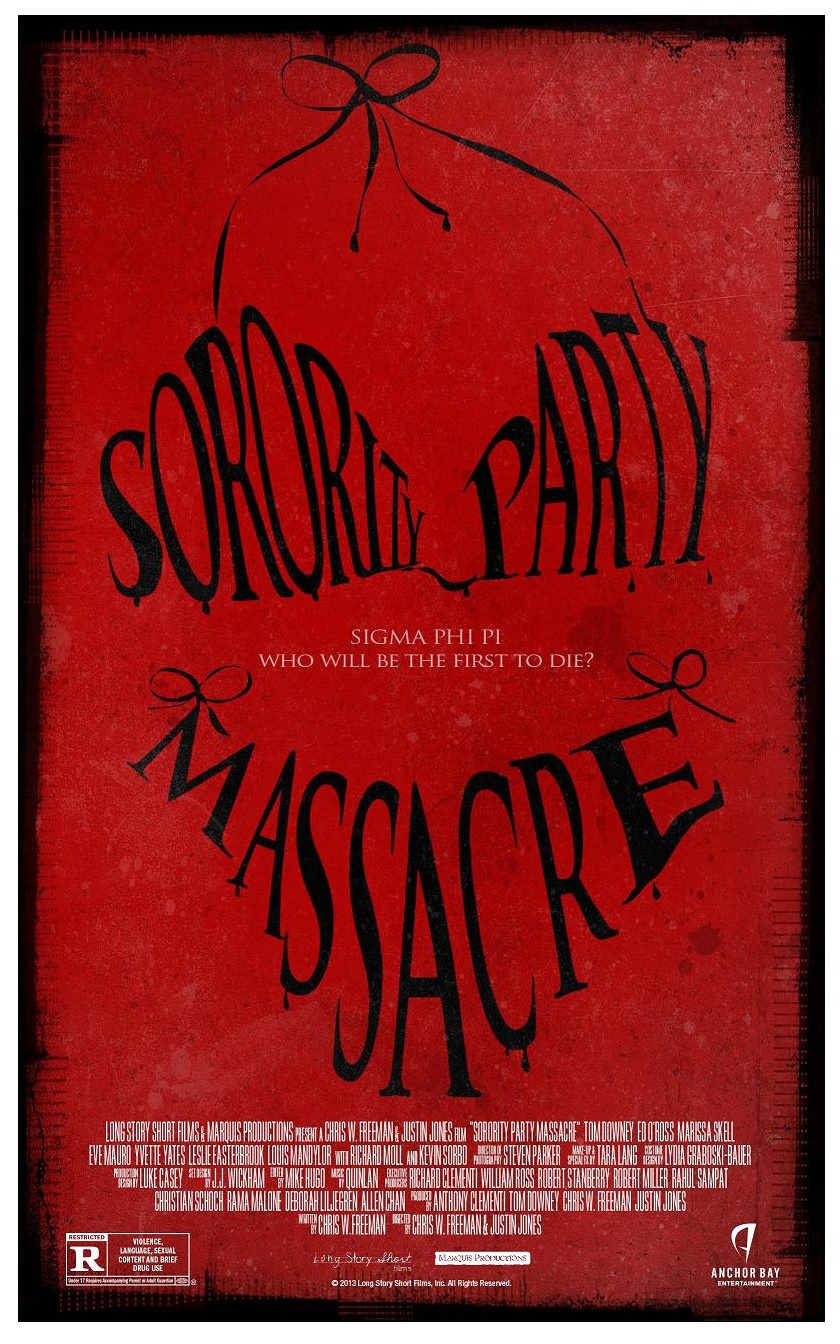 Alright, seriously guys…who invited the psychotic murderer to the SORORITY PARTY MASSACRE?
All girl parties. Serial killer. Two great tastes that taste great together. Following the path blazed by SLUMBER PARTY MASSACRE and its various sequels comes SORORITY HOUSE MASSACRE, a new film directed by Chris W. Freeman and Justin Jones and starring Tom Downey (MIRROR IMAGE), Kevin Sorbo (HERCULES), Ed O'Ross (SIX FEET UNDER), Leslie Easterbrook (THE DEVIL'S REJECTS), Richard Moll (NIGHT COURT), adult film legend Ron Jeremy and new Scream Queens Marissa Skell, Eve Mauro and Yvette Yates.
Described as
Old school terror exploitation. An isolated town full of sexy college girls has a dangerous secret: one girl has gone missing each year for the last 20 years. A big-city cop, in danger of losing his badge, agrees to aid the town's sheriff in investigating these unsolved disappearances. Quickly they realize that they are dealing with a psychotic killer whose brilliance has been twisted into a taste for terror, torture and sorority sister torment. But when this party gets started, who will graduate – and who will be held back?
Available on DVD on February 11th from Anchor Bay,
you can find out more about this film on its Facebook page here.
And check out the trailer for this one below!
---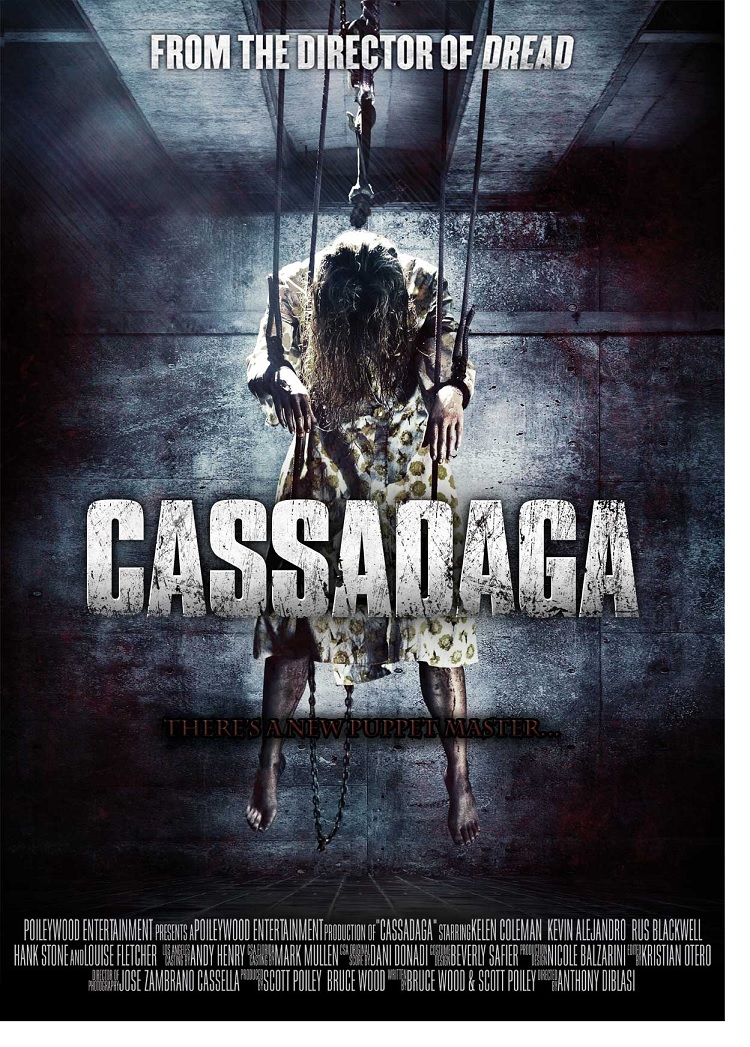 A Behind the Scenes Look at the Perverse Puppeteering of CASSADAGA!
I reviewed CASSADAGA last week on AICN HORROR
and this solid thriller/horror film is now available on DVD, VOD, and digital download.
The director Anthony DiBlasi was nice enough to share a behind the scenes look at CASSADAGA in this clip below.
Cassadaga BTS from PoileyWood Entertainment on Vimeo.
And here's the trailer!
---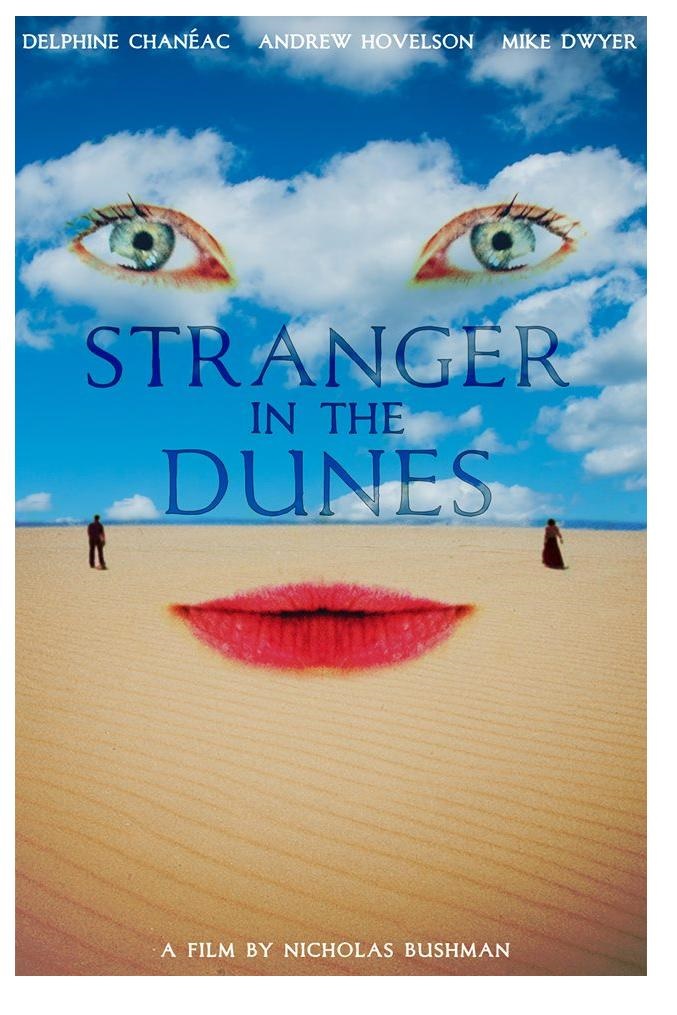 Blood and sand mix in this teaser for STRANGER IN THE DUNES!
I've got the first teaser from the upcoming film STRANGER IN THE DUNES starring SPLICE actress Delphine Chaneac.
The film's Facebook page
vaguely describes the film as;
An old friend visits a troubled married couple at their beach house.
Which sounds innocent but this teaser suggests otherwise.
---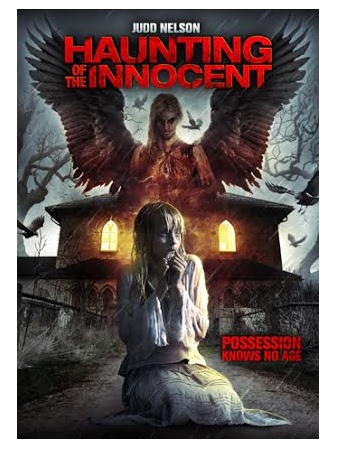 Judd Nelson gets witchy in HAUNTING OF THE INNOCENT!
Starring Judd Nelson and directed by Matt Hish, HAUNTING OF THE INNOCENT claims to be a true story. The film is described as;
Desperate to reconnect with his wife and son after a violent attack leaves them fear-stricken and traumatized, a father moves his family to a sleepy New England town and finds himself in a fight against supernatural forces hell-bent on tearing them apart.
Check out the first trailer below to see if this one is worth haunting your disk player when it is released on January 28th through Redbox!
---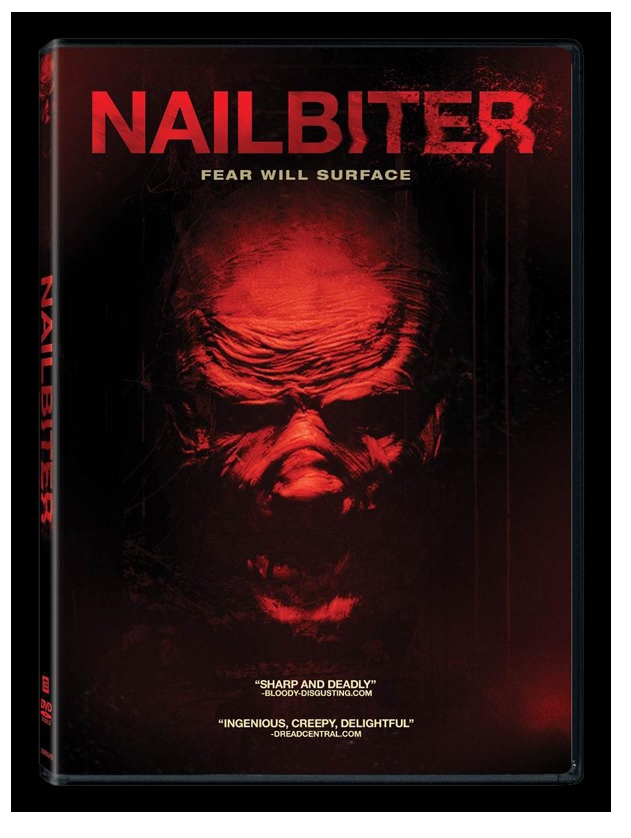 Get ready to chomp those cuticles with NAILBITER on FEARnet!
Friend of AICN HORROR and all around talented director Patrick Rea passed along word that his amazing film NAILBITER (
reviewed here
) will be available on FEARnet next week January 19th at 10/9 central!
Find out other times to see the film here
.
You can find out more about this film on its website here
!
And check out the trailer below to this really cool indie horror!
---
And finally…here's a devilishly funny short about two smoking hot girls who can't seem to stay out of trouble. But when they cross paths with a demon, they may have met their match. Capably acted with some nice comic timing from lead actresses Ariel Teal Toombs (daughter of Pro Wrestler "Rowdy" Roddy Piper) and Mayra Rodriguez, HELL'S BELLES is a campy and fun short written and directed by Christian Ackerman. I especially liked the demon makeup. Here's hoping we get to see more of these sexy belles in future HELL'S BELLES installments. No worries on nudity, but there are some swears, so you may want to play this one low at work.
Find out more about HELL'S BELLES on their Facebook page here!
Enjoy HELL'S BELLES!
---
Look for AICN HORROR horror and genre film reviews every Friday.
Find more AICN HORROR including an archive of previous columns on AICN HORROR's Facebook page!