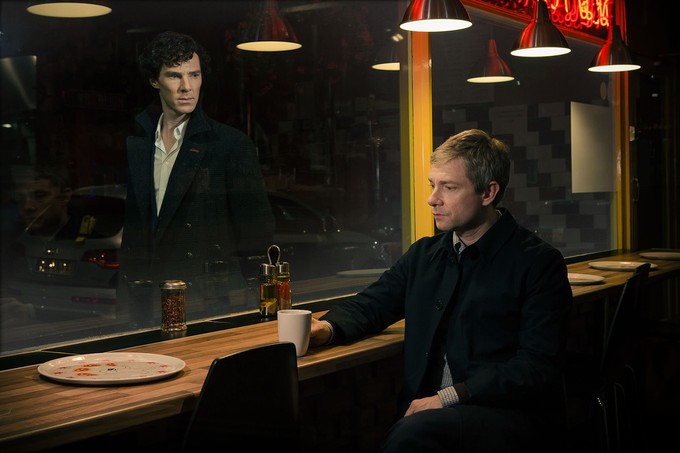 I love, love, love SHERLOCK from DOCTOR WHOvians Steven Moffat and Mark Gatiss.
I'll confess to not always understanding the damn thing, because my mind doesn't always follow or comprehend intricate mysteries. Never has, really.
HOWEVER, even though mysteries aren't my cup of tea - SHERLOCK…entertains tremendously. Its style, its energy, its rich performances. So much…oomph to the show, its occasional unevenness not withstanding.
And I'm excited as hell to see it return to BBC One on January 1, and PBS in the US a few weeks later. To prime us for its coming, BBC has issued a new and nice minisode. If this minisode doesn't mean anything to you because you haven't been watching the show? It's not too late! Check Netflix or Amazon for streaming options, for example...and/or the SHERLOCK Blu-rays look fantastic. You may be very happy that you give this one a chance.
Look for a "Lockback" moderated discussion forum (similar to our ongoing 'Docbacks') when SHERLOCK retruns to screens in a few weeks.
—————-
Glen Oliver
"Merrick"
- e-mail
- Twitter