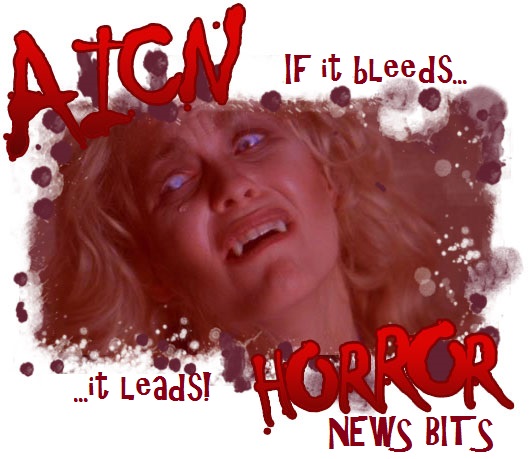 Logo by Kristian Horn
What the &#$% is ZOMBIES & SHARKS?
---
Greetings, all. It's Ambush Bug with some more horror news—bite size, just how you zombies like it!
---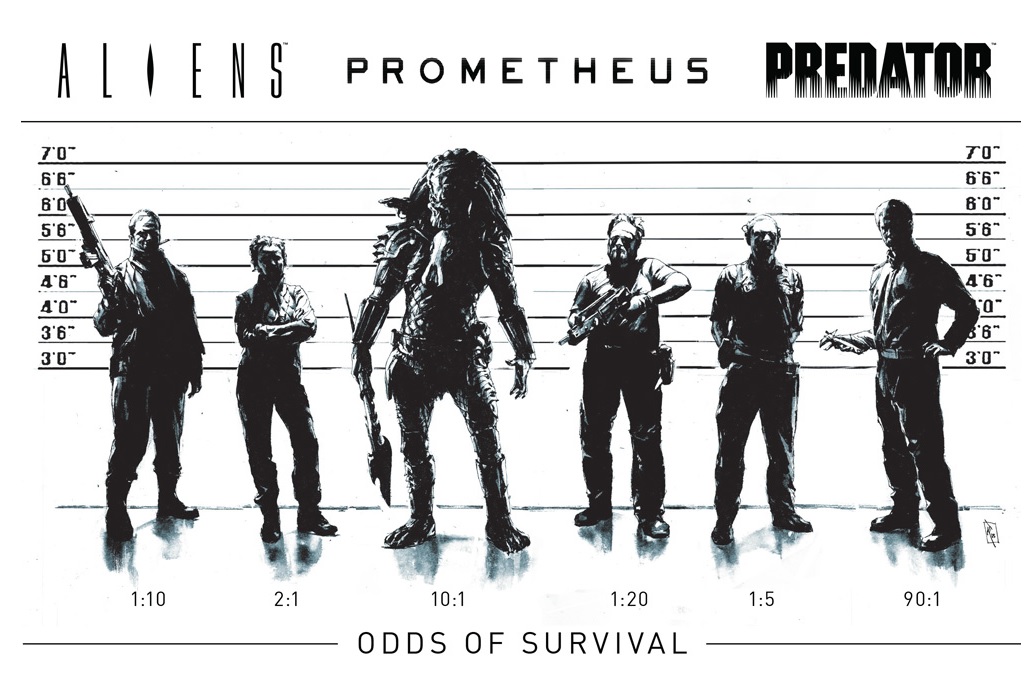 Three Worlds of SciFi Horror Unite in One Monumental Dark Horse Comic Series!
Dark Horse Comics
released an ominous image teaser this week which looks to be announcing a mash-up of monstrous proportions. The comic book company has been producing excellent ALIENS and PREDATOR series for years and even a few ALIENS VS PREDATOR series that are 100 times better than the ALIENS VS PREDATOR film. Now DH is adding the PROMETHEUS world, which already has ties with ALIENS, into the mix. Hopefully, DH's winning streak will continue and we'll see the best of all three scifi universes in comic book form soon!
---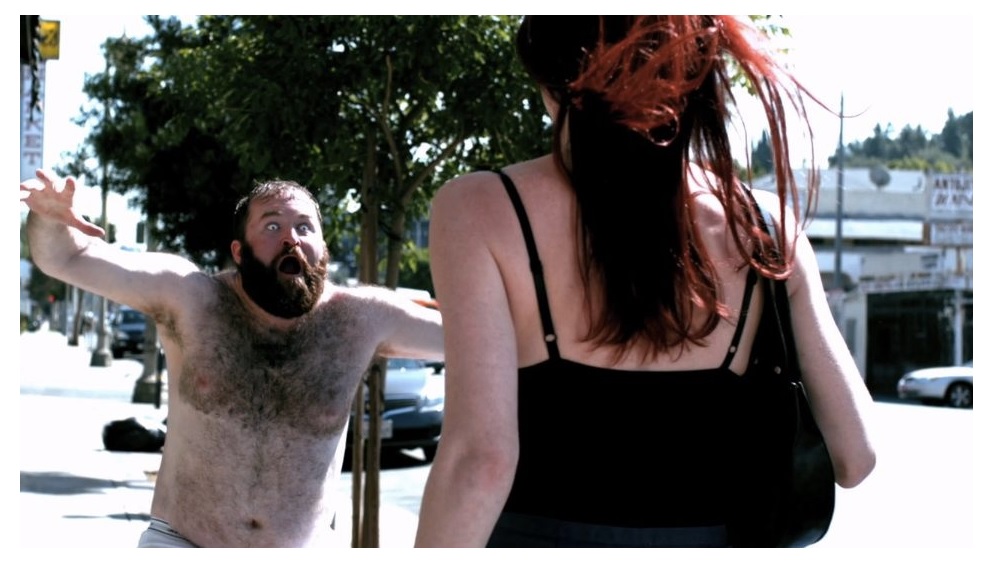 If masticate is what I think it is, ABC'S OF DEATH 2 has promise to be sicker than the original!
Robert Boocheck's M IS FOR MASTICATE was chosen for the official open letter slot in the sequel to the highly popular ABC'S OF DEATH film, due out later in 2014. The short film was chosen to represent the letter M out of over 500 candidates (some of which were previewed in AICN HORROR). Boocheck win's $5000.00 which is nothing to sneeze at, but more importantly, his short film gets to be featured in ABC'S OF DEATH 2 joining the other directors; Julian Barratt (THE MIGHTY BOOSH), Israel's Aharon Keshales and Navot Papushado (BIG BAD WOLVES, RABIES), Japan's Sion Sono (COLD FISH, SUICIDE CLUB), animator Bill Plympton; ROOM 237's Rodney Ascher; Filipino director Erik Matti (ON THE JOB, MAGIC TEMPLE); Lithuania's Kristina Buozyte and Bruno Samper (VANISHING WAVES); SPLICE and CUBE's Vincenzo Natali; indie horror icon Larry Fessenden (THE LAST WINTER, HABIT); THE STATION's Marvin Kren; Todd Rohal (THE CATECHISM CATALYSM); Canada's Steven Kostanski (MANBORG); Cuba's Alejandro Brugués (JUAN OF THE DEAD); UK commercial director Jim Hosking; Japan's Hajime Ohata (HENGE); Canada's Chris Nash (SKINFECTIONS); France's Julien Maury and Alexandre Bustillo (INSIDE, LIVID); E.L. Katz (CHEAP THRILLS); twin auteurs Jen and Sylvia Soska (AMERICAN MARY, DEAD HOOKER IN A TRUNK); A LONELY PLACE TO DIE's Julian Gilbey; Brazil's Dennison Ramalho (NINJAS and LOVE FOR MOTHER ONLY); the founder of Nigerian "Nollywood" cinema Lancelot Imasuen; THE LEGEND OF BEAVER DAM and the upcoming STAGEFRIGHT's Jerome Sable; and animator Robert Morgan (BOBBY YEAH). What a roster!
See if you think they made the right choice as M IS FOR MASTICATE is below!
M IS FOR MASTICATE from Robert Boocheck on Vimeo.
---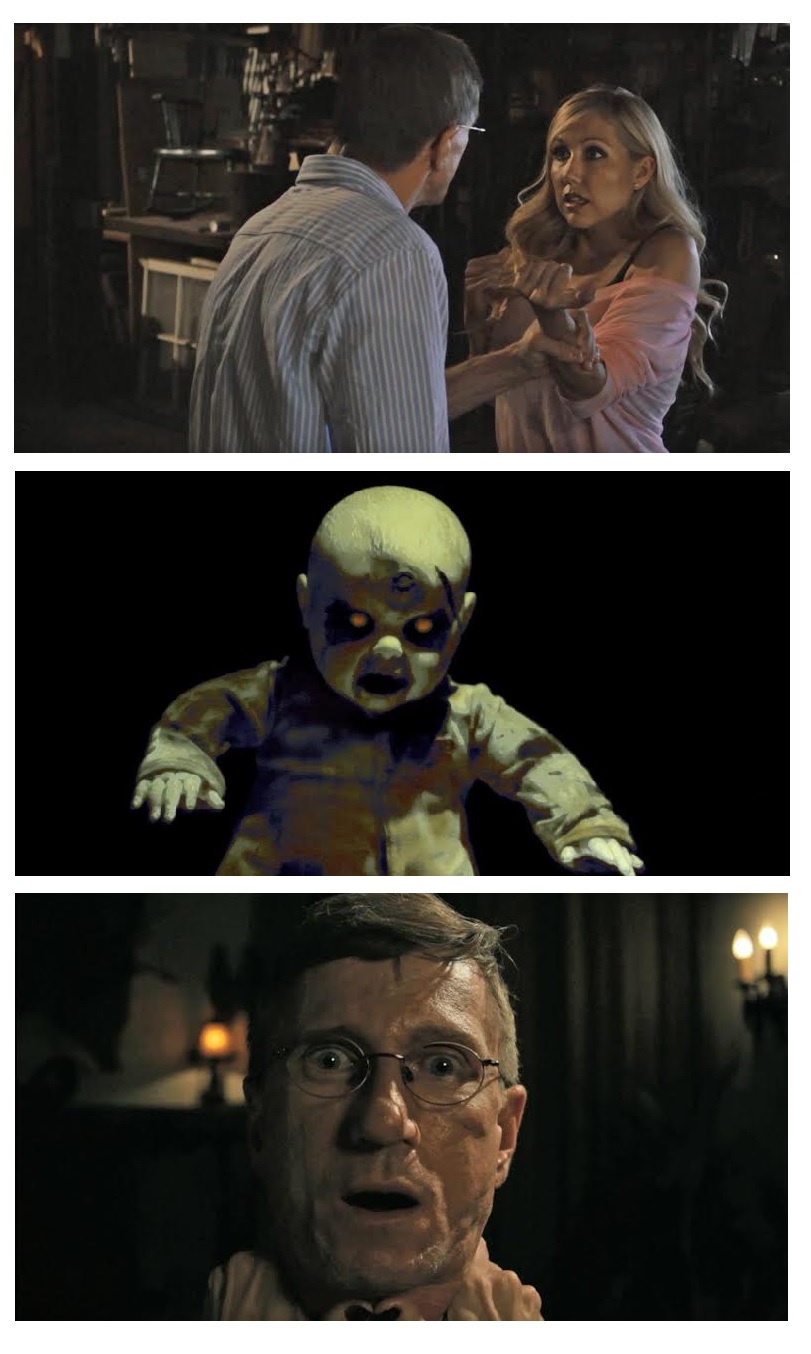 Murder Your Babies in DEADLY REVISIONS!
Set to tour fests in 2014, DEADLY REVISIONS is actor Gregory Blair's directorial debut and stars the hardest working man in horror Bill Oberst Jr (RESOLUTION), Dawna Lee Heising and Cindy Merrill.
The official synopsis reads as follows;
DEADLY REVISIONS is a psychological thriller focusing on what happens when hypnotherapy brings horror to an amnesiac writer. Are the nightmares real or are they imagined? Remembering can be murder!
On the left are some choice pics from the film!
Find out more about DEADLY REVISIONS on Facebook
and check out the teaser trailer for the film below!
---
That durn Duke-Boy's done it now! He's got us a SMOTHERED Trailer to show us!
Actor turned director John Schneider (DUKES OF HAZZARD, SMALLVILLE) will be releasing SMOTHERED, a different kind of slasher film, later in 2014. The film stars a ton of horror icons such as Kane Hodder (JASON X, HATCHET), RA Milhailoff (LEATHERFACE: TEXAS CHAINSAW MASSACRE 3), Bill Moseley (DEVIL'S REJECTS, TEXAS CHAINSAW MASSACRE 2), Don Shanks (HALLOWEEN 5, RIDE WITH THE DEVIL), Malcolm Danare (CHRISTINE, RIDE WITH THE DEVIL), Brea Grant (HALLOWEEN 2), Amy Brassette (GHOST SHARK, RAGIN CAJUN REDNECK GATORS), Shanna Forrestall (THE LAST EXORCISM) and Dane Rhodes (THE LAST EXORCISM 2).
Here's the official synopsis;
The film is a reverse of the classic horror film model. Instead of a bunch of college aged girls getting slaughtered by men in masks, his film features men of the mask getting slaughtered by a beautiful young vixen.
I really dig the premise and the cast, so I'll be following this one closely. Here's the new trailer below!
---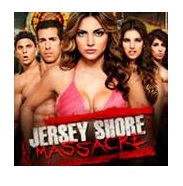 Looking for a film to help out? How's about JERSEY SHORE MASSACRE?
Looking to only cover post production costs on this already shot film, director Paul Tarnopol is turning to crowd-funding to bring his film JERSEY SHORE MASSACRE to all of us.
Find out more about the IndieGoGo campaign here!
Here's the official synopsis;
JERSEY SHORE MASSACRE is a blood-drenched horror comedy that does for guidos and guidettes what Zombieland did for zombies. After losing their Seaside Heights beach rental, Teresa and her girlfriends wind up at her Uncle Vito's hideaway in the New Jersey Pine Barrens along with five obnoxious fist pumpers. Unbeknownst to the group, a mentally deranged killer is single-handedly slaughtering them one by one in the most horrific ways imaginable, assisted only by the group's arrogance and ignorance.
Below is the pitch trailer!
---
And finally…
I reviewed SLEEPWALK a while back when it played at the Everybody Dies Film Festival
and compared it to MAMA as it is packed with effective scares from start to finish in it's short run time. Well, director/writer J.F. Morrison recently let me know the film has been released online for all to see and I've got the scary treat below. So sit back and get ready to jump at SLEEPWALK (and if you like what you see,
check out Morrison's website here
)!
Sleepwalk - full movie from J.F. Morrison on Vimeo.
---
Look for AICN HORROR horror and genre film reviews every Friday.
Find more AICN HORROR including an archive of previous columns on AICN HORROR's Facebook page!