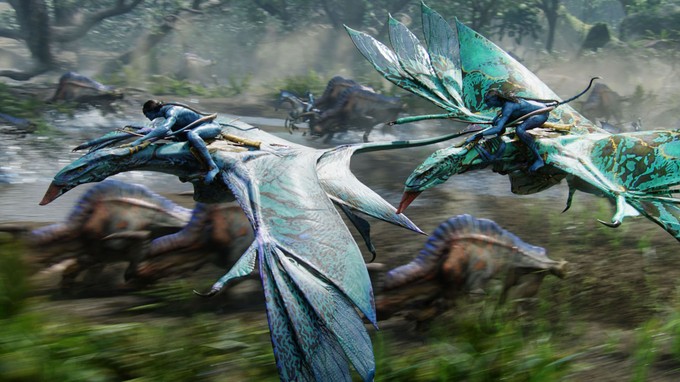 [EMBIGGGENABLE]
After years of highly complex preparation, James Cameron looks to finally be readying his AVATAR sequels for actual production.
Most filmmakers have trouble getting one movie off the ground and made successfully. Everyone once in a while, some ballsy souls will lense two pictures more or less at once or in very tight succession. Never one to shy from a challenge…that nutty Cameron? He's making three films at one time. Huge films. Complicated films.
A new AP press burst outlines fresh details for the production of the three films, due on screens Christmas Season 2016, 2017, and 2018. The projects will be shot in New Zealand, in 3D, with at least portions of the movies will be realized in 48FPS (aka the controversial High Frame Rate Peter Jackson utilized in his HOBBIT pictures).
As is typical with blockbusters, Cameron declined to disclose a budget. But he did say he expects that economies of scale will help the three movies together cost less than $1 billion.
...says the AP burst. One more pointed estimate (HERE) brings the three pictures in at $415 million combined. I'd think this estimate is probably a bit conservative, although my understanding is that one of the purposes behind the lengthy development process of these sequels was to streamline and refine production methodologies in an effort to bring costs down. So…
We recently learned that Steven Lang's dastardly Colonel Quaritch character will somehow resurrected for these sequels. I'm betting the character actually has his own secret Avatar…maybe his consciousness is already backed up in the planet somehow/somewhere (or by some other means altogether)…and we'll see him returned all pissed off and Smurfy. I have no knowledge that this is the case…just a dopey thought…
More details about the AVATAR sequel production can be found via AP, or HERE.
——————
Glen Oliver
"Merrick"
- e-mail
- Twitter
- Google +