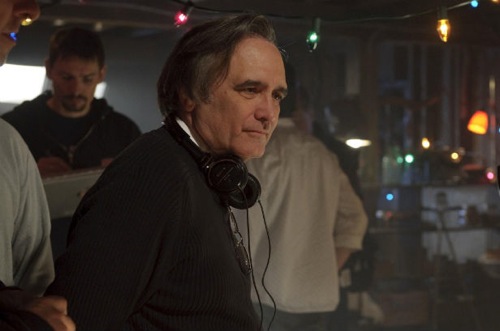 Beaks here...
Nothing makes me happier than to know that Joe Dante is out there making a new film. No one loves movies more than Joe, no one knows more about movies than Joe, and no one delights in the process of filmmaking quite like Joe. He has a smart, sharply satirical sensibility, and a capacity for cartoon-style rambunctiousness that recalls Frank Tashlin. GREMLINS, GREMLINS 2, THE HOWLING, INNERSPACE, MATINEE, EXPLORERS, THE 'BURBS, SMALL SOLDIERS... these are movies I watch a lot. Best of all? Joe is one of the nicest, most approachable guys in Hollywood. Whenever I see him at the New Beverly, he'll take the time to chat with fans and geek out about whatever vintage movie just played. He's a mensch.
If you grew up in the '80s like I did, you owe a lot to Dante. Now, you can literally pay him back.
His new horror-comedy BURYING THE EX is currently in production, and, if you've got some loose change sitting around, you can contribute to the project. Depending on how much you give, you can reap some pretty cool benefits: visit the set, see exclusive footage, even have lunch with Joe! To get in on the fun, visit the film's official FundAnything page and see if there's a donation level that suits you. And if you can't kick in any cash, you can still participate in live Twitter chats and a Reddit AMA (the latter of which is scheduled for next week).
The official Twitter account for the film is Twitter.com/buryingtheex, and it looks like they'll be fairly responsive throughout the shoot. I shouldn't have to mention this, but you should also be following Dante. All of the details are in the below press release. Don't be a Deagle! Donate!
"BURYING THE EX" LAUNCHES FUNDANYTHING CAMPAIGN

The Horror Comedy, Currently In Production, Uses Crowd Funding

To Allow Contributors To Actively Participate In The Making Of The Film

New York, NEW YORK (December 4, 2013) – Currently shooting in Los Angeles, BURYING THE EX, a horror comedy directed by Joe Dante (Gremlins, The Burbs, Small Soldiers), starring Anton Yelchin (Cymbeline, Star Trek Into Darkness, Fright Night), Ashley Greene (The Twilight Saga, Wish I Was Here, Staten Island Summer), Alexandra Daddario (Percy Jackson, True Detective), and Oliver Cooper (Project X), created a groundbreaking crowd funding campaign in partnership with FUNDANYTHING, which gives contributors the opportunity to actively participate in the making of the film, based on the level of their contribution. This is a break from the standard crowd funding model which raises funds prior to a film's production. Rewards include the opportunity for people to visit the set of the LA based production, have lunch with the director, access to exclusive material through production, as well as signed items, access to special screenings, a VIP premiere package, and much more. Participants will become part of a community that will receive regular updates on events related to the film. BURYING THE EX was written by Alan Trezza. For more information on BURYING THE EX, you can visit the FUNDANYTHING page for the film at FundAnything.com/buryingtheex and follow the film on Facebook.com/buryingtheex, and Twitter.com/buryingtheex.

"I'm thrilled to partner with FUNDANYTHING on BURYING THE EX, and I am really looking forward to getting the opportunity to meet the fans who are contributing to the funding of this project," said director Joe Dante. "I've always appreciated their input, and giving them this unique opportunity to be part of this production is pretty cool."

BURYING THE EX follows Max (YELCHIN), an all-around nice guy and his incredibly beautiful but overbearing girlfriend, Evelyn (GREENE). Their relationship takes a nosedive after they decide to move in together as Evelyn turns out to be a controlling, manipulative nightmare. Max knows it's time to call it quits, but there's just one problem: he's terrified of breaking up with her. Fate steps in when Evelyn is killed a freak accident, leaving Max single and ready to mile. Max eventually meets Olivia, a cute and spirited girl who might just be his soul mate, only to learn that Evelyn has risen from her grave and is determined to get her boyfriend back... even if that means turning him into one of the undead.

"I could not be more excited to be managing a campaign for a film actually in production. This is the rarest of opportunities, a fan can actually interact with the film as it is being made," said Brad Wyman, CCO of FUNDANYTHING.

BURYING THE EX is currently shooting in Los Angeles. Cassian Elwes is executive producing along with Voltage's Nicolas Chartier, Zev Foreman and Dominic Rustam. ArtImage Entertainment, Scooty Woop Entertainment and Act 4 Entertainment are producing.