CLICK HERE FOR THE HOLIDAY GIFT GUIDE 2013 PART 2: BOOKS, SOUNDTRACKS, COMEDY and CONTESTS!
CLICK HERE FOR THE HOLIDAY GIFT GUIDE 2013 PART 3: GEEKY HOUSEWARES and APPAREL!
CLICK HERE FOR THE HOLIDAY GIFT GUIDE 2013 PART 4: COLLECTIBLES, TOYS, ORNAMENTS and RICH STUFF!
Aho-ho-hoy, squirts! Quint here. Welcome back to the annual Holiday Gift Guide! If you're new to the guide, prepare yourself for three days worth of the geekiest geek items. For those longtime readers, the format is still the same. Each entry to the 2013 Gift Guide will be divided into a few different categories (like DVDs, Books, Music, Toys, etc) and then further broken down by price: Cheap ($24.99 and under), Moderate ($25.00-$70.99), Expensive ($71.00-$249.99) and For The Super Rich Only ($250.00 and up).
Every year I ask for advice on stuff you guys are looking forward to and always end up using your suggestions, but the items featured in the guide always go through the Quint filter. It'd probably be smarter to include all the AICN staff and not make this a month-long job on myself, but one thing I really like about doing this every year is I get to express my personality through it. Sometimes I do it in the descriptions and sometimes I do it in the order I place the items, but mostly it's that every single thing on the list either interests me or has my personal seal of approval.
We're kicking things off with DVDs, Blu-Rays, Board Games, Video Games and Art. It's been a great year for all the above, so I hope your scroll finger is well rested 'cause we got a bit of a journey to go on, you and me.
Many of these links do carry an affiliate tag, which means I'll get a little cut if you click through and buy anything, so thanks in advance if you do just that. It really helps every year and I appreciate it.
Last bit of house cleaning: I tried my best to keep as up to the minute with the prices, but they're always in flux, especially this week leading up to Black Friday, so don't be shocked if you click through and there's a price difference of a few bucks.
Speaking of, I'm going to keep tabs on some of the better Black Friday Blu deals popping up and will update this area throughout the week, so keep checking back:
-DREDD 3D BLU-RAY $7.96
-DJANGO UNCHAINED BLU-RAY $9.99
-LES MISERABLES BLU-RAY $9.00
-BREAKING BAD THE FIFTH SEASON BLU-RAY $11.99
-SWEENY TODD BLU $4.99
-CHITTY CHITTY BANG BANG BLU $7.49
-WILLY WONKA AND THE CHOCOLATE FACTORY BLU $8.49
-21 JUMP STREET BLU $5.99
-EVIL DEAD $3.96
-EVIL DEAD 2 $7.88
-ARMY OF DARKNESS $9.49
-EVIL DEAD ('13) $7.99
-DRIVE $3.99
-BOARDWALK EMPIRE S. 1 BLU $17.99
-BOARDWALK EMPIRE S. 2 BLU $17.99
-BOARDWALK EMPIRE S. 3 BLU $16.99
-WRECK-IT RALPH BLU $16.99
-LIFE OF PI BLU $8.99
-WIZARD OF OZ 75TH ANNIVERSARY BLU $7.99
-THIS IS 40 $9.99
-AMERICAN HORROR STORY S. 1 BLU $19.49
-BOOGIE NIGHTS BLU $4.99
-SPARTACUS BLOOD AND SAND S.1 BLU $9.99
-HARRY POTTER AND THE DEATHLY HALLOWS PARTS 1 AND 2 ULTIMATE EDITION $22.99
-THE WALKING DEAD S.1 BLU $14.99
-X-MEN FIRST CLASS BLU $9.99
-BOND 50: THE COMPLETE COLLECTION (WITH SKYFALL) BLU $99.99
-CLOUD ATLAS BLU $8.96
-LOOPER BLU $8.99
-THE HUNGER GAMES BLU $7.99
-SKYFALL BLU $7.99
-FIGHT CLUB BLU $3.99
-FIREFLY COMPLETE SERIES DVD $5.99
-PACIFIC RIM BLU $7.99
-PACIFIC RIM 3D BLU $14.99
-ARGO (THEATRICAL CUT) BLU $5.00
-THE GREAT GATSBY BLU $7.99
-ZERO DARK THIRTY BLU $6.00
-BRAVE (3 DISC COLLECTOR'S SET) BLU $16.96
-THE CONJURING BLU $7.99
-PULP FICTION BLU $3.99
-THE HOBBIT: AN UNEXPECTED JOURNEY (EXTENDED EDITION) BLU $19.96
-MONEYBALL BLU $3.99
-MAD MEN SEASON 5 BLU $9.99
-RISE OF THE PLANET OF THE APES BLU $5.92
-PAIN AND GAIN BLU $9.00
-
-
Without further ado, let's get started!
DVDS/BLUS
It's a banner year for home video titles, so you're going to see a pretty massive Blu-Ray and DVD list here. We're in a sweet spot for physical media right now. Top shelf high def transfers are becoming the norm for Blu-Ray releases, not the rare exception, and some of the more crazy titles are getting the sort of treatment reserved only for the film school arty farty favorites.
We're also still getting some great burn on demand titles. What you see below will mix current titles and vintage releases, but I noticed a bit of a trend towards library stuff this year... at least in terms of the titles I love and am excited about.
As usual, the below isn't meant to be an end all be all list of what's out there this holiday season. This list is certainly being strained through the Quint filter. Each one of these intrigues me or has blown me away as I've indulged my Blu-Ray and DVD habit in 2013. Enjoy.
Cheap ($24.99 and under)
I'm always careful with what title I start the guide off of with. The one that jumped out to me this year is the crazy good Rolling Thunder in which William Devane plays a vet returning home only be brutalized by a group of thieves. It's one of the best revenge stories ever, an early script by Taxi Driver's Paul Schrader. William Devane is legend in this thing, Tommy Lee Jones is the best sidekick you could want whilst revenge-seeking. If you need more than my word on it, Tarantino named his sadly short-lived distribution company after this picture he liked it so much. $14.98.
This isn't one of the more well-known Sherlock films outside of cinephile circles, but it's a damn great one. Merlin (Nicole Williamson) plays Sherlock and Robert Duvall plays Watson and you have them getting caught up in one of Freud's cases... Freud is played by Alan Arkin. I know, right? Wrath of Khan's Nicholas Meyer scripted this flick and it's a must watch for anybody who likes things that don't suck. $23.31.
This 4-disc DVD set gathers together all of the Buster Crabbe Flash Gordon serials including every episode of Flash Gordon: Space Soldiers, Flash Gordon's Trip To Mars and Flash Gordon Conquers the Universe. For under ten bucks that's a steal. See the stuff that influenced Mr. Lucas and Mr. Spielberg and sound all smart when you run into them at the local liquor barn. $9.55.
'Tis the Season for cheesy ass '60s Santa Claus Sci-Fi movies, right? Kino, the folks that put out all those serious movies that were really important to the evolution of cinema put this one out, too. Go figure. $22.46.
Man oh man is this a crazy flick. Unabashedly grotesque and darkly funny, this is a perfect weirdo gift. Basically this is about cheap wine that melts winos inside out, but it's got a sweet '80s punk dark humor vibe running throughout. I can't believe this is on Blu-Ray. Street Trash was always one of those titles that you hoped you'd find at the local movie geek centric video store and even then you never held your breath because it was so hard to find. Whatever you do, don't give this one to your mom this holiday season... unless your mom is really, really cool. $17.98.
John Dies At The End is another work of bizarre awesomeness from Don Coscarelli. This guy has a serious nose for the strange and unusual and this film is certainly that. If you liked his other low budget work, like Phantasm or Bubba Ho-Tep, you'll dig this one about a drug of alien origin that has some of the craziest side effects ever. Not enough people saw this one, so it'll likely make a good surprise for someone in your circle. $19.19.
I don't remember if I included Carnival Magic when it first hit Blu a couple years ago, but there's a combo-pack out this year that bundles it with Poor Pretty Eddie, so it's just the excuse I need even if it is a repeat. Since we're starting off the Guide with weird movies, this has to be included. Carnival Magic is the craziest "I can't believe this exists" kids movie ever. Set in a circus and with a cast of characters that includes a talking chimp this bizarre obscure early '80s gem was directed by B-movie schlock king Al Adamson and it has to be seen to be believed. I haven't seen Poor Pretty Eddie, but I know it has Shelley Winters as a washed up burlesque dancer and Slim Pickens as a perverted sheriff, so I'm in. You can have both these WTF films in high definition for only $18.90.
Yep, so Albert Pyun's early '90s supremely botched attempt to bring Captain America to the big screen is finally available in a form that isn't some 40th generation bootleg you have to pay $20 for on a convention floor. You get tights-wearing Cap fighting Red Skull over President Ronny Cox in an HD master that is far beyond the treatment it probably deserves, but it's a fascinating reminder of where comic book movies were before Blade and X-Men happened. Now we just need to get Roger Corman's Fantastic Four out from under the thumbs of lawyers. $10.98.
The gift of Clark Griswald and family is always a welcome one, even if this isn't the easy Vacation film to gift during Christmas. As much as I love Christmas Vacation, the best of them all by a country mile is still the original, which sees this 30th Anniversary release. Ignore the ugly cover and dig into the new feature-length making of documentary and the best home video transfer of this title we've seen yet. Praise Marty Moose! $14.96.
Yer killin' me, Smalls! I remember riding my bike to the neighborhood mall theater to watch this flick when it came out. It seemed like the era of kid-themed baseball movies, but this one always stood apart for me. It might be the unabashed Stand By Me influence or the fantastic child actor performances, but I think it's really the celebration of imagination that grabbed me as a kid and keeps the movie fresh for me now. Gift this one to the nieces and nephews or revisit it yourself if you haven't seen it since it came out. $11.49.
Gene Wilder is never better than when he's working with Mel Brooks (sorry, Richard Pryor, but you know it's true) and The Producers is where that particular brilliant pairing was established on film. The Producers Broadway run was fine and all, but this is the real deal. Gene Wilder and Zero Mostel putting on the worst play they possibly can when they figure out a bad one makes them more money than a good one... It's a Shout Factory disc, so you know it's quality. You get the Blu and a DVD copy in this snazzy set for $22.38.
This is one of my favorite Elia Kazan movies. It might not be as well-regarded and known as On the Waterfront or A Streetcar Named Desire, but it's incredible just the same. Heavily shot on location in New Orleans, this black and white classic is a twist on a typical noir crime story. There's no hardboiled gumshoe that's seen it all here. Instead it's Richard Widmark as an out of his depth CDC guy who has to find a murderer... not because he's a bad guy, but because he's carrying a contagious virus that when it matures will not only kill him, but start an epidemic. Oh, and young Jack Palance is the Outbreak monkey in this case. It's gorgeous, it's awesome, and it's a title that even some hardcore film buffs haven't seen. $18.86.
Here's another more obscure awesome library title. Sam Fuller was a master (look him up if you don't know the name) and he did this fantastic early Vietnam film starring Angie Dickinson, Gene Barry, Nat King Cole, Lee Van Cleef and a young James Hong. It's not really like any other war movie of its type and that's all I want to say about it. If any of those actors appeal to you, give this one a shot. You'll be a Sam Fuller fan for life after this one. $22.28.
This 4k Ghostbusters transfer serves a dual purpose: one, it's an apology for fucking up the first Blu-Ray transfer so badly and secondly it future-proofs one of the best movies of the '80s. I'm sure some hologram disc shit will come along and require yet another double dip, but this one should get you by for a while. Be warned this edition doesn't have any of the special features of the previous, so if you're a completist don't go Craigslisting your first Blu just yet... $15.98.
This is my favorite Mario Bava flick. It might be my penchant for anthology horror that pushes me over on this title, but I just love it. Boris Karloff hosts and stars in one of the segments (a smart take on vampire lore), but the real star of this movie is the Drip of Water section, which has the creepiest vengeful ghost ever. Ev. Er. Kino put out the Blu and you can get it for $16.86.
I love Blu-Ray book sets... it's like riding first class. Pretty much the same thing as flying coach, but with a lot more style. All the big James Dean films are getting this special treatment and based solely on the quality of the films themselves they're all on this list. Reviews have stated the transfer is an upgrade from the DVD, but only a slight one, so the real reason to jump into these sets is the cool book and that the films themselves make great gifts. You can't go wrong with Giant, which is right up there with the great epic dramas of the era. $19.96.
My favorite James Dean film by a country mile, Rebel Without A Cause. I dare anyone not to feel at least a little sad that we didn't get 40+ more years of James Dean in cinema after watching this movie. The world was indeed robbed. $19.96.
The final of the three Dean flicks out this season, Elia Kazan's East of Eden. This one's my least watched of Dean's films, but that don't mean nothin'. Still a great film and one of the most impressive debuts of any screen actor ever captured on celluloid. $19.96.
While it doesn't touch the greatness that is Breaking Bad, I truly loved House of Cards. I dig that Netflix is jumping into the TV realm with such cocksuredness, throwing down with big guns like Arrested Development and this, a heavy nitty-gritty look at the realities of the ruthlessness in politics starring Kevin Spacey. He's a powerhouse here and one fictional character I'd rather gnaw my own arm off than get on his bad side. If you're not a Netflix person... one, who are you?!? and two, snap this one up. If you're anything like me, you'll get sucked right in and marathon episodes until you reach the end. $14.98.
My Name Is Nobody is one of Sergio Leone's other Spaghetti Westerns. Clint Eastwood is not in it, which means a lot of folks haven't seen it, so it makes a great gift for dads and western friends. Henry Fonda was outstanding in Leone's Once Upon A Time In the West. He's not the cold blooded bastard he was in that film in My Name Is Nobody, but it's nevertheless a great turn. Terence Hill was in his prime here and the result is this weird comedic spaghetti western. $21.23.
Edgar Wright, Simon Pegg and Nick Frost round out their Cornetto Trilogy with The World's End, a character-driven sci-fi dramedy that isn't afraid to layer in deep emotional issues as well as jokes. Definitely the most adult of the three films, but no less funny for it. As always, Wright and Co pack out this release with a ton of material... in fact, I think I'm going to throw on the commentary track now as I work on through this list... $22.99.
Of all the 2013 movies, I've somehow watched This Is The End the most. I love it so much I dressed up as possessed Jonah Hill for Halloween. My costume was a bit of a failure or else I'd share pictures, but it was purely a makeup not working thing. Diamond earring, black pants and a pocketful of Milky Ways made it work enough, though. But I digress. Seth Rogen and his crew are all just having a blast and the result is the dick and fart joke end of the world comedy to compliment Edgar Wright's more thoughtful end of the world comedy. In short it's a good year for end of the world comedies. $16.99.
Remember when Gregory Hines hunted down a lady cyborg armed only that weird huge handgun with a laser sight that was so popular in '80s action movies? Most likely not, but if you're around my age Eve of Destruction was a cable staple and was probably watched a few dozen times. $16.98.
Be warned: I'm putting All Is Bright on this list without having seen it. But it's Christmasy and I refuse to believe a movie about conmen selling Christmas trees in New York City starring Pauls Rudd and Giamatti is anything other than awesome. $21.23.
Just in time for the sequel, Paramount's releasing a new special edition of Anchorman. This Rich Mahogany Edition comes with the previously released movie material as well as some swag like a set of trading cards and a small book... Ron's journal of craziness and loveable sexism. This is a must grab for me, but that's because I never replaced my HD-DVD of Anchorman. Whoops. It's on pre-order for a December 3rd release for $21.98.
Growing up a Beatles nut as well as a Monty Python fan, I was of course drawn to Eric Idle's parody band The Rutles. Here all 170 minutes of The Rutles' TV appearances arrive on Blu-Ray for the first time and all for only $19.88.
Speaking of The Beatles, why not pick up their admittedly lesser follow-up to A Hard Day's Night: Help? It's a very silly movie, but the chemistry and dynamic personalities at play between the boys is in full effect. You can tell they're having a ball mugging for the cameras and still in the period of their life as a band where they still enjoy each others' company. Plus it's in color! So there's that! $24.78.
Of all of Romero's lesser known weird-o flicks, Knightriders always had a place of honor amongst movie geeks during their late night nerdy movie discussions. I mean, it's young Ed Harris and Tom Savini as Ren Faire motorcycle knights. Yep. It's long, but it's as awesome as you think it is. $17.97.
The Fast and the Furious franchise is one of the most interesting series of films I've ever seen. From where it began to where it currently is boggles the mind. Fast 6 is silly, but damn if it isn't fun. I mean, it has all the trademarks of a soap opera (convenient amnesia, characters returning from the dead, etc), but done on a big budget with guns, cars and '80s-level action movie ridiculousness. There's nothing like it. The Blu-Ray's Steelbook version is available for pre-order and will come out in plenty of time to make it under the tree or into the stocking. $23.99.
It's about time Adventuretime makes it to Blu-Ray. This year saw the release of the first two seasons of this rarest of rare kid's shows: one that adults can (and do) enjoy even more than kids. If you haven't seen this show no one can describe it to you, but I will say if you love random, insane humor and surprisingly sneaky emotional character beats than this one's for you. Season 1 $22.32 and Season 2 $22.32.
While Love Actually might have some depressing stuff in it, I find it to be one of the most uplifting films of the last decade. I know, I know, dude card revoked, but screw it. I'm a sentimentalist at heart and a good gooey romantic comedy doesn't need much to win me over. The father/son relationship between Liam Neeson and Thomas Sangster alone makes this a must own film, not to mention the huge amount of deleted scenes (whole subplots excised) carried over from the previous release and the Christmas Ornament that comes packaged with this 10th anniversary release make this an easy gift for the girly girl or girly guy in your life. $9.99.
This movie is slightly more depressing than Love Actually, but one of my favorite films of the year. While Before Midnight is a bit of a downer, there's something still hopelessly romantic about Jesse and Celine even all these years later. No longer are they in their puppy love stages. They have a family now and their bodies are starting to age. Careers are spinning off into unexpected directions and emotions are running high. The only thing that still binds these two souls together is love, but the real kind of love that exists only after the initial giddy sheen has worn off. The movie's a masterpiece of character exploration on its own and with minimal hyperbole one of the finest romances ever captured on film when you consider the arc of these two human beings over three films. It's an incredible accomplishment from Richard Linklater, Ethan Hawke and Julie Delpy. $24.99.
This is one of the most interesting home video releases you can get this holiday season as far as film history and the geekiest of the geeky movie lovers are concerned. Before he died, Gregory Peck would travel across the country and give talks that were part Q&A and part one-man show where he would discuss his wonderful career. This release documents some of that stuff. If I'm not mistaken, Harry got to attend one of these when he was a young man, the lucky bastard. Anyway, for those of us not so lucky, we can get the next best thing for only $19.98.
To paraphrase the immortal words of The Dude, now this is fucking interesting, man. This is fucking interesting. Did you know that Will Eisener's The Spirit was adapted into a TV movie starring Flash Gordon (Sam Jones)? Well now you do and thanks to the burn-on-demand masters at Warner Archive you can own it! $21.99.
Another interesting TV oddity you may not be aware of (I know I wasn't) is 1987's Bates Motel about the reopening of the motel post-Norman's death. Harold and Maude's Bud Cort plays a guy who was in the same sanitarium as Norman and he takes over possession of the motel, reopens it and of course murderous stuff happens. And Lori Petty is in it! $19.98.
Speaking of... Psycho 2 is one of the more misunderstood horror sequels. Richard Franklin did a bang up job with this sequel as far as I'm concerned. He managed to not just repeat Hitchcock's famous original while paying a lot of attention to Norman's fragile psyche. Perkins delivers yet another great performance in this film and Meg Tilly... well, let's just say she helped me understand a few things as a curious young man. $20.96.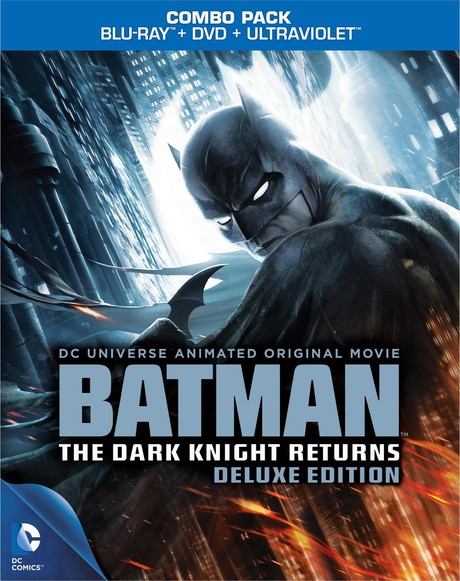 Since WB theatrical seems to be roving around in the dark with their DC license, this will probably be the only movie version we're likely to get of Frank Miller's The Dark Knight Returns, at least for the foreseeable future. And that's alright because it's pretty badass. Peter Weller voicing old Batman? Sold, sir! Sold! $19.96.
This post-Amicus time period was iffy for British horror, but an interesting one from that period has popped up on Blu. The Monster Club is a horror anthology starring Vincent Price, John Carradine, Patrick Magee, Britt Ekland, Donald Pleasance, Simon Ward and Stuart Whitman and is directed by Quatermass' Roy Ward Baker. $21.28.
This 35th anniversary release has a brand spankin' new transfer supervised personally by DoP Dean Cundey as well as a new commentary track with John Carpenter and Jamie Lee Curtis. Granted, most of the commentary track is Jamie Lee talking about how fucking scary the movie is to her and describing what she's seeing, but there's such an enthusiasm to it that the track becomes adorable, not unbearable. The transfer itself is why you need to buy this release. It's incredible. There's a slight shift in the color palette which has caused a bit of a controversy, but all I know is that I've seen this movie a good dozen times on the big screen... DCP, beat up faded 35mm, newly struck 35mm... and it's never looked this good. Sharp, but filmic. Very much in the same league as that amazing Jaws Blu-Ray transfer from last year (if you don't have that one, it's a must buy at its current price of $9.99). I highly recommend it. $19.96.
I love the absolutely bizarre Fleischer Betty Boop toons and now they can be added to any blu-ray shelf! These HD transfers were scanned in 4k for ultimate clarity. Now you only get 12 toons per, but damn they're good cartoons, so why the hell not? The newer Season 2 release can be had for $16.56 and the first collection is $27.43.
This one's for those with the super home theaters equipped with 3D. A year or two ago we had a great restored transfer of the film itself and now we have it all in your face and stuff. I haven't gotten a chance to see the conversion, but I find I like these older films 3Dified, like Jurassic Park, more than a lot of films actually shot that way. Maybe I'm bringing my own nostalgia into it, but who cares? I'm a man, I do what I want! Including liking 3D Judy Garland movies, apparently. Yeah... $24.99.
What if that weird novelty folk comedy band claiming they were aliens that came to earth to take over, but fell in love with music instead weren't just trying to be funny? I know that's rather specific, but now you know the set up to this great little indie flick that got a lot of notice at film festivals and then seemed to fade away. It's only available on DVD, but it's a treat of a film and well worth a blind buy. Trust me. $14.99.
I doubt you're going to see the Fat Boys movie on any other Holiday Gift Guides, which only means they are inferior to this one. Nice try, lads! Disorderlies is about the three overweight rappers being hired to take care of an elderly rich white dude. They are fuck ups, so the hope is they cause his death and his greedy family can get his inheritance. Naturally crazy fun '80s chaos ensues and you are left with one of my childhood cable regulars. Warner Archive has the title available and it can be had for $16.99.
Everybody knows Cameron Crowe wrote Fast Times At Ridgement High, but most don't know about his follow-up script The Wild Life. It's also a coming of age teen drama/comedy, but didn't quite hit as hard as Fast Times. It's not as good, to be honest, but it's still a solid flick featuring some great '80s faces like Eric Stoltz, Ilan Mitchell-Smith, Lea Thompson, Michael Bowen, Randy Quaid and the great Rick Moranis. Oh, and it stars a strikingly buff Chris Penn. Mind blown? Should be. Universal's burn-on-demand Vault series has put this one out. $17.98.
Tony Richardson's The Loved One is a unique 1965 movie that is bitingly satirical and feels a little bit like Dr. Strangelove's lesser known little brother. And it should, since both films were written by Terry Southern. The cast on this one is amazing. Jonathan Winters, Rod Steiger, Roddy McDowall, Tab Hunter, Liberace (!!!), John Gielgud, James Coburn, Milton Berle, Robert Morse and even a very, very young Paul Williams. Another Warner Archive release and a must watch for any film fan. $21.98.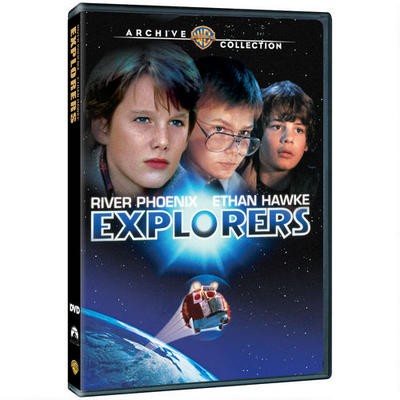 Warner Archive has put out two movies that should be special to any '80s kid. Joe Dante's Explorers might not have hit pop culture in the way that Gremlins did, but I love it to death. Young Ethan Hawke, River Phoenix and Jason Presson build a spaceship and meet some bizarre creatures. Rob Bottin effects are, of course, incredible, Dante's sci-fi and Looney Tunes fetishes are on full display and you also have perhaps my favorite Dick Miller bit part this side of Mr. Futterman. Paramount's DVD is out of print, which is why WA has put out this disc. It even comes with some deleted scenes! $14.95.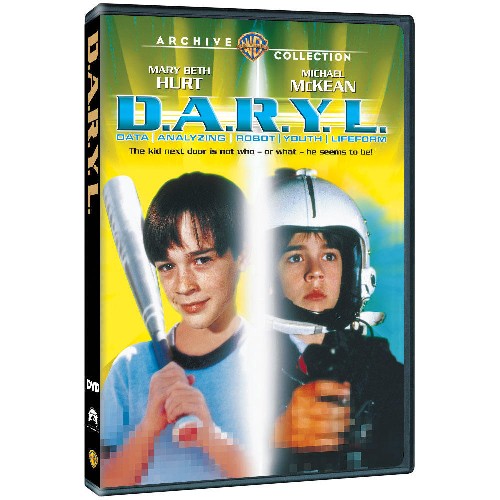 This is the other Paramount title WA is putting out. Just like Explorers, the first DVD release is out of print and is going for crazy money on the secondary market. Barret Oliver, who I will always associate with Neverending Story, plays the title character, a young lost boy with memory trouble who ends up in foster care with a baseball obsessed Michael McKean and befriends the neighborhood smartass. Problem is DARYL is a robot and the government agency that created him doesn't want him to find happiness as just a kid with a family who loves him. It's kinda like Short Circuit and ET had a baby. The best part of the movie is that it offers a realistic look at childhood friendship and isn't afraid to let the neighborhood smarmy dick be just that... but in a loving way. $14.95.
I haven't revisited Land of the Lost as much as I have MacGruber, but both films were severely underappreciated upon release, so it's awesome that you can own them both on Blu in one cheap double feature package. MacGruber's already growing a cult following and I wouldn't be surprised if Land of the Lost does, too. It's mega-cartoony, but there's some crazy raunchy humor snuck into what's essentially supposed to be a family friendly piece of disposable fluff. Call me crazy, but both of these movies are great and exactly what they should be. You can have them both on Blu-Ray for the super cheap price of $9.96!
Look! All the Mad Max films in a nifty tin! And it comes with a can of dog food to help you survive the wastelands... okay, that last part was a lie, but you do get Mad Max, Road Warrior and Beyond Thunderdome. $24.99.
The Muppets are celebrating almost 35 years since the release of their first movie, so now there's a Nearly 35th Anniversary Blu-Ray release! Light on extras, but I guess they're holding back until a real anniversary. So, you get the movie in HD, which is worth at least double or triple the asking price. $19.33.
Unlike the Muppets, Disney's Robin Hood is celebrating an actual anniversary and they've released yet another great Blu-Ray. While the theatrical release itself was before my time, both Robin Hood and the next featured Blu-Ray were very much front and center when I was growing up. In fact, next to the Errol Flynn Robin Hood, this is my favorite telling of the story. Sorry, Kevin Costner. $16.99.
Man, I watched the hell out of this movie as a kid. Merlin's fight with Madam Mim tickled my funny bone then and still does. Word is this transfer isn't the studio's best, but it's probably better than the previous DVD release. $16.99.
This release of Mickey's Christmas Carol is cropped... for what reason we don't know, but unless you're a stickler for the tech stuff it shouldn't bother you. It's not distracting. The rest of the disc is cool, with a bunch of shorts and other special features as well as Disney's awesome Christmas Carol story. This was my first exposure to the Dickens tale and even this version scared the bejeezus out of me as a kid. Okay, as an adult, too. Just a little bit. I didn't want to admit that, but you pushed me. I hope you're happy. $24.99.
Peter Pan is one of my favorites of the classic Disney films. Pinocchio is my all-time, but Peter Pan could very well be sitting pretty in second place. Top to bottom it's without a doubt one of the most engaging and fun of the early Disney movies. You can't go wrong with any of these animated classics on Blu. The transfers are meticulous. $16.99.
Made by geeks for geeks, Pacific Rim has its lovers and haters. I fall somewhere closer to the lovers side of it, but I'm not ready to go all Charlie Day and tattoo kaijus all over my body. Poor Charlie Hunnam gives it his best, but his character doesn't allow him an opportunity to outshine the cool mecha, giant monsters and Idris Elba doing his apocalypse cancelin' thing. But he's still a good square-jawed hero and should we be lucky enough for a sequel, I predict he'll have A LOT more to do. You can get the 3D Blu set for $24.96.
Jeff Nichols has a big, big fan in me. His Take Shelter was one of my favorite movies of 2011 (buy that one for $11.99) and I am just as smitten with MUD, his southern fried neo-noir with a great central performance by Tree of Life's young Tye Sheridan and Matthew McConaughey turning in another stellar performance as the title character. It's an old school film, the kind that you'd expect to stumble upon when diving through obscure '70s flicks. $14.49.
If you want proof of the power of movies, look no further than the case of the West Memphis Three. Without Joe Berlinger and Bruce Sinofsky's Paradise Lost series Damien Echols, Jason Baldwin and Jessie Misskelley would still be in prison for a crime they didn't commit. Not only did they shed a light on the case, expose the injustice, but they inspired legions of people to lend support, including Peter Jackson and Fran Walsh, who not only donated money to the group, but also started an investigation of their own, which ultimately uncovered enough evidence to make a retrial inevitable. What happened after that is expertly told by Amy Berg in this documentary which is a fitting final chapter to this decades long struggle for justice. You can get the Blu-Ray for super cheap, too. $9.44.
While not quite as weird as the Arkansas legal system, Alex Winter's great FREAKED is plenty weird and fun and awesome enough to hold a spot on this list. Mr. T plays a bearded lady, Keanu Reeves plays a dog boy and Randy Quaid is the crazy bastard that runs the sideshow. The cult status of this movie has grown and grown and thanks to this Blu-Ray release you can see this movie whenever you want in high def. The future is now! $13.25.
Strap in tight, squirts. We're just beginning to dive into these amazing Scream Factory Blus. You're going to have to forgive me essentially just listing off every release Shout/Scream Factory have put out this year, but I love this company to death. They treat the '80s genre movies I grew up loving with the same care and attention Criterion would a Kurosawa film. Their transfers are top notch and they always make an effort to throw in extra features. The Fog is an interesting moment in Carpenter's filmography. It was his follow-up to the incredible success of Halloween and you can really feel him stretching out as a filmmaker here. At his best, Carpenter is a master mythmaker and he flexes those muscles very well here, telling a spooky, atmospheric unique ghost story with many of his key players, including a good amount of the cast from Halloween and the great Tom Atkins. It's Scream Factory, so you know the transfer is outstanding. Another must own. $22.38.
The transfer on Prince of Darkness, one of my favorite of John Carpenter's oeuvre, is phenomenal. The movie doesn't get the love it deserves, but Scream Factory gave it the TLC it needed and now I have it on my shelf and will cherish it forever and ever and ever. If you do not buy this title you will not be saved by the God Plutonium. In fact... YOUWILLNOTBESAVED!!!! $20.85.
Try as I might I can't seem to get into Dark Star, so for me Assault on Precinct 13 is John Carpenter's first wham-o of a movie. It's his then-contemporary version of Rio Bravo and is a brilliant example of how he made low budget constraints a benefit instead of a detriment. I actually like the Ethan Hawke remake, but this version is still the best and the Scream Factory Blu is the best the film has ever looked. $22.94.
Man, I remember watching this as it aired. I've always loved anthology horror, probably based on my childhood obsession with serialized genre TV like Monsters, Tales From the Crypt, Tales from the Darkside and Twilight Zone. This movie has Luke Skywalker with a possessed eyeball and Stacy Keach with alien hair. It's pretty rad, you guys. I haven't checked out this disc yet, but from what I've read on the release it's up to snuff. $24.99.
Joe Dante's The Howling is such a fun flick and this here's another great transfer from Scream Factory. Rob Bottin's werewolves are radically different from Rick Baker's, but that's a good thing. The more super-awesome practical werewolf transformations we have in film the better, I say! Especially when one of those werewolves happens to be Slim Pickens. $18.96.
Wes Craven's Swamp Thing also got the Scream Factory treatment! See Adrienne Barbeau in all her busty glory (my dad used to call her Adrienne Barboobs) and a man plant fight evil scientists. Yep. And this was way before making Comic Book movies was the norm, so naturally it's super cheesy and awesome. $19.75.
Bub! Thinking zombie! Greg Nicotero acting! While Romero's Day of the Dead was famously compromised creatively from his original vision, I still love the movie. For all its cheapness and quirks the ideas Romero is playing around with here really help Day of the Dead stand proudly next to Night and Dawn. $20.96.
Dark Angel, or as it's more well known, I Come In Peace is probably my favorite Dolph Lundren starring movie (sorry Masters of the Universe). In this sci-fi action buddy cop movie Brian Benben and Dolph Lundren team up (you read that right) and fight a hulking alien drug dealer who keeps popping up and saying "I come in peace" when he clearly does not come in peace. The fact that this movie exists is kind of incredible. $14.96.
Larry Cohen's Q: The Winged Serpent is about Michael Moriarty hunting down an Aztec dragon in New York City... oh, and Shaft and (as in Kill) Bill play officers in on the hunt. Yep, this movie's awesome. $14.96.
My personal favorite Phantasm film. For a long time you couldn't get Phantasm II on DVD because Universal owned it (and didn't own the other three), but somehow Scream Factory got the rights and did it up good. This is Don Coscarelli at his most Sam Raimi-esque. He has a big budget and the support of the studio behind him and he made full use of it. The film looks like a million bucks and the gore is staged in a massive way. It's epic and crazy fun. $19.98
Mathilda May in 1080p. That's all I need to say, right? Okay, a little more in case you don't know this title. By all accounts Tobe Hooper was a little... say off-planet... in this era. Lifeforce not only enforces this, but also gives us a glimpse at some of the visual style that made its way into Poltergeist, thus confusing the did he/didn't he direct it debate. But this is a weird, weird movie about space vampires. Well, I mean... it's not like there's a lot of not weird movies about space vampires... I don't know what I'm saying anymore. Mathilda May in 1080p for President 2016! $19.98.
Barbara Crampton in leather and 1080p. That should be all the selling I need to do on this one, too, but I will add that From Beyond is probably Stuart Gordon's most ambitious movie. Re-Animator is more iconic, but From Beyond is even weirder and out there. Barbara Crampton in leather and 1080p for vice-president 2016! 19.98.
So, The Weinsteins wrote and produced a Friday the 13th rip-off slasher movie called The Burning. For a long time the rumor was they were using their big-wig Hollywood clout to kep the movie from popping back up, but Cropsey will not be kept down. It's a bit sloppier than some of the other camp horror movies, but its got it where it counts. The movie also happens to feature early appearances by Jason Alexander, Holly Hunter and Fisher Stevens. A great '80s oddity. $19.98.
Night of the Comet! A punk rock end of the world movie where cheerleaders wield machine guns 'cause girls just wanna have fun! $24.99.
Big Jim Slade! John Landis' sketch comedy movie kicks all kinds of ass. It's wrong in all the right ways and really feels like a bunch of really smart funny people testing the boundaries of their talent. So, if you haven't seen this one yet, make it a priority. Early Landis, Zucker Bros and Abrams... It is a film of extraordinary magnitude! $16.96.
Considering the previous title's centerpiece is a spoof of Enter the Dragon, I hope you'll forgive me breaking up this run of Shout Factory titles... Celebrating the 40th birthday of one of the most influential movies of the '70s (and that's saying something) comes this special Blu edition of Enter the Dragon. The flick comes with some bonus features, like a producer's commentary, and other goodies, like a patch and collector's cards. Not bad for $22.49.
Sam Raimi's non-Evil Dead related early directorial effort is this batshit nuts screwball comedy, which was written alongside the Coen Bros, believe it or not. The pedigree on this movie is amazing. I have to say the flick itself is a little bit of a trainwreck, but a fun one... Are there fun trainwrecks? I mean real ones... probably not... I'm going to have to rethink using that comparison. Make a note on this one so I don't forget it before the guide publishes... Aw, fuck it. Too much to do! Fun trainwreck it is! $16.51.
Ice-T plays a Kangaroo Man. Yep. Also, FYI I had a big crush on Lori Petty around this time... Thanks to this movie, A League of Their Own, Point Break and Free Willy. Just thought I'd share. $22.47.
Set to be released on December 3rd is this sci-fi flick SATURN 3, a story about a robot, Farrah Fawcett and two men on a remote base somewhere in space... I can't recall anything specific about the plot other than at one point Harvey Keitel gets into a fight with a naked Kirk Douglas. So, naturally we can all agree it was robbed of the best picture Oscar. $22.94.
A Boy and His Dog is a legitimately good science fiction film directed by character actor LQ Jones, starring a young Don Johnson and Jason Robards and based on a story by Harlan Ellison. Oh, and did I mention it's a post-apocalyptic story about a dude that talks to his dog with his mind? Yep, that too. $19.72.
Everybody knows about Psycho and The Texas Chain Saw Massacre, but there's another interesting flick based on a real life serial killer out there called The Town That Dreaded Sundown. Before Jason decided the sack-head thing was a good creepy look, there was the Phantom Killer. This movie isn't exactly what I'd call mainstream as it's this crazy blend of docudrama and narrative story, but it's definitely a good one for the crime-lover in your circle. Or Texarkana serial killer suspect. Them too. $18.98.
As far as double feature discs go, this is the big winner this year. Both movies are outstanding, especially Dirty Mary Crazy Larry, which was a drive-in hit and is like the less stuffy Bonnie & Clyde. The ending is so good. So, so, so, so good. Race With the Devil is Peter Fonda and Warren Oates stumbling across a Satanic Cult while driving cross country in an RV. Not good news for them. Two great movies in high def means no-brainer. Buy this or you hate movies. $14.96.
I first saw this film because Quentin Tarantino brought his print to Austin for one of his famous QT Fests and it blew the roof off of the place. Robert Blake plays a tiny motorcycle cop with a bit of a Napoleon complex who aggressively tries to make his mark at the job. Like a lot of the titles on the list this year, the reason this made the cut is because it's unique. There's a huge indie spirit injected into this '70s flick that makes it unlike anything else you've ever seen. $14.96.
Shout Factory has paired two old TV movies together in this pack. Included is psychic sorority girl flick The Initiation of Sarah and phone-stalker flick Are You In The House Alone. I have seen neither, but I'd love it if they keep up the trend of exposing some of these TV movies in these collections. Not only do a lot of big actors get their starts in these kinds of movies (both titles in this collection have early appearances by actors like Dennis Quaid, Morgan Fairchild and Blythe Danner), but there's a wealth of interesting titles out there, like the early rarely seen Steven Spielberg TV movie not about a killer truck: Something Evil (it's not very good, actually, but Darren McGavin is in it, so there's that). Anyway, this set of flicks is released December 10th, but you can pre-order it for $13.47.
Blue Underground is another friend of genre film lovers and they have just released Maniac Cop 2, which is that rare movie that features both Robert Davi and Bruce Campbell. It's true! And it's also a good sequel to a good movie. I can sense the NYU film school readers noses turning up already, but screw you, snob! They may be B movies, but that doesn't make them lesser movies. The first two Maniac Cop films are exactly what they set out to be. Sorry, NYU guys. You know I love you. We'll talk about Eisenstein later. $17.49.
The Blob! One of the most famous of the '50s sci-fi horror films (next to The Fly, probably) that not only launched Steve McQueen's film career, but also happens to have been one of those childhood movies that influenced the movie god directors I grew up worshipping. Criterion's brand new transfer is awesome and so is the movie. $21.99.
2k transfer, uncompressed sound and one of the most influential haunted house movies ever made. Not bad! The Uninvited set some of the rules of modern haunted house movies and was named one of the scariest films of all time by Mr. Martin Scorsese. Don't make Marty sad. Buy this. $20.69.
Moderate ($25.00-$70.99)
John Frankenheimer's thriller SECONDS is so damn good... I don't want to go into the plot if you haven't seen it because it's one of those movies that works best when you let it unfold before you. I went into this film knowing zilch about it and now you can to. Just take my word on it. I promise you won't be disappointed. $28.51.
There were only three school assigned novels I actually enjoyed reading: Fahrenheit 451, Romeo and Juliet and Lord of the Flies. Tess, Gatsby... snoozefests. These stories not so much. Lord of the Flies especially captured my imagination. I read a lot for myself even back then and I was particularly huge into Stephen King and William Golding's Lord of the Flies reads like something King could have come up with. I liked both movies made from this story, but the original has a particularly creepy tone... it could be the black and white. I'm not sure, but it's a masterpiece of a movie based on a masterpiece of a book. $26.21.
My favorite Guillermo del Toro film. I actually haven't checked this disc out yet, believe it or not. I have it on order, but it has not arrived as I type this. But I guarantee that of any of the Criterions released this year (and there were a lot) this one will get the most play. Pan's Labyrinth might be Guillermo's most personal movie, but this one feels the most like Guillermo's personality to me. It's incredibly smart, playful, enjoys the macabre and is just so masterfully put together that I always feel a little sad when it's over. $25.99.
Eyes Without A Face is the perfect Criterion release. It's arty, it's eerie, it's disturbing... kind of like Christmas itself, am I right? Right? Right? Seriously, though, this is another movie geek must see. $30.38.
I've probably seen Repo Man a few hundred trillion times (I was going to add the word "literally" in there just to make that number even more ridiculous, but pulled back just in time. You're welcome.) and it just keeps getting better every time I see it. Another unique flick, this sci-fi punk rock indie flick is one of a kind. Emilio Estevez has never been better cast in a film and Harry Dean Stanton is pure magic here. Ordinary fuckin' people. I hate 'em. But I love this movie and Criterion did it up good! One of the best films on the list this year, hands down. $25.49.
My tastes run a little more to the Keaton side, but there ain't no law saying a Keaton man can't still respect, enjoy and love the work of Charlie Chaplin. (If there is such a law don't tell anyone what I just said). Criterion has released this Blu packed with bonus features from previous releases as well as all new stuff, like a new commentary by Chaplin expert Jeffrey Vance. $33.96.
Widely considered Robert Altman's best film, Nashville sees a spiffy Criterion release this December 3rd. Now, I prefer Altman's comedies (Brewster McCloud and MASH top the list), but I remember being blown away by this film when I saw a damn good print at the local Paramount theater. It was one of the last Altman films I had yet to see, but based solely on its reputation I held out for the big screen experience and it was a good choice. This movie is WIDE and I can't wait to see Criterion's brand new transfer. $34.99.
Before Christian Bale and Russell Crowe decided to jump in and play there was Van Heflin and Glenn Ford. Wait a minute... Glenn Ford played Superman's (adopted) daddy... Russell Crowe played Superman's daddy... Mind. Blown. Criterion black and white is something to behold. The way they treat their transfers makes every release feel like you're buying your own 35mm print of the title. I love the remake, but it's different enough from the original to thankfully not force me to choose between the two. $25.21.
There are 9 hours worth of documentary material on The Hobbit: An Unexpected Journey Extended Edition Blu and about 3 ½ seconds of me selling Bilbo a fish. Of course the brilliant, subtle character work I bring to those 3 ½ seconds are worth the price of the 5-disc blu set itself, but the rest isn't so bad either. Watching the appendices really hit all my nostalgia buttons. Those special features really had a huge impact on me with the original trilogy and it felt like I jumped back 10+ years as I was watching. $39.99.
Speaking of... Look what's Amazon's Blu-Ray Deal of the Week! It's the complete Lord of the Rings Extended Edition with the insane amount of bonus features I was discussing above at a really, really low price. $44.99.
Argo's Extended Edition has 10 extra minutes and comes packaged with all that neat crap you can see above. The movie's a great love-letter to the importance of storytelling. Yes, I know it's based on a true story, but Ben Affleck chose to make the cover story of this incredible op the focus for a reason. The flick is just an old school kind of film that just screams cinematic with each beat. If you don't agree with me you can... well, you know. $36.49.
Fuck it, I dig this movie. If your big takeaway was Superman didn't have enough scenes rescuing citizens then I think you may have missed the forest for the trees. Christopher Reeve will always be my Superman, but I think Zack Snyder successfully broke away from those films and made the epic sci-fi action adventure the series was desperate for. The collector's set pictured above is $42.96 and the regular 3D Blu set is $24.96.
I've already listed the regular Blu, but for a little extra scratch you can get Gipsy Danger as well as the movie! $44.96.
The Wolverine was damn good. And I hear the extended cut is even better with more blood, guts and F-bombs, which every Wolverine-centric film has been lacking so far. I may be reading the descriptions wrong, but it appears that the regular Blu doesn't include the extended cut. For sure the 3D Blu set does, so that's why it's listed first. Keep an eye out in the expensive section for a wicked-cool collector's edition of the X-Men films which includes this flick. The Wolverine comes out December 3rd and is available for pre-order. $26.96 for the 3D Blu set and $19.96 for the regular Blu.
Shane Black's entry into the Iron Man franchise really impressed me, but hoo-boy did it piss off some fans. His treatment of The Mandarin annoyed some, but I loved it. Loved it, loved it, loved it. Plus you have that rare superhero movie where the hero is stripped of his powers (in this case Tony's suit) and the movie doesn't become a dull countdown to when they become superpowered again. I could watch a whole movie that's just Tony Stark and his kid sidekick inventing shit and sassing each other. I loved the movie, personally. $29.45.
I've gotten a chance to check out this disc and it's purty. I have to say, though, that the animation is a bit sloppier than I remembered, but it's so iconic that was but a momentary thought as I got swept up into the wonderful music and iconic characters. This movie signaled a new golden era in Disney animation and for good reason. $32.49 or the regular Blu for $26.99.
Coming to Blu-Ray for the first time (suspiciously close to the release of Saving Mr. Banks) is one of my all time favorite movies: Mary Poppins. Practically Perfect In Every Way indeed! I can't wait to add this one to my shelf. It's sure to be a go to whenever I want a warm fuzzy blanket movie. $32.96.
Disney's not the only one getting great transfers this year. Miyazaki is doing pretty good, too. My Neighbor Totoro was the first Ghibli movie to make an impression on me and now that it's out on Blu you have no excuse not to show the kiddies this title alongside whatever Pixar movie they've watched 400 times this week. $27.96.
Yay! More Ghibli Blus! Perhaps the most fun Miyazaki flick, Howl's Moving Castle is known by hardcore movies fans, but it's not as well-known as Miyazaki's later stuff by the everyday movie-goer, so think about this one for a stocking stuffer. $27.96.
Akira 25th's Anniversary? Well, great. Now I feel ancient. Jesus Christ... So, this new Blu-Ray is already dropping out of stock all over the place and that's to be expected. I don't know if I've ever seen a more rabid fanbase surrounding a single movie, even one based on a popular Manga. This Blu set has a bunch of the original Japanese commercials and TV spots as well as an interview with director Katsuhiro Otomo. You can put your name in the hat for one of the next batch at Amazon for $29.73.
If you're at all like me, you have friends who are popping out kids left and right, so this is a good gift for the little ones tearing your happy little friend circle apart. This Sesame Street Bus set collects 7 Elmo-centric DVD releases in one nifty package. Not for the geek, but for the developing tiny geek child brains. $50.98.
Happy Deathday, President Kennedy. Hope you wanted Oliver Stone's movie about you 'cause that's what you're getting. No regifting, Jacky-boy! In this anniversary edition you get Stone's admittedly really good movie and a bunch of Kennedy memorabilia, including a reproduction of his campaign poster, some of his correspondence, some quote books and other stuff. $44.96.
Last year I included the really cool This Is Cinerama Blu in this list and this year I have a Christmas themed one! If you're scratching your head, Cinerama was a technique that was tried in the 1950s. Just like today, the studios were freaking out and wanted to keep people coming to the theaters instead of choosing to stay at home watching their new-fangled television sets. 3D happened, scope became synonymous with movies and many other things were tried, Cinerama among them. Cinerama was shot with three cameras and projected simultaneously with three projectors on a wrap-around screen that literally made the audience feel immersed in the theatrical experience. How The West Was Won was shot that way, but mostly what survives from this experiment are these oddities that show off the system. This is a travelogue following two couples as they travel around the world and even ride in bobsleds. Presented in the "Smilebox" format to preserve the original experience, this one is a no-brainer for the cinema nerd in your life/family/circle/you. $39.43.
The Ultimate Gangsters set gathers Blus of Little Caesar, The Public Enemy, The Petrified Forest and White Heat together. All of these are great, especially The Public Enemy and White Heat. Some of the best Gangster Films ever made in one collection available at a great price. $27.49.
Warners also released a Contemporary Gangster collection that bundles together some great modern crime flicks, including Heat, Goodfellas, The Departed, Mean Streets and The Untouchables. Not a bad film in the bunch and at this price you're getting these blus for just over $5 per. $27.49.
You may remember last year I featured a box set of Italian Crime Blu-Rays, all directed by the great maestro Fernando Di Leo (it can be picked up for $22.96). Now there's another set, V. 2, released which includes Shoot First, Die Later, Kidnap Syndicate and Naked Violence. I may be mistaken, but I don't think I've seen any of these. I can vouch 100% for that first set, but this one has just been placed on order. I can say that Di Leo is a master at crime/revenge stories and I'd wager all of these '60s and '70s movies are fun as hell. $25.99.
All three Cornetto movies can be had in one Blu set, which carries over all the extra features from the single editions. Shaun, Nick Angel and Gary King in one place! If there's some sad asshole in your life that hasn't seen these movies, then look no further this holiday season. If you haven't upgraded Shaun of the Dead or Hot Fuzz, then this set is a no-brainer as well. $42.48.
The Vincent Price Collection gathers 6 of the master's works in these extras-laden Blu-Ray set. Fall of the House of Usher, The Haunted Palace, The Masque of the Red Death, The Pit and the Pendulum, Witchfinder General and The Abominable Dr. Phibes. Harry went crazy for this set, specifically the vintage introductions to each movie by Price himself. $61.93.
Nick At Night ensured I was enamored with this show, which has now been gathered in a complete series collection (be warned, they colorize the first few seasons) for a relatively low price considering how much TV you get. Over 6,000 minutes of Samantha, the two Darrins and Endora for $35.91.
Quite possibly the best show of my generation ended in a wholly satisfying way this year and you can get that final season on Blu-Ray starting tomorrow. I don't know how they paid off everything I needed closure to and did it in such a way that I could never see the next turn coming. There's next level acting this season from Bryan Cranston and Aaron Paul... damn, I'm actually going to miss my time with Mr. White and Jesse... Make sure to scroll down for the mega Blu collection set in the expensive section. $29.99.
It's The Simpsons. It's season 16. It's on Blu-Ray. What else do you want me to say? WHY DO YOU DEMAND SO MUCH OF ME AND WHY CAN'T I SAY NO TO YOU?!? $53.98.
I only got 3 seasons into The Clone Wars, but I had already decided they were better than any of the prequels by the time I hit the second episode of the first season. I hear they've only gotten better. Depending on how badly hit my wallet is this holiday season I might just go ahead and spring for the Seasons 1-5 bundle (keep scrolling to find that one). Season 5 is the newest season out and it's running $46.55 on Blu, $29.96 on DVD.
If you know who Drew Struzan is, you know why a documentary about him is going to be awesome. The man guided pretty much my entire generation with his movie poster art from The Thing to Star Wars to Back to the Future. His work shaped what poster art should look like and this doc brings together a ton of his admirers and collaborators including folks like George Lucas, Steven Spielberg, Frank Darabont, Guillermo del Toro, Harrison Ford and Michael J. Fox to talk about how awesome he is. $26.95. (Psst, look in the Amazon Marketplace for significantly cheaper DVDs).
I had the pleasure of awarding this film best feature and best screenplay when I was a juror at Action Fest, so I'm going to take full responsibility for I Declare War being picked up and treated so right by Drafthouse Films. Surely they were paying attention. The movie's essentially Platoon or Apocalypse Now with kids. The entire cast of kids is out playing war, but we get a peek into their imaginations and sticks turn into guns, pine cones turn into grenades and thick branches turn into bazookas. Their war game takes a turn for the serious when one of them snaps and starts acting like they're really at war. This one would actually make a great double feature with that Criterion Lord of the Flies disc! Check it out, it's damn good. $19.65.
Kino has put out this 2-disc Blu of Murnau's Nosferatu. They always treat their films right and in this release you get two versions of the famous silent vampire film. One version contains US interstitials and the other has the original German cards. You also have the option of listening to a 5.1 upmix of Erdmann's score or the 2.0 stereo mix. $34.99.
Man, is this a good movie. Basically you have Orson Welles as a small town teacher who comes under the gaze of Edward G. Robinson. Robinson is looking for Nazi war criminals that slipped through the cracks and he begins to suspect Welles might be one of the worst left to be recovered. The movie is a noir-ish is he/isn't he thriller and it's just as awesome as you think it is. $26.92.
If you want your friends to question your movie tastes and/or sanity, then this is the one you want to gift this season. This boxset features Chester Novell Turner's no-budget shot on video horror movies BLACK DEVIL DOLL FROM HELL and TALES FROM THE QUADEAD ZONE. These films are huge with the Weird Wednesday/Terror Tuesday Alamo Drafthouse crowd and now you can see why! The video quality will be shitty (only VHSs exist), but you get a surely amazing commentary by Turner and Shirley LaTanya Jones and some other spiffy stuff. $26.67.
Before compiling titles for this guide I had no idea this movie existed, but when I started looking into it I began squeeing. I'm embarrassed to admit it, but yes it happened. This is a western starring young, pre-Deer Hunter Christopher Walken as a bounty hunter, Geoffrey Lewis as some kind of baddie and Margot Kidder right before she got Superman. Um... how does this exist and I don't know about it? $27.98 on Blu and $21.21 on DVD.
One of the coolest single releases this December (it streets December 10th) is the Lee Van Cleef Spaghetti Western THE BIG GUNDOWN. Tarantino fans will recognize the Ennio Morricone title theme, which was used to great effect in Ingloureous Basterds. I recently got to see a remaster of this title (which I'd bet was the basis for this Blu transfer) and it's such a fun movie. Lee Van Cleef hunts down a Mexican criminal only to find out he's being used by the political forces that put him up to the job. This is an awesome movie and if the remastered DCP I saw theatrically was any indication this'll be a gorgeous release. You can pre-order it for $34.99.
Why the double dip? Easy, now you can get both the Director's Cut and Original Theatrical in high def. I loved experiencing this film again in theaters when the DC was released, but the original is still superior and I'm glad to finally have the ability to watch it in crisp 1080p. This release also includes some new bonus features that'll make your head spin... yes, I went there. What's wrong with me? I'm so sorry. $34.96.
One of my favorite movies released this year, this indie flick is a showcase for three young actors as their characters come of age by running away for a summer to live in the woods. There's a great shifting tone in this film that I adored. It goes from deeply serious to crazy funny to tense and back again a few times before credits roll. Instead of making the movie feel schizophrentic, this shifting tone weaves an entertainingly unhollow complete picture. Plus Nick Offerman fights with nunchucks. Sold! $27.42.
Yep, that's right. 200 movies in this set. Keep in mind that like most giant compilations like this most of the movies will be either public domain or so obscure/bad that they couldn't be put out on their own and make a buck, so I wouldn't imagine the transfers on these will be amazing, but there's such and incredible breadth of titles here. Sexploitation, Blaxploitation, Kung-Fu, horror, sci-fi, action... Most are '70 and '80s, with a few '60s and '90s in there as well. It'd make a fascinating column going through these one by one... hrmmm. Anyway, click the image above to go to Amazon and check out the full list of titles. Super obscure stuff. Odds are there'll be some gems in there, though. At around 25 cents per title that ain't too bad. $45.49.
Here's another 200 movie set from Mill Creek, this one only horror flicks. It looks like the more typical stuff you can get in cheap-o packs since a ton of these '50s and '60s genre flicks fell into public domain. You get some of the regulars like the great Bucket of Blood starring Dick Miller and Carnival of Souls as well as some '70s weirdness, including the great Devil Times Five. Lots of Christopher Lee, Bela Lugosi and Chrisopher Lee in here. Some good stuff in there and it's so cheap it's almost too good of a deal to pass up. $51.99.
We're not done with these 200 movie sets just yet! Westerns now! John Wayne starred in about 37,000 movies. You probably only really know about 25 of them. There's a lot of 1930s Westerns in this set starring Tex Avary, Wayne and Autrey, but there's also a bunch of '60s and '70s stuff during the post-Leone resurgence, with stuff like Franco Nero in 1974's Challenge to the White Fang, Joe Don Baker in The Curse of Demon Mountain and Donald Sutherland in Dan Candy's Law. Again, I'd bet these transfers are largely on the laserdisc/VHS level, but you get a ton of obscure movies in this brick of a set. $51.99.
Here's the last of the Mill Creek giant mega box sets. Here you get almost 190 hours of American War history. Who needs school when you can learn everything about US conflict, from the Great Indian Wars to Iraq, in one huge box set. Comprised of a ton of war documentaries with interviews, newsreels and everything in between. $51.99.
Expensive ($71.00-$249.99)
I love how they go all out on these collector's sets for each Walking Dead season and this new Season 3 set is the best of them all, recreating the governor's odd collection of heads. I mean, look at how sweet that is. This season was the strongest since the first, although I will say I think they ended up pulling back a bit on how awful the governor is as a character. They flinched, but can't say I blame 'em. $94.96 gets you the head display or you can opt for the season Blus by themselves for $44.59.
Should you want every X-Men movie in one place this is the set for you. You get all six X-films (X-Men 1-3, X-Men Origins Wolverine, X-Men First Class and The Wolverine) on Blu-Ray, a bonus disc of content and they even left a slot for the eventual inclusion of Days of Future Past. And you get Wolverine's hand. Bonus! $129.99.
I'm hoping for a Black Friday deal on this one since I'm such a sucker for the Friday movies. Call it nostalgia if you want, but even the worst Jason flick is a warm blanket movie for me. I grew up with 'em and while I was kind of a Freddy kid, I would say I watched Friday movies more often. This big Blu set comes with every single Jason movie from Friday 1-10, Freddy Vs. Jason and the Friday the 13th remake. That's over a thousand minutes of nudity, hacking and slashing and dark, dark humor. You also get a Camp Crystal Lake patch! $104.99.
You can get all three movies included here (East of Eden, Rebel Without A Cause and Giant) for about $60, but for that extra $12 you get the nifty box packaging, a commemorative book, reproduction movie posters, behind the scenes photos and reproductions of production memos from Rebel and East of Eden. $72.49.
Shout Factory has compiled this set of Bruce Lee's movies The Big Boss, Fist of Fury, Enter the Dragon and Way of the Dragon which includes the Hong Kong remastered transfers of those titles. The perfect gift for the martial arts fanatic in your life. $101.99.
Criterion doing Zatoichi? Jesus, what an undertaking. There were 25 films in this series about a blind swordsman and Criterion has remastered each and every one of them. There's a big doc with this set as well as a book of illustrations and essays, new English subtitles and trailers for all films. It's expensive, but you get a lot of quality for your money. $199.99.
For the 75th anniversary Warners has put out another Wizard of Oz Blu-Ray, this time with the 3D restoration on it. They seemed to have gone all out with this Collector's Edition. You get a snowglobe, a Noble Collection pin-set, a hardcover book, a map of Oz and, if you buy through Amazon, a USB flash drive that makes it look like your computer landed on the Wicked Witch of the East! This is a perfect gift for the Oz fanatic in your life. $69.96 for the collector's edition and $24.99 for just the movie/extra features.
Criterion teams with Martin Scorsese's World Cinema Project to remaster these international films. Included in this set are Touki Bouki, Redes, A River Called Titas, Dry Summer, Trances and The Housemaid. Each one comes with an introduction by perhaps the most famous cinephile out there, Mr. Scorsese. $119.99.
Cassavetes was well ahead of his time as a filmmaker. He was indie before the term existed. Included in this Blu-Ray set is Seconds, Faces, A Woman Under the Influence, The Killing of a Chinese Bookie and Opening Night, every single one of them a hard-hitting, gritty smack in the face kind of film. $86.29.
If there was ever a TV series worth $200 it's Breaking Bad, especially when you get it in one of Walt's money drums and get cool swag like a Los Pollos Hermanos apron (for when cooking, get it?), coasters and even a unique challenge coin. The show itself is worth double the asking price. Everything else is just gravy. $199.99.
Speaking of awesome shows, Game of Thrones had a hell of a season this year, didn't it? While Season 3 isn't available until February of next year, there is this nifty repackaging of both Seasons 1 and 2 of the series with three exclusive Funko Pop Vinyls. So, if you don't already have 'em, this is a way to do it up right. $89.99.
Fuck it. It doesn't come out until February 2014, but the Collector's Set of Season 3 of Game of Thrones is too good not to include. These things have a tendency to sell out, so it would actually make a great gift. All you have to do is print out the confirmation of the order and then you not only get Christmas hugs, but then February hugs. Double the hugs! $89.99.
Of course this is how they package the complete Dexter Series Blu-Ray set. The show had its ups and downs, but when it was going strong it was incredible. The John Lithgow season in particular had me addicted. No matter how good the story is season to season I always loved being around the characters, which is the true benchmark of a great show. $219.99.
Here's another complete series set of a show about how important family is, although this one has slightly fewer dismemberments. Only slightly, though. What can I say about Family Ties? It was one of the big shows of my childhood, although I was more into the darker comedy shows like Roseanne and Married with Children. Still, I have a lot of nostalgia for this series. $154.86.
I'm unfamiliar with this show. I just haven't had time to dive into the episodes, but everything I read about it has me excited to start chipping away. It's a '60s show that seems to be the anti-Dragnet, a cop show more about the complexities of the criminal world than a straight up good guy/bad guy take. Featuring guest appearances by everybody from Christopher Walken to Ed Asner, this seems like one of the more interesting box sets out this holiday season. $75.49.
Man, I loved this cartoon when I was younger. I was able to get past my initial disappointment that Michael Keaton wasn't voicing Beetlejuice pretty quickly as the animators did their best to make things weird every single episode. Kind of like a cartoon Addams Family riff, this is one of the more interesting big movie cartoon spinoffs. $80.25.
These Next Gen blus are fantastic and the lastest to see release is Season 5. Want it? Make it so! (Sorry, couldn't resist.) $77.99 for Season 5. Season 4 also saw release this year and can be had for $49.35
Collecting Blu-Rays of every Star Trek movie from The Motion Picture to Nemesis this is the set for the OG Trek completionist. I don't know why on Earth you'd want to own Insurrection, but sometimes the greater glory of having every single one of something is worth the bad apple or two that are forced in the bunch. $97.79.
I borrowed the first three seasons from a friend whose kids probably want them back... so this set is very appealing to me. I haven't seen seasons 4 and 5 yet, but I do know Darth Maul makes a return and if the first three seasons are anything to go by they'll continue to be outpace the prequels in character development and universe expansion. $114.96.
What we have here is a membership to the Drafthouse Alliance, which is a yearly subscription service that guarantees you access to everything they put out. Having seen some of the movies they have coming out next year I can't recommend this enough. Cheap Thrills, R-100, Nothing Bad Can Happen and Why Don't You Play In Hell are all movies you'll want to own, trust me. This service guarantees you 10 films delivered to your door on Blu or DVD (your choice), grants you access to special events at an Alamo Drafthouse and also gets you free random swag. You also have the option of paying less and getting digital downloads of the movies, so whatever floats your boat. $125.00 for the physical Blu-Rays and $80.00 for digital only.
For The Super Rich Only ($250.00 and up).
If you love Dexter so much that you'll spend over $200 more than the regular complete set in order to put your Blu-Rays in a bleeding head, then this set is for you! I personally think the glass slides complete set looks cooler and is way cheaper, but hey... That's just, like, my opinion, man. $490.49.
Due to the 50th Anniversary, the good Doctor has a pretty major presence on the guide this year. We end our DVD/Blu section with this complete set of all the new series of Doctor Who (Series 1-7) in this nifty collection that includes a bunch of geeky shit, like a Universal Remote Control Sonic Screwdriver, a comic, some art cards and over 4,000 minutes of Who on 29 Blu-Ray discs. $299.99.
GAMING
It's a hell of a year for gaming. Personally, I've dipped my toe into some tabletop stuff which has definitely influenced this list. I haven't quite ascended to the D&D style stuff, but that's not out of any prudishness on my part. If we can invent the 48 hour day, then perhaps I could afford the time. No, I chose my vice and that's console gaming. On that front it's a very, very exciting year.
Xbox One and Playstation 4 hit the scene this month and man, I'm an addict. I hear my beloved One calling my name. "Eriiiicccc... There are zombies to kill. Cooooommeee plllaayyyy. All you have to do is say my name. Just say 'Xbox On.' You know you want to do it. SAY MY NAME!!!!!" Come to think of it, there might be something wrong with my Xbox.
But I said "No, Xbox! The Guide must come first!" Then I played Dead Rising 3 for four hours and realized I had been tricked and chastised that infernal machine, but sweetly whispered "I'll be back soon."
Below you'll find a mix of video games and board games. As for video games, the older platform systems are still very viable and have some amazing games not available on the newer consoles, so you're going to see a mix of next-gen titles and current.
For the video game titles that are cross-platform the default image will be Xbox, but I'm ambi-console-trous, so I'll always make sure to include links to the Playstation, Wii and PC versions as well.
Cheap ($24.99 and under)
Since the good Doctor is celebrating his 50th this year there's a whole bunch of Who stuff in the guide this year. Case in point, a Who-themed Yahtzee set with a Tardis dice cup. Um, yeah. Of course this exists. $24.99.
The concept of the Everything Burrito could be the lasting legacy of the absolutely mathematical animated show Adventuretime. A burrito tortilla is essentially just an edible container for any and everything you can shove inside and this Adventuretime themed game challenges you to stuff a Jake-faced burrito as full as you can. The most stuffed burrito wins. Simple enough, yeah? $19.99.
So this is pretty much just Monkeys In A Barrel, but with bacon. I can't imagine how many of these Nick Offerman is going to be gifted this year. $11.99.
Just like the bacon game above, but with mustaches for your family hipster! $11.99.
Time to brush up on your WoW trivia. Prepare yourself for Duncan Jones' upcoming movie version by testing your mettle against your nerd friends for supremacy in your own personal kingdom! $24.95.
Space Invaders Jenga! What an awesome combination! $24.89.
Do you have a bunch of old school NES games on your PC or Mac? Now you can play in style by plugging in this USB controller which is a pixelated version of the original NES controller design. $18.08 for Red (pictured above), $18.63 for Blue and $17.67 for Green.
Ducktales! They've remastered the Ducktales game I loved growing up... remember that? Uncle Scrooge using his cane like a pogo stick and jumping on diamonds and bad guys? Well, they've done spiffed it up and made it available for a whole new generation! Hooray! Xbox 360: $19.99, PS3: $19.96, Wii U: $19.96.
The Wolf Among us is the newest game from Telltale, the folks behind the award winning and awesome Walking Dead game. For you console gamers, you can buy this on Xbox Live Arcade or the Playstation Network, but if you're a computer gamer you too can have this critically acclaimed journey into the world of the Fables comics! Mac: $24.99, PC: $24.99.
Moderate ($25.00-$70.99)
As of this writing you can still get the Day One Edition of Dead Rising 3, one of the exclusive launch titles for the Xbox One. The Day One Edition has a different cover (it's shiny in person) and you get a unique achievement as well. Of the next gen titles, this is the only one I got a chance to play for more than 90 seconds and I love it. I found the first two Dead Rising games to be stupidly hard and the ticking clock element just stressed me out and I felt like I couldn't enjoy the world they created because if I spent too much time looking around or trying out food/weapon combos I'd let a companion die or the game was going to end before I could beat it. They split the difference with this one. There's a hardcore mode that's more like the first two games, but the regular mode's clock ticks down much, much slower so they encourage exploring, finding rare items, catching little game in-jokes, etc. DR3 is a good showoff of the next gen consoles, actually. It's not that the animation looks photoreal, but the sheer amount of stuff that can happen. There are streets that are filled with thousands of zombies. You really do feel like you're in a hopeless sea of the undead. It's pretty spectacular. If I wasn't writing the guide right now I'd be playing this game. Xbox One: $49.00.
I haven't been able to play this one yet, but I bought it. The next wave of XB1 and PS4 titles don't really start coming in until early 2014, so I'm making sure I'm stocked up! I played a bit of Ryse at Comic-Con and I was underwhelmed, to be honest, but as a launch title I'm curious to see how they use the full non-demo version to show off the system. $49.00.
The only racing game I ever truly enjoyed was Mario Kart, so I hesitated on buying Forza even though I wanted a stack of launch titles for both consoles to last me through the season. The reviews seem to give me hope, though. The serious racing game fans are disappointed in the number of tracks and cars, but the casual gamers are praising the reward and upgrade systems, so I'll give it a try. Why not? Plus the graphics in the trailer were spectacular. $49.00.
Sony's big launch title was Killzone: Shadow Fall which has probably the most generic shooter name I could imagine. But I need something to play on the shiny new console. All I know is it's future-y and I get to shoot at heavily armored people/robots/something. It's been a while since I've gone into a game ready to be surprised, so I'm excited to give this one a whirl. $59.96.
Knack is the other PS4 launch exclusive. It's about a little guy that can turn into a big brute when called upon and called upon he is. I get a family funtime vibe from what I've seen on this one. Reviews have been mixed, but if you bought a PS4 what else you gonna play? $49.00.
Forza's exclusive to Xbox, but Need For Speed is console neutral, baby. Depending on who you talk/listen to this one's more fun than Forza, but I won't know myself until this guide is done and I can ignore the world and disappear into my new consoles. Xbox One: $49.00, Xbox 360: $59.96, PS4: $49.00, PS3: $59.96, PC: $49.99.
NBA 2K14 is one of the first sports games out of the gate to show off what these new fancy console processors can do. Believe it or not, in this game you get to play basketball... but without getting all sweaty and fit and stuff. Insane, right?!? The future is now! Xbox One: $49.00, Xbox 360: $54.84, PS4: $59.99, PS3: $48.20, PC: $29.96.
I upgraded my 360 version and have the Xbox One disc, but haven't played it much. Supposedly all my stuff transfers over, which is good. Between this and Battlefield I think I'll have enough wartime killing sprees (virtual, of course... stand down NSA) to last me through Christmas at least. Xbox One: $49.00, Xbox 360: $55.31, PS4: $49.00, PS3: $54.91, PC: $59.96.
I played through the first level of Battlefield on the PS4 and visually it kicks Call of Duty's ass. The way the guns handle are much more realistic and the sound design was great. I'm just a little more comfortable in the Call of Duty franchise, so I still lean that way, however I can't wait to really sink my teeth into this one. Looks like you get an expansion pack with the Xbox One version. With the previous gen releases you needed to pre-order to get the China Rising DLC. So, bonus. Xbox One: $59.96, Xbox 360: $51.84, PS4: $49.00, PS3: $48.99, PC: $59.99.
Assassin's Creed IV: Black Flag is another title that bridges the old consoles and the new ones. This is the pirate edition of the famous franchise and most reviews indicate it's a franchise best. Yet another title on the stack for my holiday laziness. Xbox One: $49.00, Xbox 360: $52.72, PS4: $59.96, PS3: $51.28, PC: $59.65.
I love the Lego games. Their sense of humor, the way they're designed for multiple playthroughs with different areas accessible once you unlock certain characters... it's very addicting. Their run with the DC characters was crazy fun and I expect to have even more fun with the whole Marvel Universe at my fingertips. Xbox One: $49.00, Xbox 360: $48.17, PS4: $49.00, PS3: $49.28, Nintendo Wii U: $49.96, PC: $29.99.
The best game to be released this year, as far as I'm concerned. Naughty Dog outdid themselves with The Last of Us, and I'm not just saying that because the game opens about 20 miles from my house. I'm used to seeing LA and New York in games, but the outlaying towns around Austin? Not so much. While there's a zombie element (in this case a fungus based insane transfigured people/zombies), the real draw of this game is the human element. Dramatically this game is probably the most cinematically structured video game I've ever played. The relationship between Joel and Ellie is rich, evolving and so engaging that I actually felt like I was in the world, not just controlling a character in it. And that opening! Hoo-boy. So good. Just writing about it makes me want to play again. PS3: $54.79.
Yeah, it's pretty much Arkham City refreshed and reskinned, but what the hell? I liked Arkham City and now we have the ability to traverse Gotham at Christmas, so you can pretend like you're getting to wander around Batman Returns and be happy and joyful and full of cheer. Xbox 360: $51.84, PS3: $52.86, Wii U: $49.96, PC: $47.42.
GTA V is the best the series has been in a long time. Having three radically different characters to switch between kept it fresh. Big world, lots of movie references (you get to recreate the heist from HEAT, for instance) and intuitive gameplay make this a worthy addition to the GTA family. What can I say, I'm a sucker for open world games. Xbox 360: $53.39, PS3: $54.50.
The Saint's Row series seems to have evolved into the most crazy GTA parody series ever. Dare I say, I have more fun playing these games, but then again I like some really absurd shit. If you're like me, it's like this game was tailor made for us. I mean, you play a President that would make Idiocracy's Presiden Comacho look like Jimmy Carter... and your vice president is Keith David. No, he's not just voiced by Keith David, he IS Keith David. Vice President Keith David. Win-win-win-win-win. The game takes the piss out of all modern games, from GTA to Mass Effect, and I had a blast playing it. Xbox 360: $59.54, PS3: $49.05, PC: $29.99.
Speaking of crazy absurd games, I'd be remiss to not include the newly released super duper Game of the Year Edition of Borderlands 2. The game is great and in this edition you get all the DLC. If you haven't picked it up yet, do it. Now's the time. And don't worry if you haven't played the first. You won't be lost. Just know that the little dwarf guys in hockey masks are motherfuckers and exterminate with extreme prejudice. Xbox 360: $59.96, PS3: $59.96, PC: $59.96.
Do you like Angry Birds? Do you like Star Wars? Well, that's settled then. Xbox 360: $39.45, PS3: $39.96, Wii: $39.96, PC: $8.78.
I missed the Pokemon craze, but my little brother sure as hell didn't. There's a big following and not just in today's kids, but the previous generation as well. They carry their love of Pokemon into adulthood the way my generation did Ninja Turtles. Of course, my stuff is waaaayyyy cooler, naturally, but I couldn't leave you millennials out. And there's not just one new Pokemon game for the 3DS. There's also Pokemon Y. Pokemon X is $39.33 and Pokemon Y is $39.32, both for the 3DS.
A Link Between Worlds is a direct sequel to fan favorite Zelda title A Link To The Past and by all accounts it's a worthy followup. I haven't seen Nintendo geeks this excited in a long, long time. $39.96.
Super Mario 3D World is the latest and greatest of the neverending questing Italian plumbers. Sad to say I didn't upgrade to the Wii U when I realized the Wii was gathering dust (insert your own crude joke here), so I can't play this, but I have been paying attention to reviews and everyone loves it, so if you're at all inclined it's a pretty safe bet the game delivers. $59.96.
This was one of my most anticipated games of 2013 and you may remember me salivating over it in the last Holiday Guide. Yep. Lived up to my anticipation. As much as I liked the action and the ability to split between universes, my favorite part was spending the first 45 minutes just walking around Columbia, the flying city, and taking in the detailed world-building and eavesdropping into random conversations. Having played a little with the Xbox One, I'm dying to see what Irrational Games does with the ability to even further expand their worlds. It's one of my favorite games this year, but that's not the only reason it made the guide... the game's DLC has been hitting and the latest, Burial At Sea, takes us back to Rapture (of the first two games). I loved it and as much as I appreciate Columbia, my heart will always be in Andrew Ryan's city beneath the waves. Burial at Sea Part One is out now and the second chapter is coming next year. You gotta buy the above and then order the DLCs via the game. You can still make out for less than the cost of the game itself at launch. I highly recommend. Xbox 360: $32.86, PS3: $29.98, PC: $19.99.
New fangled computer machines aren't the only way to experience Bioshock Infinite, there's also this tabletop alternative. Play as the Founders or the Vox Populi as Booker and Elizabeth are on their adventure. What'll they think up next?!? $56.96.
Browncoats are falling over themselves in love with this tabletop game as you pilot your own Firefly class starcraft, pick your crew and take whatever jobs pay you to keep going. Fan reviews are ecstatic, saying Gale Force 9 put it together with an obvious love of Joss Whedon's show. $40.81.
You know that sweet-ass map of Westeros that builds itself up at the start of every Game of Thrones episode? Now you can make your own with this 4D puzzle. You start by putting the base map down like a regular puzzle and work your way to building the cities up. How cool is that? Even Butters would be impressed with this puzzle! $59.99.
My brother works at a gaming/comic store and I asked him what should be in the guide and he gave me two answers. One was a Wizards of the Coast game called Betrayal at the House on the Hill, which he described as Cabin in the Woods meets Clue. Sadly it seems to be out of print online, so I didn't include it here. His other recommendation was the above, King of Tokyo, in which you tabletop fight as giant monsters and robots. It's a die-based game in which you can be an alien, monster or robot and fight over dominance of Tokyo. $25.49 for the core game, $15.49 for the Power Up Expansion and $16.58 for the Halloween Expansion.
More Adventuretime stuff! Now it's Adventuretime themed Monopoly! All I know is you can play as Lumpy Space Princess, so... yeah. Buy away. $34.34.
Yeah, I know it's HeroClix, but this game is supposed to be awesome. The twist is that you're not playing as Batman, but as either The Joker, The Penguin, Two-Face or Killer Croc and the game is to set up your crime syndicate in Gotham without Batman fucking up your party. Sounds cool, right? $49.36.
I assume that most of you reading this guide are exactly like me: horrible, horrible people. If so, then this one's for you. Cards Against Humanity isn't new, but I won't be satisfied until everybody has played it. A truly fantastic party game that is pretty much Apples to Apples, but raunchy and wrong. You get cards that say horrible things on them like "coat-hanger abortions" and "another goddamn vampire movie" and "big black dick" and "The Virginia Tech Massacre." Each turn a different person pulls a question card and you get to play one of your answers. Usually the most creatively awful wins. For example, one of the questions is "In his new self-produced album, Kanye West raps over the sounds of ______." If you played The Virginia Tech Massacre card that would probably win you the round. As far as I'm concerned they could put out five expansions a year and I'd scoop them all up. $25.00 for the base game, $10.00 for the first expansion, $10.00 for the second expansion, $10.00 for the third expansion and $10.00 for the fourth, and latest, expansion.
What you see above is a special Walking Dead version of Risk. If that's not cool enough an idea, to make it even more awesome it's based on Robert Kirkman's comic series, not the TV show, so all the iconography is Charlie Adlard art. Since it's based on the comic and not the show, I assume there's a "The Governor just raped you" event card. There's gotta be, right? $50.49.
I know I'm late to the game (yuk-yuk-yuk) on this one, but this year I began a regular Risk Legacy game with my buddy Aaron and a couple of the Mondo guys. We're now 8 or 9 games into the run and it's some of the most fun I've ever had playing anything tabletop. You have to commit to 15 games with your regular group and decisions you make on game one could help you out or fuck you over in a later game. It's essentially regular RISK, but way more complicated and fun. You permanently change the map, add bonuses to territories and continents and put bad marks (scars) on them as well. The crazy thing is that the game evolves as you go along. Compartments of the box won't open until certain events happen which can change the rules and even introduce new factions and expand the map. Not looking up anything before we started playing I can say that I've genuinely been surprised at the twists and turns. RISK Legacy feels like the direction board games need to go in order to stay relevant in the video game age. It's pretty incredible and one of the biggest bangs for your bucks you're going to get in the gaming section of the guide. Just don't pick flakes as your gaming partners! $42.89.
Expensive ($71.00-$249.99)
I'm going to throw in a couple pre-orders you can place. I've noticed these collector's edition releases sell out quickly and stay really damn expensive to pick up. I'm still hoping to luck into the Amazon Exclusive Fallout 3 Collector's Edition with the Pipboy replica clock, for instance, and not have to fork over a month's rent for it.
So with that in mind I figured including pre-orders for some notable upcoming games would be a good call, Ripley. A good call. Let's look at 'em, shall we?
One of Xbox's big exclusives is Titanfall, which they are trying to position to be their next Halo-like franchise. It'll be the first game for the Xbox One that will really test its limitations and their Collector's Edition is definitely trying to make a statement. They're not happy just throwing in a cheap keychain and sticker... they're going all out. Their limited (and numbered) Collector's Editions come with this Sideshow sized giant statue. It lights up and stand about 20" tall. Not your typical little collector's edition trinket. You also get a nearly 200 page hardcover Art Book and a full sized schematic of the Atlas Titan. Make sure to click the link and check out the video to get a real sense of just how huge this statue is. If you want it, now's the time to pre-order because I guarantee it'll be sold out. No time to drag your feet on this one, folks. The game comes out March 11th. Xbox One: $249.96 PC: $249.96.
One of PS4's big exclusives next year is Infamous: Second Son. Their Collector's Edition is a bit more sparse. You get a replica beanie, vinyl decals, buttons and exclusive in-game content. I wouldn't be as worried as this one selling out, but in the interest of fairness I thought I'd include it. PS4: $79.99.
I think the Next Gen consoles took a bit of a hit when Ubisoft pushed Watch Dogs from launch to 2014. I know a lot of gamers that intended to make that their preferred launch game and for good reason. It looks massive and a lot of fun. Sadly it was pushed, but on the bright side that should mean we don't get a buggy, rushed product. The Limited Edition comes with a 9" tall statue of the main character, an art book, a replica of his mask and the soundtrack. This is one of the big video game releases next year, so if you want to be super special when it comes out, grab up this limited edition before it sells out. Xbox One: $129.99, Xbox 360: $129.99, PS4: $129.99, PS3: $129.99.
Nintendo have put out limited edition 3DS XL systems to celebrate the release of Pokemon X and Y. I'm pretty sure the only difference from a traditional 3DS XL is the paint job, but if you want your kid to be the envy of all the other children and you the recipient of much jealous scorn from the other kids' moms and dads, then this one's a must. $244.99 for the Blue and $239.99 for the Red.
For The Super Rich Only ($250.00 and up)
Then there's this limited edition Gold/Black Nintendo 3DS XL that comes with the new Zelda game, A Link Between Worlds. This one seems to be much more in demand and there aren't many left on Amazon. $259.11.
Remember back when both the new consoles were announced and I wrote a story saying that if you wanted one you needed to pre-order? Well, hopefully most of you listened because I'm now hearing reports of the demand for Xbox Ones and PS4s in the millions per console. If you didn't get yours, that doesn't mean there's no hope. You can sign up for a notice on when Amazon gets more in stock by clicking the Xbox above. The price'll be $499.99 when available. The PS4 doesn't have a Standard Edition sign up page, but if you keep an eye out on Amazon I'm sure one'll pop up eventually. No, you can't have mine! Wait, how much we talking here?
ART
Cheap ($24.99 and under)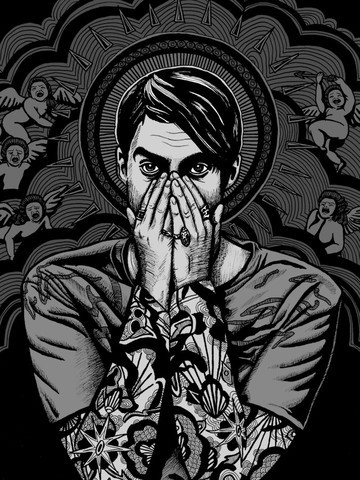 For only $20 you can gain access to the hottest original SNL character in New York. Bill Hader's Stefon was a guaranteed gut-buster every time he made an appearance on the Saturday Night Live. I have been told that the reason Hader kept breaking was that the writers would change the jokes from rehearsals so when he was reading the teleprompter he'd be experiencing the joke for the first time. I love Stefon and who wouldn't want an 18x24 inch print of him to put in the room where you keep your human suitcases? $20.00.
Moderate ($25.00-$70.99)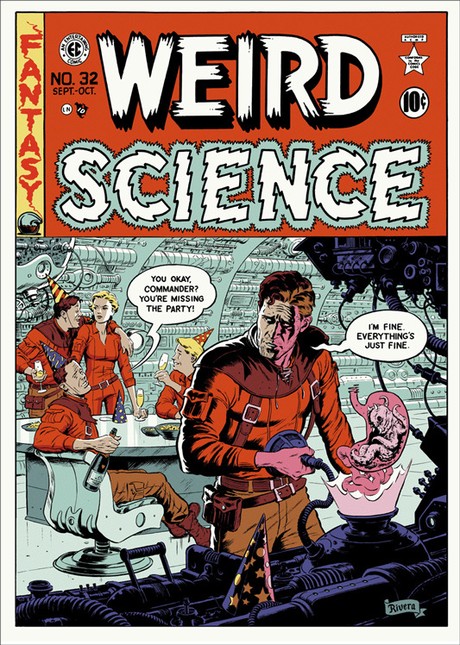 It's always tough putting together this section of the guide and trying to find a way to include Mondo. They're undoubtedly king of the pack when it comes to geek poster prints, but they're so popular there's hardly any items to link to because they've sold out. For some reason this amazing screenprint of Paolo Rivera's contribution to their EC show is still purchasable, so don't let it slip by! 17X24 screenprint, limited to 225 numbered pieces. $45.00.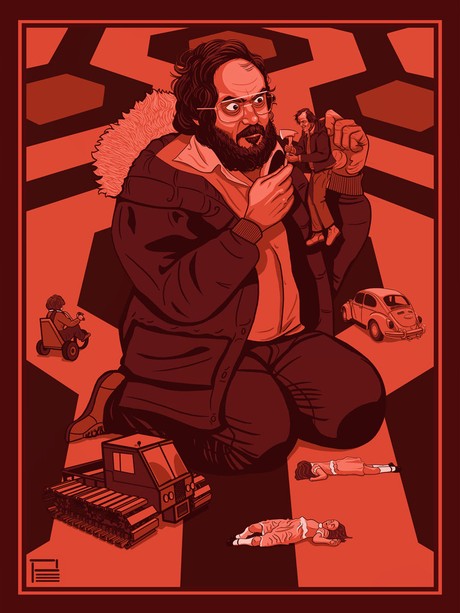 Created by Phillip Ellering this limited giclee is offered up by the folks at Hero Complex Gallery. For Shining supernerds this is a must have and it's mega-limited, too. Only 30 pieces, so if you want it don't hesitate! $60.00.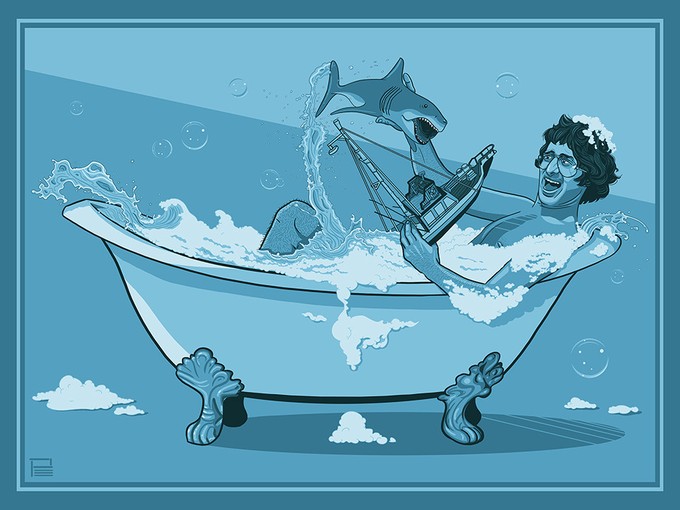 Ellering's companion piece to the Kubrick/Shining art above. Spielberg in the tub, dreaming up Jaws. You're not surprised this is on the list, right? $60.00.

Since we've had both Spielberg and Kubrick represented above, it's only fitting that the next print be from their one collaboration: A.I. Mark Englert's "Come Away, O Human Child" is a gorgeous piece of art printed with metallic inks, measuring 36x12 and limited to 200 pieces. It's a striking piece for the money. $50.00.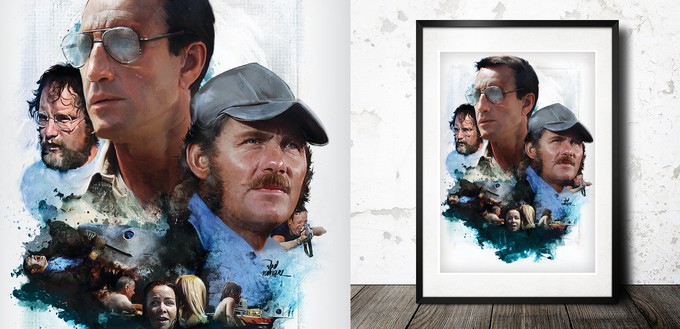 This one was part of that big Hero Complex Jaws Gallery I went out for. I love this painterly piece by Vlad Rodriguez. It's an 18x24 giclee limited to only 35 pieces so if you want Chiefy, Quinty and Hooper... ah... Hooper-y on your wall, then here's your chance. $45.00.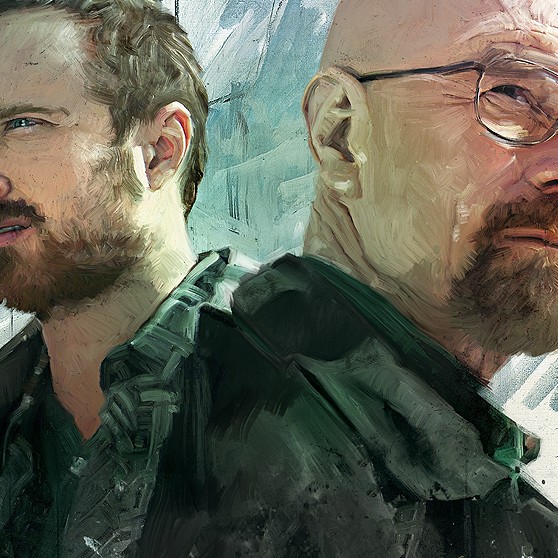 I'm featuring a few prints from Vlad Rodriguez 'cause I dig his style. First was Jaws, which you guys already know I'm bananas for, and now here's his tribute to the series finale of Breaking Bad, another story I hold near and dear to my heart. Gorgeous stuff. Limited to 50 signed and numbered prints, you can have Walt and Jesse for $49.00.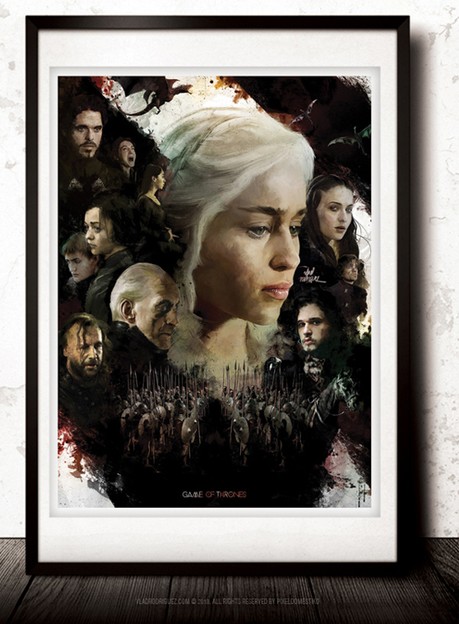 Last of the Vlads. Now here's his work based on HBO's fantastic Game of Thrones show. Also limited to 50 pieces, this print measures 18.5x24 inches and is signed and numbered as well. $36.00.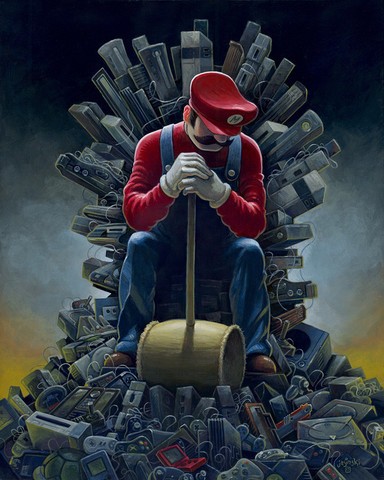 Gallery 1988 has this piece that makes quite a statement. Mario sits upon his own Iron Throne, except instead of the swords of the vanquished, he sits upon all the consoles that have come and gone. Created by Aaron Jasinski, this giclee measures 16x20 and is limited to 100 pieces. $70.00.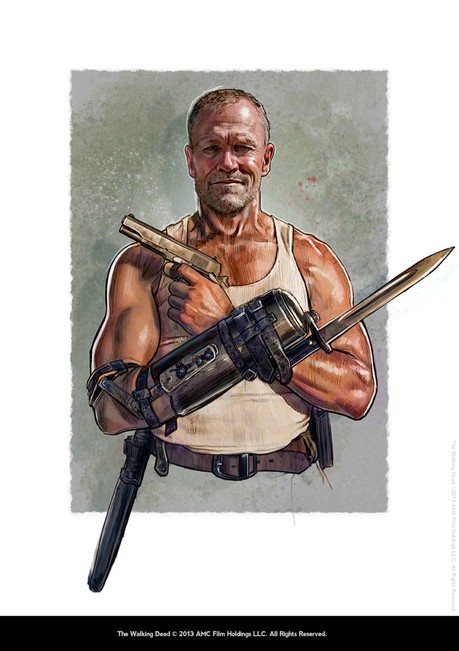 Forget that the above is Walking Dead related for a moment and consider just how fortunate we are to be in a place in geek culture where we can have the opportunity to put a beautiful portrait of Michael Rooker on our wall. Think about that. We've made it, guys! The art above is by a fella named Jason Palmer and it feels very much like something Drew Struzan would do, which is a high compliment to Mr. Palmer. The piece measures 13x19, is signed and numbered in a limited edition of 45 and can be yours for $45.00.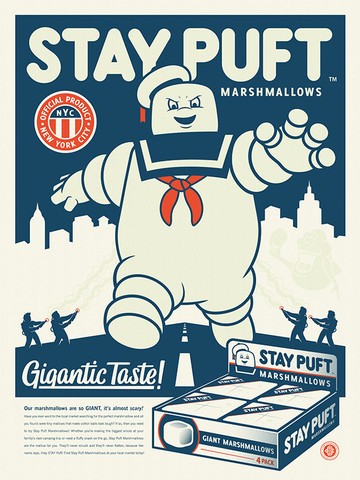 Mr. Staypuft up there glows in the dark... well, rather the slimer and beams from the proton packs glow in the dark, so it's almost like you get two different posters in one here! Made by Clark Orr this poster is the least threatening thing you could think of for the holidays. Signed and screenprinted with glow in the dark inks, this one'll run you $50.00.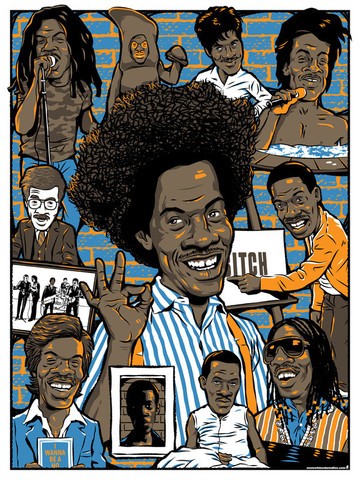 I refuse to forget the good days. Eddie Murphy is a bit like the comedic Darth Vader. I sense the struggle within him. I know there's still funny in there and if I desperately want to see him release his family friendly facade and become the man he used to be. That day may never come, but this print by Darin Shock reminds us of just how many memorable characters he produced in just a few short years at SNL. "This is how we answer the door in my neighborhood, boys and girls. WHO IS IT!?!?" $40.00.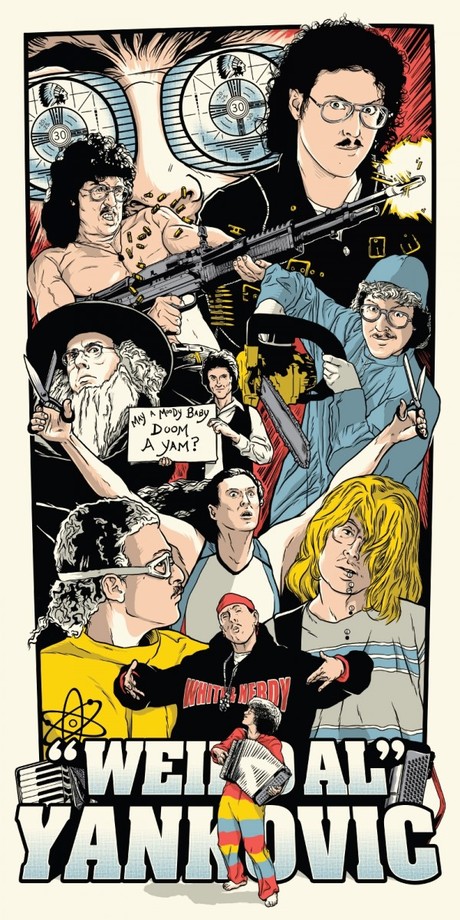 Unlike Mr. Murphy, Weird Al Yankovich has somehow been able to do his thing and keep it relevant. I don't know how he does it because it's not like he's changing things up or anything, but it's still not old. His original comedy songs are still great as are his parodies. I still can't believe how great Trapped In A Drive-Thru turned out. Anyway, I love this poster, which brings together his whole career thanks to Joshua Budich. This 12x24 7-color screenprint is limited to 200 and can be had for $35.00.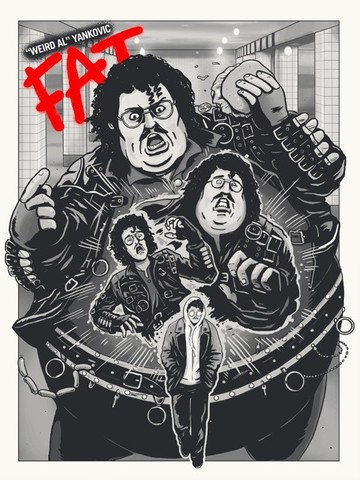 If you'd rather focus on one classic Weird Al song, then how about FAT? Here's a print creatued by Derek Deal. 18X24, limited to 200. $35.00.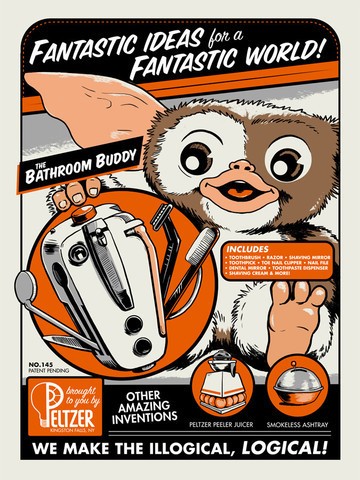 Derek Deal also did this rather awesome Gremlins related poster, advertising Mr. Peltzer's Bathroom Buddy. So cool! $40.00.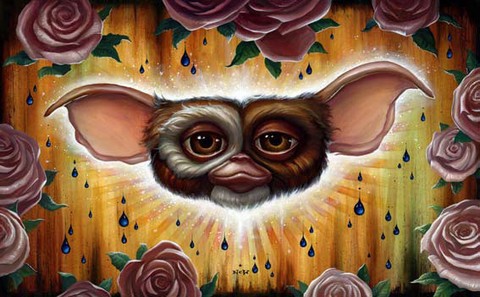 We can always use more Gizmo, so here's a giclee from NC Winters called "Irresponsible Plaything." He's so wise! Why haven't we decided as a species that we need to cross-breed whatever we need to in order to make real Mogwai? I mean, not the kind that turn into green monsters that ruin Christmas, but just the cute singing furballs? I guess other things are more important... Thanks, Obama! $50.00.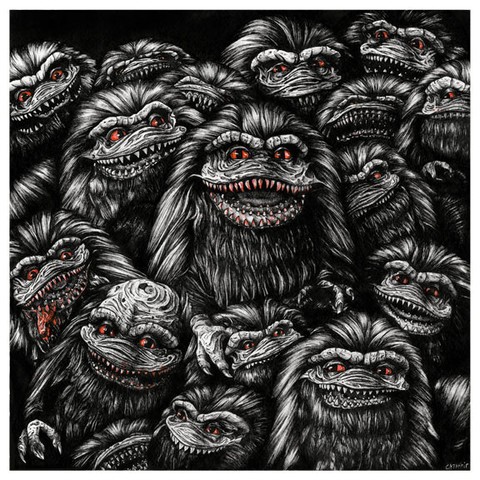 Gremlins is by far a better film, but I'd be lying if I said I didn't enjoy Critters just as much. Crites! This giclee print measures 12.5x12.5, is limited to 40 pieces and is signed and numbered by artist Nathan Chesshir. $35.00.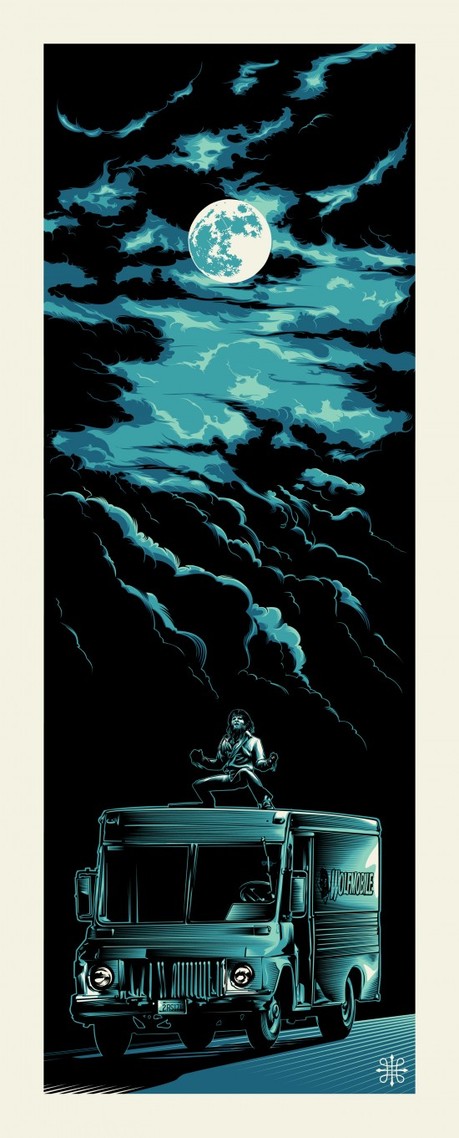 A Teen Wolf print? I think we're coming close to having a screenprint or giclee of every single movie ever made. Whatever, though. I love Teen Wolf and this is a bang up job by Jeff Boyes, who did this for Gallery 1988. This screenprint is 10.5x26 and limited to 60 signed and numbered copies. $50.00.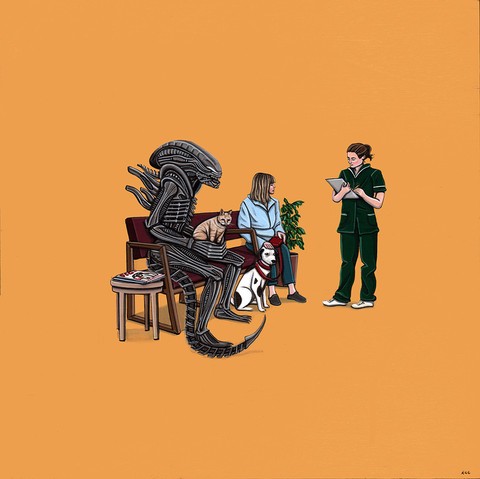 It's a little known fact that Xenomorphs actually like kitties and in the whole of Alien all the creature wanted to do was rescue Jonesy from those awful creatures that kept trying to put him into a tiny little cage. It's actually kind of tragic movie. Kiersten Essenpreis made this little piece of art showing just how much the bugs care about animals. 12X12 and limited to 20. $40.00.

If you're going to hero worship someone via geek art, then how about Carl Sagan? This limited print is available via Gallery1988. 9X24, limited to 25 pieces only. $35.00.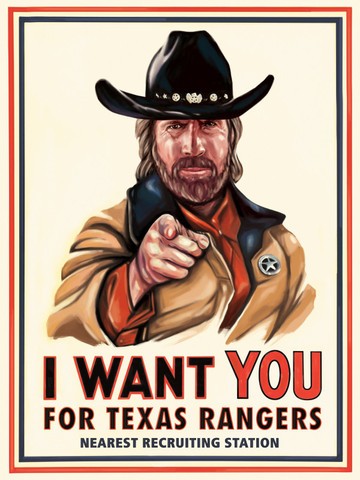 Chuck wants you. And we all know that what Chuck wants he gets, so you better watch your ass! Created by Ivan Minsloff, measures 18x24 and is limited to 50 pieces. $30.00.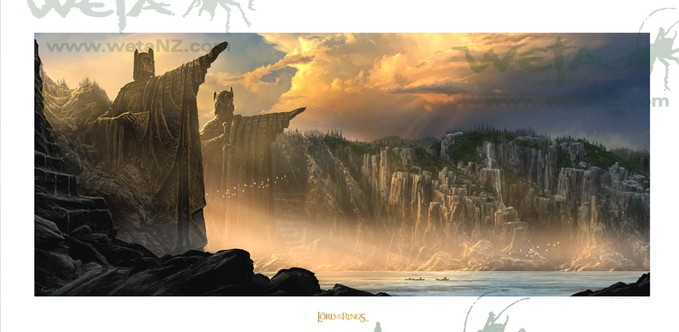 The folks at Weta are still putting out awesome Middle Earth stuff. You'll see a few of their collectibles in the third section of this guide, but in the meantime here's a great piece of art by Weta's own Gus Hunter featuring the Argonath from The Fellowship of the Ring. Spectacular, isn't it? Measuring 11.7x23.2 and printed on high grain paper, this is a must have for any Tolkien nerd. $34.95.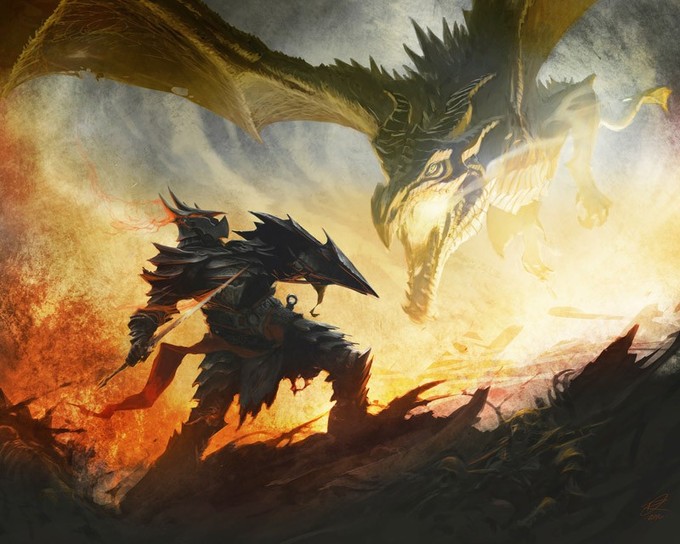 Much to the displeasure of my bank account, Bethesda opened an online store this year, selling merchandising from their Elder Scrolls and Fallout games. As much as I love Skyrim (and I do), it's the Fallout stuff that has hit me the hardest. Thankfully they don't have any Fallout 3 prints available right now 'cause I've scooped up every single one they've put out. As far as Skyrim, this if the first print that has really tempted me. There's just something so metal about this poster! There's your dude in full on Daedric armor (my clothing of choice) taking on a dragon. 16X20 and limited to 250 pieces. If their Elder Scrolls stuff is as well presented as their Fallout stuff is then it'll arrive even more gorgeous than you thought when you bought. $40.00.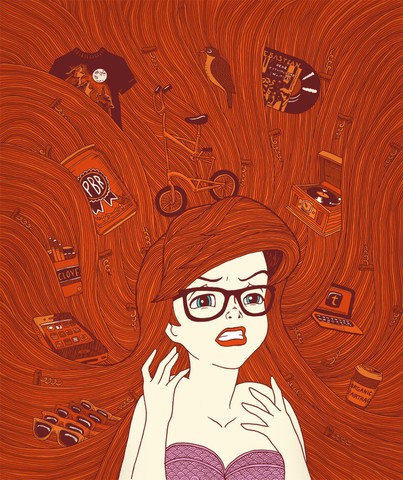 I don't know why I find this Hipster Ariel print so funny, but damn it I do. Priscilla Wilson's piece is called "Look at this stuff, isn't it neat? I got it at a thrift store." Whatever, Ariel was totally into dinglehoppers before they got popular and sold out. $60.00.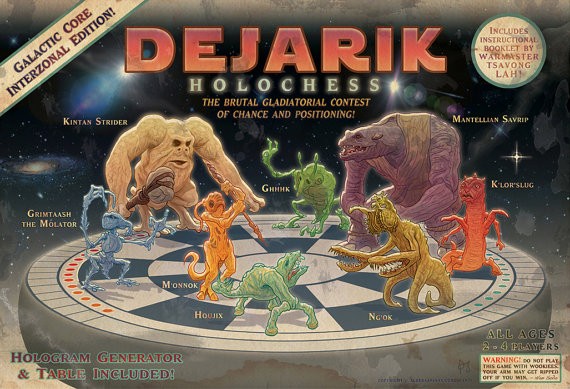 I really wish this was in the toy section because then I could buy one and play real holochess. But it's only a print by PJ McQuade. Don't be too sad, though, it's still an awesome piece that invokes the toy packaging of my (and I assume a fair amount of you guys reading this) youth. The giclee is 19x13, limited to 77 signed and numbered prints and can be had for $45.00.
Expensive ($71.00-$249.99)
Boba Fett! Boba Fett! Where? Here he is, silly! Acme Archives are shipping this sweet Raymond Swanland piece right this minute. The giclee is 17x22 and limited to 150 pieces. $115.50.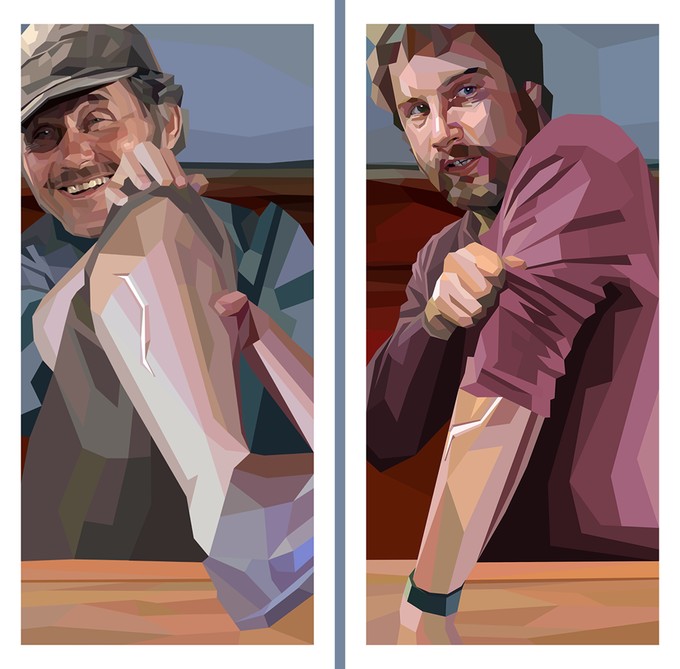 This was one of my favorite pieces from the Hero Complex Jaws art gallery and of the stuff that hasn't sold out this is probably top of the list for me. I dig the style, I dig the way the characters are captured and it just makes me happy. Artist Liam Brazier even added Brody after the Gallery. Not sure how you can get him, but check out the trifecta here. Quint and Hooper come as a set via the Hero Complex Gallery site. Both prints are 12x24 and it'll run you $80.00 for the pair.
I may be the only person on Earth that is interested in this piece (and I'm including Steven Spielberg and Kate Capshaw in the disinterested pile), but my love of Temple of Doom knows no limits. I could go on for days on why Willie Scott gets a bad rap, but I won't bore you. We've come so far and still have so far left to go. We'll discuss that later. The artist is Masey, the run is 95, the measurements are 19x13 and it costs $89.00.
Combining my love of Disney Parks' The Haunted Mansion and A Nightmare Before Christmas is this awesome giclee of Lock, Shock and Barrel recreating the famous stretching Quicksand canvas from the ride. The artist is Robert Farrell, the piece measures 13x22 and is limited to 125. On sale right now for $101.50.
Fantastic, isn't it? I love the mood of this piece by William Silvers. There's only 50 of this limited giclee out in the world and one of them can be yours for $145.00.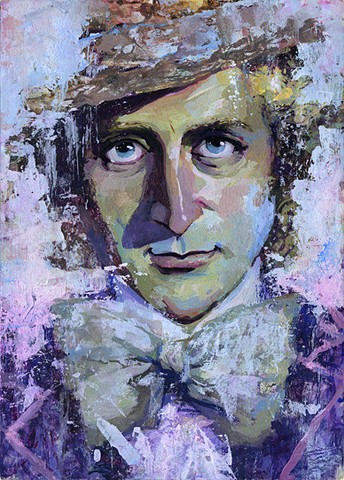 Rich Pellegrino's Willy Wonka print really caught my eye. I don't know if it's because I kind of worship Gene Wilder in general, Willy Wonka's one of my favorite movies or if Pellegrino's art is just that good, but I couldn't just skim by it as I was researching this guide. Probably a little bit of all three. But here he is in giclee form, limited to 200 signed and numbered prints. $75.00.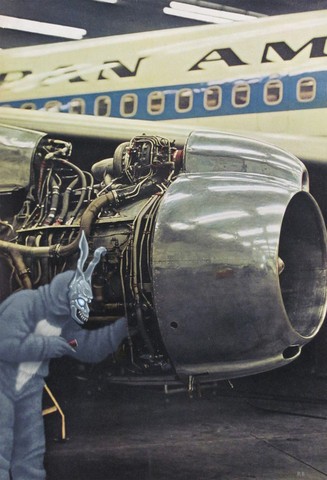 Based on an actual 1965 ad, artist Robert Brandenburg switched out a happy go-lucky maintenance man for Frank the Bunny from Donnie Darko and created a rather interesting pop culture piece. The giclee is 12x16 and there's only 30 of them in this (mad) world of ours, so prove your commitment to Sparkle Motion and scoop this up! $75.00.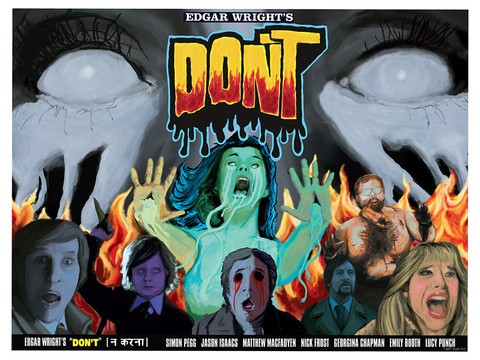 If you're thinking of skipping past this print... Don't. If you're asking why it costs $200.00... Don't! If you are confused about what this is... well, that's your problem. Get with the program, person! I mean, come on! Artist: Tyler Jacobs. Size: 30x40 (British Quad size, by the way). Price: $200.00.
For The Super Rich Only ($250.00 and up)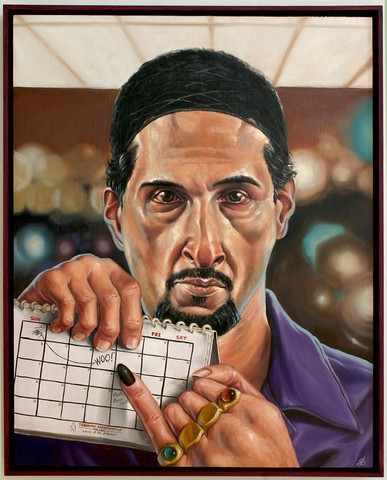 We're into original art territory now. You've probably recognized Jesus Quintana above and it's clear he has a date Wednesday, baby. Artist Jonathan Bergeron painted this 24x30 piece with oils on wood and it comes framed for $2500.00. Eight year olds, dude.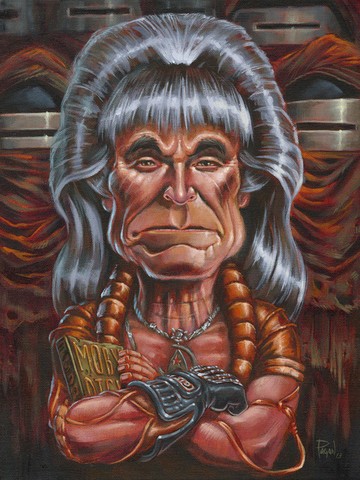 Khhhhaaaannnn! You can have your very own Ricardo Montalban original painting from artist Augie Pagan! How cool is that? Measuring 12x16 and accomplished using acrylics on wood, this original art piece is $400.00.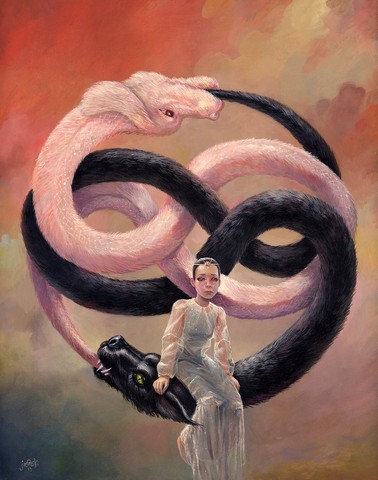 Man, oh man did I have a crush on the Childlike Empress when I was a kid. Why couldn't I have picked up that book?!? I want to ride a luck dragon! I could have given you a better name than Moonchild, Empress. How about Elizabeth Raptorriding Christ or Samantha Honeysuckle or Jobeth Williams. Maybe Moonchild was better afterall... damn it, Bastian! Always stealing my thunder! Anyway, so this piece is pretty awesome. You have the Empress and you have Falcor making up the iconic Auryn symbol. What's not to love here? Original painting, 16x20 accomplished with acrylics on wood by artist Aaron Jasinski. $950.00.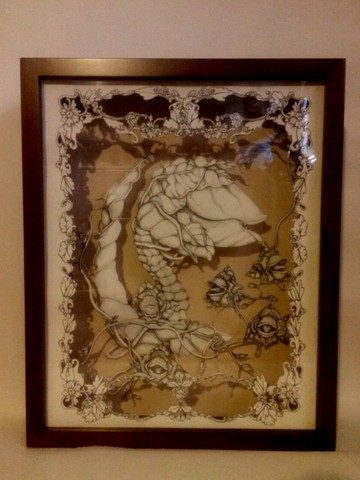 Artist Irma Rivera did something pretty nifty when paying homage to Little Shop of Horror's Audrey II. The art itself is graphite on paper, but she very interestingly cut around the image and put it on glass, giving it a great amount of depth. It looks gorgeous. The art is 17x24 and about 3.5" deep. $325.00.
Wrapping up the art section is this original production cel used in the making of The Simpsons. This shot of Mr. Burns and Lenny comes from Season 7, Episode 17 titled "Homer the Smithers." You might be able to find Simpsons cels cheaper by combing ebay, but there's always the risk of a fake and the time it takes to do so. We know this cel kicks ass is right here right now! If you want to own a piece of Simpsons history, this isn't a reproduction or fan art... this is the actual frame used to animate this incredible show. $440.00.
And there you have it. Part 1 of the Guide signed, sealed and delivered. Look out for Part 2 covering Books, Music and Household Geekery to post tomorrow and Part 3 covering Collectibles, toys, apparel and For The Super Rich Only on Wednesday. There's some amazing books out this year, so make sure to come on back tomorrow, y'hear!
CLICK HERE FOR THE HOLIDAY GIFT GUIDE 2013 PART 2: BOOKS, SOUNDTRACKS, COMEDY and CONTESTS!
CLICK HERE FOR THE HOLIDAY GIFT GUIDE 2013 PART 3: GEEKY HOUSEWARES and APPAREL!
CLICK HERE FOR THE HOLIDAY GIFT GUIDE 2013 PART 4: COLLECTIBLES, TOYS, ORNAMENTS and RICH STUFF!
-Eric Vespe
"Quint"
quint@aintitcool.com
Follow Me On Twitter