Hey Yo, Draven here.
UPDATE: Maybe there is a god because some additional details that many of us overlooked have come to light about this supposed sequel to IT'S A WONDERFUL LIFE. The great film critic, Lou Lumenick put this into some context for us.
Don't worry, IT'S A WONDERFUL LIFE sequel not gonna happen. Rights hopelessly tangled, as those behind 1980s Broadway musical discovered.

— Lou Lumenick (@LouLumenick) November 18, 2013
WONDERFUL LIFE sequel producer "checked on the rights, which were in the public domain,'' per @THR. Guessed nobody asked Paramount.

— Lou Lumenick (@LouLumenick) November 18, 2013
So right now it is a little confusing in regards to who holds the rights to IT'S A WONDERFUL LIFE. The production company that is behind this, Star Partners, hasn't funded or made a film since RAIN MAN in 1988. So hopefully this is all just a pipe dream of a couple of nutjobs and this thing won't go anywhere.
The original story follows: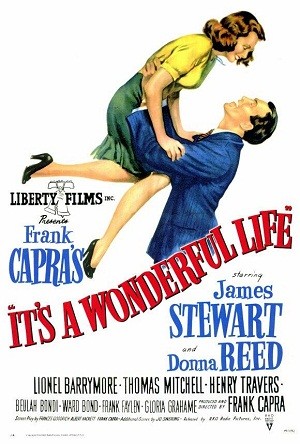 What a crappy way to start off the week. It was announced today by Variety that a sequel to Frank Capra's classic, IT'S A WONDERFUL LIFE is being made next year for release in 2015. Titled, IT'S A WONDERFUL LIFE: THE REST OF THE STORY, it will focus on George Bailey's asshole grandson who is visited by an angel (played by the original film's Karolyn Grimes) who shows him how much better everyone else would be if he never existed.
Bob Farnsworth and Martha Bolton have written the screenplay and according to Farnsworth, "The storyline of the new film retains the spirit of the original – every life is important as long as you have friends."
It sounds like the same message will be given in this new film, only without Jimmy Stewart and Frank Capra. I know there are a lot of cheap cash grabs in Hollywood but this might be the worst one yet. I just don't get the creative point of this project. Where did this come from? How is it getting a $25 - $35 million budget? Where is your god now?
I think that clip pretty much sums up all of our opinions and feelings regarding this news.
Follow me on Twitter here!