Ahoy, squirts! Quint here with today's Behind the Scenes Pic!
I'm mere hours away from stepping on a plane to London (lucky me), but before I embark on this little journey I wanted to make sure the BTS pic got thrown up on the site, especially since the movie I'm featuring today is one I hold near and dear to my heart: Night of the Creeps.
I honestly don't remember which I saw first, but while Monster Squad owns a little piece of my heart I'll always love Night of the Creeps. It was ahead of its time in many ways. Young director Fred Dekker was full of gumption and fire and had a vision for a darkly comedic combination of b-movie sci-fi horror and film noir that resulted in one of the craziest genre movies of the '80s (and that's saying something).
In Night of the Creeps Tom Atkins is cooler than the Fonz on his best day, the zombie carnage is reminiscent of the fun insanity that would put Peter Jackson on the map a few years later with Braindead and Jill Whitlow plays one of the most ridiculously adorable sorority girls ever (who also happens to look pretty kick-ass wielding a flamethrower). There's a lot going for this movie, but the thing that probably hooked me the most was how it effortless switched genres a few times.
For instance, today's image is of a little person being made up as an alien. These little guys open the film and it really threw me for a loop seeing the movie turn from straight sci-fi to black and whitle '50s movie to '80s college comedy to neo-noir to a zombie splatter picture. The result of these clashing genres is a unique mixture that makes Night of the Creeps impossible to copy. The closest we've gotten is Slither. James Gunn swears up and down he hadn't seen Night of the Creeps and I believe him, but he's still gotten the closest.
Thanks to Dimitar Dimitrov and the Practical Effects Group for the image.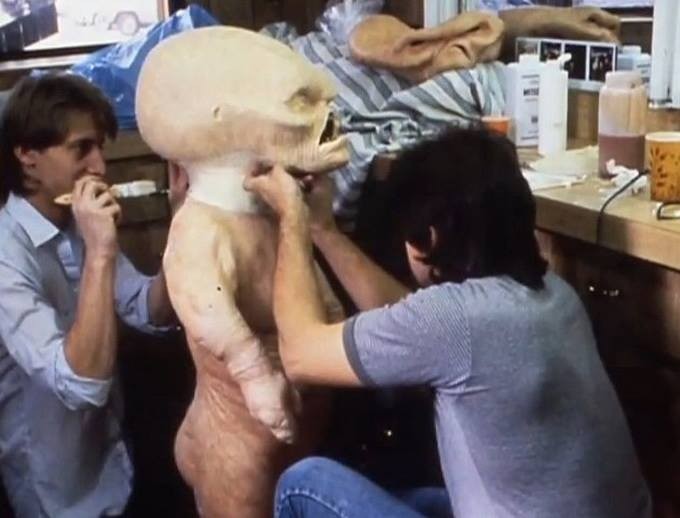 If you have a behind the scenes shot you'd like to submit to this column, you can email me at quint@aintitcool.com.
Soon you'll learn to appreciate tomorrow's pic.
-Quint
quint@aintitcool.com
Follow Me On Twitter
I've got a lot of maintenance work to do on the previous BTS articles, but you can visit two pages worth of images (beware of some broken links thanks to the last server shift): Click here for Page One and Click here for Page Two!