Papa Vinyard here, now here's a little somethin' for ya...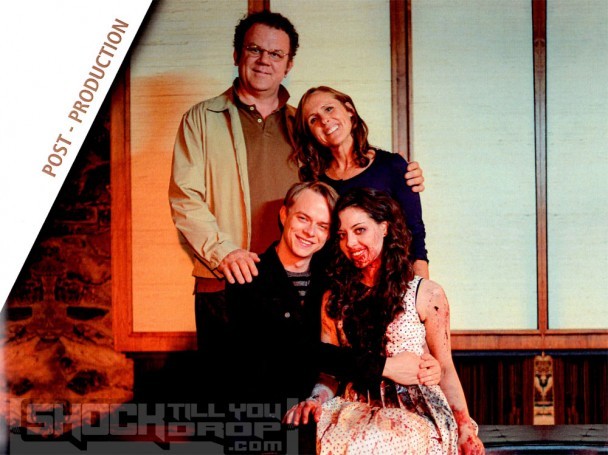 I HEART HUCKABEES writer Jeff Baena cast his girlfriend, Aubrey Plaza, to play a zombie in his directorial debut LIFE AFTER BETH, and Shock Till You Drop has provided our first look at Plaza in makeup aside some of her cast members. Maybe just as appealing as Plaza's look as the titular character is the supporting cast behind her; without knowing anything else about the film, isn't this picture enough to get you to want to see it?
Without making any jokes about Plaza's comedic persona lending itself well to playing a walking corpse (except for that one), I have to say this seems like a much better showcase for her bizarre onscreen personality than the recent TO DO LIST. If the film can live up to the premise (which is a gender-reversed MY BOYFRIEND'S BACK, with Dane DeHaan struggling to maintain a relationship with his undead girlfriend) and properly utilize the strength of its cast (which also includes Anna Kendrick, Alia Shawkat, Cheryl Hines, and Paul Reiser), it could be a profile-booster for both Baena and Plaza, and a fun horror-comedy, to boot.

I Heart Huckabees - clip - get in by MyMovies_International
LIFE AFTER BETH is currently in post, and will probably come out sometime next year.
-Vincent Zahedi
"Papa Vinyard"
vincentzahedi@gmail.com
Follow Me On Twitter