Papa Vinyard here, now here's a little somethin' for ya...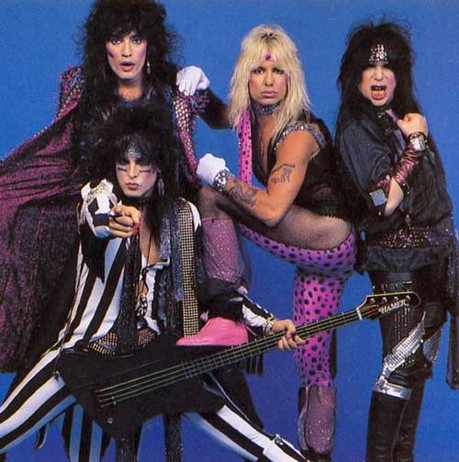 With four bonafied hits under his belt, it was only a matter of time before JACKASS director Jeff Tremaine branched out and tackled something that didn't involve Johnny Knoxville's nutsack. Well, Deadline has announced that Tremaine will be directing DIRT, based on the autobiography The Dirt: Confessions of the World's Most Notorious Rock Band, collectively written by the band.
Says Tremaine:
"I've been careful to make this a natural progression. I've been offered a lot of scripts but DIRT is something I pursued with everything I had. I've wanted to make this going back to 2001, when we were just planning the first JACKASS movie and I found out that David Gale at MTV Films had just optioned the book. First of all, I had no idea how to make JACKASS into a movie, but I said to him, let me direct that movie, too. He said, yeah, of course! He was being sarcastic, because he had the same level of confidence in me as a director as I did at that time. Luckily for me, the movie never got made, and when this project became available, I put everything I had into chasing it and convincing everyone that I am the right guy for it. I really feel I am.

We were deep into doing Jackass on TV and about to start doing JACKASS: THE MOVIE and we were all passing the book around and going, holy shit! We thought we were being crazy on the road. You read about these guys and it was like 10 times worse, though I think we'd done stuff that stands up to anybody else. I connected with that book on so many levels. From a band of brothers that gets ripped apart and then pulls back together, or being part of a group that is expected to behave badly, and what happens to you when that becomes your expectation. What happens when everybody encourages you and gives you money to be the worst behaved you can be? You can do no wrong, and the worse you do, the more you're celebrated. It is a story that is somehow familiar to me.
Regarding the casting:
"It's the spirit we've got to get right. It's important to get actors who play, or who understand how to deliver the charisma it takes to be onstage. Rock stars have a swagger. Some of what they went through is funny, but overall this movie is not going to be a comedy. It's pretty dark. I think fans of what I've done will like this movie, but it's not going to make you fall out of your chair laughing."
While I wasn't as gaga about BAD GRANDPA as many other seemed to be, it's unquestionable that Tremaine has an infectious style of capturing madness and mayhem that could lend itself well towards depicting the life and times of this legendary rock band. However, I've never seen a shot by him that seemed like anything else than a home movie, so I'm curious to see if he has the chops (or even the ambition) to direct something that actually feels cinematic. If nothing else, he certainly seems to have the right level of enthusiasm for the job.
But more than anything, I'm fascinated with who he's going to cast in the lead roles. These are some heavyweight troublemakers he's dealing with here, and like he said, if he gets it wrong, the whole thing will feel like a limp noodle. Just look at the cast of ROCK OF AGES to see how easy it is to make that '80s hair-metal "swagger" Tremaine refers to seem corny and outdated.
Who do you guys see playing Nikki Six, Tommy Lee, Vince Neil, and Mick Mars?
DIRT should get in front of cameras in early 2014, probably leading up to a release sometime late next year at the earliest.
-Vincent Zahedi
"Papa Vinyard"
vincentzahedi@gmail.com
Follow Me On Twitter