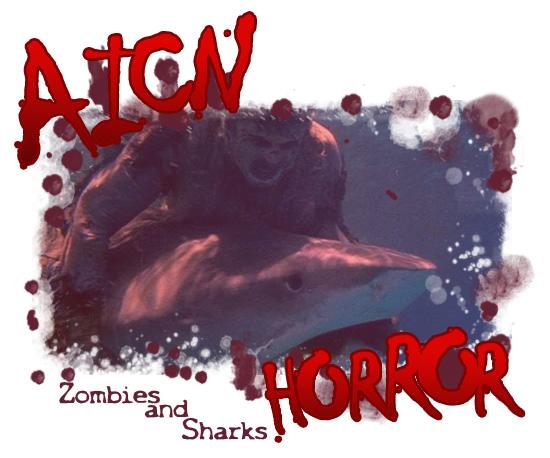 Logo by Kristian Horn
What the &#$% is ZOMBIES & SHARKS?
---
Greetings, all.
Ambush Bug
here. Happy Birthday to AICN HORROR which celebrates its fourth year in October! Always hoping to pass on new and exciting films for all of you ravenous readers, I have once again compiled a list counting down to my favorite horror film released since last October and covered in this here AICN HORROR: ZOMBIES & SHARKS column. Some of these films might be new to you since there isn't a lot of horror in theaters these days that aren't toothless remakes or watered down sequels. Theaters just don't seem to be the place where the horror is at these days, I'm sad to say. Some of these films have only seen the light of day on Video on Demand or simply go straight to DVD/BluRay pr digital download.
As far as how I compiled this list? Well, I simply looked over my AICN HORROR columns over the last year since October 1st, 2012 (which happens to be the birthday of this little column four years ago!) and worked and reworked a list until I had 31. No real method to my special brand of madness. We'll be counting down every day until Halloween to my favorite horror film of the year.
So let's get to it! Chime in after the article and let me know how you liked the film I chose, how on the nose or mind-numbingly wrong I am, and most importantly, come up with your own list…let's go!
---
Here we are at the top of our list with my favorite film of the year. It's probably no surprise because there seems to be a lot of folks who agree that Franck Khalfoun's remake of the classic film by William Lustig hit all the right notes by offering up an original premise, an unrelenting appetite for gore, and a mesmerizing performance by Elijah Wood. This year's #1 horror film covered on AICN HORROR is MANIAC and to celebrate this film, I'm giving away a copy of the BluRay of MANIAC (2012) and a copy of the Mondo poster on the right to two lucky readers of AICN HORROR!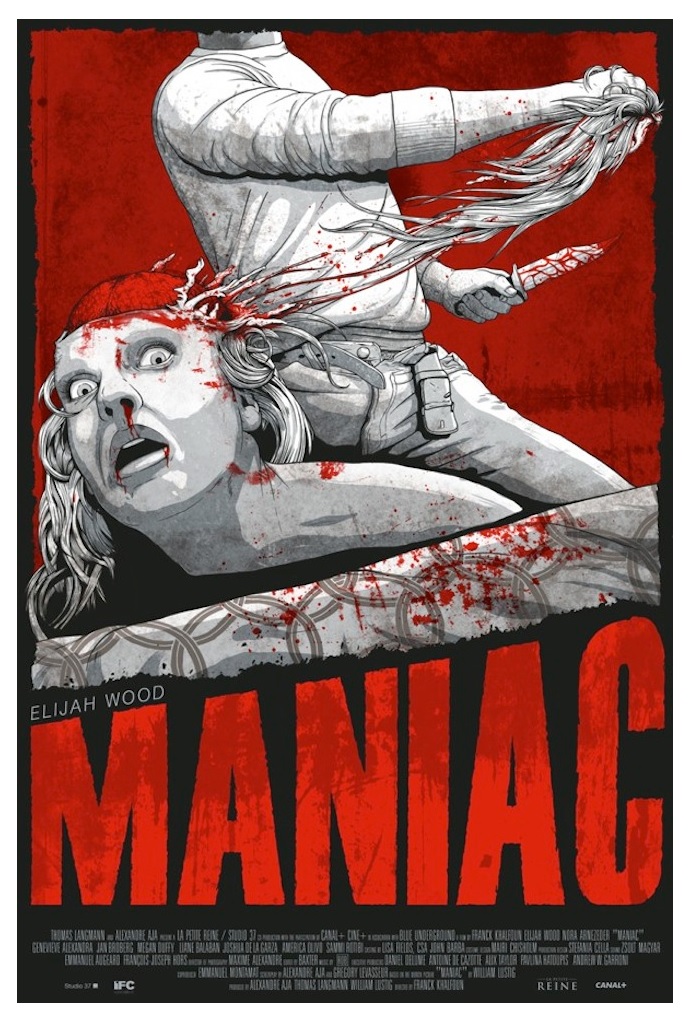 But in order to win the Bluray of the film, all you have to do is answer one question; Who would win in a fight between Frodo Baggins, Kevin from SIN CITY, and MANIAC (2012)'s Frank Zito and why? The two most interesting, cleverest, or twisted answers will be the proud winners of a MANIAC 2012 BluRay! So just click this link and send me the answer to the question,

DON'T FORGET TO ADD YOUR FULL ADDRESS

and you could be a big winner with all the bragging rights that go with it!
I'll let you know who the winners are next week, but in the meantime, check out my review of MANIAC from a few months ago.
NUMBER 1!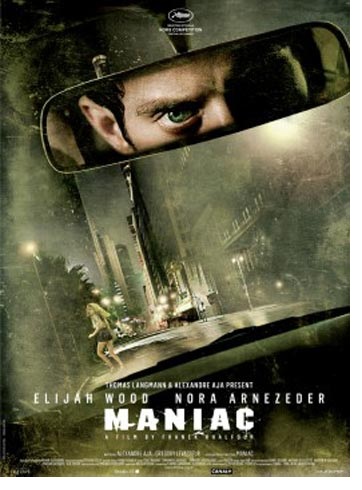 MANIAC (2012)
Find it soon on Netflix here
Directed by Franck Khalfoun
Written by Alexandre Aja, Grégory Levasseur, C.A. Rosenberg (screenplay), Joe Spinell (original screenplay)
Starring Elijah Wood, Liane Balaban, America Olivo, Nora Arnezeder, Morgane Slemp, Genevieve Alexandra, Sammi Rotibi, Megan Duffy, Jan Broberg, Steffinnie Phrommany
From IFC Midnight
Reviewed by Ambush Bug
WARNING, IF YOU HAVEN'T SEEN THE ORIGINAL MANIAC, THERE MIGHT BE A SPOILER OR TWO IN THIS REVIEW. SO PROCEED WITH CAUTION.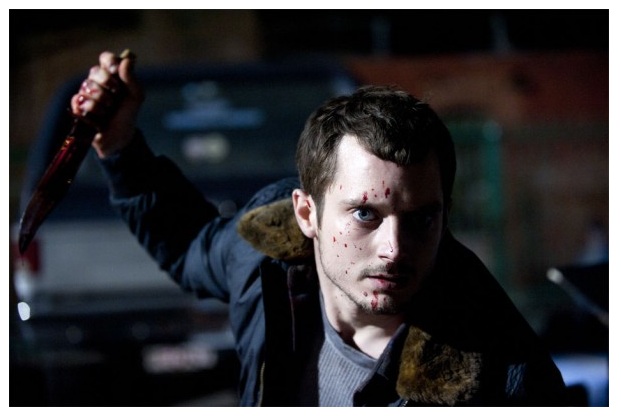 Though I am not a fan of all of these remakes these days, when one is good, I feel the need to commend it, even if it means a bunch more shitty remakes are down the pike. I've always treasured the original MANIAC as a perfect little shot of sleaze with its focus on greasy, sweaty, overweight Joe Spinell, who one would believe to be a homicidal maniac. When I heard Elijah Wood was cast in the remake, at first I was angry: another film miscast with a Hollywood pretty boy in hopes of attracting a demographic. Then I remembered that Wood is anything but your typical Hollywood actor. Just look at his unconventional role in the TV series "Wilfred" or more importantly his role as Kevin the emotionless maniac in SIN CITY, and you can see why he was chosen for the role.
Wood plays Frank Zito, the owner and sole employee of a mannequin restoration shop and yes, that job is as creepy as it sounds. Frank spends most of his days reworking mannequins and talking with them. At night, Frank has creepier activities as he stalks and murders beautiful women, saving their scalps to be stapled to a special set of mannequins he has in the back room of his shop where he lives. When Frank meets Anna (Nora Arnezeder), a photographer with an interest in using Frank's mannequins, he tries hard to keep his psychotic tendencies at bay.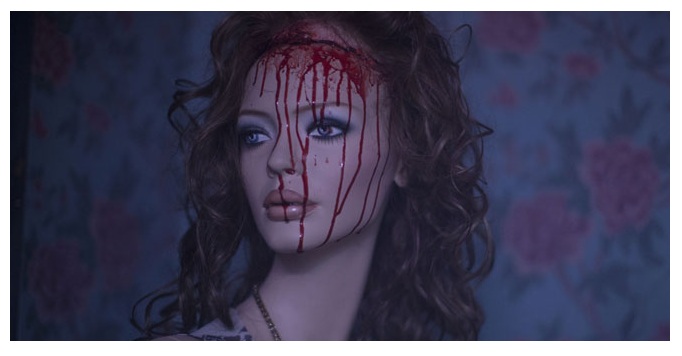 Compared to the original, which isn't really fair, but inevitable, this new MANIAC keeps a lot of the details the same and adds quite a few which really add to the story rather than detract to it. The main deviation is the fact that 90% of this film is shot through Wood's POV with Frank only appearing in reflection and during some of the key kills where Frank seemingly leaves is body while doing the evil deeds. This makes for a pretty unnerving and otherworldly experience that some might feel uncomfortable with. We literally sit in the seat of the killer in this film, stalking victims, and even killing them. As if they were our own eyes, we see Frank stalk, scalp, and kill these people, an effect that has been done in plenty of films before, but never at this level of intimacy.
The other thing that impressed me was Wood's convincing performance. As I said above, I knew he could play a psycho, but looking at his big Frodo eyes, one can't help but be brought back to the Shire, making these evil deeds all the more shocking to see. It's the baggage the actor carrying with him that that adds to, not detracts from, this performance and makes it all the more effective.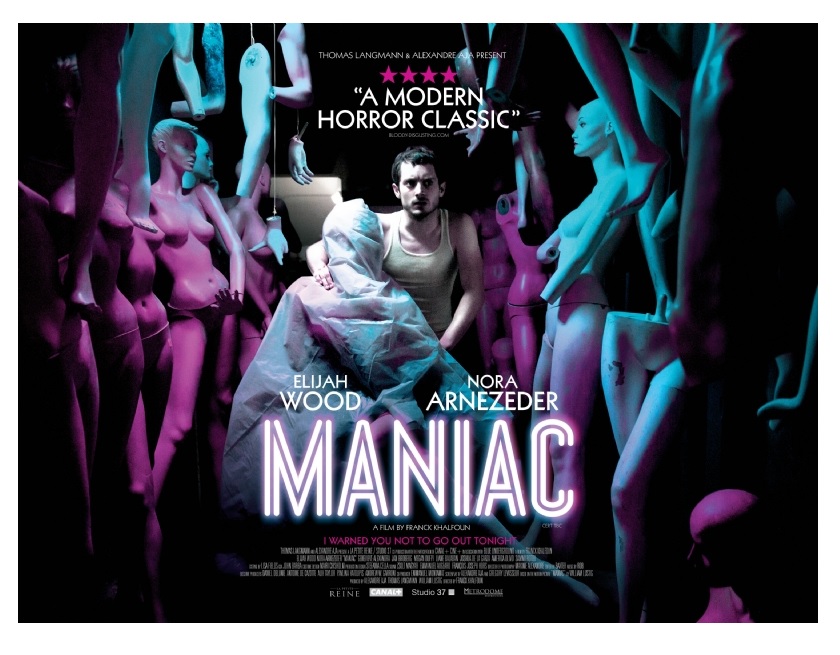 One thing that most fans of the original MANIAC were concerned about was the fact that there would be no way a modern filmmaker would go down the gory avenues the original did. Well, turns out director Franck Khalfoun didn't get that memo as this is one of the goriest major film releases I've seen in years as scalps are sliced off, stabbings are doled out in the dozens, and the final scene, which I won't reveal here, is as gory as the original, albeit slightly different. Though a lot of the gore is digital, most of it is top notch and seamless. I'd be curious what Tom Savini has to say about this, because this serves as an excellent homage to his work on the original slasher opus (minus the shotgun scene, which was a bit over the top in the original and I'm glad they left it out here).
Those leery of remakes can rejoice that this is definitely a good one. There's a beat in the final scenes that moves a bit quickly for my tastes, but it is necessary in order to keep the film moving along. I guess it says something about me that I was both disgusted and intrigued in slipping into the shoes of Wood's Frank Zito. Wood is amazing here and pulls no punches. His Frank Zito is as much his own as Joe Spinell's was in the first MANIAC. Though it may be a tough pill to swallow for the queasy among you, MANIAC is an excellent film which takes the original seriously and respectfully.
Warning: This trailer has boobs! NSFW!
Well, that's it. I hope you had as much fun reading the countdown all month long as I had putting it together. As always, head down to the talkbacks to tell me how right or wrong I am and go ahead and prove me wrong with your own list of the best of the best in horror over the last year!
The Top 31 Films on AICN HORROR 2012-2013 Countdown!
Number 31: TEXAS CHAINSAW 3D!
Number 30: DEVIL'S PASS!
Number 29: THE RAMBLER!
Number 28: THE AMERICAN SCREAM!
Number 27: BATH SALT ZOMBIES!
Number 26: MANBORG!
Number 25: ERRORS OF THE HUMAN BODY!
Number 24: SIGHTSEERS!
Number 23: ABC'S OF DEATH!
Number 22: THE LAST WILL & TESTAMENT OF ROSALIND LEIGH!
Number 21: I DIDN'T COME HERE TO DIE!
Number 20: THE CONJURING!
Number 19: COME OUT AND PLAY!
Number 18: V/H/S/2!
Number 17: CRYSTAL LAKE MEMORIES!
Number 16: CURSE OF CHUCKY!
Number 15: HOME SWEET HOME!
Number 14: YOU'RE NEXT!
Number 13: SIMON KILLER!
Number 12: JUG FACE!
Number 11: KISS OF THE DAMNED!
Number 10: WITHER!
Number 9: WE ARE WHAT WE ARE!
Number 8: RESOLUTION!
Number 7: SLEEP TIGHT!
Number 6: THALE!
Number 5: AMERICAN MARY!
Number 4: THE BATTERY!
Number 3: BEDEVILLED!
Number 2: ANTIVIRAL!
Number 1: MANIAC!
Don't forget to check out AICN HORROR every Friday on Ain't It Cool News!
Happy Halloween!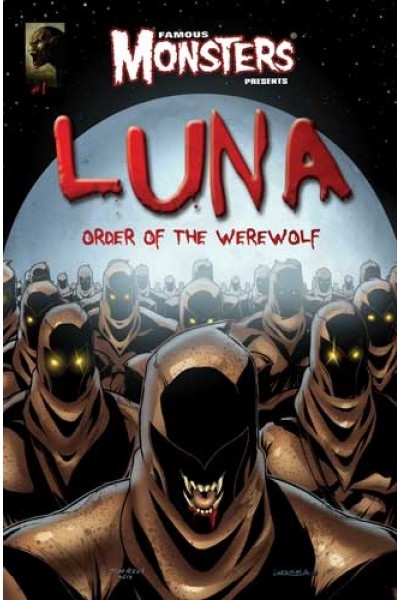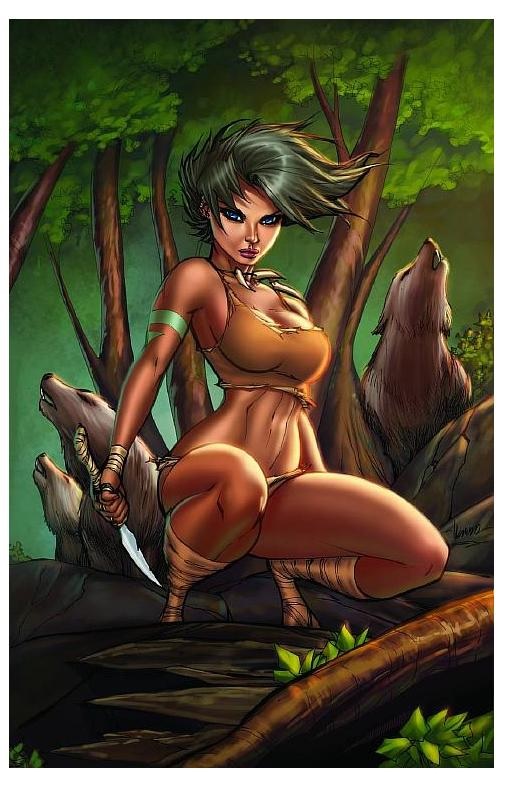 Ambush Bug is Mark L. Miller, original @$$Hole/wordslinger/writer of wrongs/reviewer/interviewer/editor of AICN COMICS for over 12 years & AICN HORROR for 4. Mark's written comics such as THE TINGLERS & WITCHFINDER GENERAL, DEATHSPORT GAMES, NANNY & HANK (soon to be a feature film from Uptown 6 Films), Zenescope'sGRIMM FAIRY TALES Vol.13 & UNLEASHED: WEREWOLVES – THE HUNGER and a chapter in Black Mask Studios'OCCUPY COMICS. FAMOUS MONSTERS' LUNA: ORDER OF THE WEREWOLF (co-written with Martin Fisher) will be available soon in trade. Mark also wrote the critically acclaimed GRIMM FAIRY TALES PRESENTS THE JUNGLE BOOK and its follow up THE JUNGLE BOOK: LAST OF THE SPECIES! Follow Ambush Bug on the Twitters @Mark_L_Miller.
---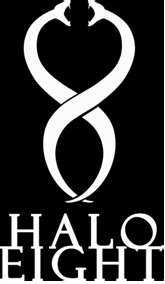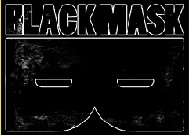 Find out what are BLACK MASK STUDIOS and OCCUPY COMICS here and on Facebook here!


Interested in illustrated films, fringe cinema, and other oddities?
Check out Halo-8 and challenge everything!
---
Find more AICN HORROR including an archive of previous columns on AICN HORROR's Facebook page!