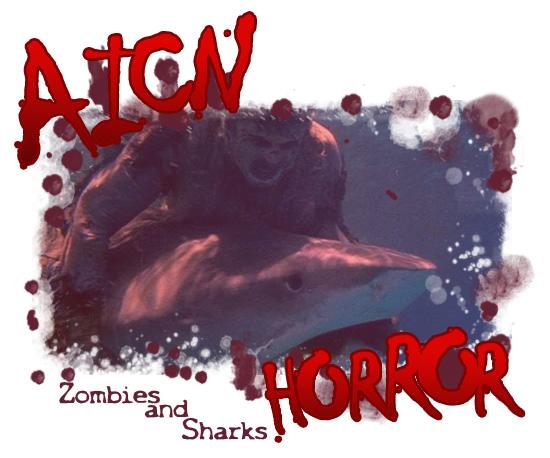 Logo by Kristian Horn
What the &#$% is ZOMBIES & SHARKS?
---
Greetings, all.
Ambush Bug
here. Happy Birthday to AICN HORROR which celebrates its fourth year in October! Always hoping to pass on new and exciting films for all of you ravenous readers, I have once again compiled a list counting down to my favorite horror film released since last October and covered in this here AICN HORROR: ZOMBIES & SHARKS column. Some of these films might be new to you since there isn't a lot of horror in theaters these days that aren't toothless remakes or watered down sequels. Theaters just don't seem to be the place where the horror is at these days, I'm sad to say. Some of these films have only seen the light of day on Video on Demand or simply go straight to DVD/BluRay pr digital download.
As far as how I compiled this list? Well, I simply looked over my AICN HORROR columns over the last year since October 1st , 2012 (which happens to be the birthday of this little column four years ago!) and worked and reworked a list until I had 31. No real method to my special brand of madness. We'll be counting down every day until Halloween to my favorite horror film of the year. I'll also provide a second film suggestion at the end of each column for those who can't get enough horror which may include films that almost made the list or goodies from the past I've covered.
So let's get to it! Chime in after the article and let me know how you liked the film I chose, how on the nose or mind-numbingly wrong I am, and most importantly, come up with your own list…let's go!
---
Ranking in at the number 6 spot is a modern fable with a leaning towards horror. THALE is a film filled with scares, wonders, and surprisingly a lot of heart. Aleksander Nordaas offered up a film unlike most others out there that has the same kind of fantastical wonder that TROLL HUNTER had last year. Offering up a new kind of monster to fear by blowing the dust off of an ancient fable, THALE is definitely one of the year's best.
NUMBER 6!
THALE (2011)
Find it on Netflix here
Directed by Aleksander Nordaas
Written by Aleksander Nordaas
Starring Silje Reinåmo, Erlend Nervold, Jon Sigve Skard, Morten Andresen, Roland Astrand
Find out more about this film here!
Reviewed by Ambush Bug
THALE is a truly unique and amazing film that I can only describe as SPLASH meets THE WOMAN as a pair of forensic cleaners on a routine clean up of an old man's death scene in a house at the edge of a forested area uncover a secret corridor leading to an underground bunker which houses a very peculiar woman.
There's a feeling of awe and whimsy in the air of this film. Though grounded in reality, there's a real soul—an outwardly positive sense of heart. Don't get me wrong, horror fans, things get dire and bloody by the end of the film, but there are some scenes on genuine connection between the most unlikeliest of souls in THALE. The reason I compare this to SPLASH is mainly because of the way these two men react to this naked feral woman when they first see it. In an American film, I think the reaction may be more sexual and possibly go to a more dastardly route as two men are basically stuck in a bunker with a naked woman, but THALE never goes there. Neither men show any sexual desire for the woman; at least it's not outright in stating or suggesting so. They are two good souls looking to help this woman who is obviously lost and confused, offering her food, clothing, and shelter until the proper authorities arrive. What occurs are some nice meetings of minds, quite literally, as Thale (pronounces Tal-luh, as the audio cassettes scattered around the bunker refer to the woman as) seems to have the ability to share her experiences and touch minds, among other powers. But the authorities aren't the only group ascending on the bunker, the discovery of Thale has alerted those she was taken from, and this is where things get dire, as this group is less than civilized.
The film is filled with fantastic performances by Erlend Nervold, who plays Elvis, a jittery and queasy man definitely not cut out for this line of work as he is first presented as vomiting at the sight of the dead body of the old man. His co-worker Leo, played by the calm and jaded Jon Sigve Skard, is your typical gum chewing mortician type, but moves past that as his apathy is explained much more thoroughly as the story goes on. Both of the men are likable and rapport nice between one another as to what to do with this weird woman. The highlight of the film is the discovery of the woman herself, Thale, played by the mesmerizing Silje Reinåmo, who I predict will be a Bond girl at some point if she gets the right agent. Here she shows a broad range from fearful and innocent Bambi to ferocious wild child and does so naked the whole time, which is a feat in itself, I'm sure. In her eyes alone and with very little dialog, Reinåmo embodies the curious, devoted, and trapped animal.
As I said, things get dire, dangerous, and quite bloody towards the end of this one as forces natural and unnatural close in on the bunker. The discovery of what exactly Thale really is is something I haven't seen in film in a long time. The use of CG later in the film is decently done, but occasionally a bit too animated, but that's my only complaint in this wholly entertaining film and that's not really what this film is about anyway. Filled with gorgeous Norwegian landscapes and iconic imagery such as a severed tail in a refrigerator, THALE is an unearthed treasure and should not be missed.
---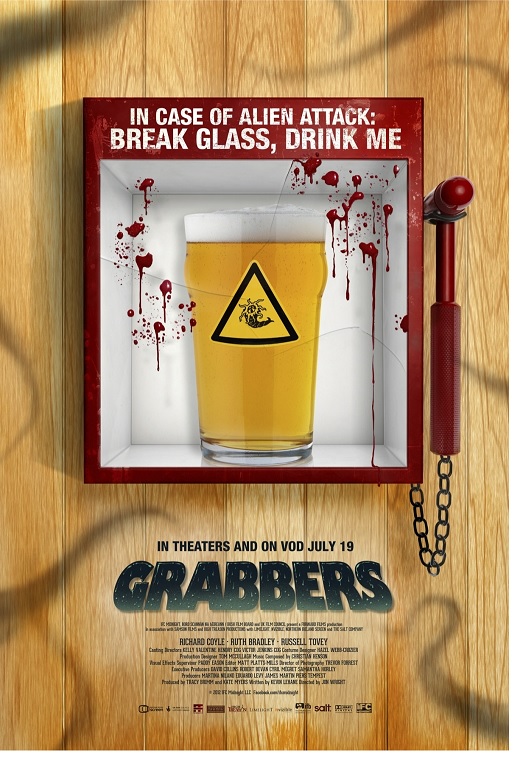 Another international film which crosses genres and does so quite well is GRABBERS (
full review here
). The film is effective as a hilarious comedy as well as a sci fi yarn in the vein of CRITTERS and GREMLINS and also doesn't shy away from scares and gore. If you're looking for an all out entertaining monster movie, GRABBERS is it!
Find it soon on Netflix here
and watch the trailer below!
The Countdown so far…
Number 31: TEXAS CHAINSAW 3D!
Number 30: DEVIL'S PASS!
Number 29: THE RAMBLER!
Number 28: THE AMERICAN SCREAM!
Number 27: BATH SALT ZOMBIES!
Number 26: MANBORG!
Number 25: ERRORS OF THE HUMAN BODY!
Number 24: SIGHTSEERS!
Number 23: ABC'S OF DEATH!
Number 22: THE LAST WILL & TESTAMENT OF ROSALIND LEIGH!
Number 21: I DIDN'T COME HERE TO DIE!
Number 20: THE CONJURING!
Number 19: COME OUT AND PLAY!
Number 18: V/H/S/2!
Number 17: CRYSTAL LAKE MEMORIES!
Number 16: CURSE OF CHUCKY!
Number 15: HOME SWEET HOME!
Number 14: YOU'RE NEXT!
Number 13: SIMON KILLER!
Number 12: JUG FACE!
Number 11: KISS OF THE DAMNED!
Number 10: WITHER!
Number 9: WE ARE WHAT WE ARE!
Number 8: RESOLUTION!
Number 7: SLEEP TIGHT!
See ya tomorrow, folks, as the count down continues with the best of the best covered in AICN HORROR over the past year!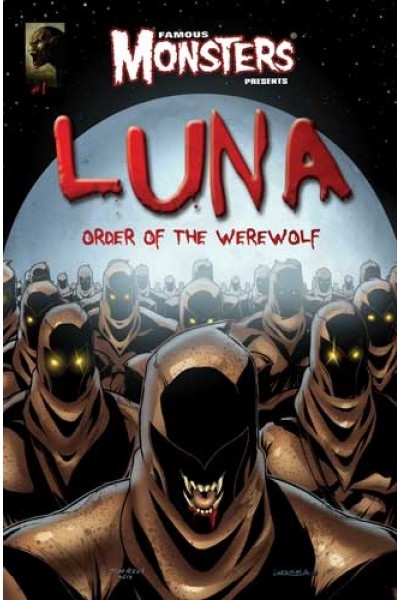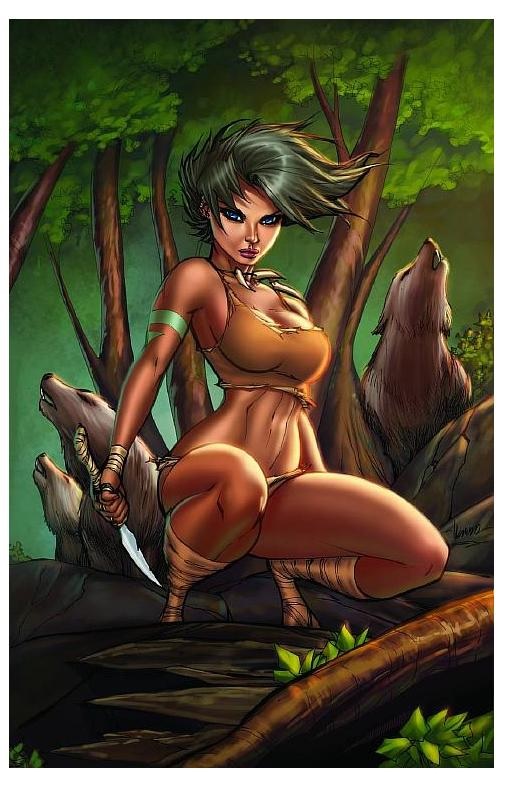 Ambush Bug is Mark L. Miller, original @$$Hole/wordslinger/writer of wrongs/reviewer/interviewer/editor of AICN COMICS for over 12 years & AICN HORROR for 4. Mark's written comics such as THE TINGLERS & WITCHFINDER GENERAL, DEATHSPORT GAMES, NANNY & HANK (soon to be a feature film from Uptown 6 Films), Zenescope'sGRIMM FAIRY TALES Vol.13 & UNLEASHED: WEREWOLVES – THE HUNGER and a chapter in Black Mask Studios'OCCUPY COMICS. FAMOUS MONSTERS' LUNA: ORDER OF THE WEREWOLF (co-written with Martin Fisher) will be available soon in trade. Mark also wrote the critically acclaimed GRIMM FAIRY TALES PRESENTS THE JUNGLE BOOK and its follow up THE JUNGLE BOOK: LAST OF THE SPECIES! Follow Ambush Bug on the Twitters @Mark_L_Miller.
---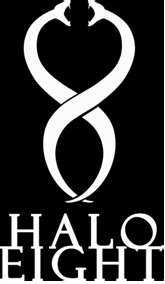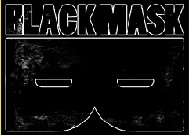 Find out what are BLACK MASK STUDIOS and OCCUPY COMICS here and on Facebook here!


Interested in illustrated films, fringe cinema, and other oddities?
Check out Halo-8 and challenge everything!
---
Find more AICN HORROR including an archive of previous columns on AICN HORROR's Facebook page!