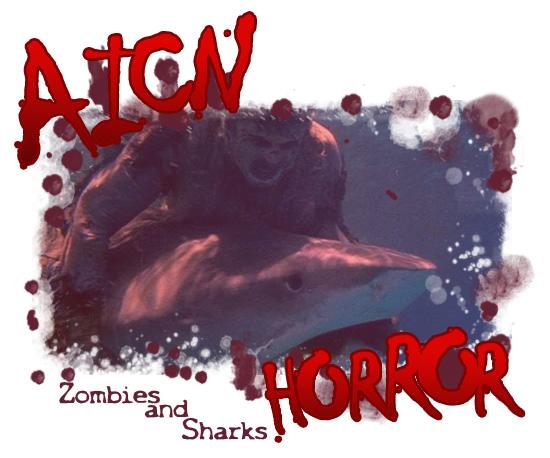 Logo by Kristian Horn
What the &#$% is ZOMBIES & SHARKS?
---
Greetings, all.
Ambush Bug
here. Happy Birthday to AICN HORROR which celebrates its fourth year in October! Always hoping to pass on new and exciting films for all of you ravenous readers, I have once again compiled a list counting down to my favorite horror film released since last October and covered in this here AICN HORROR: ZOMBIES & SHARKS column. Some of these films might be new to you since there isn't a lot of horror in theaters these days that aren't toothless remakes or watered down sequels. Theaters just don't seem to be the place where the horror is at these days, I'm sad to say. Some of these films have only seen the light of day on Video on Demand or simply go straight to DVD/BluRay pr digital download.
As far as how I compiled this list? Well, I simply looked over my AICN HORROR columns over the last year since October 1st , 2012 (which happens to be the birthday of this little column four years ago!) and worked and reworked a list until I had 31. No real method to my special brand of madness. We'll be counting down every day until Halloween to my favorite horror film of the year. I'll also provide a second film suggestion at the end of each column for those who can't get enough horror which may include films that almost made the list or goodies from the past I've covered.
So let's get to it! Chime in after the article and let me know how you liked the film I chose, how on the nose or mind-numbingly wrong I am, and most importantly, come up with your own list…let's go!
---
Nail biting thrills and edge of your seat shivers are in store for this ode to Hitchcock from one of the makers of REC & REC 2. Released on DVD last year and seen by most out of the festival circuit over the last year, SLEEP TIGHT will make you check under your bed after watching and any film that makes you do that deserves a spot towards the top of this countdown.
NUMBER 7!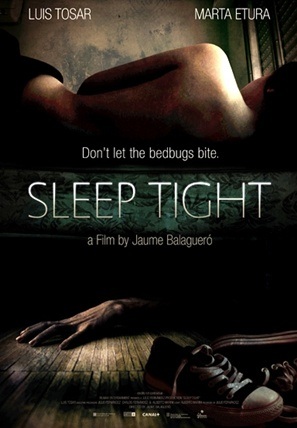 SLEEP TIGHT (2011)
aka MIENTRAS DUERMES, FLATMATE
Find it on Netflix here
Directed by Jaume Balagueró
Written by Alberto Marini
Starring Luis Tosar, Marta Clara, Alberto San Juan, Pep Tosar,Petra Martínez, Iris Almeida
Find out more about this film here!
Reviewed by Ambush Bug
Some directors do great action pictures. Others specialize in drama, but it takes an extremely talented director to do numerous genres well. Though thrillers may be inbred cousins with horror, in the three films I've seen from director Jaume Balagueró, I'm going to go out on a limb and say that we've got an extremely versatile director at work here. With [REC], Balagueró proved himself to be innovative and gutsy as he brought back the found footage trend and made it cool again. Though some might say [REC 2] was repetitive, I think it did the impossible in retaining what made the first film amazing and expanded on it in ways we all wished most sequels could. After showing us that he can do "in your face" horror well, Balagueró has decided to reel it back and go for the more subtle route and like [REC] and [REC 2], he's made something special.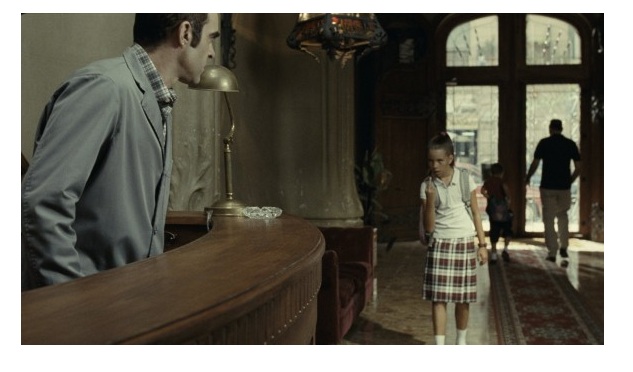 I know it's cliché to call a film which relies strongly on suspense Hitchcockian, but that's exactly what this film feels like. Once again set in an apartment building, this film's horrors aren't from demonic viruses or the living dead, but from a more human horror. Though he looks harmless, Cesar (Luis Tosar) is anything but. He's a sociopath, unable to feel any joy in his life except when causing pain in others. From behind his concierge desk, he seems to be harmless with his cherubic bald head and bushy eyebrows, but like Norman Bates, he proves that it's the quiet ones you have to look out for.
The film opens with Cesar waking up early, getting showered and dressed, and kissing what looks to be his wife goodbye before starting his job as the doorman of an apartment building. Soon Clara (Marta Clara) awakes, groggy, but ready for the day. As Cesar goes about his banal routine at the front desk, she gets ready as well. When she is pleasant to Cesar, but not familiar with him, things start to take a dark turn until you realize that Clara has no idea Cesar is, sleeping in the same bed as her after chloroforming her in the night.
Every single woman's nightmare is brought to light with SLEEP TIGHT as we follow Cesar as he stalks and watches Clara's every move. Unlike the recent and tepidly bland Hammer film THE RESIDENT where Jeffrey Dean Morgan creeps on Hillary Swank from an intricate tunnel system through the walls, SLEEP TIGHT goes the simpler route and places this creeper under the bed where all good monsters hide. Cesar's tendency to reside under Clara's bed leads to some absolutely white knuckle moments of pure uncut tension as you can't help but hope but root for Cesar to get caught. The fact that Balagueró is able to make us feel for this creepy bastard is alone a testament to his skill at a master manipulator behind the camera.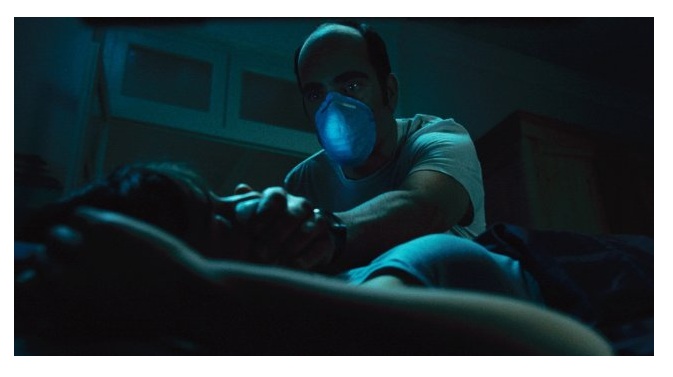 SLEEP TIGHT is expertly acted throughout with a stellar performance by Luis Tosar as the perverted peeper. His ability to churn a stomach, tingle a spine, and wrench the heart all at once exemplifies the actor's range. Marta Clara does her job well as the object of Cesar's desire, but the real standout female performance of the film is young Iris Almeida who plays the little girl in the building savvy to Cesar's nighttime adventures. Some of the other actors I believe made appearances in the REC series. All around, this film is well done from the thespian perspective.
Numerous times in SLEEP TIGHT I felt my heart beating in my chest as Balagueró temps and teases with his camera, taking us to uncomfortable places with his perverse characters and forcing us to identify with them. As action-packed as the original [REC] was, SLEEP TIGHT is tension-filled and unrelenting. If you're worried you wouldn't be able to find horror on the more subtle side this Halloween, you can rest easy with SLEEP TIGHT.
---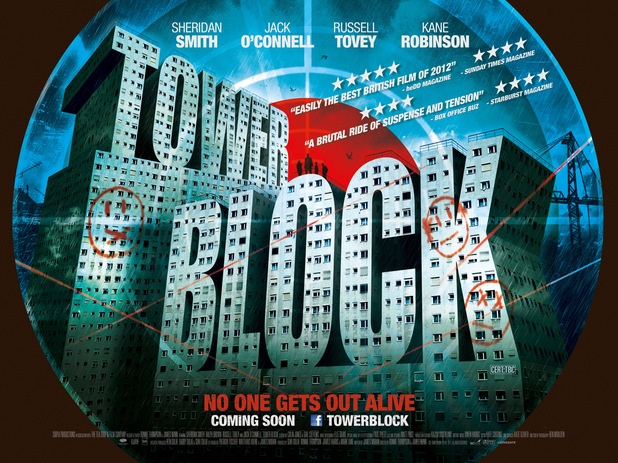 Another film with a claustrophobic feel is TOWER BLOCK (
full review here
) which was released this year. Though there were a lot of horror films taking place in tenement buildings; THE RAID REDEMPTION, JUDGE DREDD, ATTACK THE BLOCK, CITADEL, nothing in TOWER BLOCK feels stale as it trapps you on the top floor of a abandoned apartment complex and holds you for ransom with some fascinating and unconventional characters and a red laser sight that is more terrifying than the most toothy monster or decayed zombie.
Find it here
and watch the trailer below!
The Countdown so far…
Number 31: TEXAS CHAINSAW 3D!
Number 30: DEVIL'S PASS!
Number 29: THE RAMBLER!
Number 28: THE AMERICAN SCREAM!
Number 27: BATH SALT ZOMBIES!
Number 26: MANBORG!
Number 25: ERRORS OF THE HUMAN BODY!
Number 24: SIGHTSEERS!
Number 23: ABC'S OF DEATH!
Number 22: THE LAST WILL & TESTAMENT OF ROSALIND LEIGH!
Number 21: I DIDN'T COME HERE TO DIE!
Number 20: THE CONJURING!
Number 19: COME OUT AND PLAY!
Number 18: V/H/S/2!
Number 17: CRYSTAL LAKE MEMORIES!
Number 16: CURSE OF CHUCKY!
Number 15: HOME SWEET HOME!
Number 14: YOU'RE NEXT!
Number 13: SIMON KILLER!
Number 12: JUG FACE!
Number 11: KISS OF THE DAMNED!
Number 10: WITHER!
Number 9: WE ARE WHAT WE ARE!
Number 8: RESOLUTION!
See ya tomorrow, folks, as the count down continues with the best of the best covered in AICN HORROR over the past year!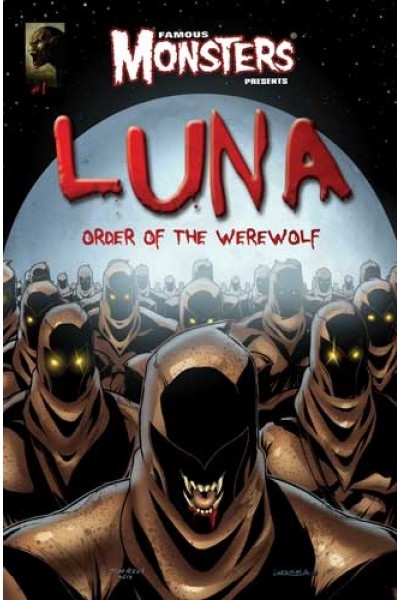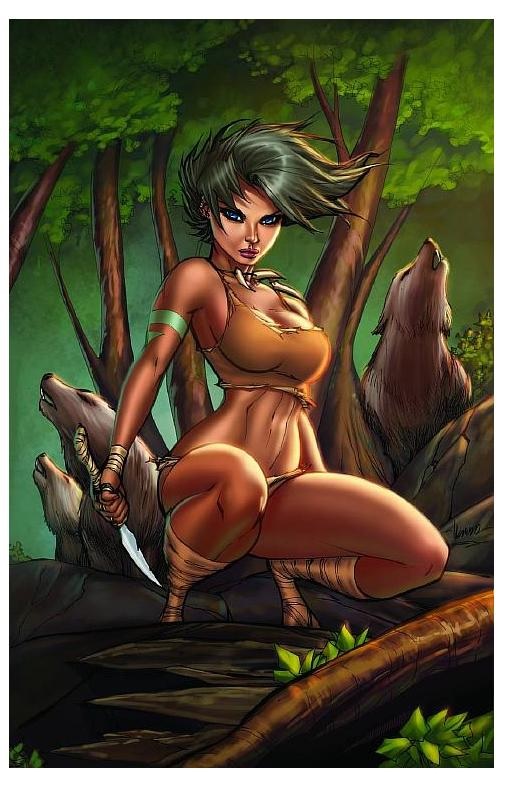 Ambush Bug is Mark L. Miller, original @$$Hole/wordslinger/writer of wrongs/reviewer/interviewer/editor of AICN COMICS for over 12 years & AICN HORROR for 4. Mark's written comics such as THE TINGLERS & WITCHFINDER GENERAL, DEATHSPORT GAMES, NANNY & HANK (soon to be a feature film from Uptown 6 Films), Zenescope'sGRIMM FAIRY TALES Vol.13 & UNLEASHED: WEREWOLVES – THE HUNGER and a chapter in Black Mask Studios'OCCUPY COMICS. FAMOUS MONSTERS' LUNA: ORDER OF THE WEREWOLF (co-written with Martin Fisher) will be available soon in trade. Mark also wrote the critically acclaimed GRIMM FAIRY TALES PRESENTS THE JUNGLE BOOK and its follow up THE JUNGLE BOOK: LAST OF THE SPECIES! Follow Ambush Bug on the Twitters @Mark_L_Miller.
---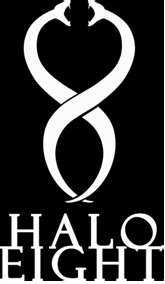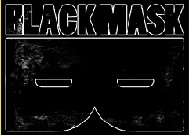 Find out what are BLACK MASK STUDIOS and OCCUPY COMICS here and on Facebook here!


Interested in illustrated films, fringe cinema, and other oddities?
Check out Halo-8 and challenge everything!
---
Find more AICN HORROR including an archive of previous columns on AICN HORROR's Facebook page!