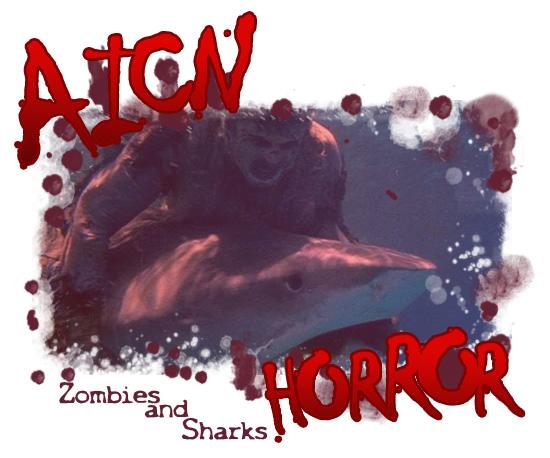 Logo by Kristian Horn
What the &#$% is ZOMBIES & SHARKS?
---
Greetings, all.
Ambush Bug
here. Happy Birthday to AICN HORROR which celebrates its fourth year in October! Always hoping to pass on new and exciting films for all of you ravenous readers, I have once again compiled a list counting down to my favorite horror film released since last October and covered in this here AICN HORROR: ZOMBIES & SHARKS column. Some of these films might be new to you since there isn't a lot of horror in theaters these days that aren't toothless remakes or watered down sequels. Theaters just don't seem to be the place where the horror is at these days, I'm sad to say. Some of these films have only seen the light of day on Video on Demand or simply go straight to DVD/BluRay pr digital download.
As far as how I compiled this list? Well, I simply looked over my AICN HORROR columns over the last year since October 1st , 2012 (which happens to be the birthday of this little column four years ago!) and worked and reworked a list until I had 31. No real method to my special brand of madness. We'll be counting down every day until Halloween to my favorite horror film of the year. I'll also provide a second film suggestion at the end of each column for those who can't get enough horror which may include films that almost made the list or goodies from the past I've covered.
So let's get to it! Chime in after the article and let me know how you liked the film I chose, how on the nose or mind-numbingly wrong I am, and most importantly, come up with your own list…let's go!
---
We're getting down to the nitty gritty of the countdown and number 8 is one of the most original and mind-bending films of the year. RESOLUTION is the type of film that will make you think and pay attention, but by the end of the film, you can't help but give it props for doing something you haven't seen before. Justin Benson & Aaron Moorhead are two talented dudes and I can't wait for what else they have in store for us in the coming years. For now, we have RESOLUTION coming in at Number 8.
NUMBER 8!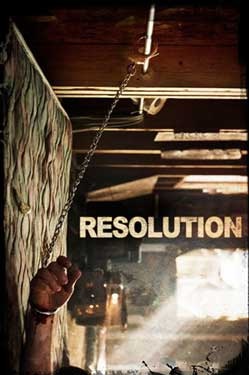 RESOLUTION (2012)
Find it soon on Netflix here
Directed by Justin Benson & Aaron Moorhead
Written by Justin Benson
Starring Peter Cilella, Vinny Curran, Zahn McClarnon, Bill Oberst Jr., Kurt David Anderson, Emily Montague,
Find out more about this film here!
Reviewed by Ambush Bug
High school buddies Michael (Peter Cilella) and Chris (Vinny Curran) have been friends forever, but while Michael has married, expects their first daughter, and is becoming successful in his life, Chris has developed a drug problem and hangs out at the edge of town doing crack in an abandoned house and shooting at birds. After receiving a video message that Michael feels is a cry for help sent by Chris, he sets out to break him of his unhealthy crack habit by locking him in a cabin for a week to sober up. Being a good friend, Michael decides to wait it out with his buddy through this tough time.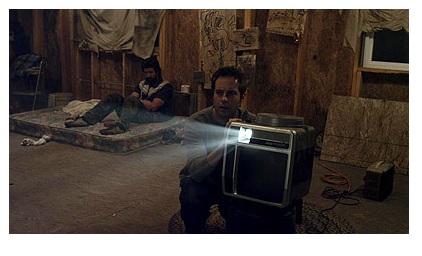 That was the plan anyway. But soon tings start going sideways. There happens to be a mental hospital nearby and the patients tend to escape from time to time. The house is near a Native American ceremonial ground and the local tribe isn't too happy Mike is squatting there. And what about the mysterious books, videos, films, and recordings that keep showing up? And where'd that knife come from?
While this can be easily dismissed as a story of consensual descents into madness, that's not really what's going on. This film gets insane with time twisting, choose your own adventure style antics going on from some unseen force. This film goes through a tremendous amount of crazy shit, especially towards the end as Mike and Chris try to outrun fate which they have already experienced.
The premise of this film, which I won't completely reveal here nor do I completely understand it having just seen the film once. Is ballsy and original. There's a slice of MEMENTO, some TIME CRIMES, and maybe a dash of LOOPER going on here, though it keeps things much smaller than that. The film also reminds me of the of THE CORRIDOR (
reviewed here
), another story about unseen forces manipulating a friends in diabolical ways.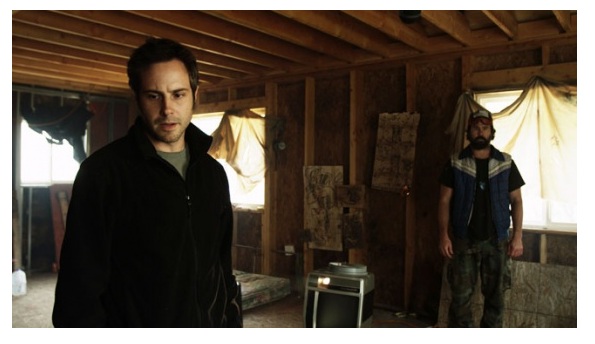 What makes this film work so well are the performances by the two leads. Peter Cilella as Michael embodies a purely good intentioned person, too blinded by his good deeds to notice he's walking into trouble. Vinny Curran's Chris is fantastic as the pitiful, yet quite personable and funny crack addict who still has the charm that made his friendship to Michael so strong in the first place. Both of these actors play the roles subtly, down to earth, and keep things very real in their reactions to the crazy events going on around him. I've gotta mention Bill Oberst Jr. (last seen scything zombies as ABRAHAM LINCOLN VS ZOMBIES
reviewed here
) ) who makes an appearance as a strange scientist with connections to the weird property Michael has chosen for this particular intervention with his friend. His cold stare and bizarre giggling monologue about the paranormal is absolutely riveting.
You have never seen a horror movie like RESOLUTION. I guarantee you that. The filmmakers Justin Benson & Aaron Moorhead are able to tell an ingeniously creative and spooky story with a ramshackle cabin, some old video footage, some weird locations, and just a few suggestions of something-not-right here and there. Both a testament to the effectiveness of low fi horror and a marvelous achievement in doing something completely original, RESOLUTION is bound to be a memorable experience for all who watch. Fantastically acted and subtly horrific, you've got to make a resolution yourself to see this film.
---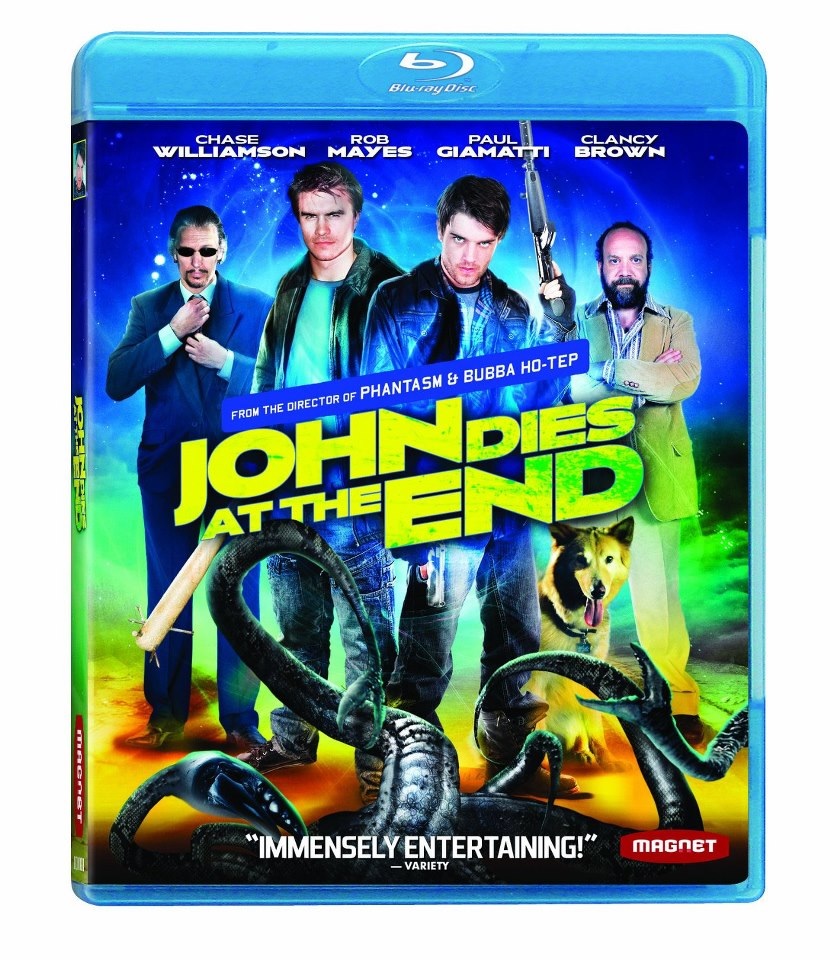 Want more cerebral fornication? How about JOHN DIES AT THE END? I want to recognize JOHN DIES AT THE END (
full review here
) for the achievement that it is and give props to Don Coscarelli for making a film that many felt was unmakable. I liked a lot of the parts of this film, but that's basically what this film felt like; puzzle pieces just loosely fitting together and for me, that wasn't enough for me to give it a spot on this countdown. Still it's a fun movie to turn your brain off and soak in the visual buffet mind-fuck that it is.
Find it on Netflix here
and watch the trailer below!
The Countdown so far…
Number 31: TEXAS CHAINSAW 3D!
Number 30: DEVIL'S PASS!
Number 29: THE RAMBLER!
Number 28: THE AMERICAN SCREAM!
Number 27: BATH SALT ZOMBIES!
Number 26: MANBORG!
Number 25: ERRORS OF THE HUMAN BODY!
Number 24: SIGHTSEERS!
Number 23: ABC'S OF DEATH!
Number 22: THE LAST WILL & TESTAMENT OF ROSALIND LEIGH!
Number 21: I DIDN'T COME HERE TO DIE!
Number 20: THE CONJURING!
Number 19: COME OUT AND PLAY!
Number 18: V/H/S/2!
Number 17: CRYSTAL LAKE MEMORIES!
Number 16: CURSE OF CHUCKY!
Number 15: HOME SWEET HOME!
Number 14: YOU'RE NEXT!
Number 13: SIMON KILLER!
Number 12: JUG FACE!
Number 11: KISS OF THE DAMNED!
Number 10: WITHER!
Number 9: WE ARE WHAT WE ARE!
See ya tomorrow, folks, as the count down continues with the best of the best covered in AICN HORROR over the past year!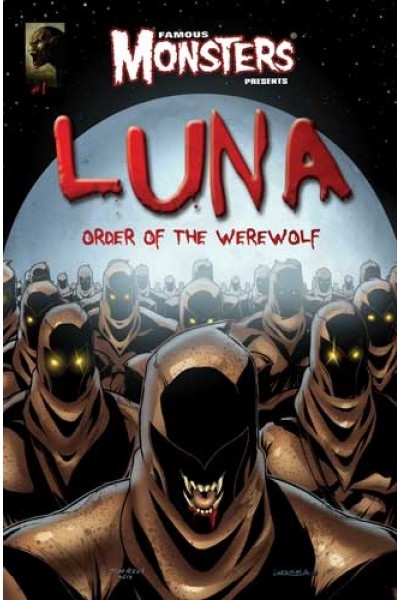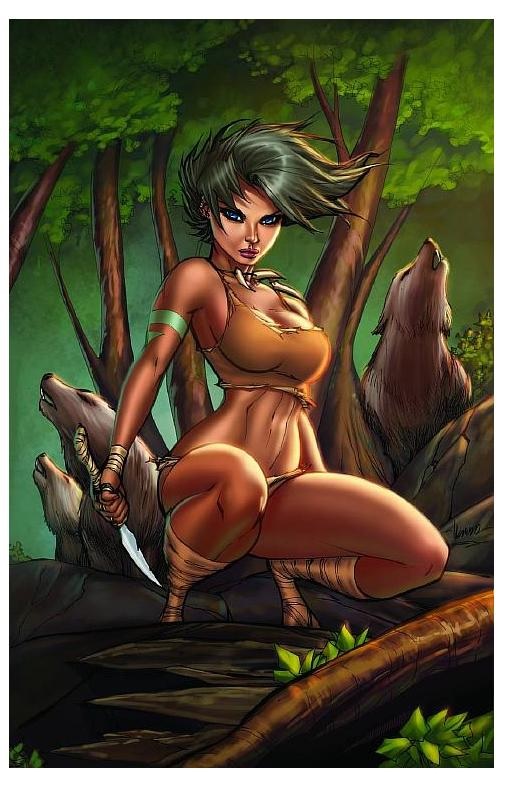 Ambush Bug is Mark L. Miller, original @$$Hole/wordslinger/writer of wrongs/reviewer/interviewer/editor of AICN COMICS for over 12 years & AICN HORROR for 4. Mark's written comics such as THE TINGLERS & WITCHFINDER GENERAL, DEATHSPORT GAMES, NANNY & HANK (soon to be a feature film from Uptown 6 Films), Zenescope'sGRIMM FAIRY TALES Vol.13 & UNLEASHED: WEREWOLVES – THE HUNGER and a chapter in Black Mask Studios'OCCUPY COMICS. FAMOUS MONSTERS' LUNA: ORDER OF THE WEREWOLF (co-written with Martin Fisher) will be available soon in trade. Mark also wrote the critically acclaimed GRIMM FAIRY TALES PRESENTS THE JUNGLE BOOK and its follow up THE JUNGLE BOOK: LAST OF THE SPECIES! Follow Ambush Bug on the Twitters @Mark_L_Miller.
---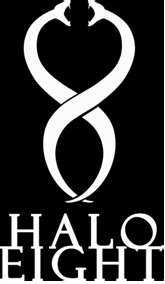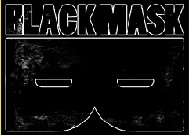 Find out what are BLACK MASK STUDIOS and OCCUPY COMICS here and on Facebook here!


Interested in illustrated films, fringe cinema, and other oddities?
Check out Halo-8 and challenge everything!
---
Find more AICN HORROR including an archive of previous columns on AICN HORROR's Facebook page!