Hey Yo, Draven here.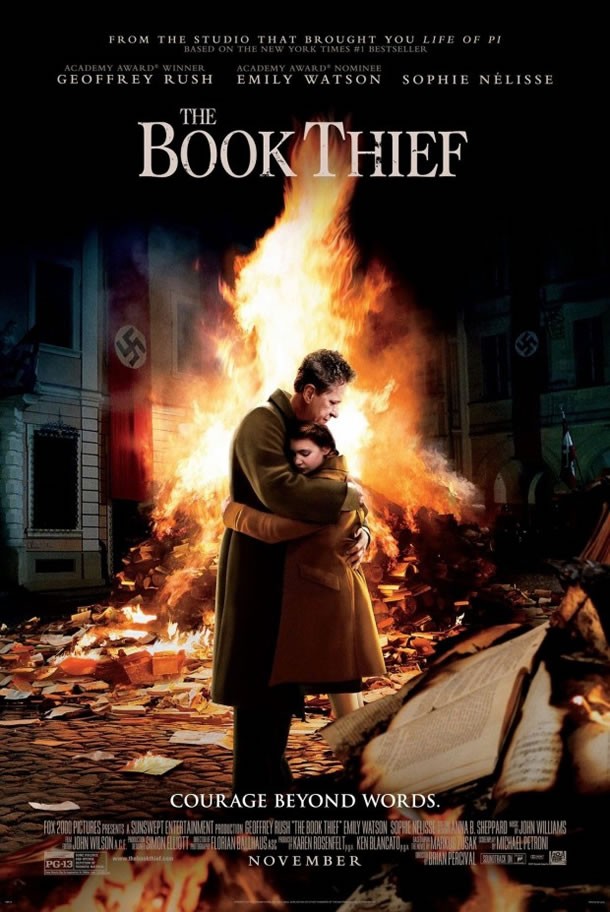 We all know how the Academy loves historical dramas and especially those dealing with WWII (I still can't believe THE READER got a Best Picture nomination over THE WRESTLER) and 20th Century Fox is hoping that they can have similar success with THE BOOK THIEF. It is based on an acclaimed and beloved bestselling novel and stars Geoffrey Rush, Emily Watson and Sophie Nelisse. We have a brand new international trailer for the film thanks to Rope of Silicon.

It looks like a definite award contender and I imagine we will be hearing a lot more about this film going forward. In the meantime here is Amazon's synopsis of the book that the film is based on:
"It is 1939. Nazi Germany. The country is holding its breath. Death has never been busier, and will become busier still.

Liesel Meminger is a foster girl living outside of Munich, who scratches out a meager existence for herself by stealing when she encounters something she can't resist–books. With the help of her accordion-playing foster father, she learns to read and shares her stolen books with her neighbors during bombing raids as well as with the Jewish man hidden in her basement.

In superbly crafted writing that burns with intensity, award-winning author Markus Zusak, author of I Am the Messenger, has given us one of the most enduring stories of our time."
Follow me on Twitter here!