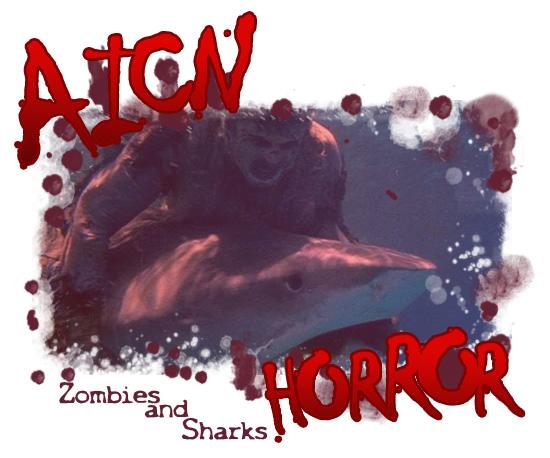 Logo by Kristian Horn
What the &#$% is ZOMBIES & SHARKS?
---
Greetings, all. Ambush Bug here with another AICN HORROR: ZOMBIES & SHARKS column. Here's the second batch of horror flicks I was able to check out playing this week at the Toronto After Dark Film Festival. It's a variety of nail-biting, genre-smashing, mania-inducing terrors. LIEBE, EVIL FEED and FOUND play tonight at the fest and THE BANSHEE CHAPTER finishes the fest tomorrow night! Enjoy!
Today on AICN HORROR

(Click title to go directly to the feature)
Short Cuts: LIEBE (2013)
EVIL FEED (2013)
FOUND (2012)
THE BANSHEE CHAPTER (2013)
Tim Rutherford and Cody Kennedy's M IS FOR MAGNETIC TAPE!
---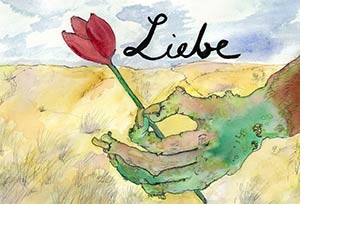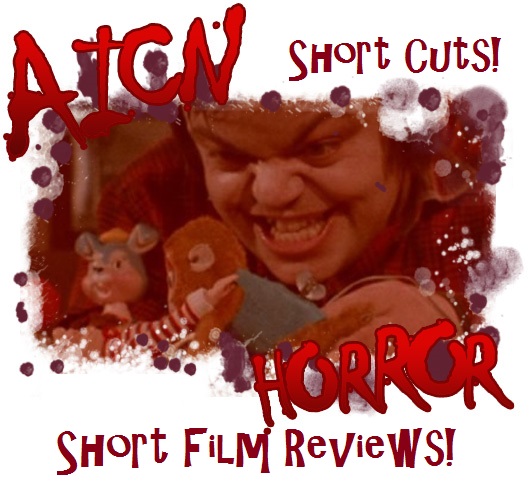 LIEBE (LOVE) (2013)
Directed by Cameron Macgowan
Written by Cameron Macgowan
Starring Jesse Collin, Aadila Dosani & Chris Ferguson
Find out more about this film here!
Reviewed by Ambush Bug
Playing before FOUND tonight at TADFF is the short film LIEBE which translates from German as LOVE. The 3plus minute short starts out as romantic as can be, as a man describes the perfect love affair with the perfect love.
Then…well…then things get twisted. Let's just say that a different kind of love is explored in the latter half of this little short. It's creepy and wrong and awesome.
Just be on the lookout for LIEBE at a film festival near you. You're going to love this devious little number. I don't want to ruin this short film for you and when it is available for all to check out, you'll be sure to be the first to see it in my "And finally…" section of the column.
---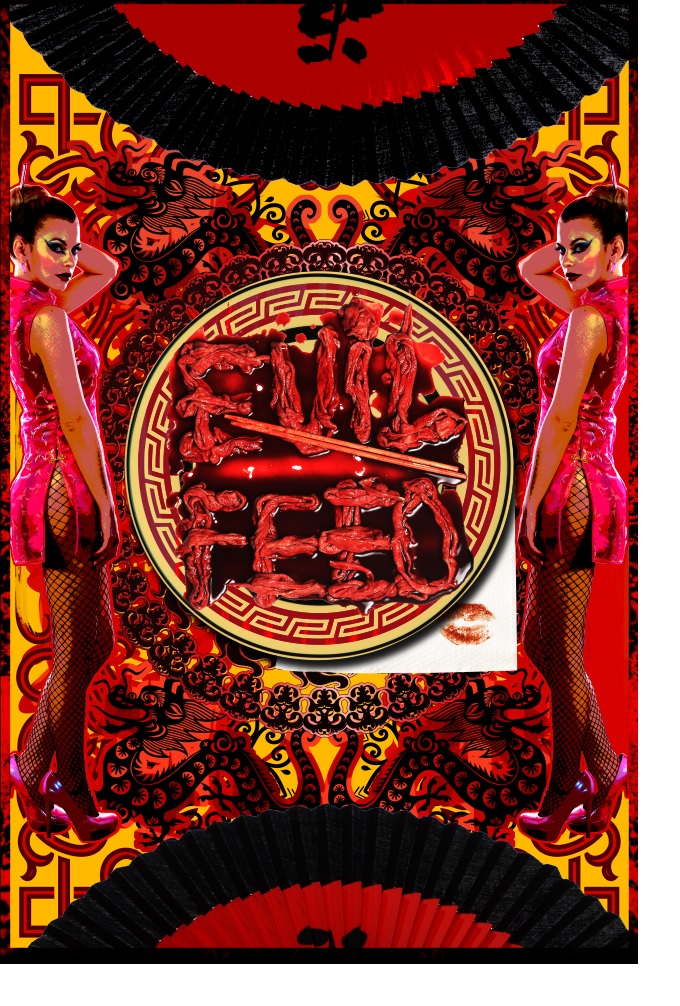 EVIL FEED (2013)
Directed by Kimani Ray Smith
Written by Aaron Au, Kimani Ray Smith, Jana Mitsoula, Ryan Nicholson
Starring Laci J Mailey, Terry Chen, Alain Chanoine, Alyson Bath, Derek Gilroy, Bishop Brigante, Curtis Lum, Sebastian Gacki, David Milchard, Carrie Genzel, Johnson Phan, Doug Abrahams, Fraser Aitcheson, Chris Casillan
Find out more about this film here and on Facebook here
Reviewed by Ambush Bug
What's got kung fu, cannibals, and loads and loads of ultra-gore?
EVIL FEED, mother fukkas!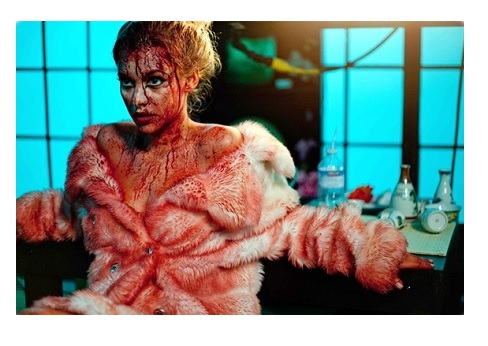 Filled to the brim with a subtle blend of testosterone and blood, EVIL FEED is the kind of film that lives to please fans of action and violence. Set in a restaurant called The Long Pig (slang cannibals use for human meat), Terry Chen plays Steven, an evil bastard who kills his father to take over the business of serving high class clientele human meat and providing gladiatorial games, massage parlor action, and other sinful delights. Chen is delightfully evil in the role as lead baddie in a film full of all kinds of baddies. Chen's wide-eyed mania is countered by his girlfriend Yuki (Alyson Bath) who stole the show for me as the molten hot evil siren who makes covered in blood look sexy beyond belief.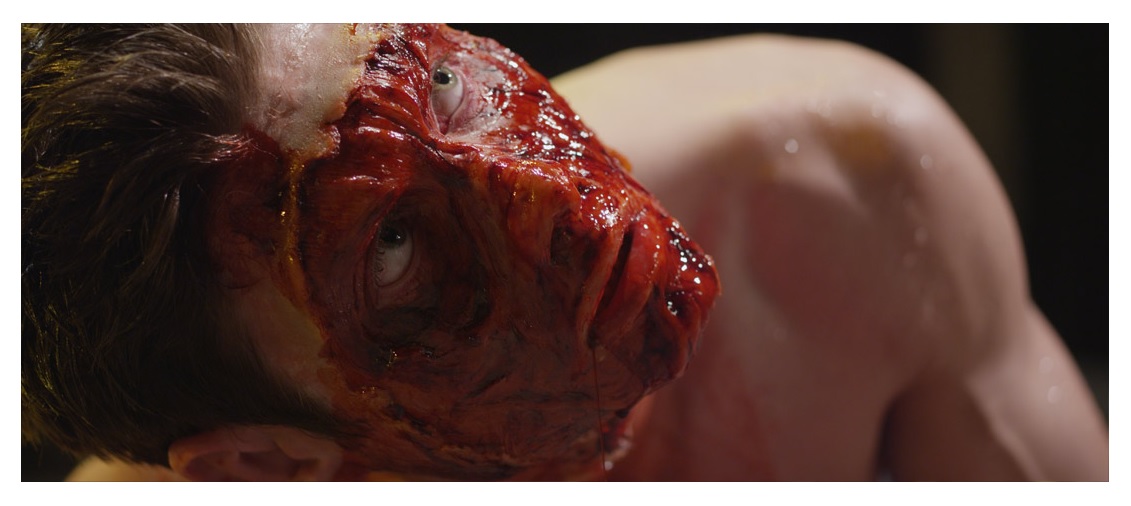 On the side of the good guys is Jenna (the bombastic Laci J Mailey) and her allies who train at her dojo who are in search of their missing sensei. The trail leads the kung fu warriors to the Long Pig and the group must go against the blood-thirsty gladiators, the maniacal Steven, and the sultry Yuki. Making up the team are a trio of unlikely heroes are Tyrone(Alain Chanoine) , Carlos (Bishop Brigante), and Brian (Derek Gilroy), all three offering up hilarious performances and also exhibiting some great martial arts skills to boot. Mailey is fantastic as well as the heroine and quite the martial artist herself balancing delicate beauty with hard nosed ass kicking. These kung fu fighters have met their match with the cannibalistic gladiators in the Long Pigs employ.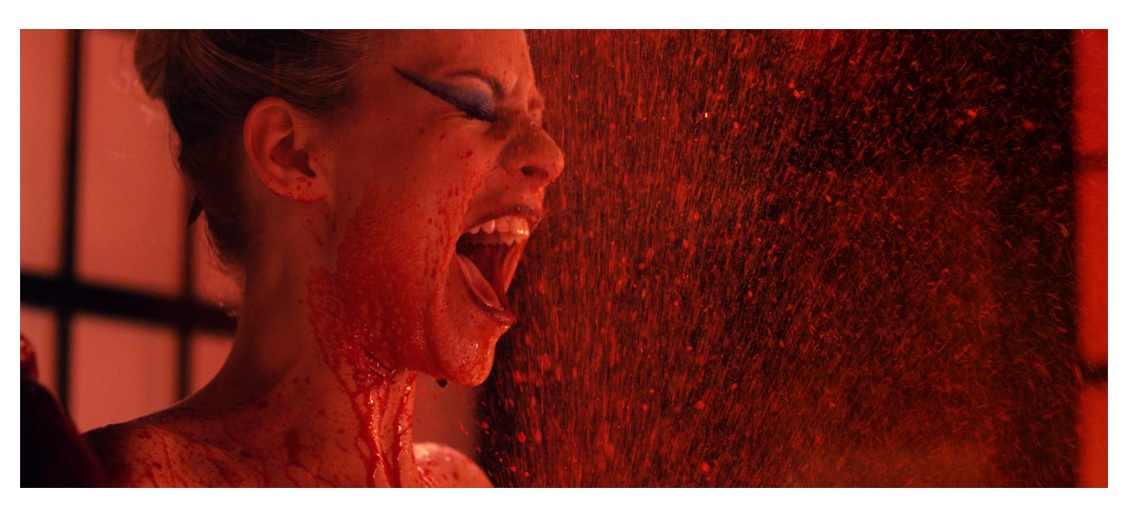 Reminiscent of BIG TROUBLE IN LITTLE CHINA with a nod to EVIL DEAD, this slice and dice chop socky film is a hybrid with all of it's parts playing strong. As an action yarn, the film delivers hard hitting kung fu as multiple disciplines collide in the arena for sport. As a gore fest, there are tons and tons of gory scenes of red stuff to wallow in. All of it cast against a comedic and cartoony backdrop that caused me to laugh throughout the whole run time. There's a fiendish tone to the funny here as the villains are moustache twilrlingly fun and the heroes are mostly idiots as well, but lovable idiots you can't help but root for.
EVIL FEED is a film that plays pitch perfect throughout, balancing horror, action, and humor seamlessly. When this film finally makes it to the masses, it's going to be an instant classic. EVIL FEED is a cannibalistic all you can eat buffet served up by way of Tex Avery that should not be missed.
---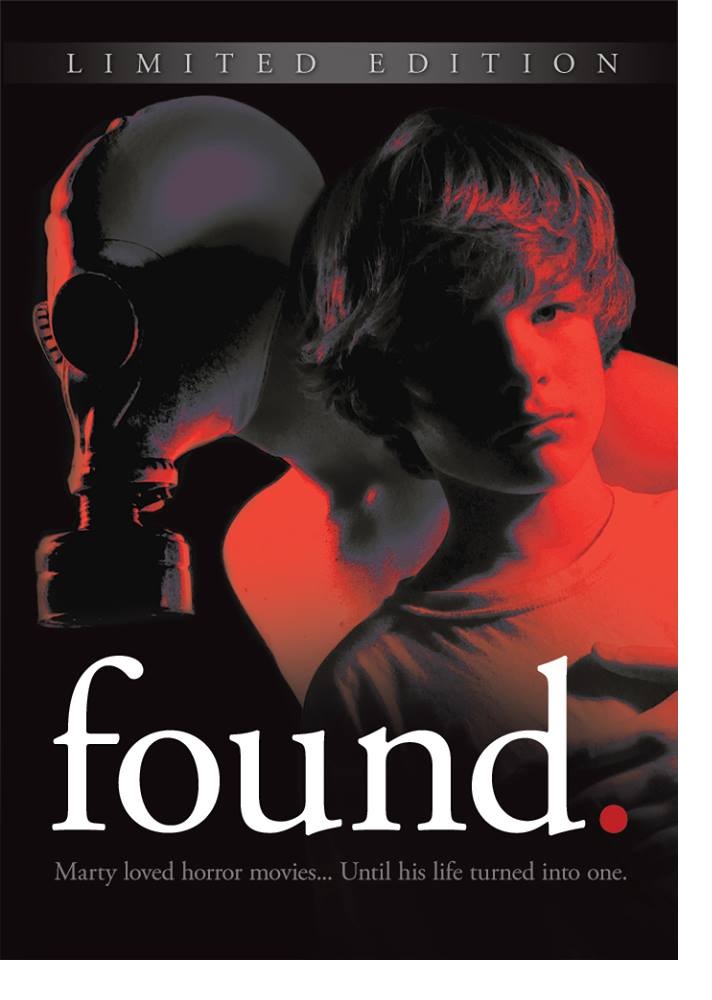 FOUND (2012)
Directed by Scott Schirmer
Written by Todd Rigney (novel), Scott Schirmer (screenwriter)
Starring Gavin Brown, Ethan Philbeck, Phyllis Munro, Louie Lawless, Alex Kogin, Andy Alphonse, Shane Beasley, Angela Denton, Edward Jackson, Adrian Cox-Thurmond, Dane Irwin
Find out more about this film here and on Facebook here
Reviewed by Ambush Bug
Quiet, seething, and simmering, FOUND is a film that will sneak up on you in the night and strike deep just when you think you're safe. While the opening moments of this film are dark, it still did not prepare me for the depths FOUND goes and having watched it a few days ago, I am still trying to scratch and claw myself out of the darkness it engulfed me with.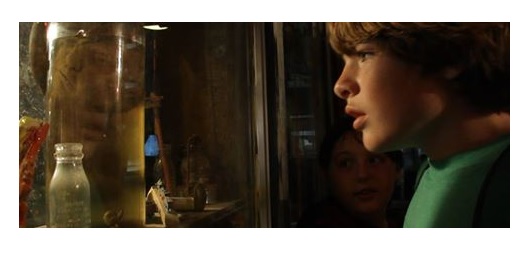 Told from the point of view of a twelve year old boy named Marty (Gavin Brown), FOUND begins with the boy telling us that Steve (Ethan Philbeck), his brother is a serial killer and proceeds to prove it by showing the head in the bowling bag Steve keeps in his closet. From that dank place we begin a long and tragic journey as Marty tries to cope with this revelation about his brother and how it affects every aspect of his life.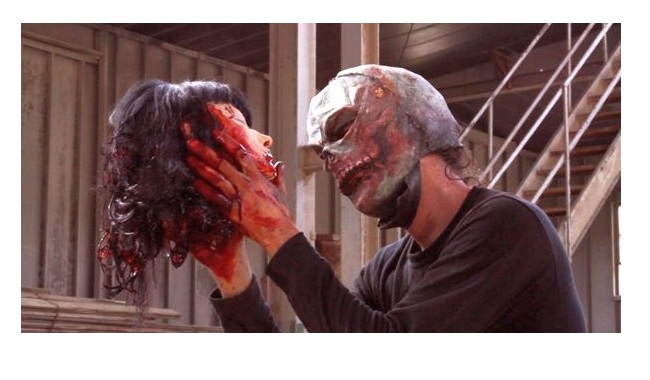 Told in a patient and steady pace, FOUND is the type of film fans of flash-bang filmmaking might find somewhat tedious. Personally, I was engrossed the whole way through, but I could see the way the monotone narration from Marty might be difficult for some to get through. Though the narration is monotone, the voice is undeniably honest and coming from a child who has witnessed the terrors he has uncovered, the lack of energy in the delivery reflects the feelings of numbness he is feeling in increasing waves in this film. Clocking in at about an hour forty minutes, FOUND could use a bit of an edit here and there as it does drag a bit in the middle, but writer/director Scott Schirmer takes his time fleshing out the character of Marty and his brother Steve and then dissecting that relationship once Steve's secret comes to light, making the longer than usual run time a worthwhile endeavor to follow.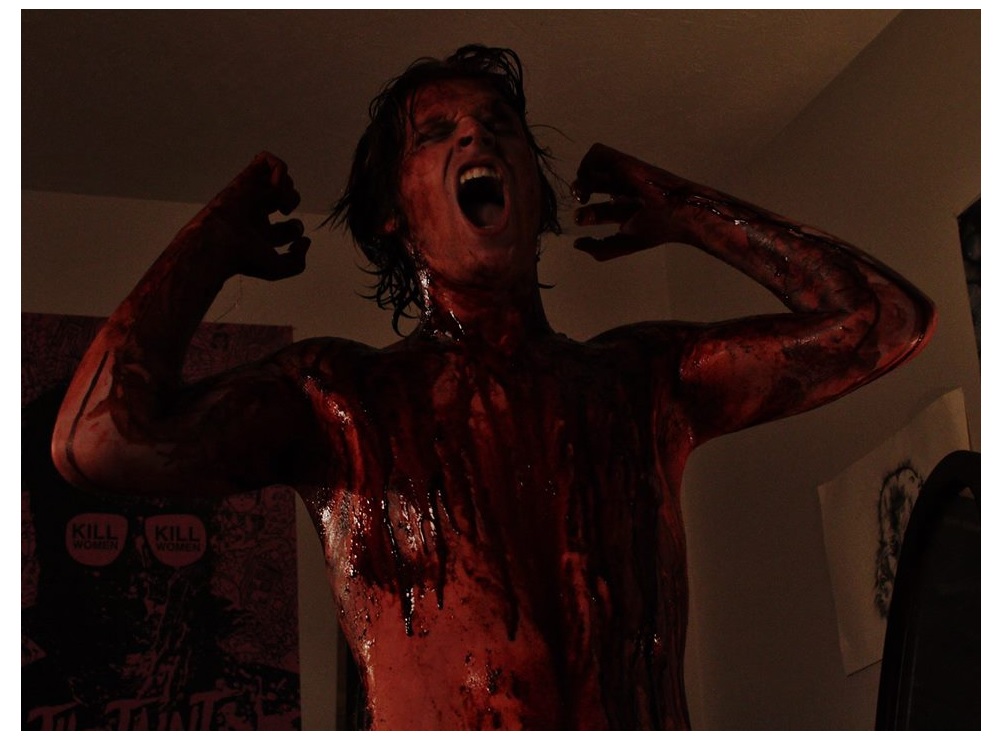 Nothing will prepare you for the ending of this film which, though it is telegraphed, I still wasn't prepared for. FOUND is one of those films that will make you say, "There is no fucking way this film is going to go there." And then, guess what? It fucking goes there.
FOUND hurt me in the final moments like few films have before. Having gotten to know Marty through the film, you want somehow for him to come out of this unscathed, but Schirmer pulls no punches and never cheats by trying to give some kind of Hollywood ending. The final moments of FOURND will infuriate some, but for me, I admire the courage Schirmer has to go that far into the darkness. FOUND is a treasure—an awful nightmarish treasure, but a treasure nevertheless.
---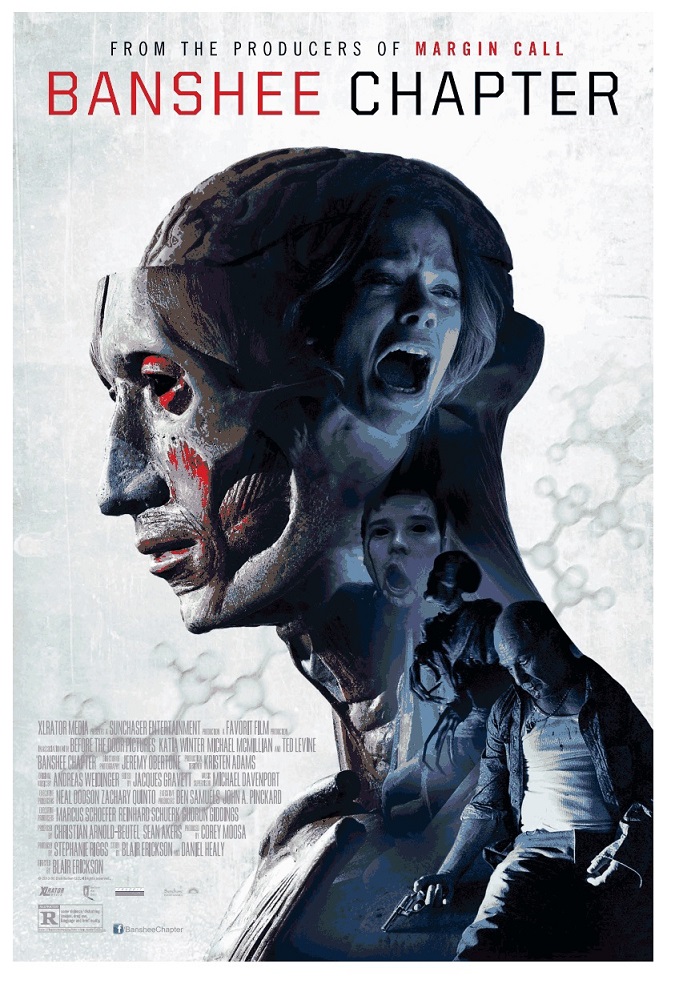 THE BANSHEE CHAPTER (2013)
Directed by Blair Erickson
Written by Blair Erickson, Daniel J. Healy (story)
Starring Ted Levine, Katia Winter, Michael McMillian, Monique Candelaria
Find out more about this film here and on Facebook here
Reviewed by Ambush Bug
Supposedly based on real government tests that occurred in the late sixties involving mind altering drugs that were meant to be developed into all kinds of psychic weaponry, THE BANSHEE CHAPTER starts with what looks like authentic footage of scientist types being interviewed about the secret programs. While I'm not sure of the validity of all of the claims this film seems to be based upon, it does make for a compelling backdrop to cast a horror film.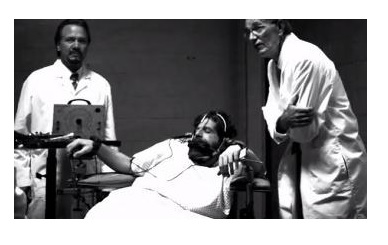 And THE BANSHEE CHAPTER is an effective horror film. It takes an intriguing premise (secret government mind-control drugs), fills it with likable cast members (fresh faced Katia Winter and the always fun Ted Levine, as well as TRUE BLOOD's Michael McMillian), and loads it up with scenes that ooze scary. The story hinges on Winter's character Anna who is in search for her missing friend James (McMillian) who video taped himself ingesting an experimental drug and then…something weird happens. Enlisting the aid of a Hunter S. Thompson-type names Blackburn (Ted Levine), Anna finds herself uncovering a conspiracy involving mind altering drugs, strange short wave radio broadcasts, and melty creatures in the shadows. Though the terror is never really identified and is more of a concept than an actual monster, I found many moments utterly terrifying.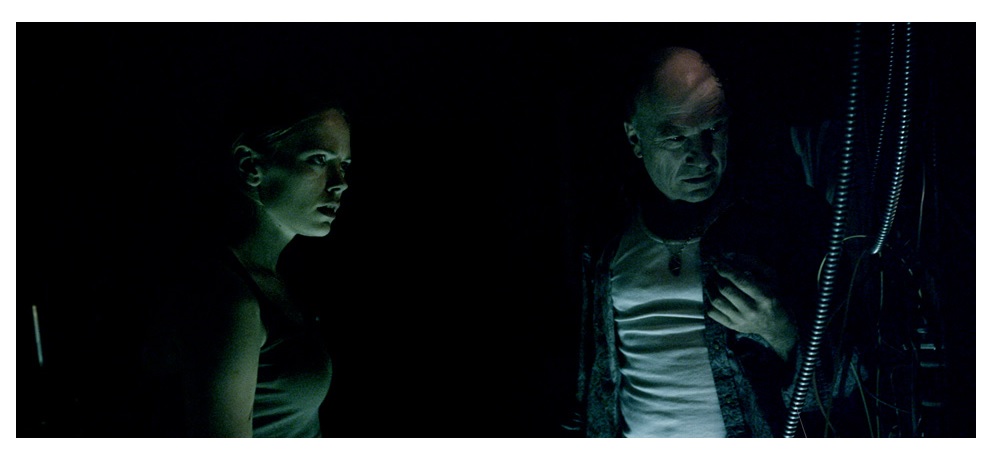 The thing is, the way THE BANSHEE CHAPTER was made is as curious as its premise. Just as the opening stock footage moments feel real, there's an odd found footage aspect with the way this film is made. Occasionally, we get the point of view from a camera (as with the footage from the opening moments when McMillian ingests a mind altering drug called MK-Ultra), but later, things are taken in a more traditionally cinematic manner, but the film is still shot in the cinema verite/hand held style one might find in a found footager, though there's never a camera man identified. Because of this, the tone of the film is quite odd, in terms of the way it was shot. This oddness of camera style only adds to the slightly off feel you get about this film from the get go. From minute one, there is an other-dimensional, trippy quality that I can't deny.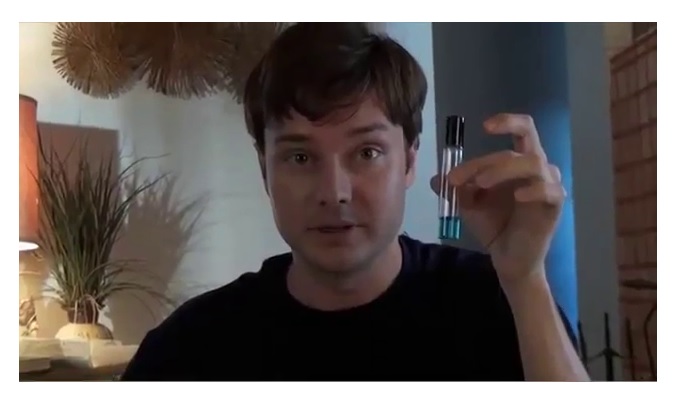 THE BANSHEE CHAPTER often cheats with the scares as a blast of music is accompanied by a shocking image. These scenes got me every time as director Blair Erickson builds to each of them in a manner that tackles the element of suspense well. Still, I can see some might grow tired of the keyboard slam scare that most of this film relies on. And it's too bad because a lot of the imagery of the warped creatures reaching out of the darkness and shuffling toward our heroes is really scary. Aside from the audio ballast, the use of sound is definitely creepy as the voices which appear over the short wave radios of a young child or female voice speaking in some kind of odd code paired with the tune of an ice cream truck is a nightmarish juxtaposition. These scenes where the distinctive broadcasts appear from nowhere are effectively haunting.

Though there is an over-reliance on the cumbersome jump scare paired with a music blast in THE BANSHEE CHAPTER, I have to give the film props for coming up with a truly original premise and following through with an execution that is sure to cause multiple leaps from your seat. I jumped from my own chair numerous times in the film and was overcome by a sense of unease by the use of unnatural sights and sounds Erickson filled this film with. THE BANSHEE CHAPTER uses tried and true methods to scare, but also comes up with some new ways to terrorize the eyes and ears and take you on trips few films are creative enough to go.
---
And finally…Here's one more entry in the Letter M slot for THE ABC'S OF DEATH 2. This one is directed by Tim Rutherford and Cody Kennedy and is titled M IS FOR MAGNETIC TAPE! Enjoy!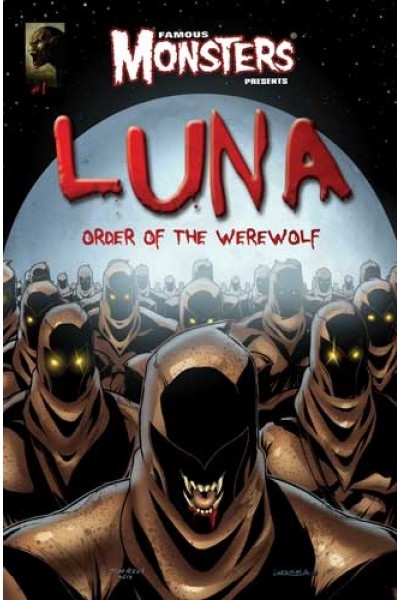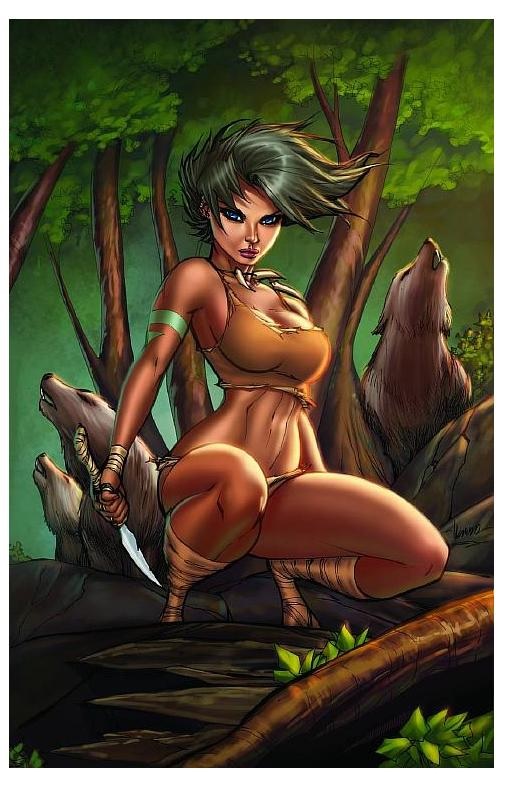 Ambush Bug is Mark L. Miller, original @$$Hole/wordslinger/writer of wrongs/reviewer/interviewer/editor of AICN COMICS for over 12 years & AICN HORROR for 4. Mark's written comics such as THE TINGLERS & WITCHFINDER GENERAL, DEATHSPORT GAMES, NANNY & HANK (soon to be a feature film from Uptown 6 Films), Zenescope'sGRIMM FAIRY TALES Vol.13 & UNLEASHED: WEREWOLVES – THE HUNGER and a chapter in Black Mask Studios'OCCUPY COMICS. FAMOUS MONSTERS' LUNA: ORDER OF THE WEREWOLF (co-written with Martin Fisher) will be available soon in trade. Mark also wrote the critically acclaimed GRIMM FAIRY TALES PRESENTS THE JUNGLE BOOK and its follow up THE JUNGLE BOOK: LAST OF THE SPECIES! Follow Ambush Bug on the Twitters @Mark_L_Miller.
---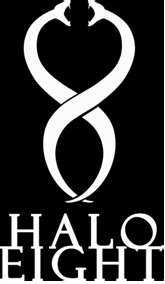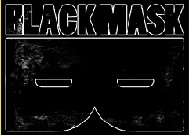 Find out what are BLACK MASK STUDIOS and OCCUPY COMICS here and on Facebook here!


Interested in illustrated films, fringe cinema, and other oddities?
Check out Halo-8 and challenge everything!
---
Find more AICN HORROR including an archive of previous columns on AICN HORROR's Facebook page!