Hey guys! Horrorella here...
Alright you primitive screwheads, listen up! Ash himself has confirmed that ARMY OF DARKNESS 2 is, in fact, in the works. After THE EVIL DEAD remake opened earlier this year, rumors have been circulating that Sam Raimi and company might be working on a sequel to ARMY OF DARKNESS.
This rumor was confirmed last month, when THE EVIL DEAD director Fede Alvarez told Bloody Disgusting that Raimi is in the process of writing the script.
Star Bruce Campbell offered the crowd at Wizard World Nashville (via Comicbook.com) an update on the project's status over the weekend. When asked if he would be making a sequel to ARMY OF DARKNESS, Campbell told the audience (in his witty Bruce Campbell way):
The last one was 22 years ago. I just haven't been racing to do it. Sam Raimi is just a little bit busy making the biggest movies in Hollywood. I use to be busy. Now I'm not. That's why I'm here. . . Ash would have to stop occasionally from chasing some deadite to catch his breath. Maybe we could do that, I guess. That would be exciting. Fight in a walker. That would be alright. Hit them with my cane. Fake them out, have a fake heart attack, distract a zombie. I like it. . . Alright sir, the answer is yes.
Of course, nothing is official until production actually begins. As Campbell noted, Raimi is a rather busy guy these days, so nothing will begin coming into focus until he is able to finish the script and get production under way. But it's an exciting step in the right direction. I would love to catch up with a middle-aged Ash and see what kind of trouble he can still get into.
What do you guys think?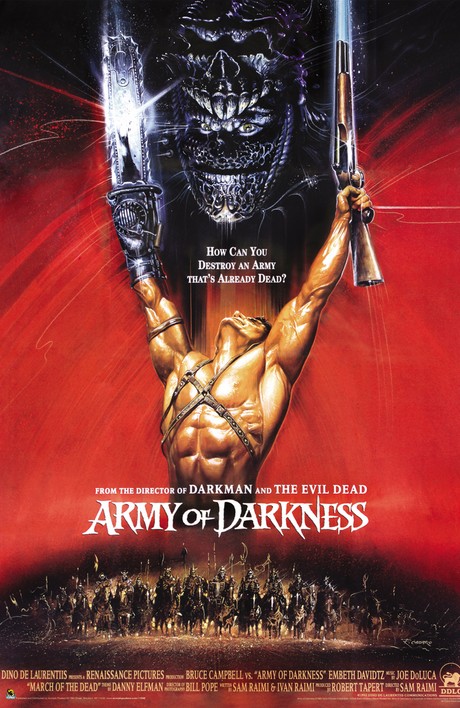 Follow me on Twitter