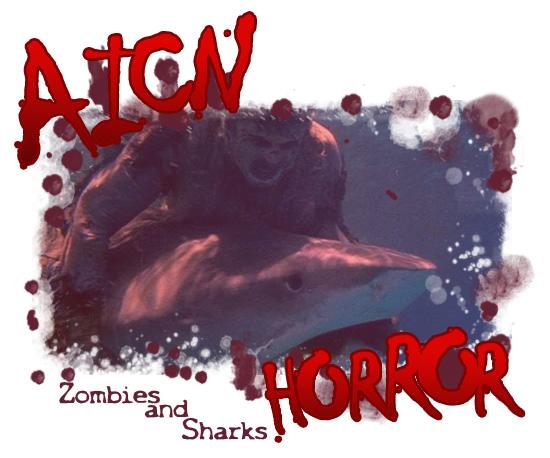 Logo by Kristian Horn
What the &#$% is ZOMBIES & SHARKS?
---
Greetings, all.
Ambush Bug
here. Happy Birthday to AICN HORROR which celebrates its fourth year in October! Always hoping to pass on new and exciting films for all of you ravenous readers, I have once again compiled a list counting down to my favorite horror film released since last October and covered in this here AICN HORROR: ZOMBIES & SHARKS column. Some of these films might be new to you since there isn't a lot of horror in theaters these days that aren't toothless remakes or watered down sequels. Theaters just don't seem to be the place where the horror is at these days, I'm sad to say. Some of these films have only seen the light of day on Video on Demand or simply go straight to DVD/BluRay pr digital download.
As far as how I compiled this list? Well, I simply looked over my AICN HORROR columns over the last year since October 1st , 2012 (which happens to be the birthday of this little column four years ago!) and worked and reworked a list until I had 31. No real method to my special brand of madness. We'll be counting down every day until Halloween to my favorite horror film of the year. I'll also provide a second film suggestion at the end of each column for those who can't get enough horror which may include films that almost made the list or goodies from the past I've covered.
So let's get to it! Chime in after the article and let me know how you liked the film I chose, how on the nose or mind-numbingly wrong I am, and most importantly, come up with your own list…let's go!
---
This seemed to be the year movies tried to take back the vampire. While Dario Argento's DRACULA 3D failed to do so, there was a film that did a damn fine job of givin us a mature take on the vampire tale. With some amazing music, solid acting, and some beautiful direction, Xan Cassavetes' KISS OF THE DAMNED represented vamps well this year.
NUMBER 11!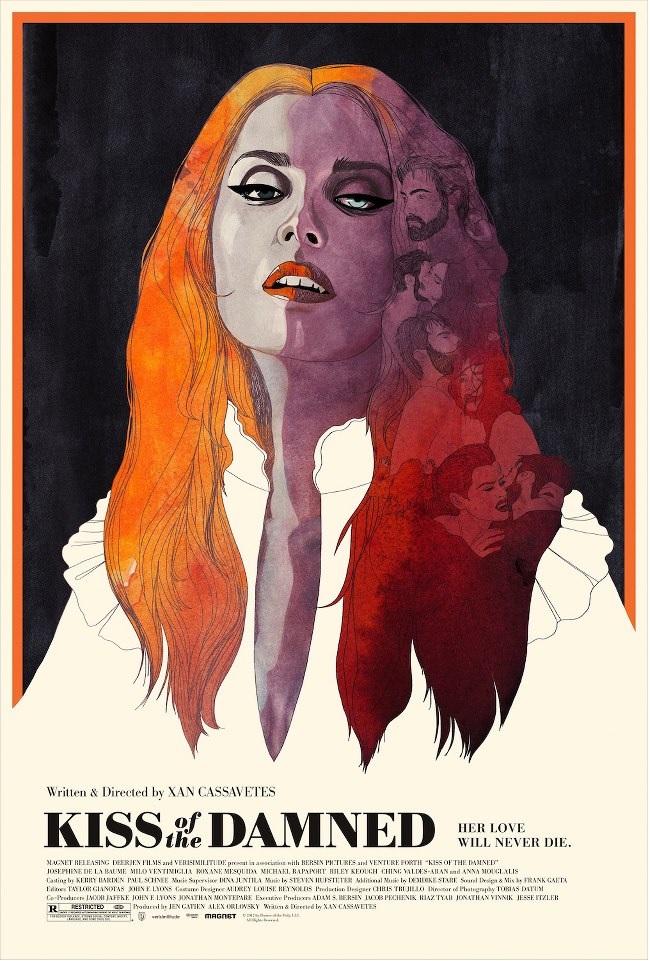 KISS OF THE DAMNED (2012)
Find it on Netflix here
Directed by Xan Cassavetes
Written by Xan Cassavetes
Starring Joséphine de La Baume, Roxane Mesquida, Milo Ventimiglia, Anna Mouglalis, Michael Rapaport, Riley Keough
Find out more about this film here and on Facebook here
Reviewed by Ambush Bug
Though the sensuality of vampirism has been the focus of many a horror movie, not until recently with the TWILIGHT phenomenon has it cause so many a fanboy to groan in pain. Anyone trying to highlight that the intake of blood as an intimate form of contact is going to make most tune out immediately. While some filmmakers have tried to go the opposite route (STAKE LAND for example,
reviewed here
) and bring the grit back to being a vampire, filmmaker Xan Cassavetes (daughter of John Cassavetes and actress Gena Rowlands) has decided to take the concept of the sensuality of vampires back to the realm of serious filmmaking with KISS OF THE DAMNED.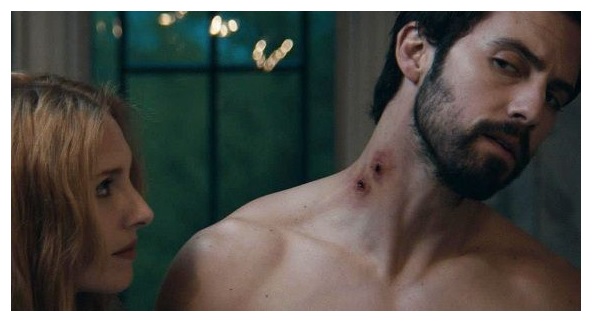 The title of KISS OF THE DAMNED is very reminiscent of Jean Rollin's classic erotic vampire films of the seventies and eighties and in tone, it's much like those surreal vamp films. Cassavetes amps up the sexuality as Tony Scott did with THE HUNGER and Hammer did with their lesbian vampire films of the late sixties and early seventies in this modern telling of boy meets girl vampire, girl vamp turns boy, boy and girl vamp try to make things work in a world filled with sunlight half the time. Throw in a crazy vampire sister and you've got a whole lot of drama.
The cast is top tier as Joséphine de La Baume plays the gorgeous Djuna, a vampires who lives a quiet life until she runs into Paolo (Milo Ventimiglia) at a late night video store. Immediately, there is a spark and though it is against Djuna's instincts to stay away, she goes with her gut (or maybe something a bit further south) and lets Paolo into her home. Though she drops plenty of clues like telling Paolo she has a rare skin condition and watches an old black and white vampire film in front of him, Paolo just doesn't get it. Even when she chains herself up to the bed, Paolo still is just attracted to this kinky doll, and though it takes him a while to truly understand what it is he had fallen in lust with, his decision to become a creature of the night is pretty hasty. Soon, Djuna's sister Mimi (Roxane Mesquida) shows up and immediately causes trouble for the couple as she brings couples home to screw and drain, attacks anyone who shows up at the house with a pulse, and tries to seduce Paolo right under her sister's nose. All of this is done with style as the confident cast is able to amp up both the sensuality and drama exquisitely.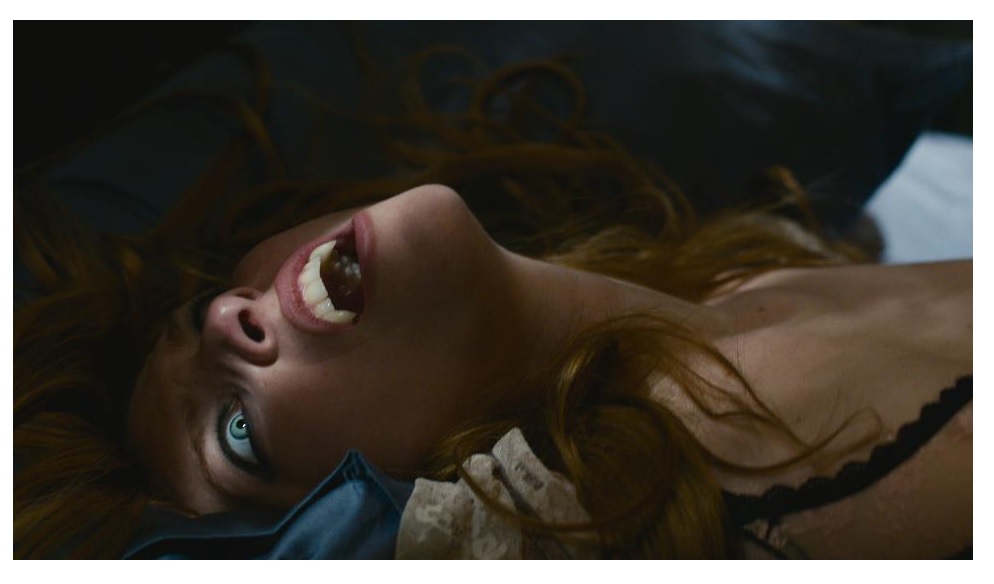 If KISS OF THE DAMNED has any flaws, it has to do with showing how Mimi's interventions effect the relationship between Djuna and Paolo. Much time is dedicated to showing Paolo and Djuna's initial attraction and development into a couple, but after they come together, the focus is shifted to Hurricane Mimi and the carnage she leaves in her sultry wake. Sure there are scenes of Paolo and Djuna coming back together after the things Mimi does, but music and stylish cuts cover up what should have come out in some drama. Cassavetes chooses to skip over these scenes which some might find boring as the couple try to understand, develop, and eventually save their relationship behind the scenes, but the film is somewhat lacking in depth in the final act as all eyes focus on Mimi and her destructive ways.
Still this is an exceptional vampire film. Don't worry. All of drama is bathed in copious amounts of blood and some stylishly orchestrated shots of vampire debauchery. There are some nice nods to how vampires react to the modern treatment of their species in current cinema and references to TRUE BLOOD which I found to be amusing. And it's all set to an absolutely delicious retro score which borrows heavily from the Italian giallo films and makes this film feel more like a lost film from the seventies rather than something recently produced. Though I found the story lacking a bit in the last act, there's a lot Cassavetes did right with this film, especially considering it's her first feature length movie. KISS OF THE DAMNED is the antidote for all of the crap vamp films horror fans have had to endure through recent years and well worth seeking out.
---
Another flick worth mentioning is Neil Jordan's return to vampirism BYZANTIUM (
full review here
). Though he goes a more romanticized route, I can't deny that this is a rock solid cast with Saoirse Ronan, Gemma Arterton, Caleb Landry Jones, Jonny Lee Miller all turning in some powerful performances as they struggle to survive as vamps through the ages. Beautifully filmed with imaginative sequences involving the loss of humanity and attainment of immortality, this one is a bit heady, but nevertheless a unique take on an old tale.
Find it soon on Netflix here
and watch the trailer below!
The Countdown so far…
Number 31: TEXAS CHAINSAW 3D!
Number 30: DEVIL'S PASS!
Number 29: THE RAMBLER!
Number 28: THE AMERICAN SCREAM!
Number 27: BATH SALT ZOMBIES!
Number 26: MANBORG!
Number 25: ERRORS OF THE HUMAN BODY!
Number 24: SIGHTSEERS!
Number 23: ABC'S OF DEATH!
Number 22: THE LAST WILL & TESTAMENT OF ROSALIND LEIGH!
Number 21: I DIDN'T COME HERE TO DIE!
Number 20: THE CONJURING!
Number 19: COME OUT AND PLAY!
Number 18: V/H/S/2!
Number 17: CRYSTAL LAKE MEMORIES!
Number 16: CURSE OF CHUCKY!
Number 15: HOME SWEET HOME!
Number 14: YOU'RE NEXT!
Number 13: SIMON KILLER!
Number 12: JUG FACE!
See ya tomorrow, folks, as the count down continues with the best of the best covered in AICN HORROR over the past year!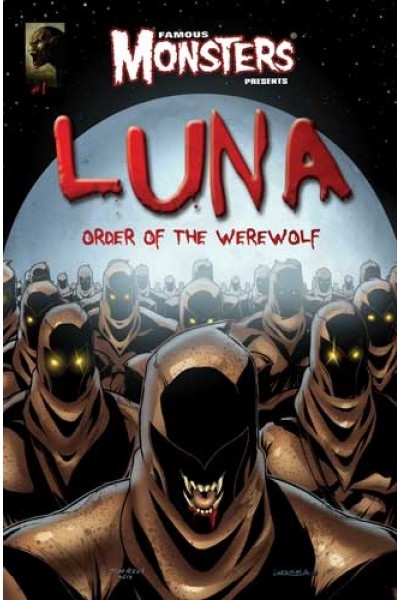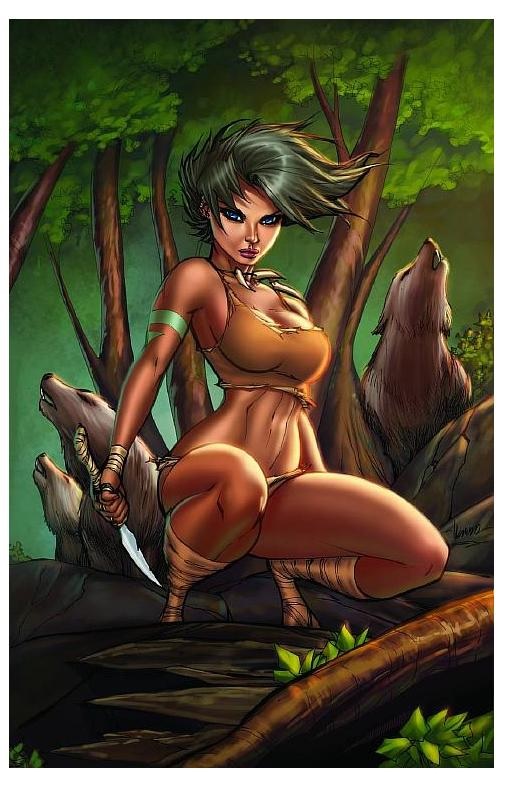 Ambush Bug is Mark L. Miller, original @$$Hole/wordslinger/writer of wrongs/reviewer/interviewer/editor of AICN COMICS for over 12 years & AICN HORROR for 4. Mark's written comics such as THE TINGLERS & WITCHFINDER GENERAL, DEATHSPORT GAMES, NANNY & HANK (soon to be a feature film from Uptown 6 Films), Zenescope'sGRIMM FAIRY TALES Vol.13 & UNLEASHED: WEREWOLVES – THE HUNGER and a chapter in Black Mask Studios'OCCUPY COMICS. FAMOUS MONSTERS' LUNA: ORDER OF THE WEREWOLF (co-written with Martin Fisher) will be available soon in trade. Mark also wrote the critically acclaimed GRIMM FAIRY TALES PRESENTS THE JUNGLE BOOK and its follow up THE JUNGLE BOOK: LAST OF THE SPECIES! Follow Ambush Bug on the Twitters @Mark_L_Miller.
---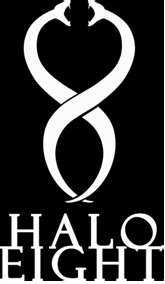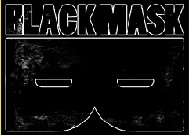 Find out what are BLACK MASK STUDIOS and OCCUPY COMICS here and on Facebook here!


Interested in illustrated films, fringe cinema, and other oddities?
Check out Halo-8 and challenge everything!
---
Find more AICN HORROR including an archive of previous columns on AICN HORROR's Facebook page!