Papa Vinyard here, now here's a little somethin' for ya...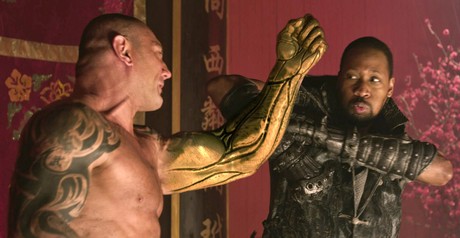 In an interview with Rolling Stone, RZA a.k.a. Bobby Digital a.k.a. Robert Fitzgerald Diggs revealed that he's written a companion piece, of sorts, to his 2012 kung-fu flick, THE MAN WITH THE IRON FISTS. The rapper/producer/writer/director is quoted as saying it's his next project below:
I wrote two movies this year. One is social. It's called ONE SPOON OF CHOCOLATE. The tagline is "One spoon of chocolate can change a whole glass of milk." It's a racism struggle. It's a struggle between two guys and they realize their struggle is minute compared to the real struggle. That one I don't think I'll make as soon as the one I've just finished, which is called STING OF THE SCORPION. It's basically another revisit of THE MAN WITH IRON FISTS saga. It's very different than the first one. The cool thing about writing film and working with Eli Roth and Quentin Tarantino is that Quentin is our teacher and Eli is my classmate, but they've elevated me. I told Quentin my new story and he loved it.
When asked about Tarantino's involvement with the follow-up, RZA said as follows:
For this one I don't think I'll use him. I'll call him for a different one. This one I think I got it. Last one I needed him to godfather me. I kind of copied him a little bit, you know what I mean? He's my teacher – I'm not ashamed of that. But this one here it's not a copy. It's like "Here's what I learned, let me digest it out to the world differently than he would do it."
Considering THE MAN WITH THE IRON FISTS only made about $20 million worldwide on a 15-mil budget, it is interesting that RZA feels this comfortable even discussing the prospect of a sequel. I don't know many people who view the film as much more than an almost-was curiosity, even among those who claim to like it. Personally, I thought that certain elements of it worked, but for every piece that I liked there were maybe 5 things that bugged me (RZA, it's cool that you are willing to try writing and directing feature films, but who asked you to play leading roles in them as well?). If he's willing to give it another shot, I'm more than willing to check it out (particularly if Eli Roth, who made RZA cut out many of his originally-written fight scenes, doesn't touch the script), if only because there aren't that many films like THE MAN WITH THE IRON FISTS, or the superior movies that inspired it, in theaters these days. But I'm not so sure this one's ever going to get past the script stage, considering the returns on the first film.
How many of you are itching to see a follow-up to THE MAN WITH THE IRON FISTS (without my favorite part of the first film, Dave Bautista, who's character is *spoiler alert* dunzo *end spoiler*)?
-Vincent Zahedi
"Papa Vinyard"
vincentzahedi@gmail.com
Follow Me On Twitter