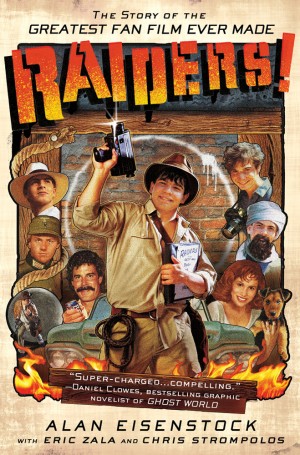 Nordling here.
A bit of a disclosure here - Chris Strompolos and Eric Zala are friends of mine now. The story behind the RAIDERS adaptation is pretty legendary here in these AICN parts, and most of you know it already - how a bunch of kids decided to make the ultimate fan film and remake RAIDERS, taking them seven years to complete. During that time, friendships were tested, lives changed, and eventually kids grew up and went their separate ways, until one fateful BNAT when Eli Roth brought a magical VHS tape and made history.
I was at that BNAT, and since then both Eric and Chris have been to one as well (and hopefully for many BNATs to come). There is no doubt that this childhood endeavor changed their lives forever. It's an amazing story, and would make a great movie, and according to Deadline, producer Jeremy Coon (NAPOLEON DYNAMITE) has optioned the book RAIDERS! THE STORY OF THE GREATEST FAN FILM EVER MADE by Alan Eisenstock, Chris Strompolos, and Eric Zala. Zala and Strompolos will produce two projects with Coon, with the rights to their life stories as part of the package deal.
Coon plans on directing a documentary about the adaptation while he sets up the narrative film, He may also need the help of two juggernauts of the industry - Steven Spielberg and George Lucas. Spielberg briefly met with Strompolos and Zala when the adaptation began making the rounds, and called it "the best piece of flattery George and I have ever received."
It's a wonderful story, and I think it deserves an audience. For any kid who has ever loved film, the story of these young men and women could be a great inspiration to them. It would be difficult to cast at best - it covers probably the most physically challenging years of an adolescent's life, and I don't envy the casting director's job on this project. I really hope that Coon, Strompolos, and Zala make everything work, and with luck and some hard work, we'll see this movie (or movies) soon enough.
Nordling, out.