Ahoy, squirts! Quint here with today's Behind the Scenes Pic!
Over the last few years I've turned this column into nothing but horror BTS pics for the month of October and one constant has been behind the scenes imagery from John Landis' music video of Michael Jackson's Thriller. Not only is Thriller itself one of the best Halloween songs ever, but you have American Werewolf-era Landis directing and Rick Baker makeup, so it's the perfect storm for sweet behind the scene photos.
Today we have just such an image, featuring the Thriller Holy Trinity: Jackson, Baker and Landis. Plus that creepy blue zombie off to the right is in character, even in this downtime! How sweet is that?
Thanks to Balazs Foldesi and the Makeup Media Archive for the image. Enjoy!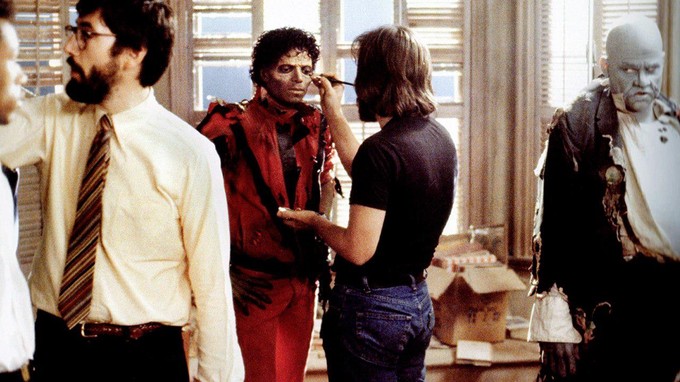 If you have a behind the scenes shot you'd like to submit to this column, you can email me at quint@aintitcool.com.
Don't be afraid of tomorrow's behind the scenes pic.
-Quint
quint@aintitcool.com
Follow Me On Twitter
I've got a lot of maintenance work to do on the previous BTS articles, but you can visit two pages worth of images (beware of some broken links thanks to the last server shift): Click here for Page One and Click here for Page Two!