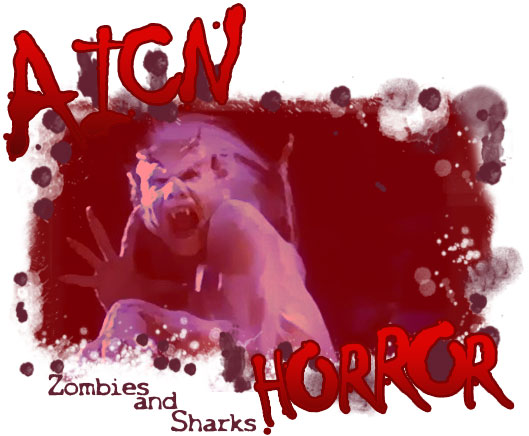 Logo by Kristian Horn
What the &#$% is ZOMBIES & SHARKS?
---
Greetings, all. Ambush Bug here with another AICN HORROR: ZOMBIES & SHARKS column. Another slew of new scares are on tap for this week, and don't forget to continue to follow my countdown of the best of the best in horror since last Halloween every day in October!
Today on AICN HORROR

(Click title to go directly to the feature)
Book review: ON LOCATION IN BLAIRSTOWN: THE MAKING OF FRIDAY THE 13TH
Retro-review: THE AMITYVILLE HORROR TRILOGY BluRay Collection: THE AMITYVILLE HORROR (1979)
Retro-review: ALL NIGHT HORROR MARATHON 4 PACK: THE OUTING (1982)
TALES FROM BEYOND THE PALE SEASON 2: SARAH MINDS THE DOG/ THE CRUSH (2013)
SINISTER VISIONS (2013)
4 DEAD GIRLS: THE SOUL TAKER (2012)
LAUREN IS MISSING (2013)
SHIVER (2012)
FORGETTING THE GIRL (2012)
CURSE OF CHUCKY (2013)
WE ARE WHAT WE ARE (2013)
And finally…Mike Lenzini's M IS FOR MANSCAPING!
---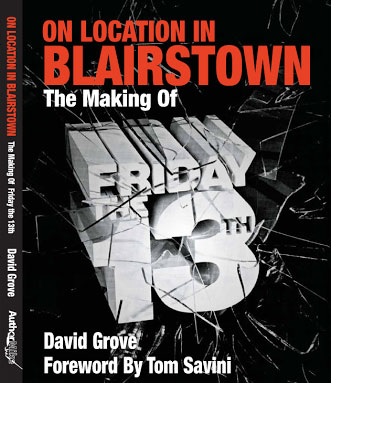 AICN HORROR Book Review!
ON LOCATION IN BLAIRSTOWN: THE MAKING OF FRIDAY THE 13TH
Written by David Grove
Available here
Reviewed by Dr. Loomis
We could debate endlessly on whatever merits have enabled the FRIDAY THE 13TH series to become such an enduring, beloved franchise among horror fans, and if you want to do so in the Talkbacks, feel free. I, for one, can't put my finger on why I love these flicks - I just do. The first four in particular, but really, I'll sit down any time and watch any of them.
Clearly, I'm not alone. The fanbase is huge, and apparently enjoys spending money on just about anything associated with the movies. This year alone has seen a big Blu-ray box set with all of the movies and a separate seven (!) hour documentary on the making of the series. That documentary, CRYSTAL LAKE MEMORIES, is based on a gorgeous coffee table book of the same name that came out a few years ago and is, in the minds of many, the definitive word on the series.
So is there anything left to be said about how these movies were made? Is there much more to examine about the behind-the-scenes workings of a bunch of movies that were shot as quickly and cheaply as possible?
Apparently so. At least, David Grove thinks so. Grove is the author of the just-released book ON LOCATION IN BLAIRSTOWN: THE MAKING OF FRIDAY THE 13TH, a new tome which narrows its focus to the shooting of the classic first entry in the series. This is not Grove's first rodeo when it comes the slasher series - he previously wrote MAKING FRIDAY THE 13TH, an examination of the entire series that came out around the same time as (and was subsequently overshadowed by) the bigger, flashier CRYSTAL LAKE MEMORIES.
ON LOCATION covers some of the same ground those previous books have tread, which is inevitable at this point. I don't recall those other volumes having quite as in-depth a look at the career of series creator Sean Cunningham prior to this, his big breakthrough - a career which detoured through the unlikely duo of children's movies and pornography (no, he never mixed the two, so don't even joke) before settling into the Voorhees groove. It's a little disconcerting to see one of horror's favorite creators labeled as a man with no artistic vision or ambition, but his comments throughout the book do little to dissuade the notion. Cunningham says at multiple points that he wasn't looking to make a big mark on the horror genre - he was simply looking to find a winning formula that would allow him to make a buck.
After the extensive pre-FRIDAY section the book moves into a week-by-week chronicling of the shoot. Again, there's a lot here that we've heard before in the other books and countless magazine articles that have been devoted to the series, but Grove works hard to present it all in an interesting, highly readable manner. The text is accompanied by tons of location photos (some from the time of the shoot, and some from present day), behind-the-scenes photos from the set, and even some sketches and diagrams of the movie's groundbreaking FX work. The selection is sizeable, but it's also one place where the book simply can't measure up to its more expensive predecessor - many of the photos are small, they're all in black-and-white, and the paper the book is printed on just a few steps above newsprint.
That quibble aside, ON LOCATION IN BLAIRSTOWN: THE MAKING OF FRIDAY THE 13TH deserves a place on the bookshelves of F13 fans. I think it may be a little too specialized for casual horror fans, but devotees of all things Voorhees will find a winning mix of familiar anecdotes and new minutiae to keep them occupied until the next entry in the series comes out.
ON LOCATION IN BLAIRSTOWN: THE MAKING OF FRIDAY THE 13TH is available now
!
"Dr. Loomis" is Blu Gilliand, a freelance writer whose work has appeared in the fright-filled pages of DARK SCRIBE, DARK DISCOVERIES, SHROUD MAGAZINE, FEARnet.com and Horror World, among others. He also runs his own blog, October Country, devoted to horror and crime fiction. Feel free to stalk him on Twitter (@BluGilliand) at your own risk.
---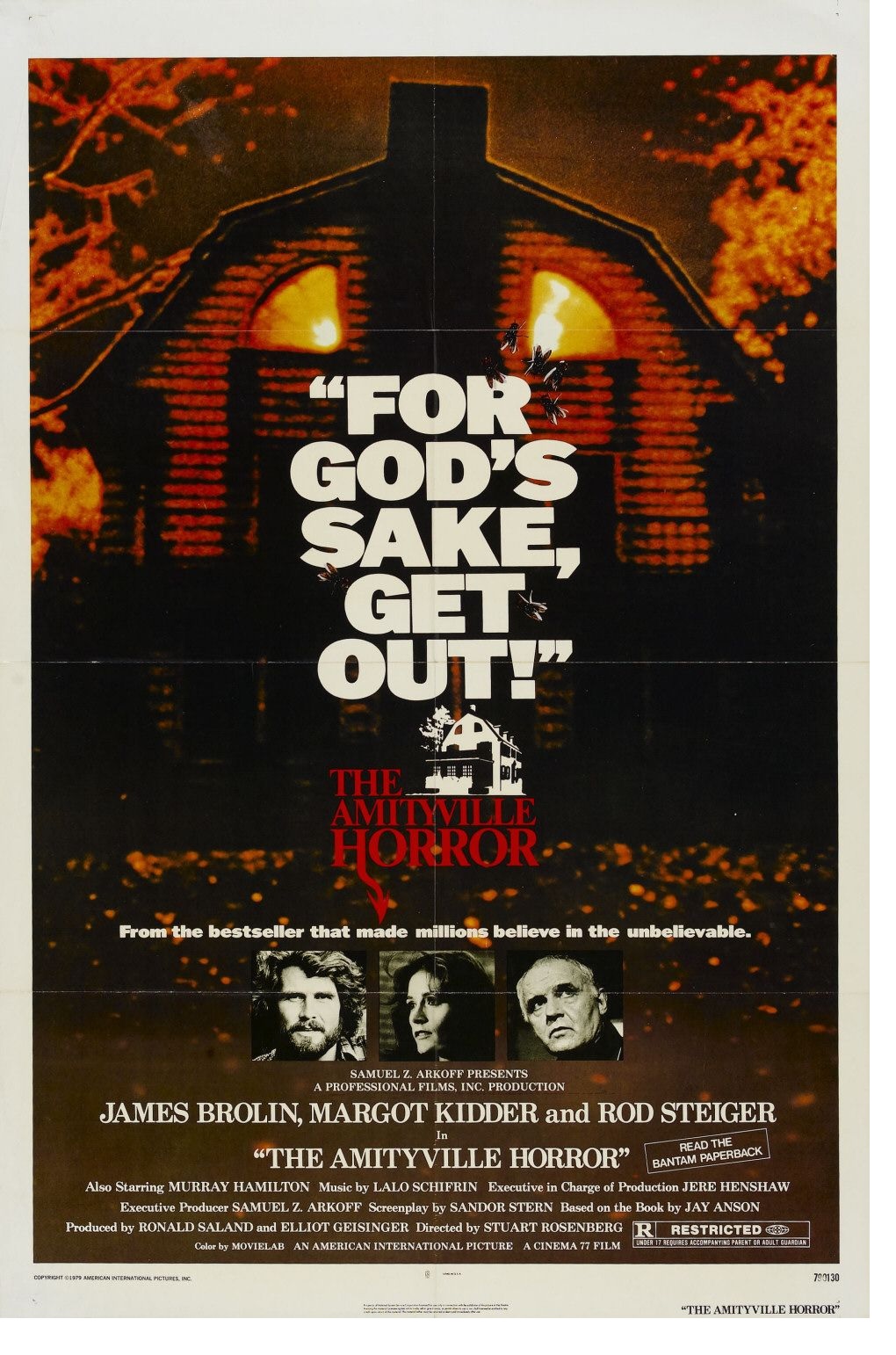 Retro-review: New on BluRay from The Shout Factory!
THE AMITYVILLE HORROR BluRay Box Set: THE AMITYVILLE HORROR (1979)
Directed by Stuart Rosenberg
Written by Sandor Stern (screenplay), Jay Anson (book), George & Cathy Lutz (uncredited story)
Starring James Brolin, Margot Kidder, Rod Steiger, Don Stroud, Murray Hamilton, John Larch
Retro-reviewed by Ambush Bug
For the first time on BluRay, the cool chaps at The Scream Factory are putting out THE AMITYVILLE HORROR trilogy in a box set. I'll be checking out all three in succession in the next few weeks, starting with the one that started it all, THE AMITYVILLE HORROR!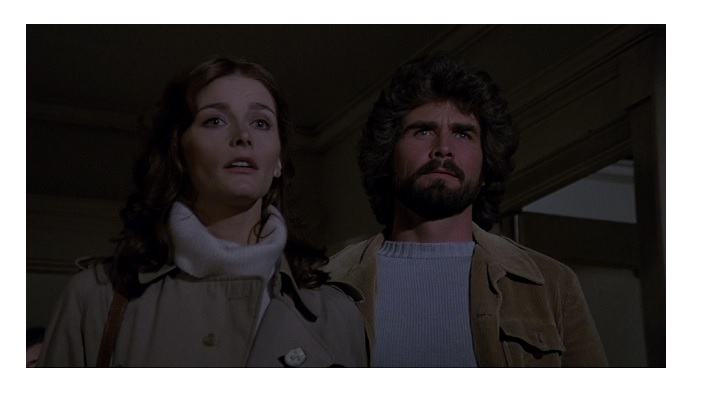 Though THE AMITYVILLE HORROR is viewed as a classic, I believe it is one of those films that played more effectively in the time it was released. That doesn't mean that there are not moments of sheer scare at play here. I just feel that the film plays it somewhat safe, and while I feel the recent remake didn't really do the actual story of the Lutz' ordeal in that house in Amityville justice, I feel a film depicting what went on in the house really has yet to be made.
Still, THE AMITYVILLE HORROR has a lot going for it. First and foremost: the cast. James Brolin has done a lot of work in his career, but for me, the actor is going to be best known for his role in this film as the seething George Lutz, who is slowly possessed by the evil spirits that fester in the dark corners of the house. Brolin does a fantastic job of playing a man split between id and ego, fighting the urges and insecurities all men feel and losing control of them as the film goes on and the house chips away at him. His caveman-like appearance with bushy hair and beard only supports the notion that this house is devolving Lutz into something much more animal-like.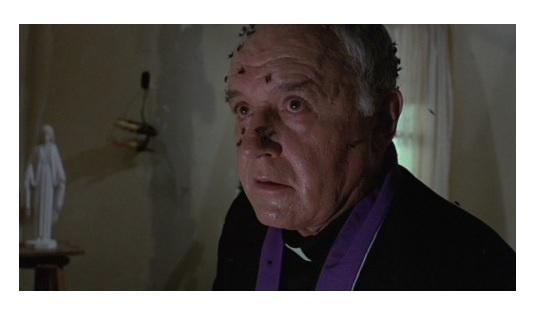 The rest of the cast is great too, with Margot Kidder looking smokin' in this film. I agree that she was not portrayed in the most attractive light in the SUPERMAN films, but man is she hot in this film, showing off some nice side-boob for all to enjoy. Kidder's Cathy Lutz also teeters in between strong female and damsel in distress well in this film, switching roles as all good mothers often have to as she navigates the difficult transition for her and her children as they take in Lutz as her new husband and her children's foster father.
Haunted house films are often the setting ripe with metaphor for struggles in the family, and this film is no exception. THE AMITYVILLE HORROR house represents the sanctity of the home gone bad. The film proves to be somewhat of a downer of a look at the modern family as the Lutz's buy the home even though it's a steal. The Lutz's are looking at it through starry eyes, but as the house begins to reveal its dark roots, so does the relationship between George and Cathy until they almost kill one another.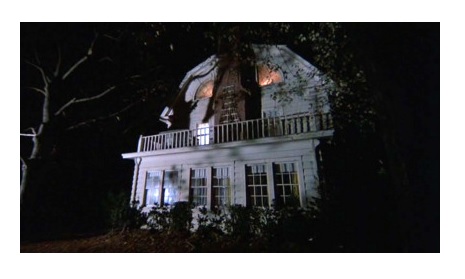 With the dark history of the house only alluded to, this is one of the few horror franchises where I liked the sequel more than the first, but I'll get into that when I look at the sequel next week.
THE AMITYVILLE HORROR is a good one, but aside from a really terrifying scene where Kidder sees a pair of eyes looking at her from the darkness, I think modern audiences are going to wonder what all the hubbub is all about. While it might be up to a CONJURING sequel to really do the Lutz family story justice, this one does a decent job of it.
---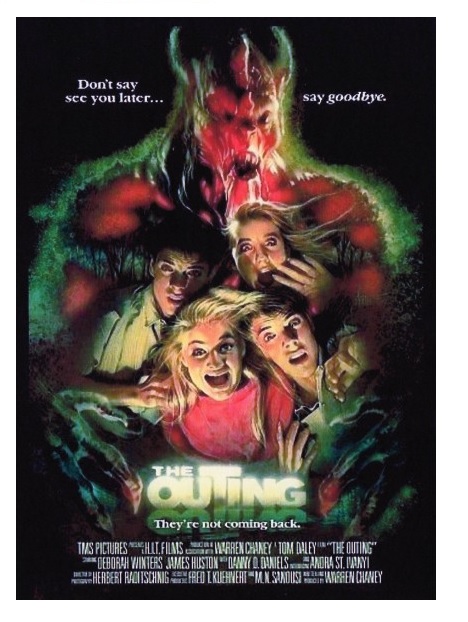 Retro-review: New on BluRay from The Shout Factory!
ALL NIGHT HORROR MARATHON 4 PACK: THE OUTING (1982)
aka THE LAMP
Directed by Tom Daley
Written by Warren Chaney
Starring Deborah Winters, James Huston, Andra St. Ivanyi, Scott Bankston, Red Mitchell, André Chimène, Damon Merrill, Barry Coffing, Tracye Walker, Raan Lewis, Hank Amico, Brian Floores, Michelle Watkins, Danny D. Daniels, Roy Alan Wilson
Retro-reviewed by Ambush Bug
I figured I'd go in reverse order on this four pack from The Scream Factory, glomming four dissimilar horror films together in one cheaply priced pack. The four films include THE OUTING, THE GODSEND, THE VAGRANT, and WHAT'S THE MATTER WITH HELEN? Over the course of the next few weeks, I'll be watching them all.
I love lamp, but I don't love this movie.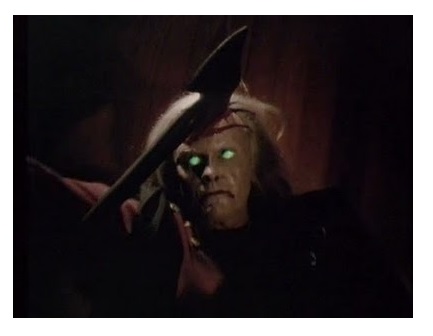 Out of the four films in this quadruple feature, THE OUTING was one I hadn't seen or heard of, so I went with it first. Here's hoping the worst is past, because this is one stinker of a film. The film starts out with some rough types setting up to break into an old lady's house and rob her. When they stumble across a magic lamp hidden in the wall of her room after killing the old broad with an axe and trashing the place, one of them rubs the lamp just like in the movies!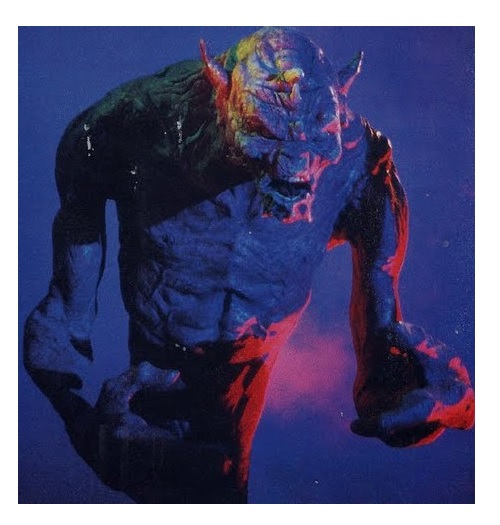 Well, it turns out this genie doesn't grant wishes, it just kills people in highly unimaginable ways. Basically, this gives the filmmakers an excuse to do just about everything they can within budget (and it ain't high) and write it off to genie magic. So death comes in the form of floating spears, snakes, a puppeteered mummy corpse, a ceiling fan, and last but not least a big rubber model of a genie which is barely articulated and moves like a rubber model because it is a rubber model.
The acting in this one is as bad as the hairstyles in this 80's throwback. Though it's going for sheer terror, you're going to be laughing more than shaking at THE OUTING.
The most frightening thing in the film is the fact that the two bullies of the film are over-the-top racist by calling their African American principal the N-word and then raping an African American woman later on. I was more offended by these scenes than any of the genie carnage that transpired in THE OUTING.
---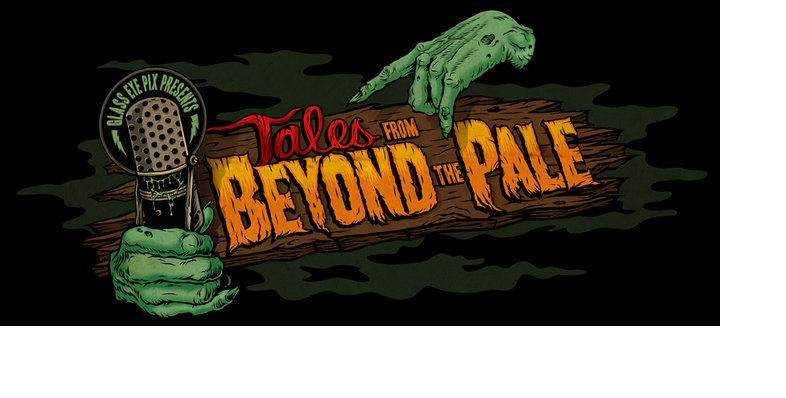 New on CD or digital download here!
TALES FROM BEYOND THE PALE SEASON TWO (2013)
Find out more about this film here and on Facebook here
Reviewed by Ambush Bug
A while back I covered the first season of TALES FROM BEYOND THE PALE, a radio show-style anthology series from the mad mind of JUGFACE/YOU'RE NEXT star and BENEATH/HABIT director Larry Fessenden. Fessenden has gathered another cadre of talent to bring this new season to life, and I'm going to sit down with each of them to give you the what's what about them all over the next few weeks.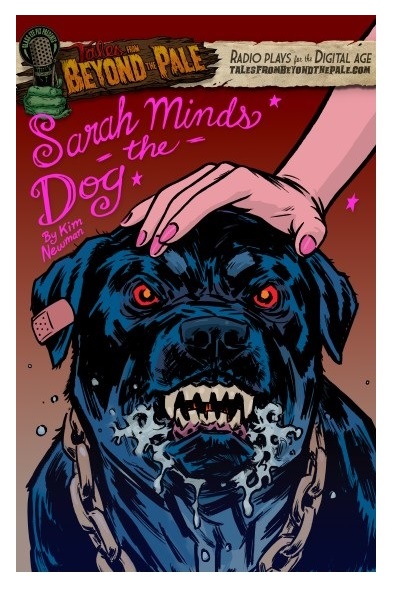 Episode 2.5: SARAH MINDS THE DOG
By Kim Newman (writer), Glenn McQuaid (director)
Starring Leila George, Alison Wright, Richard Mazda, Aidan Redmond, Larry Fessenden
ANNO DRACULA's Kim Newman brings forth a wicked tale of a dog walker who finds herself in a predicament, solves it, and then finds herself in another one. I want to be vague because the fun is in the details of this devious little number. Though this one feels shorter than most of the tales I've heard so far that lie beyond the pale, it is no less effective. And though there are dire things happening in this tale, it is one of those dark little stories that makes you chuckle evilly under your breath. If you have a wicked sense of humor as I do, you're going to love SARAH MINDS THE DOG.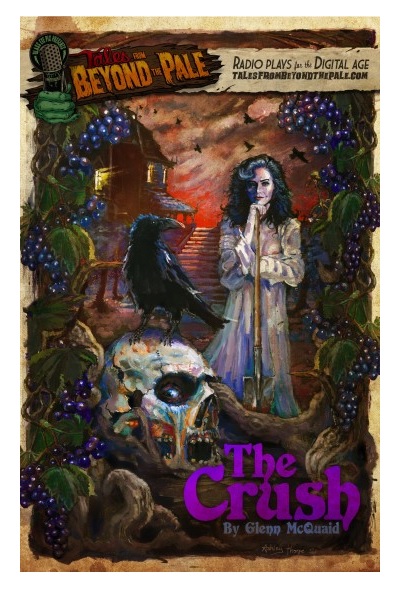 Episode 2.6: THE CRUSH
By Glenn McQuaid (writer/director)
Starring Sean Young, Matthew Stephen Huffman, John Speredakos, James Le Gros, Larry Fessenden
Sean Young offers her voice to this haunting yarn of down home backstabbing in wine country. This one is a deviously black tale which ends somewhat predictably, but with Young as the lead, the delivery has an oomph that makes it unique. I especially love the descriptions of the ghost/corpse creatures that show up later on. This one has a more classic feel that makes the listen feel like one of those classic radio plays of old. Nice and creepy.
Recorded in front of a live audience, all of these mini-radio plays are available for download and purchase on the
TALES FROM BEYOND THE PALE website
.
---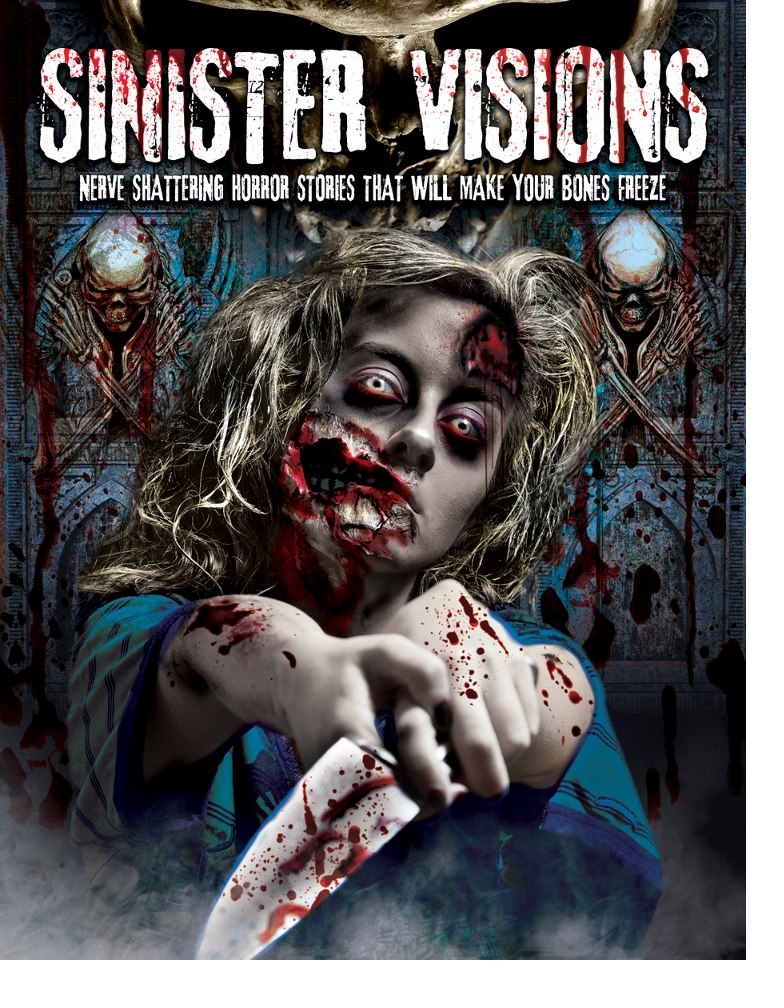 New this week on DVD from Chemical Burn Entertainment!
SINISTER VISIONS (2013)
Directed by Henric Brandt ("My Undead Girlfriend"), Doug Gehl ("Genital Genocide"), Kim Sønderholm ("Mother Knows Best", "A Woman Scorned", "Succubus")
Written by Cody Cather & Doug Gehl ("Genital Genocide"), Garry Charles ("Mother Knows Best", "A Woman Scorned"), Lars Egholm Fischmann ("Succubus"), Stefan Bommelin, Henric Brandt, Andreas Rylander, & Rasmus Tirzitis ("My Undead Girlfriend")
Starring Toke Lars Bjarke, Kim Sønderholm, Tori Montgomery, Pamela Ricardo, David C. Hayes, Ralf Beck, Michael Harrelson, Debbie Overbey, Pontus Olgrim, Peg Thon, Nadia Bond, Miriam Yeager, Camilla Löjdström, Cody Cather, Stefan Jonason, Kat Herlo, Lars Egholm Fischmann, Doug Gehl, Liana Hubbard, Mette Løvendahlm, Babs Brinklund, Mehrnaz Bagheri Beiknejad, Andrea Santos, M.G. Huff, Henric Brandt
Find out more about this film here
Reviewed by Ambush Bug
While I wouldn't describe this anthology as the best or the worst, I would describe SINISTER VISIONS as disjointed. Playing more like a collection of shorts glommed together than an actual anthology, the only thing tying these little vignettes from directors from around the world together is the disc space they share on the DVD.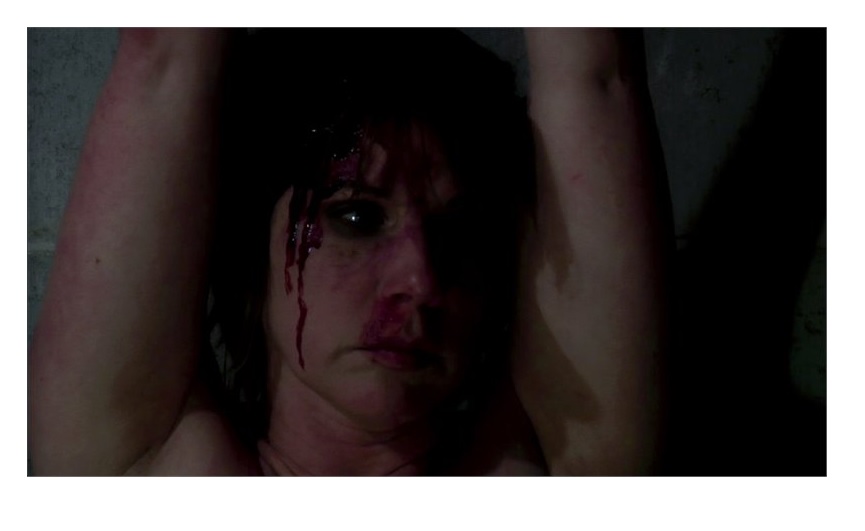 But despite the lack of a linking factor, SINISTER VISIONS does have a couple of high points. Some of the shorts aim high but don't really make it, while others do well with big ideas performed on a smaller scale.
My favorite of the bunch was the comedy of errors "My Undead Girlfriend", who despite the fact that she's become wormfood, one boyfriend takes painstaking measures to hide it from her parents. A typical stressful evening with one's girlfriend's parents becomes all the more stressful when their little darling wants to eat everyone's brains. Cartoonish to the nth degree, this one is pretty entertaining up until the madcap end.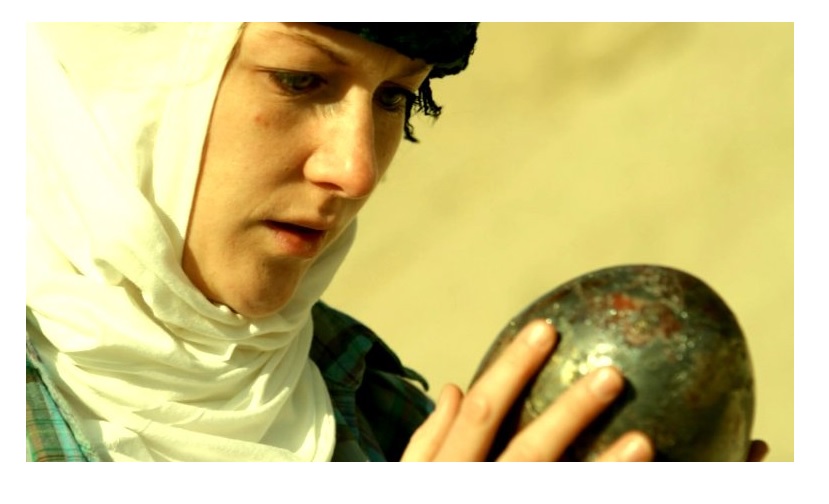 Another highlight is "Mother Knows Best", a predictable yet well-acted and well-scripted little ditty about a mother who can't be satisfied with the girls her son brings home twisted into a perverse nightmare. You know where this is going from the beginning, but the trip is deviously fun.
"Succubus" is one of the ones that swings big and rolls well with the concept of an evil creature which uses sex to entice men to their deaths, but aside from some impressive monster makeup and body painting, there's not much more to this one.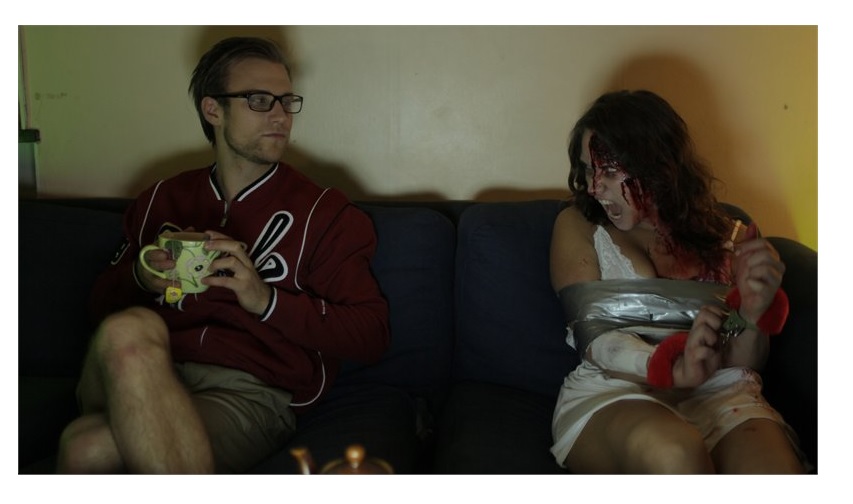 "A Woman Scorned" is a decent couple of minutes, with an ex-girlfriend taking her ex and his new beau hostage. Here the acting is not the best, but I liked the script, which goes to some decently dark places.
The finale, "Genital Genocide", was gratuitous and gory—basically, what one might expect out of a final chapter as it leaves us with a bloody mosh pit of a gore scene. The story itself is pretty weak, as is the over-the-top acting.
SINISTER VISIONS is as disjointed in quality as it is in tone and theme. Don't go looking for CREEPSHOW quality, but some of the shorts presented show some kind of promise.
---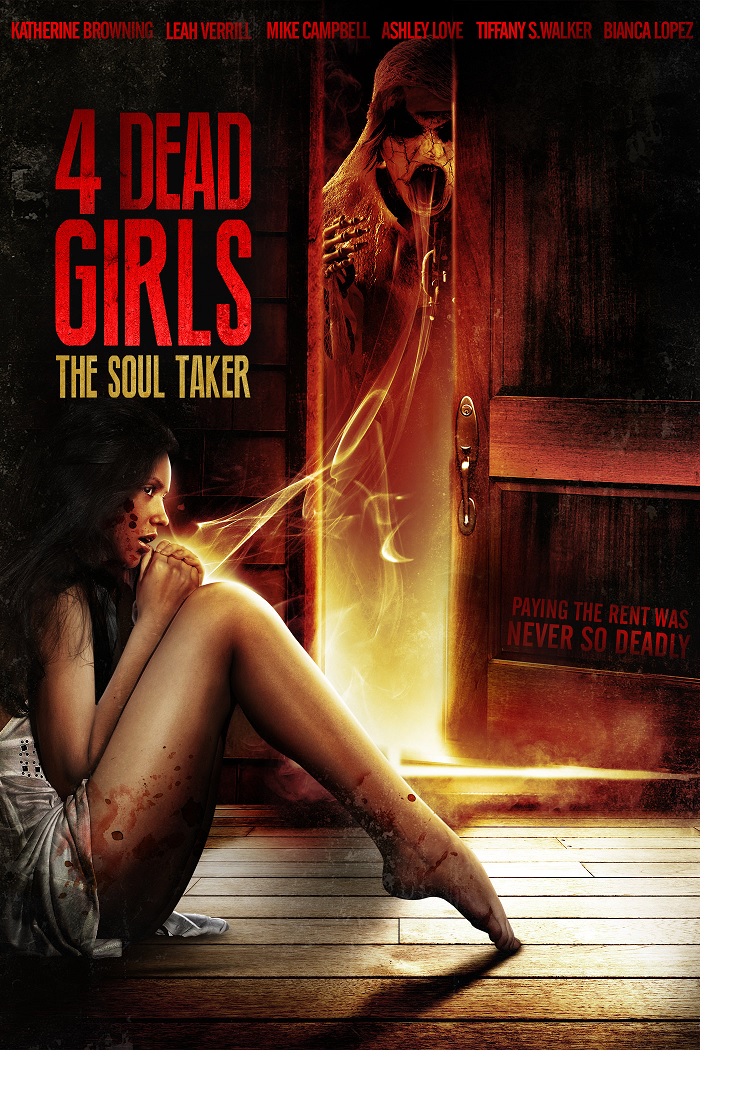 New this week on DVD from Breaking Glass Pictures!
4 DEAD GIRLS: THE SOUL TAKER (2012)
aka THE RENTAL, THE TAKEN
Directed by Mike Campbell, Todd Johnson
Written by Mike Campbell, Todd Johnson
Starring Katherine Browning, Mike Campbell, Leah Verrill, Ashley Love, Tiffany S. Walker, Jonny Lewis, Bianca Lopez
Reviewed by Ambush Bug
With a title like 4 DEAD GIRLS, you can't fault the film for being honest with you. The film actually does have a four girl death count, so if you're looking for truth in advertising, this one does it.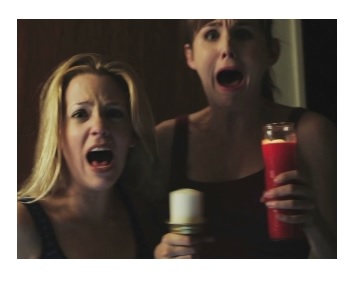 That doesn't mean it's good. The main problem with 4 DEAD GIRLS: THE SOUL TAKER is that all involved are working way too hard to get an Oscar for their performances rather than just having fun with what is obviously a low budget horror flick. Now, I don't mean to fault the female cast for trying, but there's a lot of melodrama going on here, and while some beef around by schlock is nice to see from time to time, too much beef makes you feel bloated, and that's just what this story about four roommates who get suckered into taking a new apartment owned by a soul eater is. Running about a half hour too long, a nice big edit on this film would actually make it kind of enjoyable, as the actresses aren't necessarily bad. They're just given way too much time to mope and emote.
It doesn't help that Mike Campbell, who plays Devlin Chiodo the Soul Stealer himself, isn't really that scary. Dressed in a robe and spook makeup you can buy at a drug store, Campbell makes like a cheap haunted house spook, which is not very effective at all. The special effects used when the soul stealer steals souls turned out nice, though.
While I like indie films, this one just didn't grip me, mainly because of the ineffective villain. Still, the acting is better than most, and the use of one locale is inventive and has enough indie scrap for me to give 4 DEAD GIRLS a mild recommendation.
---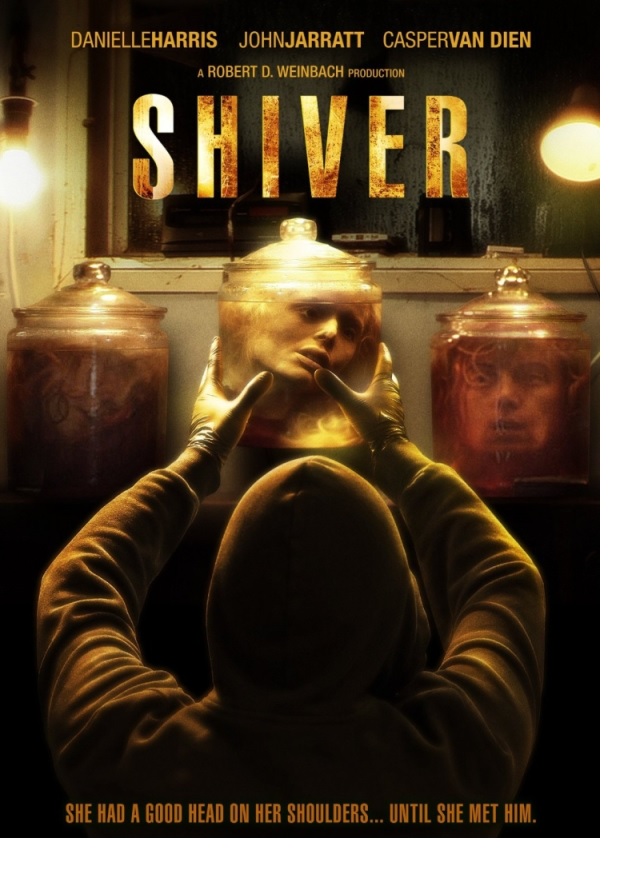 New this week on DVD!
SHIVER (2012)
Directed by Julian Richards
Written by Brian Harper (novel), Robert D. Weinbach (screenplay)
Starring Danielle Harris, John Jarratt, Casper Van Dien, Rae Dawn Chong, Mckenzie Coffee, Valerie Harper
Find out more about this film here
Reviewed by
Ambush Bug
SHIVER features two actors who deserve to be in a much better movie. Though this one tries to be intense and taboo, it barely caused me to squirm despite the best efforts of the beautiful and talented Daniele Harris and the equally talented, though somewhat less attractive, John Jarratt.
The story opens with a weirdo who is later called the Gryphon (Jarratt) walking into a diner and trying to pick up a waitress who is much younger, and infinitely out of his league. When she turns him down, the creep snaps and murders her in the parking lot after work. This film is unclear whether this was the straw that broke the crazy camel's crazy-back or if the Gryphon had been doing this kind of thing for years. Flash forward a few years and we meet Wendy (Danielle Harris), whose mother (played by the nagging Valerie Harper) won't leave her alone about her choice in boyfriends, spending, and career. Unbeknownst to Wendy, she's become the next target for the Gryphon. When Wendy narrowly escapes his first attempt to abduct and kill her, the Gryphon begins a quest to reclaim her, believing that her escape means that she is the perfect life partner for him.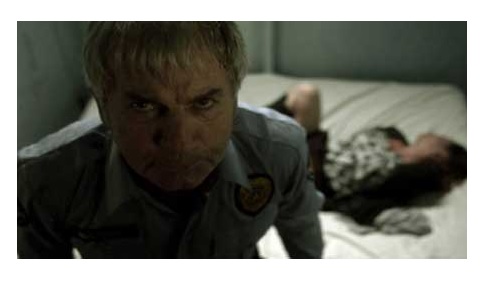 Everything from the story to the script to the ending feels like a million other films we all have seen before. The Gryphon's mad rants and the pleadings from Wendy are made of some of the most melodramatic and clichéd dialog you're ever going to see. In every way, the story, direction, and tone of SHIVER is bleh.
That said, I did have fun with seeing Harris and Jarratt on screen do their thing. Harris has played this role of the spunky but screaming damsel before and basically could do it in her sleep by now. Still, she is smartly allowed some moments to shine as in a scene where she tries to tell her nagging mother about her attack, but can't, and in some of the scenes where she attempts to get on the Gryphon's good side.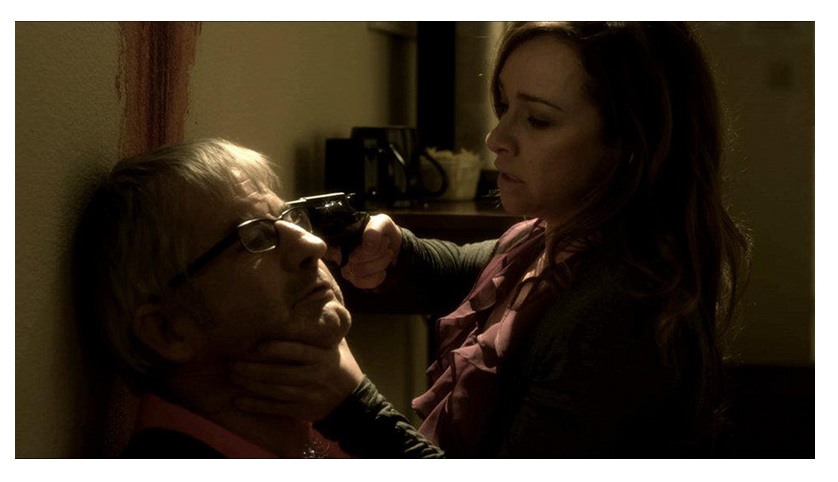 Jarratt is equally great here, and it astounds me how effectively menacing, yet wholly different his portrayal here is from his star-making performance in WOLF CREEK. Jarratt isn't afraid to make the character look pathetic and weak here, and it's to his testament that some of the clunky lines actually work coming from his talented mouth.
It's a shame strong actors like Harris and Jarratt don't get a chance to be in bigger films. Harris is absolutely beautiful and has some damn fine acting chops, and Jarratt juggles menace, likability, charm, and despair like hats, trying them on with ease and having all of them fit perfectly. SHIVER is a good showcase of some talented actors (plus they managed to unearth Rae Dawn Chong, so that's another plus for it), but that's about it.
---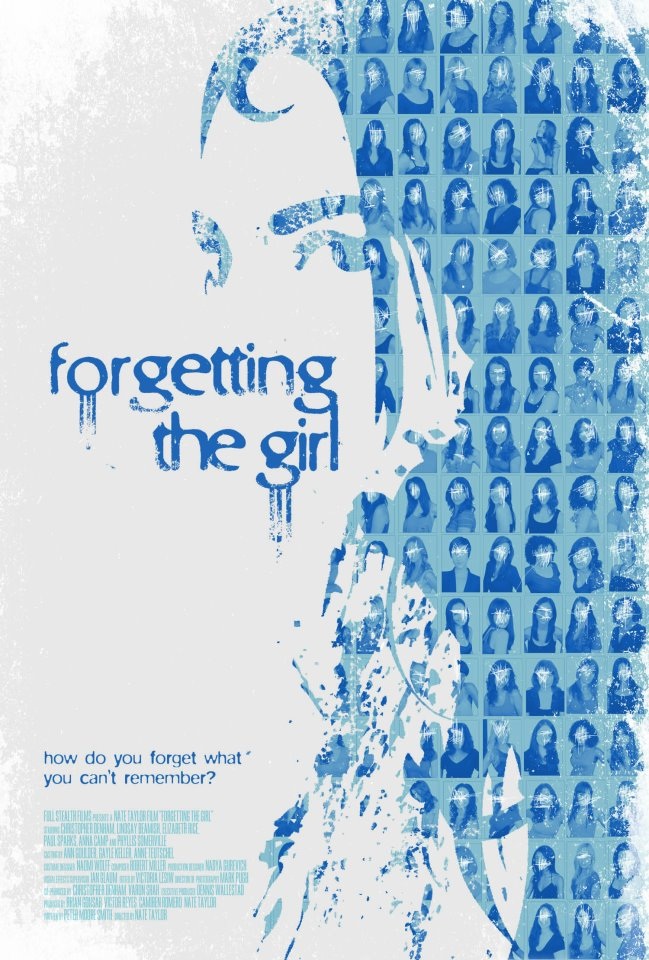 New in select theaters and on Video On Demand!
FORGETTING THE GIRL (2012)
Directed by Nate Taylor
Written by Peter Moore Smith
Starring Christopher Denham, Lindsay Beamish, Elizabeth Rice, Paul Sparks, Anna Camp, Phyllis Somerville, Joel de la Fuente
Find out more about this film here!
Reviewed by Ambush Bug
Though it might be a bit of a stretch to call this film a straight-up horror movie, it surely isn't a stretch to brand FORGETTING THE GIRL as the favorite film I saw this week. The film, written as a short story by Peter Moore Smith and adapted to screen by the same author, is an electrifying dissection of a damaged man dealing with flawed logic and social handicaps in his own unhealthy way.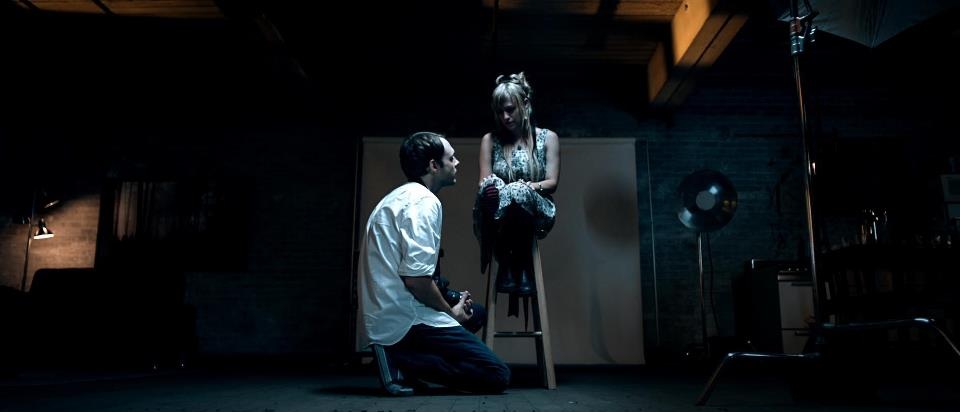 Christopher Denham is absolutely amazing in the starring role of Kevin Wolfe, a likable yet socially awkward professional photographer who makes it a point to ask out every girl he photographs. Occasionally, playing the odds, some of them even accept his offer for a date, but Kevin being socially deficient somehow scares them away with his intensity and tendency to take things a bit too fast (professing his love after one date, for example). In order to get over his rejections and failed attempts at connection, Kevin deals with this in sometimes healthy ways, like reading a book or taking up a new hobby, or sometimes unhealthy ways like obsessing about them, calling them relentlessly, and most often more severe deviant and malicious behavior towards his rejectors or anyone else who happens to be in his vicinity.
Just from this description, it's pretty obvious that FORGETTING THE GIRL is not your typical horror film in that the terrors at play here are much more on a psychological level. Kevin is a deeply disturbed individual, scarred by an event from his past that left deep emotional wounds. As Kevin's failed relationships pile up and his deviant behavior expands and grows more dangerous, the film works its way to a climax that is both shocking and emotionally resonant long after the credits.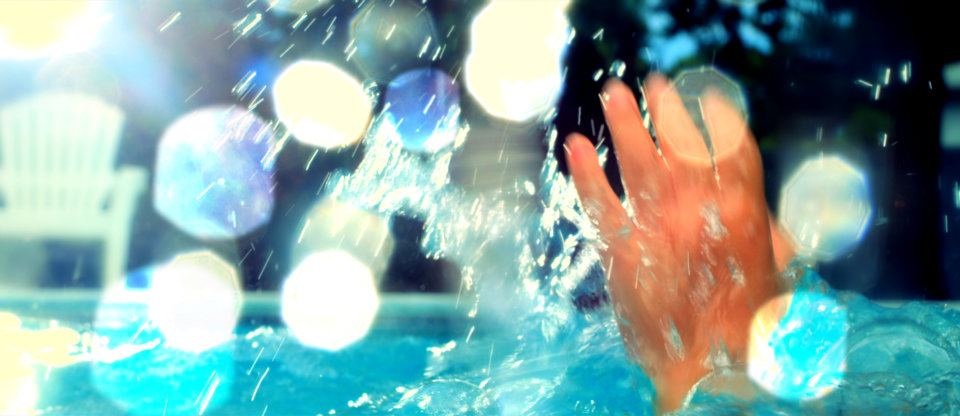 The highlight here, and the thing that sells this complex character piece, is actor Christopher Denham, who also appeared in SHUTTER ISLAND as an inmate. In this film, Denham plays a typical Norman Bates-type character: seemingly harmless and downright charming one minute, bound to pounce on you the next. The emotional ride this actor is able to take the viewer on is mesmerizing, and definitely assures this actor as someone who will one day be a star to take note of. Denham's confession to the viewer with a slideshow playing in the background is an amazing way to peel back the mask of normalcy Denham's Kevin character wears to reveal a deeply troubled soul.
If you like your horror on the psychological side, FORGETTING THE GIRL is a surefire pleaser. Directed tightly and meticulously, acted superbly, thematically emotionally crippling, FORGETTING THE GIRL is a film not easily forgotten.
---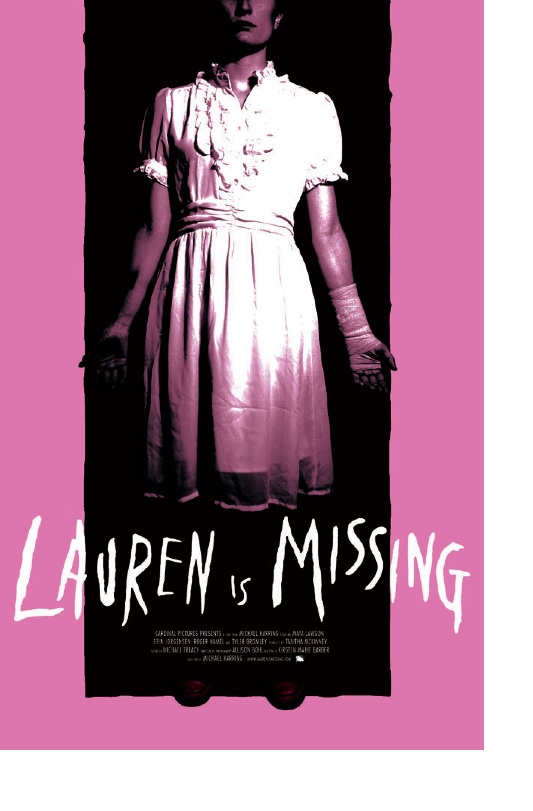 Advance Review: Touring festivals!
LAUREN IS MISSING (2013)
Directed by Michael Harring
Written by Kirsten Barber
Starring Maya Lawson, Erin Jorgensen, Kirsten Barber, Roger Hamel, Tyler Bromley
Find out more about this film here and on Facebook here
Reviewed by Ambush Bug
Quirky is the best way to describe LAUREN IS MISSING, an indie gem that is touring the festival circuit at the moment and hopefully will find its way into your eye sockets some time soon. With a small yet talented cast, this film is bound to freak some people out and charm others. I felt a little of both after watching it.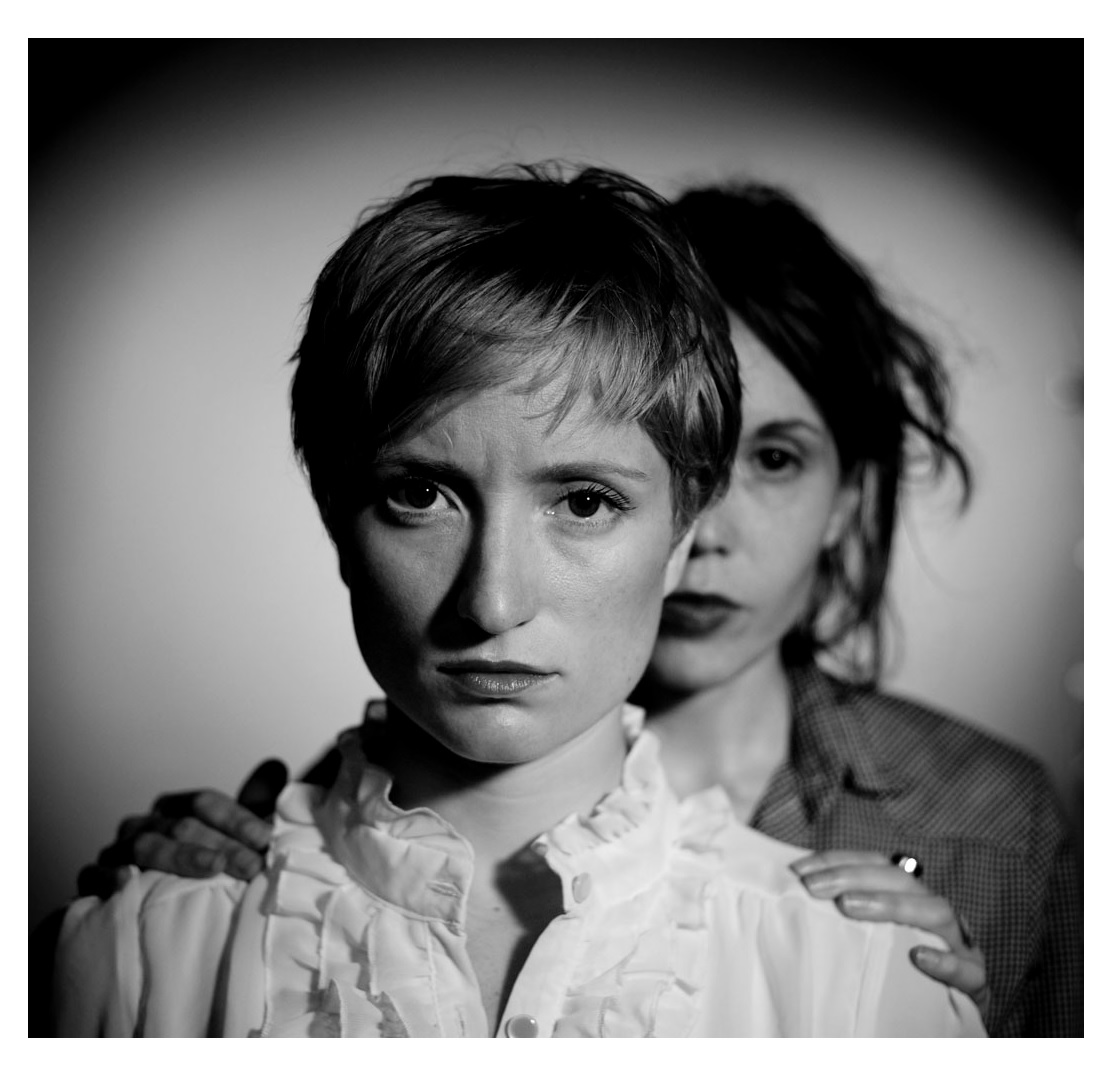 Kristen Barber wrote the story and plays Lauren, a roommate of Mia (the film's actual star, played by the tragically plucky Maya Lawson). Mia arrives at the apartment after an extended trip to find the place in disarray and Lauren nowhere to be found. After multiple attempts to contact her, Mis gives up and finds a new roommate Millie so she doesn't get evicted. She also finds a job at a taxidermy shop and notices a blind man outside of her apartment who seems to be staring in at her from the sidewalk. Soon, Mia (Erin Jorgensen) begins to think something is amiss with her flaky roommate Lauren's disappearance, but by then, it's too late.
LAUREN IS MISSING is one of those films which takes you on a journey through the perspective of one person. And this person is slightly off kilter. As it is explained at the beginning when Mia attempts to get her old job back at the video store, Mia is one of those cracked eggs. She's seen as toxic at the store, and they are happy as clams to keep her off of the schedule indefinitely. We also see Mia doing some pretty peculiar things, like firing at those who pass by her window with a toy gun and refrigerating the squirrel she hit on her scooter. So, right off the bat, this is one of those films that feels like you can't trust what's going on because the protagonist is nuts.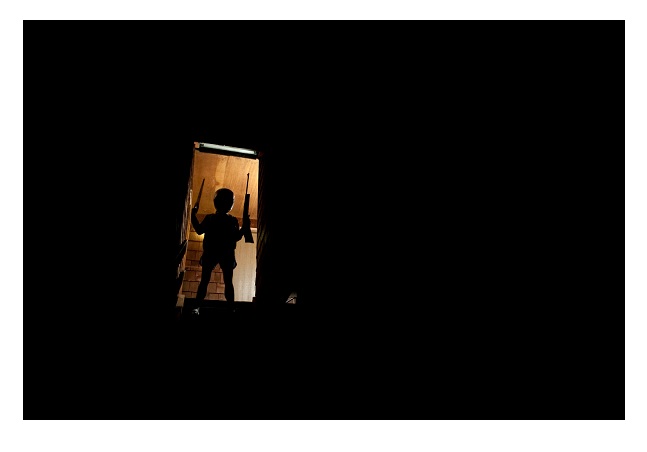 Michael Harring directs from Barber's engaging script and was able to keep me enthralled in Mia's antics through the entire film. Though not a lot is accomplished, Harring allows the camera to just follow Mia on her journeys, and she is a fascinating little sprite to follow. I especially like the alone time Harring's camera focuses on, showing Mia's loneliness and attempts to connect despite her disconnection with everything around her. As she developed a friendship with Millie, I began to suspect that Millie even existed at all. Maybe I've just seen too many films to trust them any more, but while everything is not explained by the end, you're going to get a sense that you've lived in the crazy skin of Mia and that crazy isn't all bad, but it usually ends badly.
Filled with little moments of fun that make you feel like you are looking in on someone's diary (like the scene where Mia and Millie look through Lauren's diary she left behind), LAUREN IS MISSING doesn't really get horrific until the final moments as it skews into a surreal lullaby, but the trip to the end is one filled with plenty of precious moments spent with a fascinating, yet batshit, protagonist.
---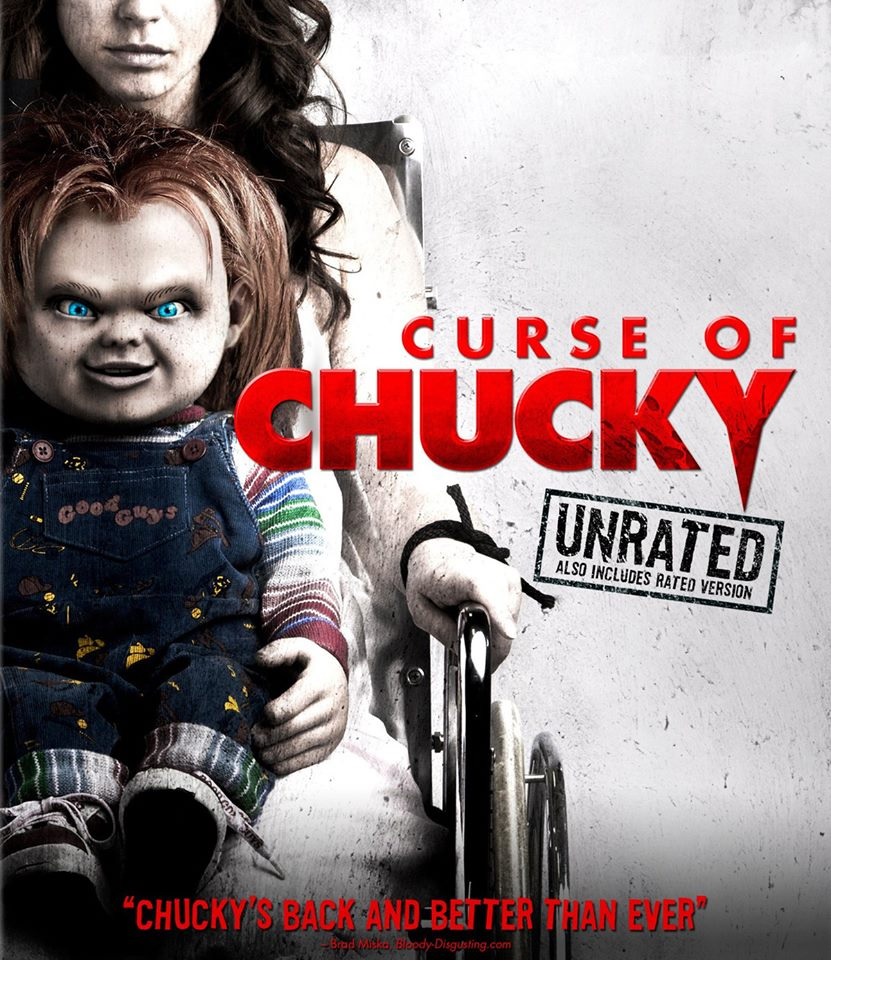 New this week on BluRay/DVD!
CURSE OF CHUCKY (2013)
Directed by Don Mancini
Written by Don Mancini
Starring Fiona Dourif, Danielle Bisutti, Chantal Quesnelle, A Martinez, Maitland McConnell, Brennan Elliott, Adam Hurtig, Summer H. Howell, & Brad Dourif as Charles Lee Ray/Chucky
Find out more about this film on Facebook here
Reviewed by Ambush Bug
I've never been the biggest Chucky fan. Sure I loved the first one, and even thought the second and third had their moments, but they never really scared me. Once things went meta with BRIDE and SEED OF CHUCKY, scary really wasn't really a factor anymore, although I have to admit there was a definite creep factor to that fucking little kid doll in SEED OF CHUCKY. So when I found out there was going to be another CHUCKY movie, I was happy as I always am to see a direct sequel to an 80's franchise, but I wasn't really expecting any scares.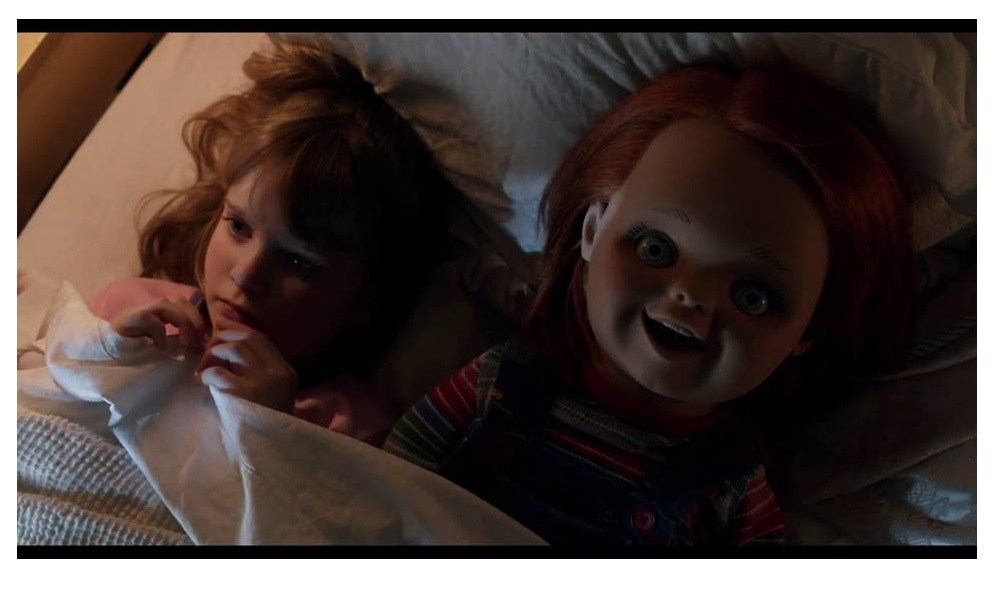 Man, was I wrong. I've seen plenty of sequels, but very few are this good and even fewer can say that they are better than the original, but CURSE OF CHUCKY manages to be both. Not only does Don Mancini bring Chucky back to his creepy roots, but he also manages to make the little bastard the scariest he's ever been. By simplifying the story and casting the film as more of a suspense thriller than a comedy, Mancini has done what the FRIDAY THE 13TH, NIGHTMARE ON ELM STREET, TEXAS CHAINSAW MASSACRE, and HALLOWEEN remakes failed to do: breathe new life into a horror franchise.
The film takes place mostly during the span of one dark night as two sisters gather after the funeral of their mother, who died mysteriously. One of the sisters (Barb, played by Danielle Bisutti) has a family--a husband, a daughter, and a nanny. The other (Nica, played by Fiona Dourif) is bound to a wheelchair and has been taking care of her shut-in mother for years. There's the usual strife and drama between the sisters when one takes care of mama while the other leaves the nest and starts a family of her own, and this is acted well by both actresses--acted so well that you don't even realize that there's no Chucky to be seen in a good chunk of the first portion of the film.
One of the true demystifying elements of the sequels was that Chucky was brought to the forefront. The last two sequels were especially guilty of this. Chucky became more of an Al Bundy character, with a nagging wife and annoying kid. Making him a family man may have been a novel concept, but it also diluted the character to be toothless and unfrightening. The early sequels also brought Chucky into the light, whereas the spookiest part of the original CHILD'S PLAY happens when Chucky is scampering around in the background or off camera. Somehow, Mancini (has written all of the Chucky films) forgot with the sequels what made Chucky scary in the first film.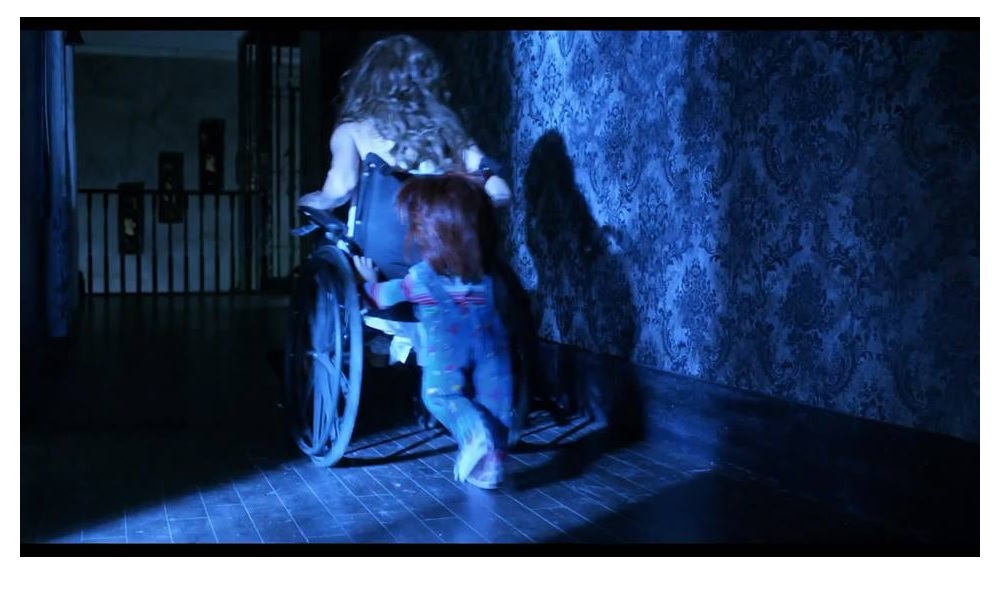 Luckily, he remembers it for this film, as there is a real mystery at play. Sure we know the Good Guy doll is possessed by a bastard serial killer, but the rest of the characters don't, and when they turn out the lights in the old house, they don't realize that it will be the last time they do so. But not only is this a clever "and then there were none" scenario; there's also the mystery as to why the hell Chucky is targeting this family. Now, the answer to that one isn't the most creative, but the way Mancini fits it into continuity with we already know about Charles Lee Ray is pure genius. The fact that not only do we hear Brad Dourif's voice in this one, but see him as well, is a treat most fans of the series are going to love.
Mancini really brings back the tension to the series with some nicely paced stalk and slashings, a couple of great reveals when we finally do see Chucky, and a game of Russian Roulette involving some bowls of chili and a tablespoon of rat poison that is more creative than I thought possible in a CHUCKY film. There are scenes in here that made me smile from lobe to lobe because one can tell Mancini is having so much fun giving Chucky teeth again and not worrying about making us laugh all of the time.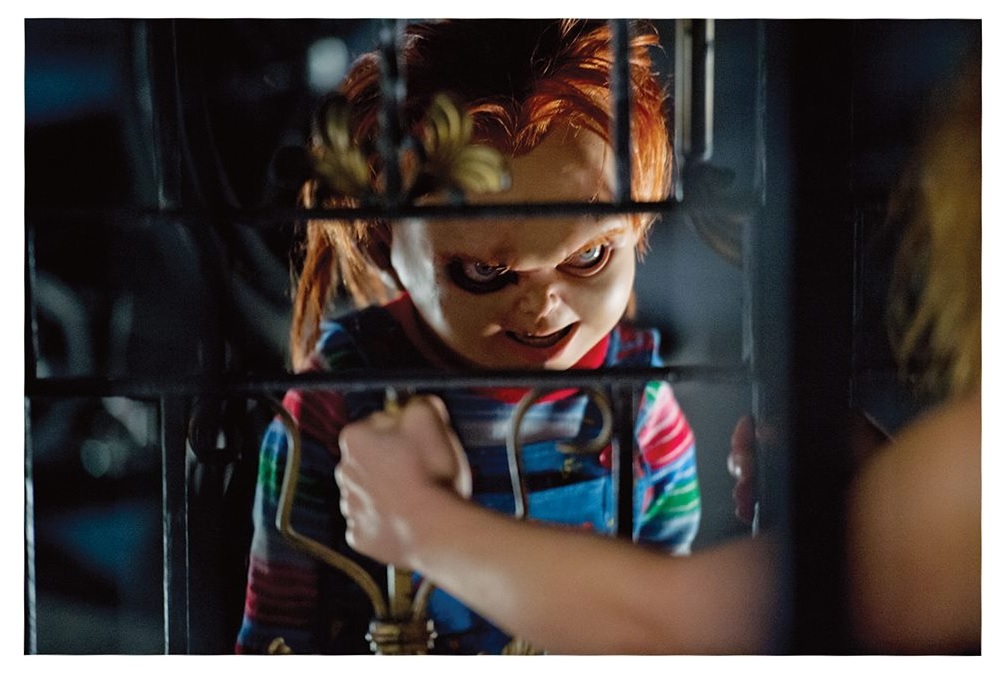 I have to mention the cameos in this film, and I'll try not to spoil too much. I will say that CURSE OF CHUCKY's got some cameos that are better if you don't know when they're coming. I will say that I feel that parts of this story feel too rushed, as if there was some material with some great potential for another sequel, but Mancini chooses to wrap things up pretty quickly instead. Not only that, but CURSE OF CHUCKY also ties in with all of the previous Chucky films, moreso than any other horror franchise out there, and the film should be commended for that above all.
Watching CURSE OF CHUCKY really does make me feel like this is the culmination of the entire series, grabbing the best elements of all of the films and perfecting them in this latest installment. It very well could be the last of the series, but if as much creativity, fun, and most especially dark tone and mood is used, I'd love to see more films in this series as CURSE OF CHUCKY is one of the series' best.
I'm more surprised than anyone when I say this, but CURSE OF CHUCKY is highly, highly, highly recommended.
---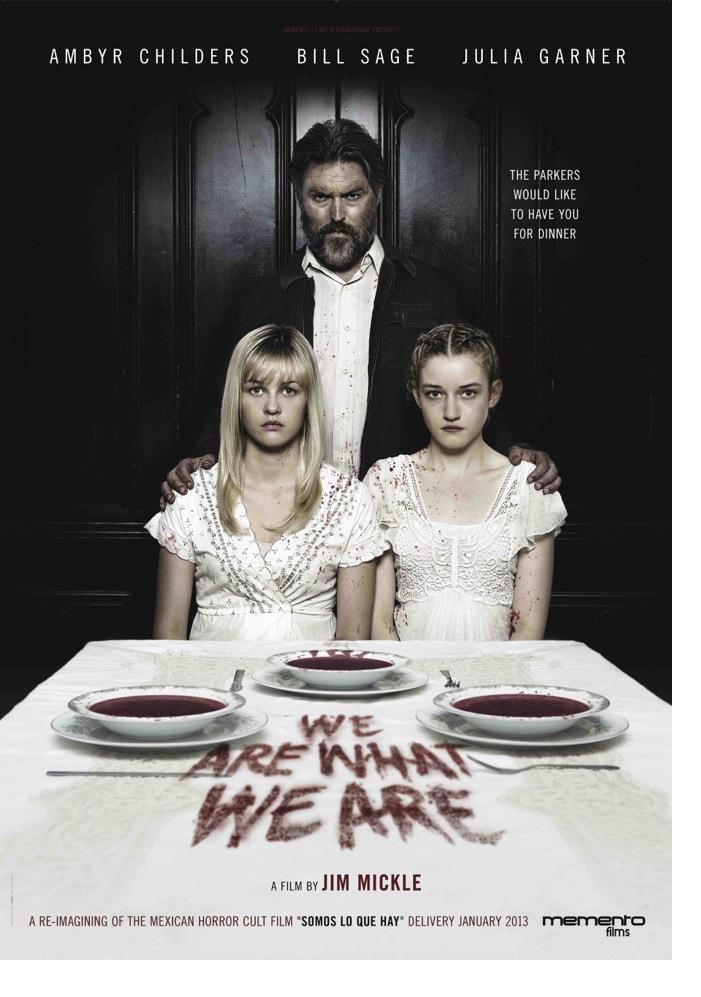 In select theaters today!
WE ARE WHAT WE ARE (2013)
Directed by Jim Mickle
Written by Jim Mickle, Nick Damici
Starring Bill Sage, Ambyr Childers, Julia Garner, Kassie Wesley DePaiva, Kelly McGillis, Wyatt Russell, Michael Parks, Nick Damici
Find out more about this film here and on Facebook here
Reviewed by Ambush Bug
Making a remake almost always sets a filmmaker up for a failure. Make the film too like the original and you're bound to get flack for unoriginality and the unnecessaryness of the existence of the sequel in the first place. Deviate too far from the original and you're likely to lose the audience that is already built in who liked the original. While history has proven that Americanized remakes of foreign horror films are rarely as good as the original, every now and then there needs to be an exception to the rule. Jim Mickle's WE ARE WHAT WE ARE—a tale told that may very well live in the same universe as Jorge Michel Grau's film with the same title--is one of those exceptions.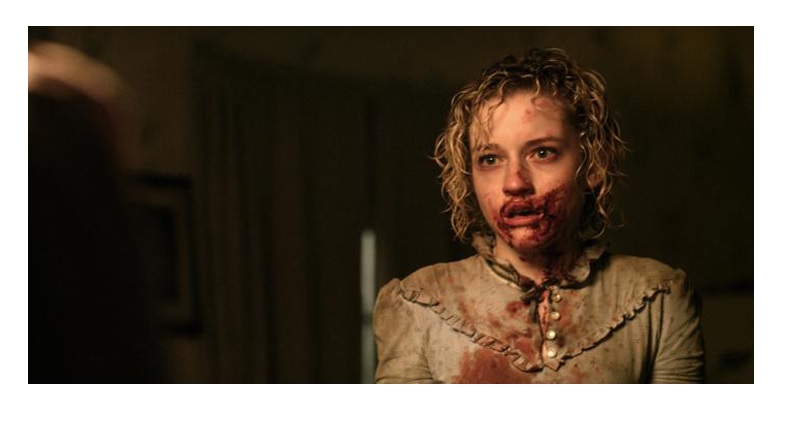 I saw Grau's WE ARE WHAT WE ARE a few years ago (
full review here
) when it played at the Chicago International Film Festival, and was blown away at this operatic tale of how family tradition can make people stay together while at the same time tear them apart. While the film is simply about cannibalism, it also delved into the complexities of family relations and roles members in a family play with one another. When one of the parents dies, that family dynamic shifts, and Grau's story describes how destructive that shift can be using cannibalism as a metaphor for how loss can shatter a family, yet also make it stronger.
While shuffling around the sexes of the family members, Mickle's version does the same thing as the Parkers are devastated when their mother (played by EVIL DEAD 2's Bobby Joe herself, Kassie Wesley DePaiva) dies, leaving the patriarch Frank Parker (played by AMERICAN PSYCHO and PRECIOUS actor Bill Sage) to take care of the family. Frank is devastated, shown weeping uncontrollably when he learns of his wife's demise, and these moments play out like hammers to the heart in the early moments. Seeing the innocent yet worn faces of the two daughters (older sister Iris played by THE MASTER's Ambyr Childers and Rose the younger played by THE LAST EXORCISM 2 and MARTHA MARCY MAY MARLENE's Julia Garner) only deepens the blow, and for quite a long time in this film, you feel sympathetic for this family for their loss. The casting of this film is what is key here, as Sage is a battleship of a presence in this film as the fractured man trying to lead the family, and both Childers and especially Garner play roles that should definitely lead them to stardom. The weight of carrying on the family tradition is communicated not only in the heavy story of hardship we see playing out, but in the silent and sad-painted faces as the family copes with the loss and reshuffles in order to survive. Though dark deeds are suggested from the very beginning of this one, the teeth of cannibalism aren't really shown for quite awhile. When it does happen, it's a powerful revelation--one that could have come off as hokey in less capable hands and played by less capable actors. Thankfully, that's not the case on either part.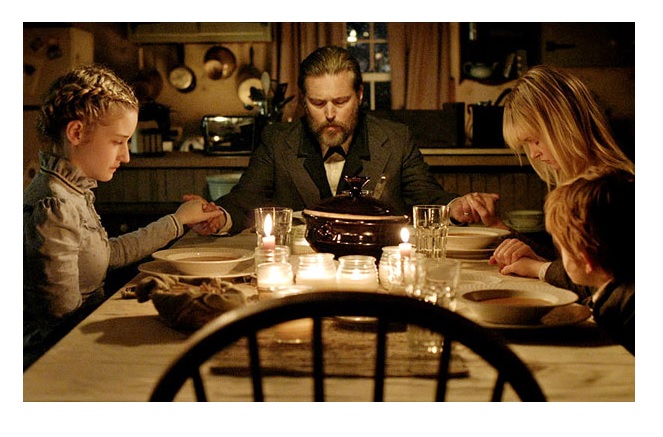 What impressed me the most about WE ARE WHAT WE ARE is the leap in quality and patient restraint director Mickle takes in his handling of the film in comparison with his last effort, STAKELAND. While that film had a lot going for it, it was still squaloring around in the ooze of genre. Sure WE ARE WHAT WE ARE is about cannibals, but aside from that it's a powerful drama about loss. The blood and gore that happens later in the film might put off some as they are pretty gratuitous, but the fact that Mickle was so patient with doling out the darkness and so deft at showing us the tragic lives of these characters proves that he is a director of immense talent.
While I prefer the operatic finish of the original film, the ending of Mickle's version is just as satisfying. Leaving things somewhat open-ended, Mickle proved himself to have what it takes as a director who can make something as outlandish as cannibalism seem like something real rather than the over-the-top meat eaters we see in the TEXAS CHAINSAW MASSACRE films, and in turn makes the story all the more frightening. With fantastic smaller roles by the astounding Kelly McGillis as a nosy neighbor, Michael Parks as the town coroner, Wyatt Russell (Kurt and Goldie's son all growed up and surprisingly good here) and STAKELAND's Nick Damici as the sheriff, star-making performances by newcomers Ambyr Childers and Julia Garner and a thunderous performance by Bill Sage, WE ARE WHAT WE ARE is the type of film that makes me proud to be a horror fan and one I show to others when I say that just because it is horror, that doesn't mean it always has to be lowbrow. Just as powerful as the original, yet very much different, Mickle's WE ARE WHAT WE ARE is a horror masterpiece that bites deep into the heart and eats it.
---
And finally…With ABC'S OF DEATH 2 on its way, the horror world is putting together their picks for the open slot--the letter M. Last week, I reviewed Mike Lenzini's BEAST A MONSTER AMONG MEN ( full review here). Here's Lenzini's horribly painful submission for the letter M, M IS FOR MANSCAPING! Enjoy the carnage!
See ya next week, folks!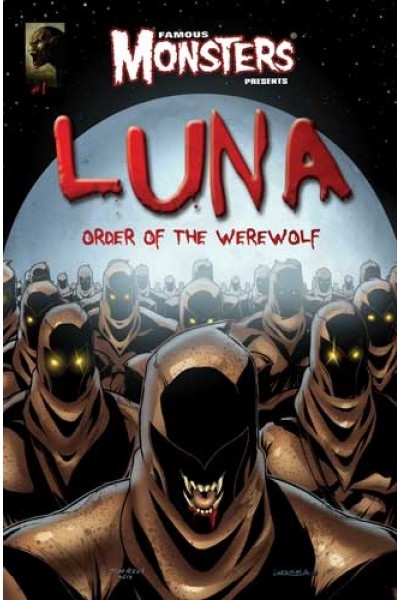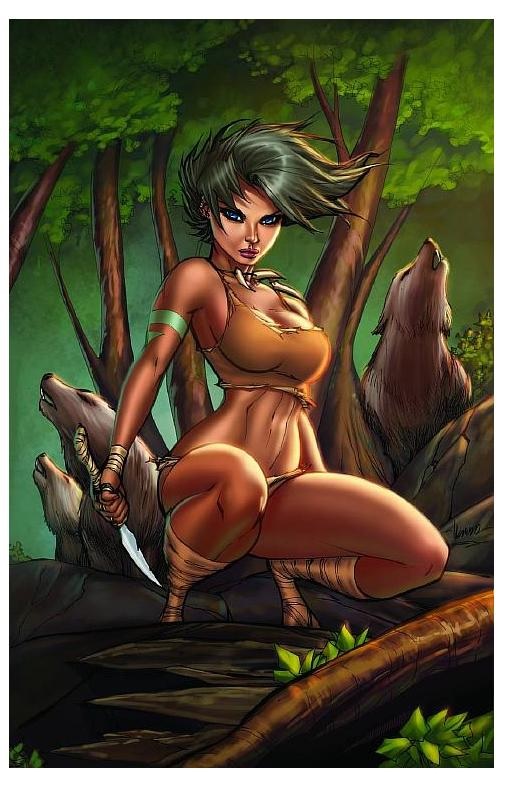 Ambush Bug is Mark L. Miller, original @$$Hole/wordslinger/writer of wrongs/reviewer/interviewer/editor of AICN COMICS for over 12 years & AICN HORROR for 4. Mark's written comics such as THE TINGLERS & WITCHFINDER GENERAL, DEATHSPORT GAMES, NANNY & HANK (soon to be a feature film from Uptown 6 Films), Zenescope'sGRIMM FAIRY TALES Vol.13 & UNLEASHED: WEREWOLVES – THE HUNGER and a chapter in Black Mask Studios'OCCUPY COMICS. FAMOUS MONSTERS' LUNA: ORDER OF THE WEREWOLF (co-written with Martin Fisher) will be available soon in trade. Mark also wrote the critically acclaimed GRIMM FAIRY TALES PRESENTS THE JUNGLE BOOK and its follow up THE JUNGLE BOOK: LAST OF THE SPECIES! Follow Ambush Bug on the Twitters @Mark_L_Miller.
---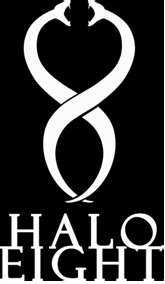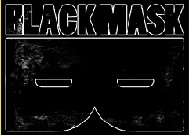 Find out what are BLACK MASK STUDIOS and OCCUPY COMICS here and on Facebook here!


Interested in illustrated films, fringe cinema, and other oddities?
Check out Halo-8 and challenge everything!
---
Find more AICN HORROR including an archive of previous columns on AICN HORROR's Facebook page!