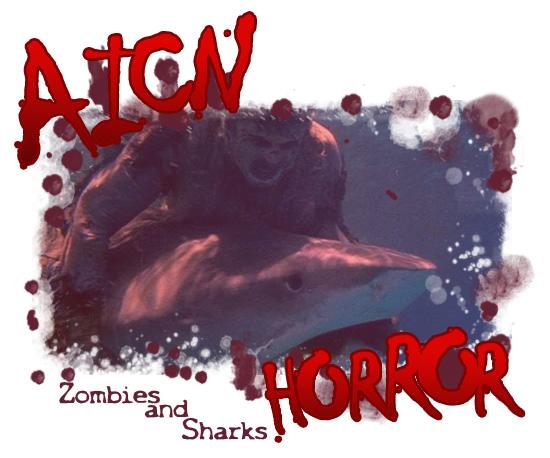 Logo by Kristian Horn
What the &#$% is ZOMBIES & SHARKS?
---
Greetings, all.
Ambush Bug
here. Happy Birthday to AICN HORROR which celebrates its fourth year in October! Always hoping to pass on new and exciting films for all of you ravenous readers, I have once again compiled a list counting down to my favorite horror film released since last October and covered in this here AICN HORROR: ZOMBIES & SHARKS column. Some of these films might be new to you since there isn't a lot of horror in theaters these days that aren't toothless remakes or watered down sequels. Theaters just don't seem to be the place where the horror is at these days, I'm sad to say. Some of these films have only seen the light of day on Video on Demand or simply go straight to DVD/BluRay pr digital download.
As far as how I compiled this list? Well, I simply looked over my AICN HORROR columns over the last year since October 1st , 2012 (which happens to be the birthday of this little column four years ago!) and worked and reworked a list until I had 31. No real method to my special brand of madness. We'll be counting down every day until Halloween to my favorite horror film of the year. I'll also provide a second film suggestion at the end of each column for those who can't get enough horror which may include films that almost made the list or goodies from the past I've covered.
So let's get to it! Chime in after the article and let me know how you liked the film I chose, how on the nose or mind-numbingly wrong I am, and most importantly, come up with your own list…let's go!
---
Coming in at 28 is a documentary that raised a lot of eyebrows last year at the festival circuit called THE AMERICAN SCREAM, which focuses on a select few people obsessed with decorating their homes up for Halloween time and sharing it with their neighborhoods. Basically, it's a film about folks like you and me who love Halloween unconditionally. It's a film with an unblinking eye and a lot of heart and definitely a different type of film which celebrates the holiday.
NUMBER 28!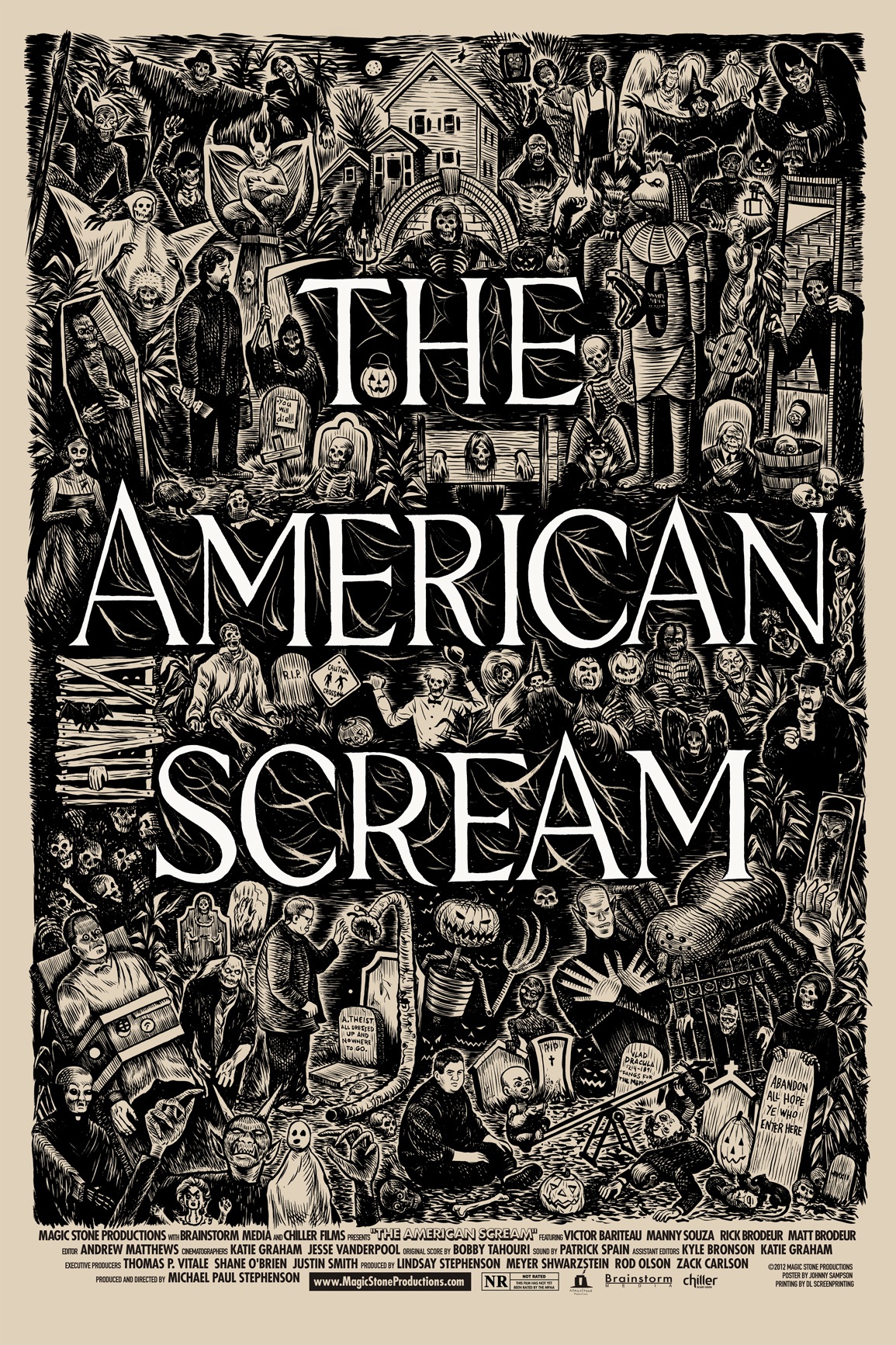 THE AMERICAN SCREAM (2012)
Find it on Netflix here
Directed by Michael Paul Stephenson
Starring Matthew Brodeur, Victor Bariteau, Manny Souza, Lori Souza, Richard Brodeur
Find out more about this film here!
Reviewed by Ambush Bug
I'm sure we all know someone like the folks depicted in this fascinating new documentary, THE AMERICAN SCREAM. They are the eccentric folks down the way who go a little too all out for Christmas or Easter or, say, Halloween with the decorations and the costumes. Some call this crazy, others overly festive. Still, it makes for a fascinating subject for a documentary and director Michael Paul Stephenson takes full advantage of his colorful cast and their elaborately horrific Halloween yardscapes.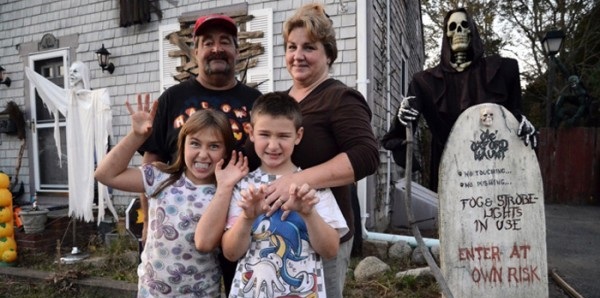 THE AMERICAN SCREAM is expertly plotted by the director. At first, the eccentricity of these Halloween Haunters is highlighted, light-heartedly focusing on their mad delusions to make their own homes into walk-through spookshows. But as we delve deeper, we see the people behind these eccentricities with all of their good and bad qualities on display. Three houses are focused on: Victor Bariteau and his family whose lives rotate around Victor's obsession with home haunting and the elaborate and meticulous preparation to make his just perfect, Manny Souza whose recent heart attack has made him reassess why he does the home hauntings in the first place, and Matthew & Richard Brodeur, a truly eccentric adult father and son team who are clowns by day and amateur home haunters the rest of the time. Though looking at their back yards often looks more like a mess than anything else, the three houses become a Halloween paradise for one night in October.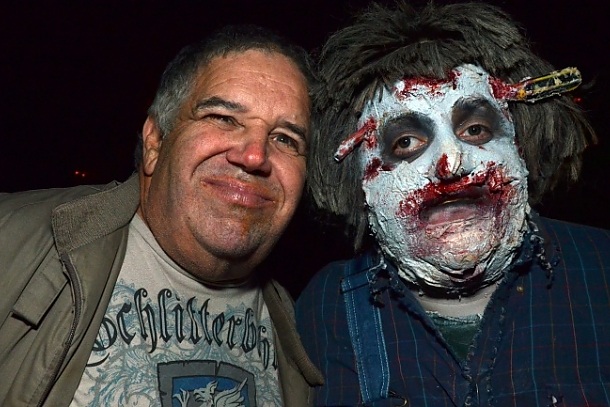 What endeared me most about this little film is that is encapsulates the untapped joy I get as a person in love with the Halloween season. For some reason, this time of year gives me a little more pep in my step and a bit brighter twinkle in my eye. Though I don't decorate my home to the nines, the subjects of this film convey that type of excitement, and Stephenson's camera captures that childish excitement expertly.
But it's not all candy corn and pumpkins. The darker side of this hobby is also illuminated as we see Victor pushing himself to the point of collapse to obsessively make up for missed Halloweens as a child. Manny's heart attack forces him to take things easy and not get as obsessive as his neighbor Victor. And as Richard Brodeur gets older, it's heartbreaking to see him bend over backwards to make the haunted house meet his son's expectations, despite the fact that his aging body is holding him back. I especially had a hard time watching Victor push himself and his family to fill a hole they most likely never will fill as his family is denied a decent-sized home and other simple luxuries because of his obsession.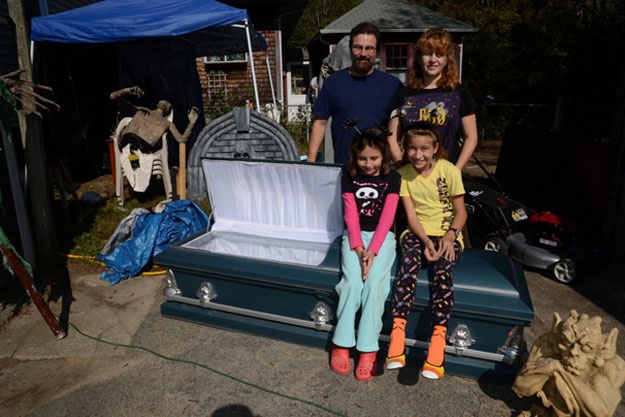 Just when you think this doc is going to leave you in the gutter with all of this real life stuff, Halloween comes and once again, Stephenson is able to push the emotional buttons as lines around the block show up to experience the scares and sights all of these home haunters worked hard to achieve.
Inciting a range of emotions one usually doesn't get from your typical scary movie, this documentary is the perfect all ages film to watch with the whole family to celebrate the awesomeness that is Halloween. Though a few four letter words are dropped as the tension starts to rise as All Hallow's Eve looms closer, the film oozes a deep love for all things October. Even those who don't enjoy horror won't be able to help but be endeared to the triumph and tragedy that THE AMERICAN SCREAM exudes from every frame.
---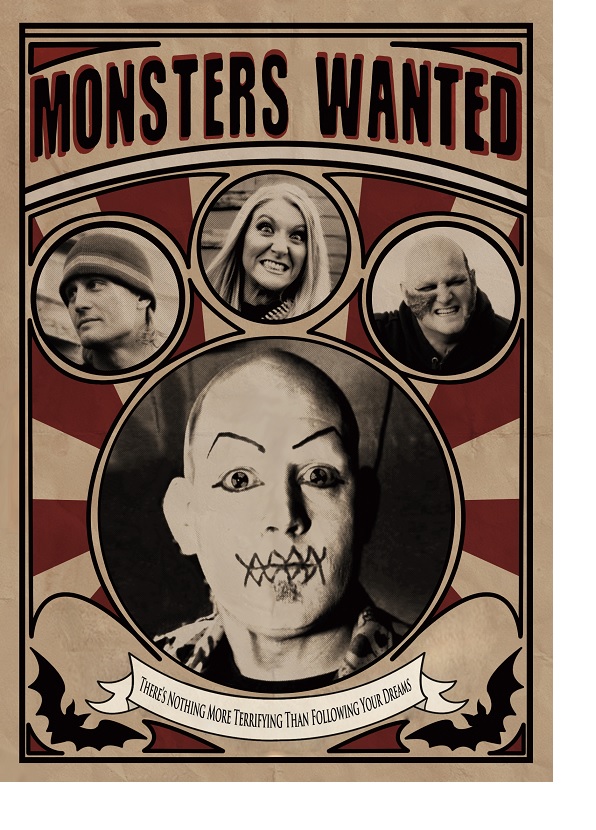 If you didn't get enough of Halloween obsession with THE AMERICAN SCREAM, I recommend MONSTERS WANTED (
full review here
), another film which broadens the scope and looks at horror theme parks and what special kind of madness it takes to want to put one of those things together. On par with THE AMERICAN SCREAM in terms of documentary filmmaking, it shares another aspect to all of our obsessions with the season of the witch. These two docs make the perfect double feature for those of you who can't get enough of Halloween and who want to take comfort in the fact that there are others out there like them.
You can
find it on iTunes here
and check out the trailer below!
The Countdown so far…
Number 31: TEXAS CHAINSAW 3D!
Number 30: DEVIL'S PASS!
Number 29: THE RAMBLER!
See ya tomorrow, folks, as the count down continues with the best of the best covered in AICN HORROR over the past year!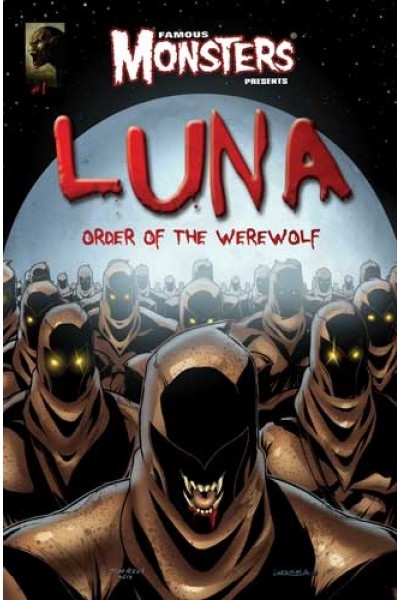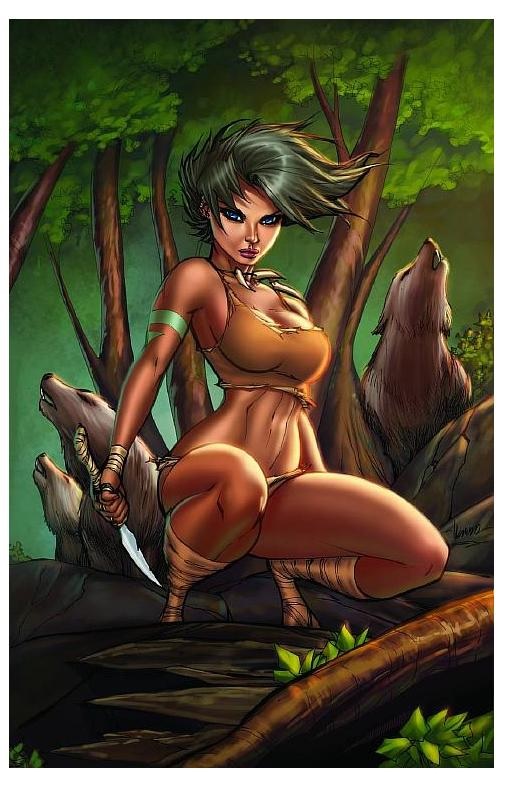 Ambush Bug is Mark L. Miller, original @$$Hole/wordslinger/writer of wrongs/reviewer/interviewer/editor of AICN COMICS for over 12 years & AICN HORROR for 3. He has written comics such as VINCENT PRICE PRESENTS THE TINGLERS & WITCHFINDER GENERAL, THE DEATHSPORT GAMES, & NANNY & HANK (soon to be made into a feature film from Uptown 6 Films). He has co-written FAMOUS MONSTERS OF FILMLAND's LUNA: ORDER OF THE WEREWOLF (to be released in 2013 as a 100-pg original graphic novel). Mark wrote the critically acclaimed GRIMM FAIRY TALES PRESENTS THE JUNGLE BOOK from Zenescope Entertainment & GRIMM FAIRY TALES #76-81. Look for GRIMM FAIRY TALES PRESENTS THE JUNGLE BOOK: LAST OF THE SPECIES available in February-July 2013 and the new UNLEASHED crossover miniseries GRIMM FAIRY TALES PRESENTS WEREWOLVES: THE HUNGER #1-3 available in May-July 2013! Follow Ambush Bug on the Twitter @Mark_L_Miller.
---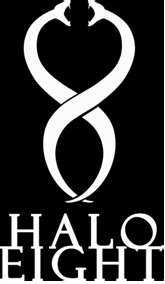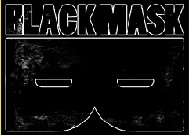 Find out what are BLACK MASK STUDIOS and OCCUPY COMICS here and on Facebook here!


Interested in illustrated films, fringe cinema, and other oddities?
Check out Halo-8 and challenge everything!
---
Find more AICN HORROR including an archive of previous columns on AICN HORROR's Facebook page!