Glen here...
...with a few, personal thoughts about upcoming DOCTOR WHO.
A few weeks ago, I was in a costume shop and was astonished by a brief encounter I had with a woman there, who vehemently opposed the casting of Peter Capaldi as Matt Smith's replacement (Capaldi will apparently debut in this year's Christmas Special and will then progress into Season/Series 8...what?...late Springish? Or will it be later?)
While I wholeheartedly disagree with this lady and her arguments against Capaldi (all of which seemed to be based on wanting her Doctors "nice and young," or something to that effect), the moment did illustrate that...at the end of the day...the value and meaning of DOCTOR WHO lies very much in the eye of the beholder. We all find and appreciate a variety of qualities in it - what each of us wants from future WHO may well be equally disparate. Even though she was wholly unsuccessful at expressing her perspective in a manner which carried credibility (and, frankly, didn't make her seem like a bitch), that lady, as loathsome as I found her tone, did at least manage to get me thinking: where would I like to see DOCTOR WHO go from here? We've discussed this in passing before here in the Docbacks, but never from the perspective of knowing Capaldi was the next Doctor. Below you'll find a few passing notions...and I warmly invite you to share your own hopes, fears, and ideas as well.
More on this shortly. But first...
IF YOU REPLIED TO MY POST LAST WEEK REGARDING HELPING FELLOW TALKBACKERS/WHOVIANS...
Check the e-mail address you sent your message from - explanations await. And please don't discuss this below!
THE DAY OF THE DOCTOR TO BE SIMULCAST GLOBALLY - AN ADVENTURE IN SPACE AND TIME (NOT SURPRISINGLY) CONFIRMED FOR BBC AMERICA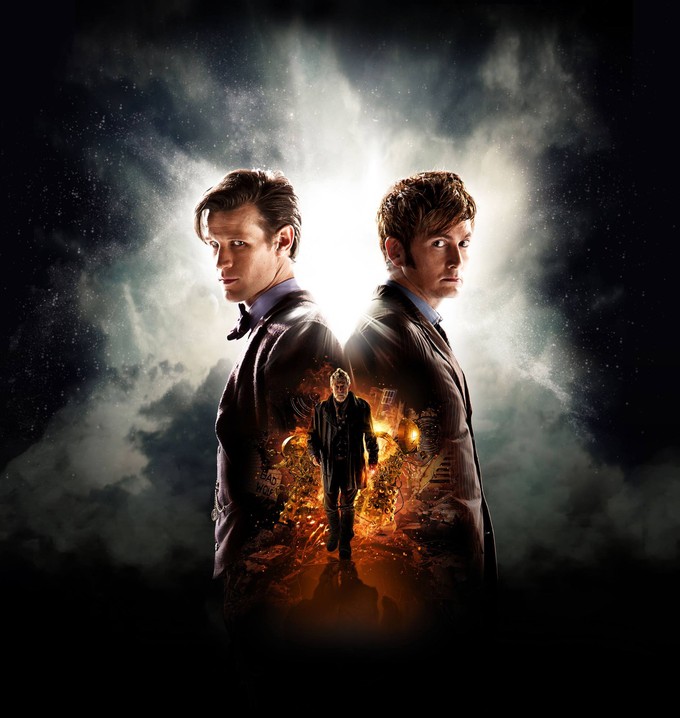 BBC and BBC AMERICA are joining forces to simulcast The Day of the Doctor, the upcoming 50th Anniversary extravaganza episode set to transmit on the show's official, actual, 50th Anniversary - November 23. In a particularly nifty turn, the transmission of said episode will not only be concurrent in the UK and US, but a large number of other countries.
The press release below reveals more, including formerly acknowledging BBCA's upcoming transmission of AN ADVENTURE IN SPACE AND TIME docudrama, which chronicles the formative years of DW.
BBC AMERICA to Simulcast Doctor Who 50th Anniversary Special on November 23

US broadcast part of global simulcast with over 75 countries

New York – October 1, 2013 – Announced today, BBC AMERICA will simulcast the Doctor Who 50th Anniversary Special, The Day of the Doctor, in the U.S. on November 23, 2013. For the first time ever, the world's longest running and most successful sci-fi series will be broadcast simultaneously to millions of viewers worldwide in a global simulcast.

From the U.S. to the UK, Canada to Colombia, Brazil to Botswana and Myanmar to Mexico, fans in at least 75 countries spanning six continents will be able to enjoy the episode at the same time as the UK, with more countries expected to be confirmed within the next month. The one-off special stars Matt Smith (the Eleventh Doctor), Jenna Coleman (companion Clara), David Tennant (the Tenth Doctor) with Billie Piper and John Hurt.

In addition, BBC AMERICA will be dedicating an entire week to Doctor Who in November, including the new film An Adventure in Space and Time, marathons and new specials to be announced.

On top of the worldwide TV broadcast, BBC AMERICA will announce in the coming weeks details of select 3D screenings of the anniversary episode in theatres in the U.S.

"Few TV shows can still lay claim to being appointment viewing but Doctor Who takes this to another level. In its 50th Anniversary year we wanted to create a truly international event for Doctor Who fans in as many countries as possible and the simultaneous broadcast and cinema screening of the special across so many countries will make for a fitting birthday tribute to our Time Lord," states Tim Davie, CEO of BBC Worldwide.

Steven Moffat, Showrunner for Doctor Who and Executive Producer of the 50th Anniversary episode adds: "The Doctor has always been a time traveller - now he's travelling time zones. On the 23rd of November, it won't be the bad guys conquering the Earth - everywhere it will be The Day of the Doctor!"

In London, birthplace of the iconic series, the 50th Anniversary weekend will also see over 20,000 fans gather at the ExCel exhibition and convention centre for the official celebration event which will feature appearances from cast old and new including Matt Smith and former Doctors Sylvester McCoy, Colin Baker and Tom Baker.

Doctor Who is BBC AMERICA's highest rated series. Since 1963, Doctor Who has been one of the best loved dramas and certified by the Guinness Book of World Records as the most successful sci-fi series ever. The show has received numerous awards across its 50 years and has seen huge commercial success with over 10 million DVDs and 8 million action figures sold globally. BBC Worldwide, the commercial arm of the UK broadcaster distributes Doctor Who to over 200 territories across the world.
HORNORSILK REVIEWS THE DALEKS AMONG US BIG FINISH AUDIO
====================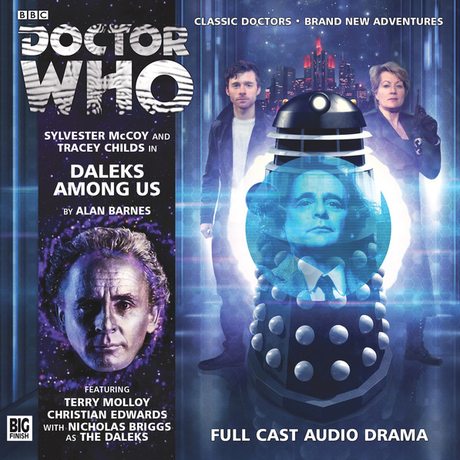 Big Finish 177 – Daleks Among Us
By: Alan Barnes
This is another story which is difficult to talk about without having some spoilers in the commentary. I am going to try to keep them very mild here: just enough to review the story itself. It's the "big" adventure for the current Seventh Doctor Trilogy, and things established in the previous two stories are important here, so much so, that I think a few elements of the story would not make sense without at least listening to the opening of the trilogy, Persuasion.
Things are not always as they appear, and this is a two-edged danger. We can assume the worst out of people, not allowing their good to come out, or we can assume someone is mostly good and kind, not realizing the devilish interior which motivates them. The title, "Daleks Among Us," refers to several plot elements, but thematically, it refers to the dark, Dalek-like qualities found in humanity which comes out from time to time, like with the Nazis.
The Doctor, after receiving dangerous aid from a species of Wraiths, finds the "Persuasion Machine" and Kurt Schalk is on the planet "Azimuth." The Doctor had been there previously, with Ace, and had defeated a Dalek invasion at that time. There is a statue of Ace with a baseball bat on the planet to memorialize this event. But, on the planet itself, the memory of the event is being removed, and talk about Daleks illegal. The statue itself is in disrepair.
Obviously, Daleks are on Azimuth. But they are hidden. Davros, their creator, after the destruction of Skaro, has come to Azimuth looking for them. He has, surprisingly enough, integrated himself into the society with a "family" who look up to him as their father.
For the Daleks, Davros is an important link to their past, and to their future. They have a new goal in place, one which Davros does not know about. It goes hand in hand with their desire to control the "Persuasion Machine."
The Doctor, Will Arrowsmith, and Elizabeth Klein find themselves divided in their interests and concerns on Azimuth. Klein confronts the Doctor, realizing he does not trust her, and has him explain to her what he has been doing with her and her life. Klein, angered about this, finds a way to get aboard the TARDIS by herself and journey to her past, to find out who she is, to discover what she is all about. Is she the dark figure the Doctor believes her to be? She certainly acts as if she is, but is that how the Doctor will take her to be?
Will Arrowsmith finds himself with Davros and his associates, leading the Doctor to Davros. Here, we find a new story going on with Davros. Think Star Trek: Nemesis , and you might pick up what is going on here. And, like Nemesis, I think this plot doesn't work as good as it could if done properly and without other baggage. I looked forward to this adventure, in part, because I looked forward to a Klein-Davros story, and this is not really what we get here.
The Daleks ultimate goal is, strangely enough, something similar to what we saw in televised Who this season. I see a lot of similarities between the audio adventures and the televised shows of late, and I wonder why someone is not looking out to prevent this. I won't go into detail here, but if and when you listen to this story, I'm sure you will be able to name the story which the Daleks seem to copy.
The adventure does bring resolution to the "Persuasion Machine" trilogy, and it does have some unexpected twists and turns. It is more a story about Klein than the machine itself. I still feel there is something dark and sinister which could be brought out with her. What I want them to do is have her someone who easily becomes "good Klein" or "bad Klein" depending upon changes in time – all within one story itself. Have her remember both lives, and be both people in the same story. That I think would be the ultimate way to deal with Klein (and what would have made an interesting piece of work if Davros was involved with it, trying to make her into his assistant to get at the Doctor!). Nonetheless, I am not sure how I take the "trilogy" as a whole. I think a different ending would have been better, and some of the side-plots in this story saved for later. They just don't feel as if they meld together to form one whole story as well as they could.
I give this one 7/10.
Terry Malloy is always good as Davros, though I didn't think they used him well in this one.
Sylvester McCoy and Tracy Childs both give good performances (with Childs required to do more than usual, and she handled it well).
Christian Arrowsmith's "Will" seems to have been all over the place in the trilogy, but I hope, now that the ending in this one has been done, brings about changes in him as a result of it, I hope he can hold his own more and not just be a ditzy-male companion.
-- HornOrSilk
====================
CAPALDI AND BEYOND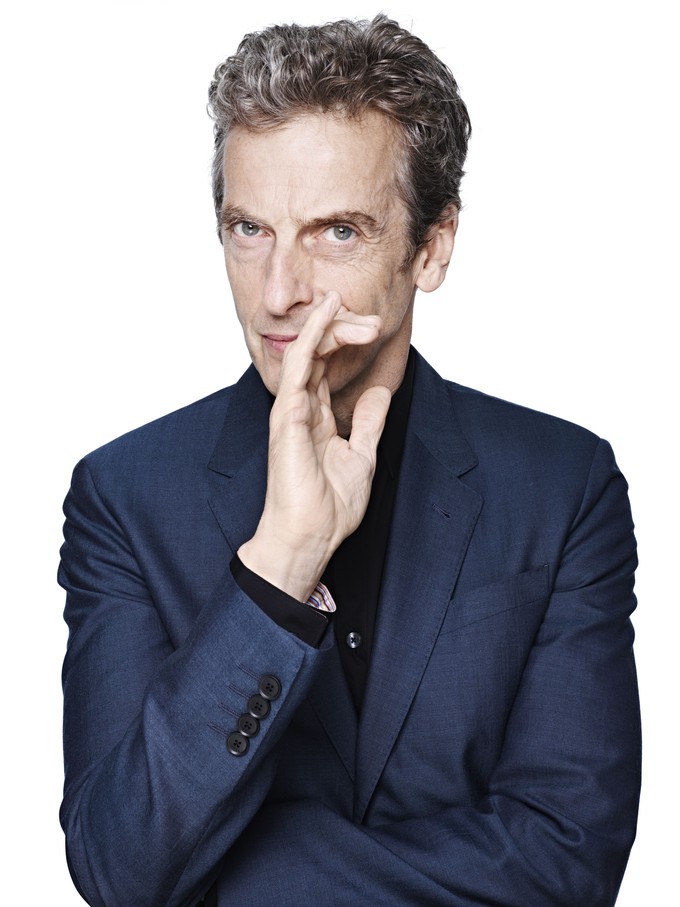 A few musings - conversational tone intended...
MY FEARS: The edgy and acerbic nature Capaldi brings to the table could easily be misused or over-empahsized. I do think it could be HIGHLY appropriate, and even enjoyable, for the Doctor character to have an edge or be snarky, or be impatient or be combative.
The Doctor is over 900 years old and has seen more than any of us will ever see, experience more than any of us will ever experience, and may well have witnessed the depths of human stupidity more than he's beheld our wondrous accomplishments (with this I'm asserting that...historically...we've brought forth more mistakes and tragedies than triumphs as a species). The Doctor would be understandably frustrated that those around him are far slower moving vehicles than he'd like us to be...than he'd hope for us to be. His being abrasive and lashing out from time to time...could be a very interesting and organic character move.
However, because this would also be a trait more greatly accentuated by Capaldi's presence, it could also seem highly enticing and could present temptation throughout DW's writing staff. I do want Capaldi's Doctor to be harder edged and I do want him to be more unpredictable and combustive than may be comfortable for some viewers, but I do not want him to be too much of an asshole. The Doctor, by many of his actions whether dysfunctional or intentional, already has a number of dickish qualities...over-emphasizing those could soil the character if not balanced/counterbalanced correctly.
So, moderation regarding his potential jerkiness. HOWEVER, one of my HOPES...and this could seem contradictory I suppose...is also that the Doctor is presented in a more anti-heroic way than he recently has been seen. A little less altruistically. This quality has been evident throughout the history of the show, and was most recently and vividly called into play in the conclusion of the Tennant-era Family of Blood, and controversially in the Doctor's dispatching of Solomon in Dinosaurs on a Spaceship. The Doctor's actions/solutions should not always be comfortable or easy for regular folks to understand (recalling the age and experience thing mentioned above). He is, at the end, a force beyond the ability of ordinary humans to fully grasp or measure. The outcomes he brings about should not always be comfortable for us...Capaldi has, more than many actors, the capacity to land this anti-hero nature quite effectively...and I hope this potential is recognized and brought to bear. [NOTE: I'm using the term "anti-hero" here in lieu of a better one...I'm referring, in general, to the Doctor's frequent actions which aren't as clear cut or morally shiny as they might otherwise be]
The thing I most want from upcoming WHO...I don't want to overstate. I'm not hoping DW turns into a crass message show, nor do I think it should be preachy or determined to push messages on us. I do, however, feel that 2005+ WHO is missing some incredible opportunities to be allegorical/reflective to out modern society - to be relevant to our current world. 'Classic' WHO did this quite frequently and often brilliantly (Robert Holmes' skewering of over-corpratization in The Sun Makers (T. Baker Story # 95) scripter Philip Martin's lampooning of television culture in Vengeance on Varos (C. Baker, Story #138), Tennant-era WHO explored the human condition to a lesser degree through shows like Gridlock and Bad Wolf. We've enjoyed glimpses of this in Moffat-era WHO (the use of the Internet in The Power of Three), but current WHO sometimes feel determined to exist OUTSIDE of our real world. This is, admittedly, in keeping with the Moff era's more 'fairy tale' nature - which isn't necessarily inappropriate in itself. But even classic tales, nursery rhymes, and whatnot, camouflaged socio/political issues of their day. I think this can be done while concurrently remaining hugely entertaining. In reality in which there are loudly voiced concerns that Japan's Fukushima nuclear disaster may be contaminating sea life throughout the Pacific Ocean and threatening Hawaii and Calafornia even now...where countless species are being placed onto endangered species lists every decade...in which astonishing new discoveries are happening constantly (we only recently discovered the largest cave in the world...an insane notion when one thinks about it...what kind of scary or wondrous things await?)...in a world where interpersonal relationships are becoming increasingly governed (and damaged?) by social media...it doesn't seem like too tremendous a stretch to more pointedly relate the events of WHO to the world we live in. Hell, one could generate a hilarious episode in which the Doctor and Clara pop into a part of the galaxy which has been paralyzed by a government shutdown, and they're unable to get anything accomplished. Something which feels real to us, while also remaining organic to the show.
As time goes on, I find myself less and less fussed by Matt Smith's departure, and more and more intrigued by the arrival of Capaldi in the role - and the vast tapestry of possibilities his coming brings. I think there's a high possibility that the changes he'll bring to the show will be controversial, and perhaps even divisive if that lady in the costume store is any kind of indicator. But I also believe that franchises can only survive and remain healthy by shaking things up a bit over the long haul - and, if nothing else, DOCTOR WHO has proven this time and time again.
Will anything I've discussed herein actually find its way to the screen? Who knows - probably not, and perhaps there are good reasons not to do these directions. But this is a statement of personal preferences, and this Talkback is about ya'll more than me. So tell us what you'd like to see happen in upcoming WHO below...
-------------------
Glen Oliver
"Merrick"
- e-mail
- Twitter
- Google +
[[[[[ A LIST OF PREVIOUS DOCBACKS CAN BE FOUND HERE!! ]]]]]
DOCBACK CODE OF CONDUCT
1) a Docback should be about completely open and free discourse regarding all things WHO with, obviously, some variation on subject matter from time to time - the real world intervenes, discussions of other shows are inevitable, etc.)...
2) matters of SPOILAGE should be handled with thoughtful consideration and sensitivity. Posts containing SPOILERS should clearly state that a SPOILER exists in its topic/headline and should never state the spoiler itself . "** SPOILER ** Regarding Clara" is OK, for example. "** SPOILER about that Motorcycle" is fine. **SPOILER** Why did everyone die?" Is NOT good.
And, above all...
3) converse, agree, disagree, and question as much as you want - but the freedom to do so is NOT a license to be rude, crass, disrespectful, or uncivilized in any way. Not remaining courteous and civil, as well as TROLLING or undertaking sensational efforts to ignite controversy, will result in banning. Lack of courtesy may receive one (1) warning before a ban is instigated. Obvious Trolling or Spamming will result in summary banning with no warning. One word posts intended to bump-up any Docback's figures on AICN's "Top Talkbacks" sidebar will be considered actionable Spam - they not only complicate efforts to access Docback from mobile devices, but impede readers' abilities to follow or engage in flowing conversation.
In short, it's easy. Be excellent to each other. Now party on...