Papa Vinyard here, now here's a little somethin' for ya...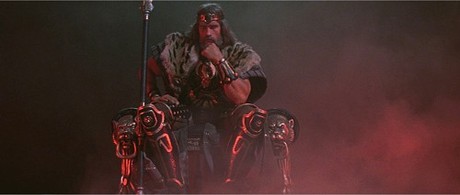 In July, we'd heard from the CEO of CONAN-owning Paradox Entertainment that the script for Arnold's long-awaited return to the franchise was being worked on by Chris Morgan, presumably to recharge the franchise the same way he reinvigorated the FAST & FURIOUSes. I guess that the muckity-mucks weren't super-excited about what he came up with, because Deadline has reported that Universal has hired Andrea Berloff to have a pass at the long-in-development CONAN sequel, entitled THE LEGEND OF CONAN.
Berloff's only major screenplay credits, to date, are on Oliver Stone's WORLD TRADE CENTER and Will Smith's upcoming directorial debut, THE LEGEND OF CAIN. She's also working on the American remake of the Frederic Jardin-directed French thriller, SLEEPLESS NIGHT (a terrific film I adore and, coincidentally, re-enjoyed just this past weekend). Hopefully, she'll be able to sufficiently pay homage to the role that made Schwarzenegger a star, and can channel the same largely-silent, operatic tone that her former collaborator Stone was able to inject into CONAN THE BARBARIAN 30+ years ago.
I just love any news that this project is gaining traction. I was born years after the original came out, and I've been dreaming about this shit for ages, so I can't even imagine how some of you older fans feel about this.
I don't think they'll be able to meet that Summer 2014 release date they were kicking around earlier this summer, but if all parties get to work, it's slightly possible that we'll see Arnie's locks flowing in the desert wind by the end of next year.
-Vincent Zahedi
"Papa Vinyard"
vincentzahedi@gmail.com
Follow Me On Twitter