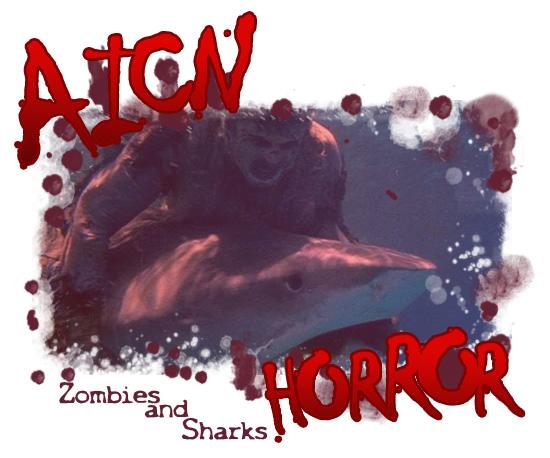 Logo by Kristian Horn
What the &#$% is ZOMBIES & SHARKS?
---
Greetings, all.
Ambush Bug
here. Happy Birthday to AICN HORROR which celebrates its fourth year in October! Always hoping to pass on new and exciting films for all of you ravenous readers, I have once again compiled a list counting down to my favorite horror film released since last October and covered in this here AICN HORROR: ZOMBIES & SHARKS column. Some of these films might be new to you since there isn't a lot of horror in theaters these days that aren't toothless remakes or watered down sequels. Theaters just doesn't seem to be the place where the horror is at these days, I'm sad to say. Some of these films have only seen the light of day on Video on Demand or simply go straight to DVD/BluRay pr digital download.
As far as how I compiled this list? Well, I simply looked over my AICN HORROR columns over the last year since October 1st , 2012 (which happens to be the birthday of this little column four years ago!) and worked and reworked a list until I had 31. No real method to my special brand of madness. We'll be counting down every day until Halloween to my favorite horror film of the year. I'll also provide a second film suggestion at the end of each column for those who can't get enough horror which may include films that almost made the list or goodies from the past I've covered.
So let's get to it! Chime in after the article and let me know how you liked the film I chose, how on the nose or mind-numbingly wrong I am, and most importantly, come up with your own list…let's go!
---
While we didn't get any NIGHTMARE ON ELM STREET's or FRIDAY THE 13TH's this year, we did get a new installment to the TEXAS CHAINSAW MASSACRE franchise. TEXAS CHAINSAW 3D is one of those divisive films with a lot of folks hating it, but I found the film to be more in line with the first three TCM's and far and above the Bay versions simply because it continued the story rather than retelling it. Here's my review from last January when TEXAS CHAINSAW 3D hit theaters…
NUMBER 31!
TEXAS CHAINSAW 3D (2013)
On Netflix here!
Directed by John Luessenhop
Written by Adam Marcus. Debra Sullivan, Kirsten Elms, Stephen Susco
Starring Alexandra Daddario, Dan Yeager, Trey Songz, Scott Eastwood, Tania Raymonde, Shaun Sipos, Keram Malicki-Sánchez, Thom Barry, Paul Rae, Richard Riehle, Bill Moseley, Gunnar Hansen, Marilyn Burns
Find out more about this film here and on Facebook here!
Reviewed by Ambush Bug
Having read reviews around the internet, it appears that the attitude towards the newest entry in the TEXAS CHAINSAW MASSACRE series is relatively negative despite the fact that it's reported to be the number one movie in the country last week. Recreating the lightning in a bottle that was the original film is impossible, proven by the other sequels released in the franchise, but after seeing the film this week, I have to say, it is not as horrible as one might be lead to believe.
Moreso than any of the other sequels, this one seems to be made under the right intentions. Tossing to the side the new flava Michael Bay series, TEXAS CHAINSAW 3D instead decides to be a direct sequel to the original: not a rehash, not a reboot or an origin story, but a direct continuation, opening seconds after the original ended with Marilyn Burns wailing in the back of the pick-up and Leatherface doin' the dance in the middle of the road. Now, all sequels are a cash grab, but here, at least the filmmakers are going back to the source material and making something that fits in as a direct link rather than Bay's reinvention of the wheel which we've been seeing over the years.
The other thing that impressed me about this film is that it doesn't try to retell the original story. Look at any of the other CHAINSAW sequels and remakes and it follows the same narrative almost to the beat with a group of kids stumbling upon a house. They are picked off one by one, until the final girl is bound to a chair and forced to have dinner with this fucked up family. Even good sequels like CHAINSAW 2 and my favorite sequel of the series, LEATHERFACE: TEXAS CHAINSAW MASSACRE 3, follow this pattern. In TEXAS CHAINSAW 3D, sure there is a group of kids, but they are killed off in the first 35 minutes of the film; the rest of the film shies away of being a repeat of the original and dares venture into new and exciting territory.
This territory is both acknowledging that the original occurred and spins directly from that. As I said before, TEXAS CHAINSAW 3D opens seconds after the first ends as a sheriff is the first on the scene at the Sawyer residence. Inside, the whole Sawyer clan has holed up with some of them just showing up as the sheriff arrives. It's even acknowledged that the sheriff has turned a blind eye toward the Sawyers, but they can't do it anymore. Inside, some familiar faces like Gunnar Hansen (TCM's original Leatherface) plays Boss Sawyer and Bill Moseley (Chop-Top from TCM2) who steps into the role of Drayton Sawyer, the Cook (originally played by the deceased Jim Siedow) show up for cameos. After a harrowing standoff, the tables are somewhat turned as the townsfolk destroy the house from the original leaving only a small child as a survivor. Skip ahead and we find out this little girl all grown up and the sole proprietor of the Sawyer estate once her distant grandmmother (played by TCM survivor Marilyn Burns herself) passes away. But with the house comes a responsibility and a curse.
Without going into too much detail, the thing that the film does right (and the Bay films did wrong) was that it never strays away from the theme of the importance of family. In TCM, the entire film was a statement about the norms of family life and the responsibilities that went with it. Sally brings her brother Franklyn with her on the trip because she feels responsible for him. Is he a burden? Is he a snivelly shit and not comfortable to be around? Yes on both accounts, but she loves him and that point is made clear throughout the first half of the film. Leatherface can be seen in the exact same manner. He is a burden on the family, but they love and accept him, even if it means they have to watch him wear people's faces and dress in women's clothes. It's about accepting family and doing what's right for them. Why else would Tobe Hooper choose to center the climax of the film around the dinner table, the daily family meeting place?
In TEXAS CHAINSAW 3D from the get go, when the sheriff asks to send out Leatherface, Drayton refuses, saying he's family, but the burden of taking care of the child has brought the law down onto the family, so they contemplate giving him up (ironically, it's Gunnar Hansen's character of Boss Sawyer who is most insistent to cut ties with Leatherface rather than have his whole family killed). Later in the film, Alexandra Daddario's Heather understands that Leatherface is her kin and she is therefore responsible for him. So instead of a victim, this is the story of how Leatherface gets a new caretaker. Sure, it might not be the strongest story, but it sure beats seeing someone strapped to a chair and force-fed human feet for the umpteenth time in this series. I'd argue that more so than any other TCM film, this one is the most original in that sense. Does that mean it's better than TCM2 or TCM3? No. I love those films despite the fact that they are basically retellings of the original. But still, the film shouldn't be demonized for trying something new while adhering to the standards set by the original.
You've got to understand, like all of you die hard horror fans, I've sat through Jason Voorhees being tossed into space, fighting telekinetic girls, and taking a boat to Manhattan. I've seen Michael Meyers reduced from evil on two legs to an unloved trailer trash delinquent. Like you, I've seen franchises stray so far from the original film there is almost nothing in common with the sequels and the original. There's something to be said about the filmmakers of TEXAS CHAINSAW 3D trying to go back to the original and expand on it that I appreciate. This is a film clearly made with horror fans in mind, taking the film in a direction that elaborates on the original story rather than retelling it over and over. I commend the filmmakers for doing such a thing.
Now, this film isn't perfect. There are some pacing issues as the action hits hot and heavy for the first 40 minutes then screeches to a halt once Heather is taken to the police department. Had the film kept up that level of intensity, I think it would have been a much better film, but I guess there needed to be a pause for breath somewhere.
The actors are not the best, though I've seen much worse, believe me. A major plot point between Heather and her cheating boyfriend Ryan (Tremaine Neverson aka Trey Songz, which means something to someone I suppose) that is never really resolved. Leatherface chases Heather into an amusement park which is a fun little monster run amok scene, but it is later explained that he is after her because the last time he left a witness, his whole family and home was burned to the ground, so he didn't want to leave her alive. Following that logic, Leatherface now has to track and kill over a hundred witnesses who saw him chasing her through the amusement park with a roaring chainsaw. Another head scratcher of a scene has the sheriff and mayor watching one officer roam around the blood soaked Saywer residence via iPhone instead of sending in backup. And is the leap Heather takes towards the end of the film believable? Well, that is up to you to decide. Personally, knowing the shitty home life Heather had before knowing her ties to the Sawyer family, it's understandable the decision she makes in the final moments.
I will also say that this is the worst looking Leatherface of the series. The face he wears looks more like a California raisin than human flesh, but given he's been locked in a cellar for so long, I guess the old mask isn't as fresh as it used to be.
Those bits aside, the 3D effects in this film are actually pretty astounding as the opening minutes of the film dimensionalize the key moments of the original film. There's quite a few nice moments of in yo' face chainsaw action that are decently choreographed and some especially gory scenes of chainsaw dismemberment which splatter right in your lap.
TEXAS CHAINSAW 3D is not going to revolutionize the world as you know it. It doesn't dive to the depths of the original, but it does take the story in an original direction without forgetting its sordid roots. One of the things I loved about the original FRIDAY THE 13TH series is that one seemed to fit directly with another in the first few sequels, as if I was getting another chapter to a bigger story. That is the same feeling I got with TEXAS CHAINSAW 3D and I love the film for that. It's a shame that it took some searching for me to find a theater in Chicago showing TEXAS CHAINSAW 3D last week and it would be a shame if the film wasn't seen by horror fans because of initial bad press. I found it to be fun and much better than I expected and hope it is still in theaters so folks can give it a chance this weekend. With some fun cameos and nods to the original and subsequent entries, despite its flaws, I rank TEXAS CHAINSAW 3D fourth in the CHAINSAW series just under the first three CHAINSAW films (maybe an even tie with LEATHERFACE: TCM3) and far above the two Bay remakes and the bass-ackward THE NEXT GENERATION.
---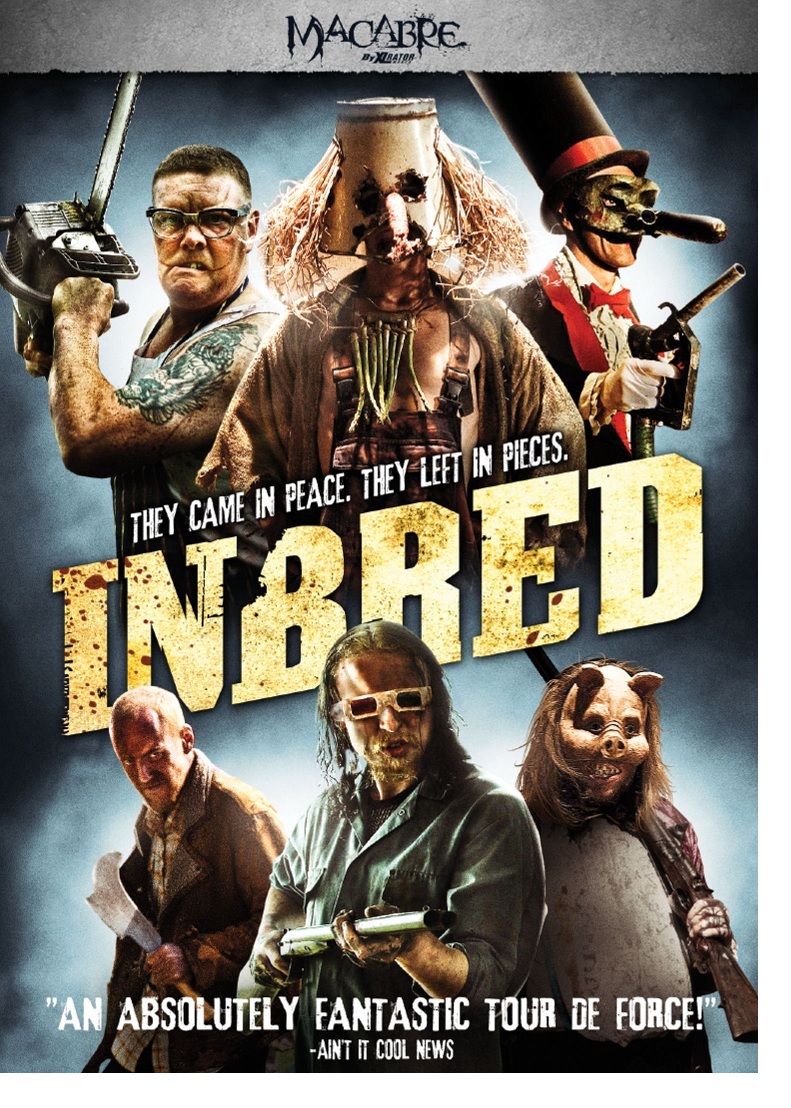 If you like your horror on the over the top gory side, and prefer your killers to keep it in the family, look no further than INBRED, my second choice for today. INBRED made my top horror of the year list two years ago, but now it's available to all. Directed and written by Alex Chandon, INBRED's gore is fantastic and the cast of creeps seem like distant uncle/cousins of the Texas Sawyers we all know and love.
Find it on Netflix here!
And I just happen to be running
a contest to win your very own copy of INBRED just in time for Halloween and you might be a lucky winner if you click here!
Check out my
full review of INBRED here
and the trailer below!
See ya tomorrow, folks, as the count down continues with the best of the best covered in AICN HORROR over the past year!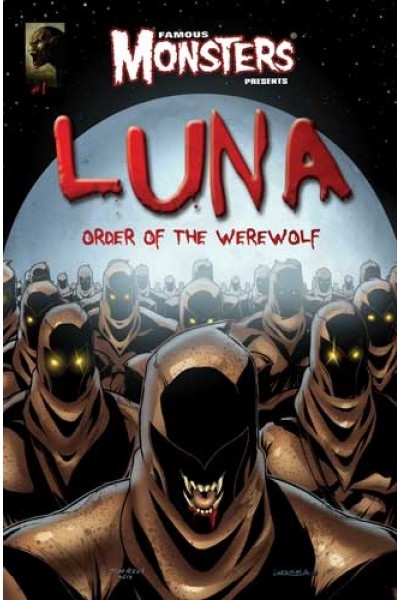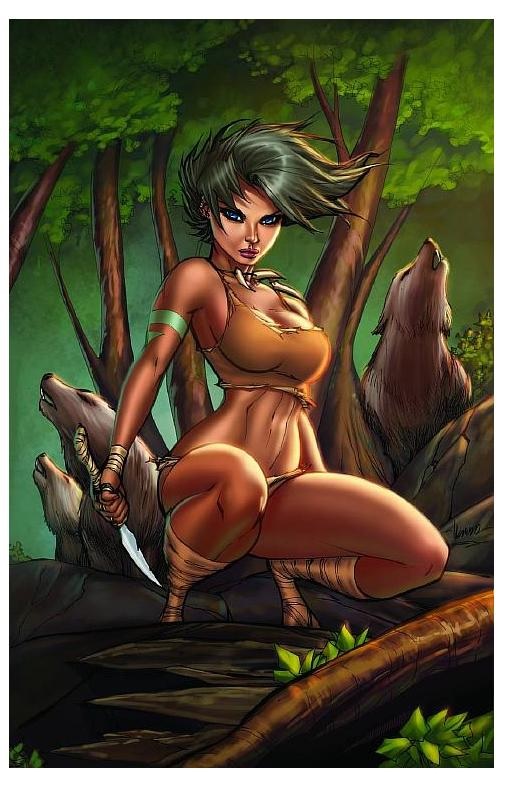 Ambush Bug is Mark L. Miller, original @$$Hole/wordslinger/writer of wrongs/reviewer/interviewer/editor of AICN COMICS for over 12 years & AICN HORROR for 3. He has written comics such as VINCENT PRICE PRESENTS THE TINGLERS & WITCHFINDER GENERAL, THE DEATHSPORT GAMES, & NANNY & HANK (soon to be made into a feature film from Uptown 6 Films). He has co-written FAMOUS MONSTERS OF FILMLAND's LUNA: ORDER OF THE WEREWOLF (to be released in 2013 as a 100-pg original graphic novel). Mark wrote the critically acclaimed GRIMM FAIRY TALES PRESENTS THE JUNGLE BOOK from Zenescope Entertainment & GRIMM FAIRY TALES #76-81. Look for GRIMM FAIRY TALES PRESENTS THE JUNGLE BOOK: LAST OF THE SPECIES available in February-July 2013 and the new UNLEASHED crossover miniseries GRIMM FAIRY TALES PRESENTS WEREWOLVES: THE HUNGER #1-3 available in May-July 2013! Follow Ambush Bug on the Twitter @Mark_L_Miller.
---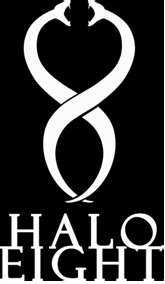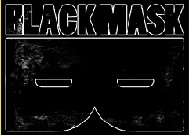 Find out what are BLACK MASK STUDIOS and OCCUPY COMICS here and on Facebook here!


Interested in illustrated films, fringe cinema, and other oddities?
Check out Halo-8 and challenge everything!
---
Find more AICN HORROR including an archive of previous columns on AICN HORROR's Facebook page!