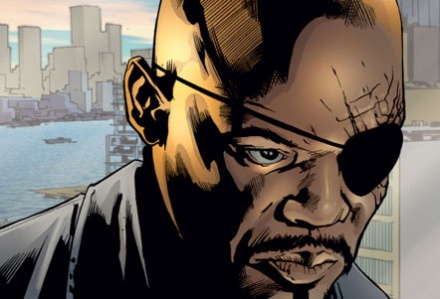 It looks like Samuel L. Jackson might reprise Phil Coulson's boss, Nick Fury, on Tuesday's second episode of "Agents of SHIELD"!
He'll apparently arrive as he did in "Iron Man," right after the closing credits.
From Entertainment Weekly:
Here's what we know for certain: ABC put a promo up on their Facebook page yesterday suggesting viewers stay tuned through the closing credits of Agents of S.H.I.E.L.D.: "Don't risk the spoilers, stay to the very end." HINT.

Then a moment later it quickly flashed the eagle in the S.H.I.E.L.D. logo wearing an eye patch — a' la Nick Fury. HINT-HINT.
Clark Gregg and others are dropping hints about this via twitter.
And the promo for "0-8-4" says we should stick around for the end credits of *every* episode:
Find all of EW's story on the matter here.

Hitting Shelves Today!!