Glen here...
...with a quick look at this week's release of the compete seventh Season/Series of DOCTOR WHO. This Season/Series was highly divisive amonst fans in a number of ways - and is chiefly remarkable for its brazen exit of longtime 11th Doctor companions Amy and Rory, and the out-of-the-blue insertion of a hitherto unknown iteration of the Doctor's character, played by John Hurt.
More DOCTOR WHO Season/Series 7 shortly. But first...
IF YOU'VE BEEN CONTRIBUTING TO DOCTOR WHO RELATED TALKBACKS / DOCBACKS FOR A LONG TIME...
...and are in the mood to spend a few moments doing something rather special and kind for a few Talkbacker/Docbacker brethren (something special which does not involve money, should not take much time at all, will likely not be made public, and would mean the world to fellow WHOvians), please drop me a line HERE and I will explain further. There is some time sensitivity involved in this, so sooner is better than later. Be sure to include the subject line HELP I CAN. Thanks for your consideration...very much.
MORE TICKETS TO THE BIG 50th ANNIVERSARY CONVENTION IN LONDON ARE BEING OFFERED VIA LOTTERY
You can find all the necessary details HERE - read carefully.
DOCTOR WHO SEASON/SERIES 7 COMPLETE BLU-RAY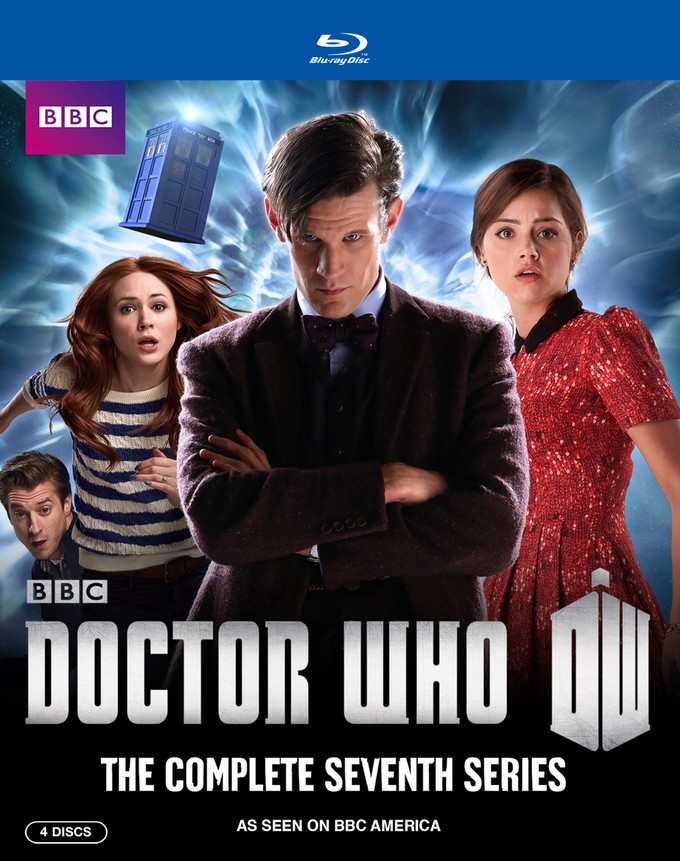 *** SEASON/SERIES SEVEN SPOILERS AHOY ***
Since this has already been covered to some degree HERE, our revisitation of S7 will be a tad cursory - although still relevant. The following will likely make no sense at all unless you've seen ever episode of Season/Series 7 - an inconvenience for which I apologize, although there's not much way around it.
Many folks seemed to have trouble getting into DOCTOR WHO Season/Series 7 - and I'm not altogether sure why. The more stand-alone/ episodic nature of the show was a welcome reprieve from the dense and sometimes bewildering story arcing of Season/Series 6, the emotional arc brought to bear for all characters felt less contrived and far more earnest, and a few very high points were achieved somewhat brilliantly (The Crimson Horror, Cold War, and The Power of Three being high watermarks in my mind this time around - I'd lump Dinosaurs on a Spaceship into that group as well...I believe it worked wonderfully if you step back and look at what it was trying to do in terms of character development and thematics).
The arrival of John Hurt as a more or less banished/forgotten Doctor in the final moments of the The Name of the Doctor was ingenious and mind-bending...
...and opens a number of intriguing doors for both current and future WHO mythology. The introduction and conceptualization of Jenna Coleman's Clara was ingeniously handled and boldly realized. The production's sleight-of-hand in introducing us to Clara many months before she'd been officially announced to appear was one of the nuttier, more audacious misdirects in television history. Stellar show running and audacious information lockdown there.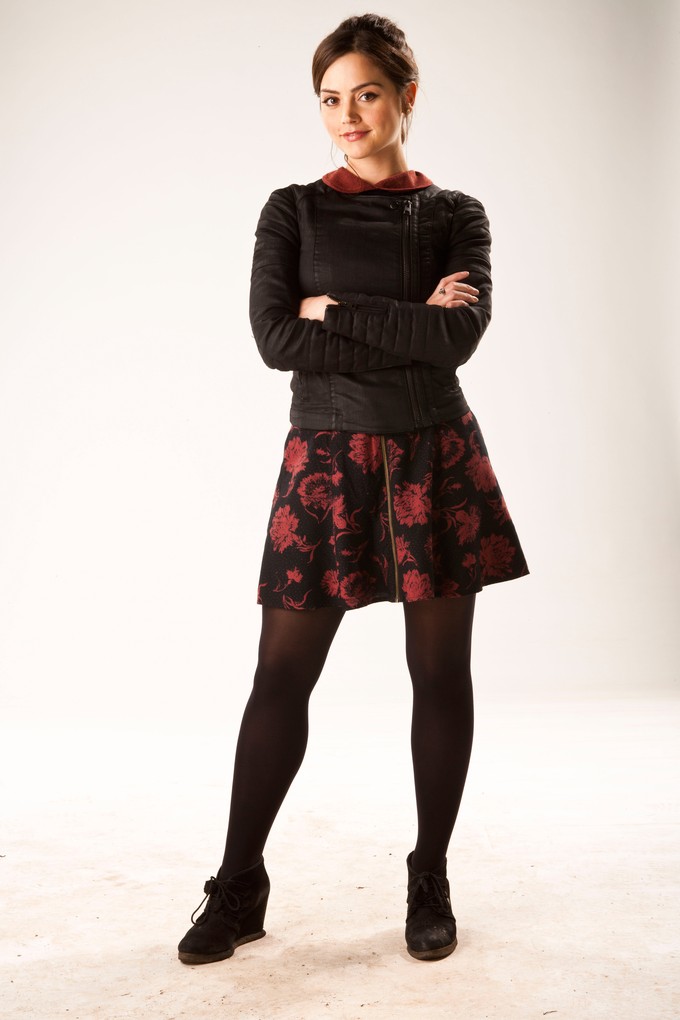 Above, I mention that Clara's conceptualization was 'bold.' I do believe this to be the case - I love the concept that her multiple appearances and iterations are essentially imprints or divisions of a companion who once found herself divided by the time stream in order to save the Doctor. That's a touching and potent notion. What I don't think worked so well in the Clara matter was the visual effects brought forth to demonstrate her presence in previous Doctor's time streams. The scenes were awkwardly blocked and in no way convincing in terms of aesthetic quality.
Which brings us to what is, perhaps, the greatest challenge faced by DOCTOR WHO this year - budget. Time and time again, a presumably reduced budget for the show was glaringly evident - as early in S7 as Asylum of the Daleks and The Rings of Akhaten, and as late in the show as Nightmare in Silver andThe Name of the Doctor. Many episodes were not as fully realized as they might otherwise have been, often resulting in clunkier quality than many people were expecting. Making the show more challenging to access for some. To date, Moffat-era WHO had been quite remarkable regarding how and where its money was used. This time around, though, one couldn't help be sense that there simply wasn't enough money to be used as as the show clearly intended...as the show needed. Effectively undermining a number of tales which otherwise might have shone more brightly.
But such matters are cosmetic - although I strongly contend, in this age, that 'the cosmetic' does impact our perception of a show. The only time I felt genuinely frustrated and more or less burned by S7 is attributable to a two-fold issue: 1) not convinced the dispatching of Amy and Rory holds together (as far as I interpret the mechanics of the WHOverse), potentially rendering the drama surrounding their dismissal a bit contrived and implausible? And, more potently, 2) I strongly assert that their departure from the show should NOT have been publicized. Imagine the power and surprise of stumbling upon their departure somewhat virginally. In general, I am a strong advocate for productions being a tad more open about how they relate to fans and share in what is happening from a production sense. In this case, however, I think knowing in advance...via such flamboyant announcements and brod coverage...significantly undermined moments which deserved to be far more affecting. This said, yes, I think the 'goodbye' worked...more or less...on an emotional level. I simply believe foreknowledge of the event diluted its impact a bit, point #1 not withstanding.
The only completely, "What the fuck?" moment for my money? Nightmare in Silver. Not sure what happened there. So misguided and inadequate in terms of....a great deal, actually. It's an episode which was clearly troubled and worked on almost no level whatsoever, But, based on scripter Neil Gaiman's postmortem discussions of the matter, I'm sensing there's some story to be learned here.
All in all, DOCTOR WHO S7 took many chances and hit its stride far more often than not. It did not always choose easy paths or make safe choices, and even when it didn't nail its concepts it at least was reaching to nail worth conceits. What's in store of Season/Series 8? Hopefully adjustments will be made in terms of grappling with that downscaled budget...or perhaps said budget will be restored?...and we'll have a better sense of matters in general when Matt Smith's Doctor begins his exit from the show over the next few months, and Peter Capaldi takes the lead.
DOCTOR WHO: The Complete Seventh Series is now available HERE on Blu-ray and DVD here in the States, and HERE on Blu-ray and DVD in the UK. As far as the Blu-rays go, predictably, the episodes look fantastic in HD - many are remarkably well shot. Some of the wobblier production qualities mentioned above (Asylum of the Daleks or Rings of Akhaten) look vastly improved in full HD, although the sometimes dodgy effects work (a product of DW's long-standing The Mill effects house shutting down and a poor choice of replacement) screams more distractingly in HD.
Extras include...
- Behind the scenes featurettes for every episode of Series 7 plus The Snowmen
- Interviews with Matt Smith and Jenna-Louse Coleman from BBC AMERICA's The Nerdist
- All-new featurettes INFORARIUM, Clara and the TARDIS, and Rain Gods
- Other featurettes including: The Making of the Gunslinger, Creating Clara, Last Days of the Ponds, and Pond Life
- Doctor Who Specials: The Science of Doctor Who, Doctor Who in the US, The Companions, and Doctor Who at Comic Con
- Prequels to episodes: The Doctor, The Widow and The Wardrobe, Asylum of the Daleks, The Snowmen (x3), The Bells of Saint John and The Name of the Doctor (x2)
Audio commentary for episodes: The Snowmen, Cold War, Hide, and The Crimson Horror.
-------------------
Glen Oliver
"Merrick"
- e-mail
- Twitter
- Google +
[[[[[ A LIST OF PREVIOUS DOCBACKS CAN BE FOUND HERE!! ]]]]]
DOCBACK CODE OF CONDUCT
1) a Docback should be about completely open and free discourse regarding all things WHO with, obviously, some variation on subject matter from time to time - the real world intervenes, discussions of other shows are inevitable, etc.)...
2) matters of SPOILAGE should be handled with thoughtful consideration and sensitivity. Posts containing SPOILERS should clearly state that a SPOILER exists in its topic/headline and should never state the spoiler itself . "** SPOILER ** Regarding Clara" is OK, for example. "** SPOILER about that Motorcycle" is fine. **SPOILER** Why did everyone die?" Is NOT good.
And, above all...
3) converse, agree, disagree, and question as much as you want - but the freedom to do so is NOT a license to be rude, crass, disrespectful, or uncivilized in any way. Not remaining courteous and civil, as well as TROLLING or undertaking sensational efforts to ignite controversy, will result in banning. Lack of courtesy may receive one (1) warning before a ban is instigated. Obvious Trolling or Spamming will result in summary banning with no warning. One word posts intended to bump-up any Docback's figures on AICN's "Top Talkbacks" sidebar will be considered actionable Spam - they not only complicate efforts to access Docback from mobile devices, but impede readers' abilities to follow or engage in flowing conversation.
In short, it's easy. Be excellent to each other. Now party on...