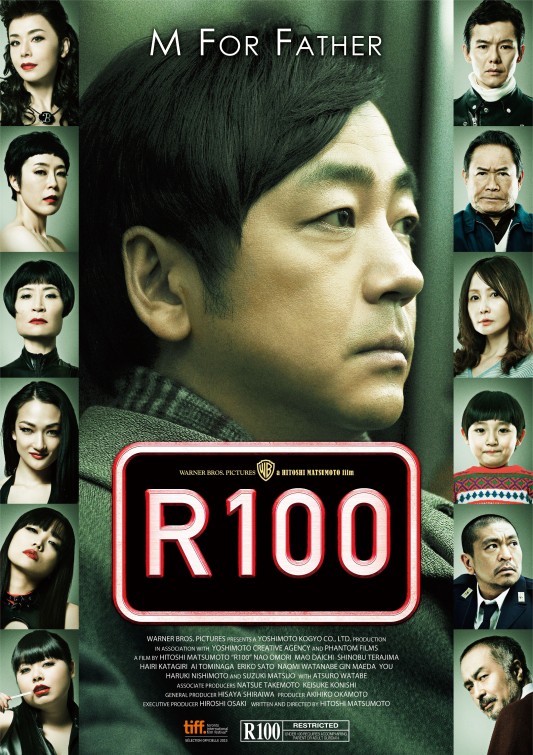 Nordling here.
I haven't written my review for R100 yet (hopefully forthcoming, if I'm not too insanely tired), but it's one terrific comedy by Hitoshi Matsumoto (BIG MAN JAPAN) that slowly builds its gags until the final half-hour, where my sides were hurting from laughing so hard. On paper, it's basically about a man who joins a S&M club but they begin to intrude in his life in increasingly uncomfortable ways. But the humor of the piece isn't just in the obvious jokes but in the subtext as well, and once the entire picture is revealed, it's one of the most rewarding comedies for filmgoers who are patient and give it a chance.
Thus, R100 is a perfect film for Drafthouse Films to release; savvy audiences will get the humor, and while R100 isn't for everyone, for audiences who are willing to stray from the tried-and-true path its rewards are tangible and fulfilling. I want to see it again to just savor all the ways Matsumoto sets up his jokes, especially in the film's last half-hour when everything comes together. Here's the press release:
DRAFTHOUSE FILMS ACQUIRES TORONTO MIDNIGHT MADNESS ENTRY R100

2014 theatrical and VOD release planned for latest film from Hitoshi Matsumoto, regarded as Japan's most iconic comedian
AUSTIN, TX - September 25, 2013 - Drafthouse Films, the film distribution arm of the Alamo Drafthouse Cinema, announced today the acquisition of North American rights to Japanese director Hitoshi Matsumoto's (Big Man Japan) R100, a comic tale of male self-destruction. R100 received its world premiere as part of Toronto International Film Festival's Midnight Madness section and made its US premiere at Fantastic Fest last weekend. A VOD/Digital and theatrical release is planned for 2014.

R100 (a riff on the Japanese movie rating system, whose equivalent to NC-17 is R18) tells the story of lonely everyman, Takafumi Katayama (Nao Ohmori of Ichi The Killerinfamy), who hires a boutique S&M agency that specialize in random acts of extreme public degradation. At first, this changes his outlook on life for the better, but a bizarre accident violates the terms of the contract and hurdles Takafumi into a confounding spiral that will test his very soul. The Hollywood Reporter said about the film, "it's hard to remember a film about S&M as funny as this one, or one as beautifully and weirdly imagined." And Twitch Film remarked, "it [delivers] an intensely intelligent [and] fabulously acted study of the lengths people will go to secure happiness...Matsumoto is one of the most ferociously unique filmmakers on the face of the planet."

"There's probably no bigger fan of Hitoshi Matsumoto's comedy in North America than me," said Drafthouse Films Founder Tim League. "Without Matsumoto, there's no Jackass; there's no extreme reality TV. With the release of his brilliant new film R100, I hope to expose this legendary comic genius to a new, wide audience."

The deal was negotiated by Tim League and James Emanuel Shapiro on behalf of Drafthouse Films and Miyuki Takamatsu of Free Stone Productions on behalf of the producers.

For theatrical bookings contact Sumyi Khong Antonson, VP of Marketing and Distribution at sumyi.antonson@drafthouse.com. For festival bookings contact Jon Stobezki, Festival Director at jon.stobezki@drafthouse.com.

For more information on R100 and Drafthouse Films:

http://twitter.com/drafthousefilms

http://facebook.com/drafthousefilms

About R100 (TIFF Program Guide)

In R100, Nao Ohmori (star of Takashi Miike's Ichi the Killer) plays Takafumi Katayama, a mild-mannered father who escapes the pressures of daily life by joining a mysterious S&M club, where the so-called Queens visit clients in real-life settings. While at first the rough treatment and humiliation he receives from leather-clad women in cafés and restaurants is enjoyable, Takafumi soon realizes that he's opened a door that cannot be closed.

Unable to end his relationship with the club, he finds himself pursued by a gang of ruthless dominatrices, each with a very unique talent. Takafumi must either find a way to turn the tables, or walk even further down this dark yet sexy path.

A massive star in Japan, where he is best known for his zany television comedies, director Hitoshi Matsumoto has bewildered and delighted Midnight Madness audiences twice before, with Big Man Japan and Symbol, each time one-upping himself in terms of both strangeness and imagination. With R100, he returns with a distinctive take on the sex comedy.

The title is itself a play on the Japanese movie ratings R-15 and R-18, and represents just how far Matsumoto is willing to go to slap, tickle, and lead his audiences into a world that is unlike anything they have ever experienced.

Drafthouse Films, the film distribution arm of the Alamo Drafthouse Cinema, is a curated brand of provocative, visionary and artfully unusual films new and old from around the world. Following the earnestly simple motto of "sharing the films we love with widest audience possible," Drafthouse Films debuted in 2010 with the theatrical release of Four Lions, which was named of Time Magazine's "Top 10 Films Of The Year." The 2012 release slate includes the acclaimed Best Foreign Language Oscar®) Bullhead, the internationally celebrated Danish comedy Klown (currently slated for a Warner Bros/Todd Phillips produced US remake), Cannes Film Festival 2013 Official Selection Nothing Bad Can Happen, the 40th anniversary restoration of landmark Australian thriller Wake In Fright, the Werner Herzog/Errol Morris produced documentary The Act Of Killing and British auteur Ben Wheatley's psychedelic trip into magic and madness A Field In England. Drafthouse Films distributes films theatrically, through home video, VOD and their direct-to-consumer platforms integrating into the ever-growing Alamo Drafthouse entertainment lifestyle brand, which along with the Alamo Drafthouse Cinemas includes: Mondo, the collectible art boutique; Fantastic Fest, the largest international genre film festival in the US; and the pop culture website Badass Digest.
Nordling, out.