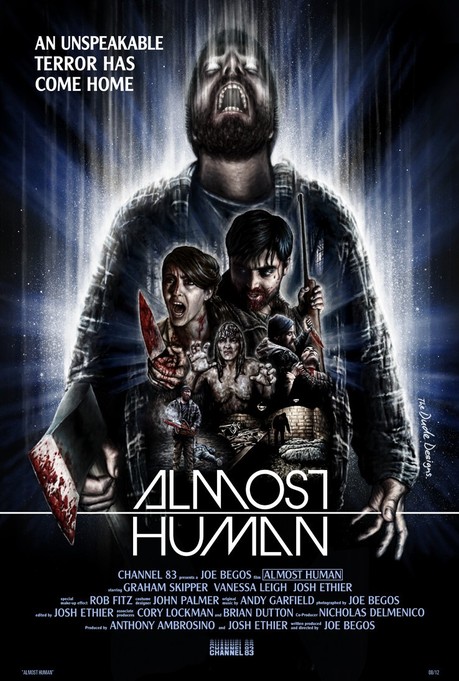 Ahoy, squirts! Quint here with my very first review from Fantastic Fest 2013! It's been a rocky fest so far, but before I get my precious few hours of sleep before my 5-movie Day 2 I wanted to put some words down about tonight's midnighter, the Toronto FF favorite Almost Human.
When I maneuvered to my seat, I heard my name called. I turned around and was confronted by a fellow who introduced himself as Joe Begos, the director of the film I was about to watch. He said nice things about the site and my work on it. I responded with, "Thanks, man. I hope I like your movie!"
This is one of the toughest parts of covering film festivals. Listen, I'm a nice guy. I like everybody to get along and I hate feeling like I'm shitting on someone's birthday cake, but I also will be honest when asked for my opinion. So, there have been many awkward post-screening "What did you think?"s in my years of covering film festivals all over the world.
I didn't see Mr. Begos post-film, but that's for the best. It's not that I didn't like his movie because I did, but it's a flawed film and if I was pressed I would have told him what I'm about to tell you folks below. He seemed like the kind of dude that would take it with a smile, but it was his big night and I still would have felt shitty being anything but 100% enthusiastic with him. So, note to filmmakers at festivals: asking a critic what they think of your movie is probably not a good idea. If they're over the moon about it they'll let ya' know.
Don't know why I'm rambling on about this particular opinion on film festival etiquette, but roll with me a bit here. It's only day 1 and I'm already working off of only a few hours of sleep!
One of Almost Human's greatest strengths is also one of its greatest weaknesses. The film wears its influences on its sleeve and as much as I loved the Thing-like score and sound design, the Prince of Darkness-era font, the Jamie-Lee-In-the-Closet-From-Halloween moment and the dozens of other Carpenter and early '80s genre homages throughout this story I did find myself wanting the film to forge more of its own identity by the end.
The story begins as your basic Fire in the Sky alien abduction tale, but quickly shifts focus with a 2 year time jump as one of the abducted returns wanting to find his lady friend... and brutally murder anybody who gets in his way.
Re-Animator: The Musical's Graham Skipper plays the lead, a paranoid dude named Seth, good friends with the abducted Mark (Josh Ethier). Seth is a bit of a hard lead to like because he spends most of the movie convinced something bad is going to happen, but does little else but complain about it. Skipper does bring a wild-eyed vulnerability to the character, so I was able to roll with him as the story progressed.
Ethier is a little hit and miss in his performance, but overall he's a big bald dude with a huge red beard, so he plays the baddie pretty well. He also had the benefit of one of the most interesting characters in the story since he has both the thoughts of his previous self and the desire to spread a Body Snatchers-esque infection throughout all of humanity. I wouldn't go so far as to say he has a complex duality, but the skeleton of that structure is there and it's one of the more interesting things about this story.
The only actor I out and out disliked was Vanessa Leigh. She plays Jen, Mark's old lady and the object of his obsession. The problem is she has a lot of character exposition and her line delivery is about the level of your average late night Syfy movie performer. For me personally, if they had cast a better actor in this role a lot more of the movie would have clicked into place.
Again, I actually did end up liking the movie. It might not sound like it so far, but it's true. Begos' shot composition and attention to production value were very cinematic even if the mega low budget (well south of $100k if what I heard around the fest is true) is pretty evident at times.
I'm not sure if his script was a little undercooked or if some of the telling-instead-of-showing problems and giving us the same information a few times in a single scene issues were due to the low budget of the picture. Either way the passion of the script overcomes some of the rough edges, but it'll be interesting to watch him tackle a bigger project and see how he progresses as a storyteller. On a technical level he's got it down... at least he and I think the same on how movies should look and sound: nice and wide, smart use of foreground/background elements and loud enough to make the old folks in the audience turn down their hearing aids.
IFC has the distribution rights to this one and that's a good thing. The sheer earnestness of the film demands an audience. It may rely a little too heavily on homage, but it goes gross and weird enough to make an imprint.
So, it was a pleasure meeting you, Mr. Begos. I may have some issues with your film, but I did like it. Good luck with the distribution and I look forward to seeing what the next one looks like. Oh, and by the way... your poster is amazing.
I've got a ridiculous amount of movies tomorrow, but all show some sort of promise. The new Ti West movie, the new Alex de la Iglesia movie and Elijah Wood playing the piano movie, to name but a few. Stay tuned!
-Eric Vespe
"Quint"
quint@aintitcool.com
Follow Me On Twitter