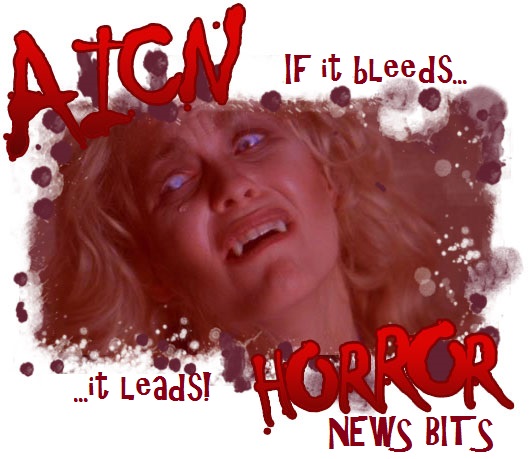 Logo by Kristian Horn
What the &#$% is ZOMBIES & SHARKS?
---
Greetings, all. Ambush Bug here. Here's this week's dose of horror news bits—bite size like you zombies like it!
---
An Unforgettable Clip from FORGETTING THE GIRL!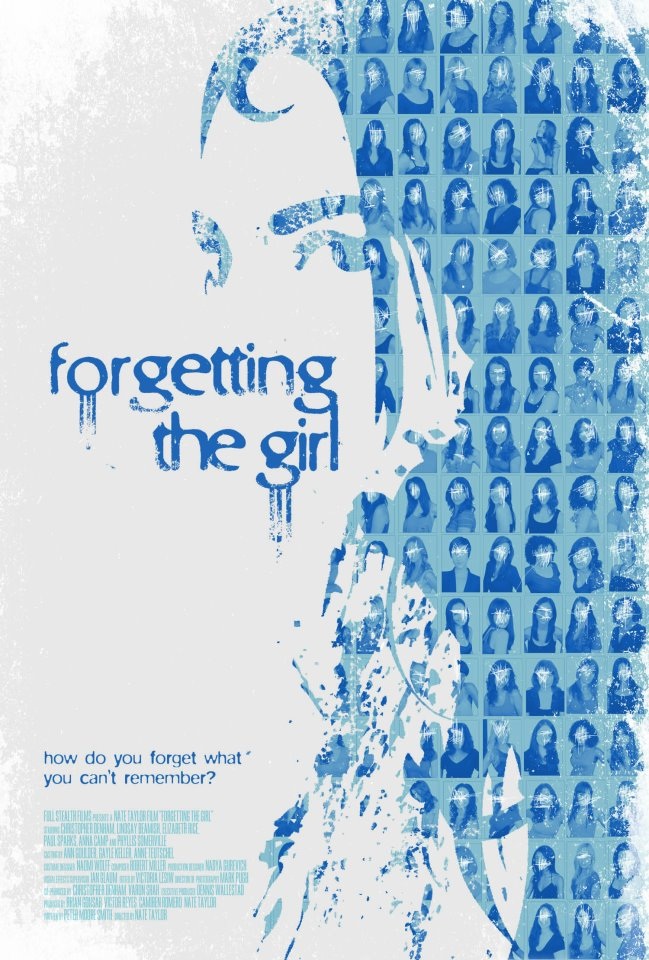 I reviewed FORGETTING THE GIRL a while back when it was touring the festival circuit.
Now it's finally getting released in select theaters, on Video On Demand, Amazon Instant and iTunes on Friday, October 11th. Written by award-winning novelist Peter Moore Smith, directed by first-time director Nate Taylor, FORGETTING THE GIRL stars Christopher Denham (ARGO, SHUTTER ISLAND), Lindsay Beamish (SHORT BUS), Paul Sparks (Boardwalk Empire, MUD), and Anna Camp (PITCH PERFECT, THE HELP). It's described as;
Haunted by a traumatic history, photographer Kevin Wolfe struggles to systematically forget all his bad memories, seeking a girl who can help him with the endeavor. Unfortunately, all his encounters with the opposite sex inevitably go afoul, creating more awkward experiences than he can cope with. As Kevin is forced to take desperate measures, the tightly-woven thriller slowly boils under the surface, until it unleashes in an unsettling climax that will not be easily forgotten.
I loved the film and thought the film's lead Christopher Denham delivered a star making and haunting performance. Below is a special AICN HORROR exclusive clip from the film.
---
Use the foreskin, Luke and check out this trailer for SKINWALKER RANCH!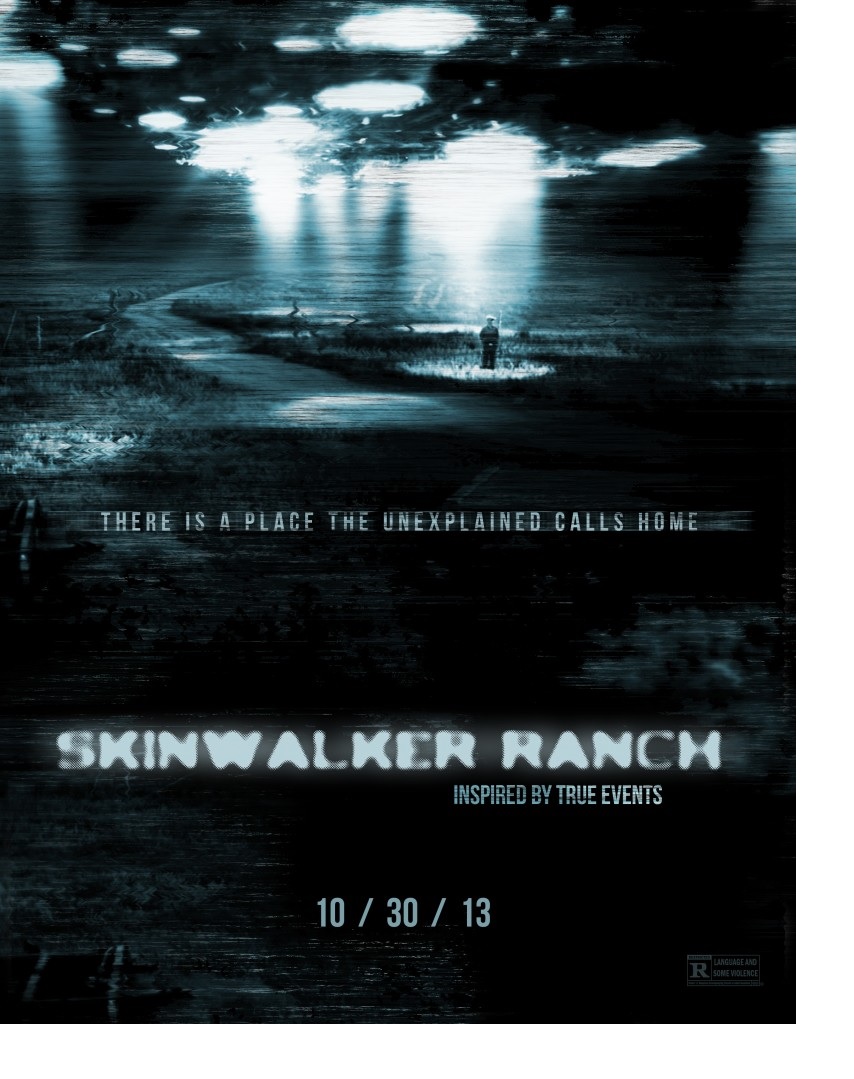 Ok, this is not porn, but I couldn't help myself. SKINWALKER RANCH is actually a suspense thriller "inspired by true events" that have occurred in NE Utah and was recently brought to the media's attention by Joe Rogan in ScyFy's QUESTION EVERYTHING and former Governor Jesse Ventura after years' worth of reports of a wide range of unexplained phenomena. The film touches on these reports ranging from mysterious orbs and alleged UFO sightings to giant wolf-like creatures and livestock mutilation. The film is described as;
a found footage movie that starts with the disappearance of ranch owner Hoyt Miller's eight year old son, Cody on November 11, 2010. Modern Defense Enterprises (MDE) sent a team of experts to document and investigate the mysterious occurrences, which only escalate upon their arrival… The incidents become more violent, causing tensions to rise as the team must decide how far they will go to unlock the mysteries of "Skinwalker Ranch." The group debates whether the answers are worth risking their lives for, or if they should just call off the investigation and leave the ranch – that is, if leaving is actually an option…
Directed by Devin McGinn writer of THE LAST LOVECRAFT: RELIC OF CTHULHU, SKINWALKER RANCH stars Jon Gries, Kyle Davis, Steve Berg and Devin McGinn and is set to release in theaters and on Video On Demand on October 30th!
Find out more about this fascinating project here
and on
Facebook here
Check out this clip from the film below!
---
Treat Yourself to this ALL HALLOW'S EVE Trailer!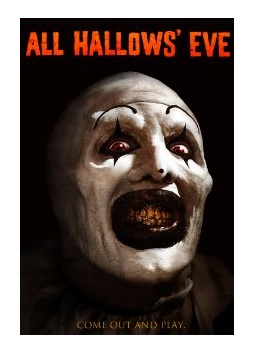 I'm always game for a new Halloween horror film. ALL HALLOW'S EVE looks somewhat promising from director Damien Leone (who seems to have made a career in effects, which is never a bad thing) and starring Catherine Callahan, Katie Maguire, Marie Maser who will be playing people either running in horror or killed or both in the film which is described as;
Beautiful, unsuspecting Sarah is looking forward to a quiet Halloween night at home with the two young teens she's babysitting. Then, she discovers an unmarked old VHS videotape in one of the kid's bags of candy. On the tape: a series of wildly outlandish tales of murder, torture and unearthly mayhem, all somehow linked to a diabolical clown-from-hell. As each tale ratchets up the terror, bizarre phenomena begin to occur in the house, as Sarah discovers that the grimacing, white-faced clown on the video may be saving his most horrific All Hallows' Eve treat… just for her.
I'll give it to them, the poster is creepy as all get out. The film will be released on DVD and Video On Demand on October 29, 2013. Here's the new trailer!
---
Sure to ruffle all types of PC feathers…check out THE MINSTREL KILLER!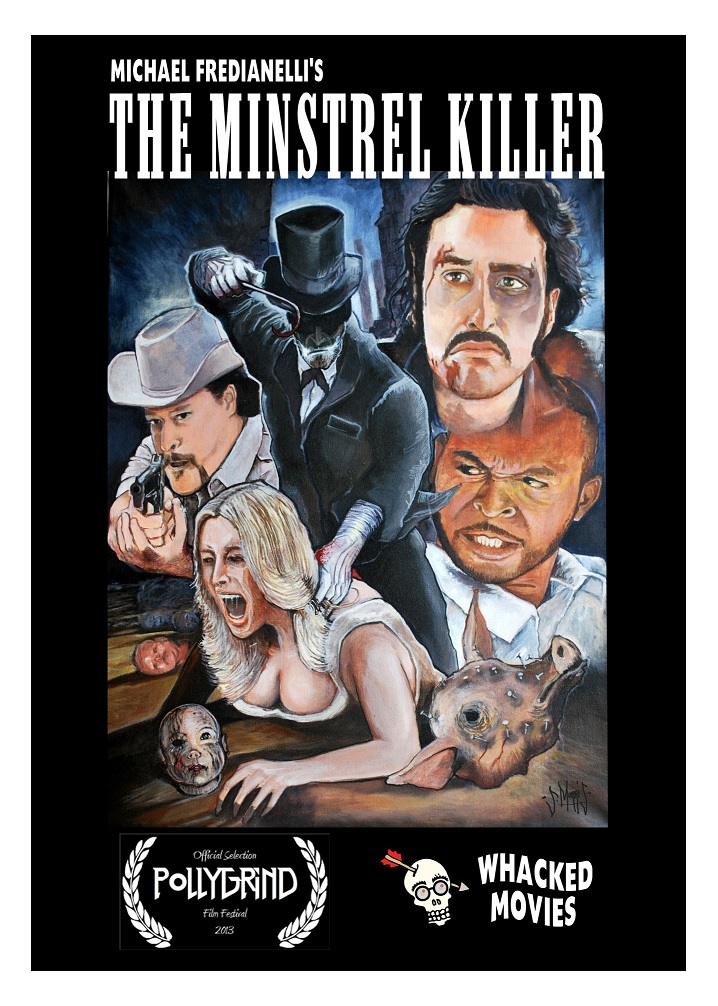 In this PC world, it's about time someone out there decides to push the envelope in terms of horror. Michael Fredianelli's THE MINSTREL KILLER seems to be oozing with grindhouse goodness. From what I glean from this trailer it seems someone is dressing up in blackface and murdering folks in the South. All kinds of wrong could mean all kinds of right and this old school trailer makes me want to check out this film ASAFP.
THE MINSTREL KILLER is premiering at the the at
PollyGrind Film Festival
in Vegas October 9-13th. Find out more about this film at
Whacked Movies
and check out the trailer below!
---
See Some Ominous Indie Horror in This THE APOSTATE Trailer!
More indie horror comin' atcha with Andy Dodd's THE APOSTATE;
described as—inconsolable with grief, a man is given the chance to forget all his troubles when he befriends a stranger...
Vague, but promising. But I really liked some of the short films Dodd made a wile back, especially the zombie treat LULLABY. For those of you too lazy to look it up, I did it for you; apostate means – a person who renounces a religious or political belief or principle. That definition along with the trailer below gives me an ominous feeling I can't shake.
Find out more about THE APOSTATE here.
Check out this trailer for THE APOSTATE and see if it's something that moves you…
---
Being a hero stinks according to this new SEPTIC MAN Trailer!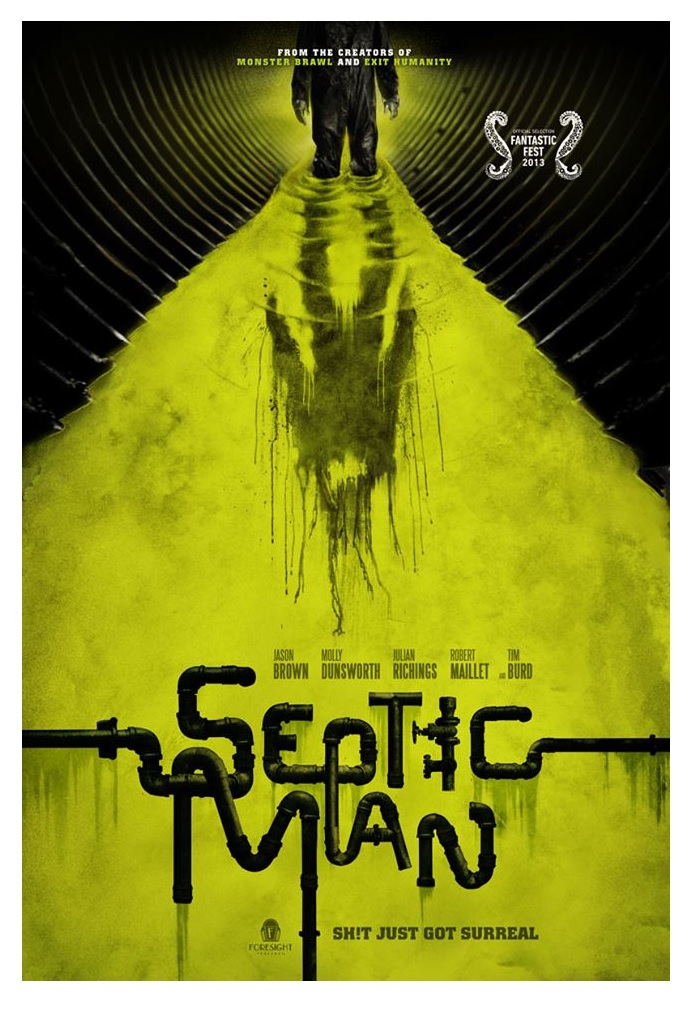 Look out, Spider-Man! Move over, Batman! Gedafuckoutta da way, Iron Man! Scram, Thor! There's a new hero in town and he's full of shit! SEPTIC MAN just plopped out a fresh trailer. From the director of MONSTER BRAWL comes a story described as
a transgressive creature feature mixed with the trappings of a super-hero origins story, the film focuses on an erstwhile plumber who undergoes a hideous transformation when trapped inside a septic tank.
Directed by Jesse T. Cook and written by PONTYPOOL scribe Tony Burgess., the film stars Jason Brown in the titular role, with Molly Dunsworth (HOBO WITH A SHOTGUN), Julian Richings (CUBE), Robert Maillet (PACIFIC RIM), and Tim Burd. The film premieres tonight at midnight at Fantastic Fest and then again at 8:15pm on Monday September 23rd!
Find out more about SEPTIC MAN here.
I'm hoping a sequel will have Septic Man thwart the crime spree of the dastardly Turd Burglar and squech the Insufferable Shart to round out the turd trilogy!
I poke fun, but this trailer looks all kinds of awesome! Check out the fantastically disgusting trailer for the film below!
---
Look for AICN HORROR horror and genre film reviews every Friday.
Find more AICN HORROR including an archive of previous columns on AICN HORROR's Facebook page!