John Barrowman draws a Dalek for Beyond The Marquee's Lindalee...
Glen here...
...with a quick revisitation of DALEKS - INVASION EARTH: 2150 A.D., the awkwardly titled second installment of what was intended to be a series of licensed 'DR' (not 'DOCTOR') WHO theatrical films adapting Dalek-centric DOCTOR WHO TV stories for the big screen. The first entry, reviewed HERE last week, performed quite nicely at the box office. This one did not - thus plans for further DR. WHO movies were effectively scrapped.
Will we ever get another (probably 'official') DOCTOR WHO movie on the big screen? I think the likelihood of this is quite high, although my sincerest hope is that no movement is made towards such ends until a point in time when no DOCTOR WHO TV series is regularly on the air. I think DW could easily survive on the big screen, or the small, although perhaps not both concurrently. Franchise fatigue and general confusion might very well abound.
More on DALEKS - INVASION EARTH: 2150 A.D. shortly, but first...
IN CASE YOU MISSED IT: BBC ANNOUNCES 50th ANNIVERSARY PROGRAMMING PLANS + POSTER/EPISODE TITLE FOR THE MATT SMITH MEGA-EP
Here's a press release with the details...
50 YEARS OF DOCTOR WHO CULMINATING IN 'THE DAY OF THE DOCTOR'

The countdown starts here as the BBC reveals its plans to take over TV and radio to mark the Doctor's 50th anniversary

With special programmes planned across the BBC the celebrations will peak on 23 November with the anniversary episode, revealed as 'The Day of the Doctor'. Starring Matt Smith, David Tennant, Jenna Coleman with Billie Piper and John Hurt, the special for BBC One has been confirmed as feature length with 75 minutes of adventure.

Matt Smith, who plays the Doctor, said:

"The Day of the Doctor is nearly here! Hope you all enjoy. There's lots more coming your way, as the countdown to the 50th begins now."

Each channel will be home to unique content, celebrating the wealth of history and talent from the last 50 years.

BBC Two will broadcast a number of new commissions, focusing on telling the story behind the show. For one night only, Professor Brian Cox will take an audience of celebrity guests and members of the public on a journey into the wonderful universe of the Doctor, from the lecture hall of the Royal Institution of Great Britain (1x60mins). Drawing on the latest theories as well as 200 years of scientific discoveries and the genius of Einstein, Brian tries to answer the classic questions raised by the Doctor – can you really travel in time? Does extra-terrestrial life exist in our galaxy? And how do you build something as fantastical as the TARDIS?

In an hour-long special, BBC Two's flagship arts programme The Culture Show presents 'Me, You and Doctor Who' (1x60mins), with lifelong fan Matthew Sweet exploring the cultural significance of the BBC's longest running TV drama, arguing that it's one of the most important cultural artefacts of modern Britain. Put simply, Doctor Who matters. He'll examine how the show has become a cultural force in its own right and tell the stories of some of the unsung cultural heroes, who pioneered its innovative music, design and storytelling.

BBC Two wraps up its coverage with the previously announced 'An Adventure in Space and Time' (1x90mins), which will tell the story of the genesis of Doctor Who and the many personalities involved. Written by Mark Gatiss the drama stars; David Bradley (the Harry Potter films); Brian Cox (The Bourne Supremacy, The Bourne Identity), Jessica Raine (Call the Midwife) and Sacha Dhawan (History Boys, Last Tango in Halifax).

Steven Moffat, lead writer and executive producer, Doctor Who said:

"50 years has turned Doctor Who from a television show into a cultural landmark. Personally I can't wait to see what it becomes after a hundred."

BBC Four will introduce audiences to the first Doctor, William Hartnell, with a special re-run of the first ever story, which marked the start of 50 years of history. The four episodes are being shown in a restored format, not previously broadcast in the UK.

There will also be programmes across CBBC with 12 Again (1x30mins) bringing together CBBC's super fan Chris Johnson, impressionist Jon Culshaw, Tommy Knight (Luke Smith), Warwick Davis (Porridge), Neve McIntosh (Madame Vastra), Dan Starkey (Strax) Louise Jameson (Leela) and the Seventh Doctor; Sylvester McCoy, to share their memories of watching TV's top Time Lord when they were young.

While Blue Peter will launch an exciting new competition giving viewers aged between six and fourteen the opportunity to design a new gadget that will become part of the iconic science fiction series. Two live Blue Peter specials will see presenters Barney, Lindsey and Radzi joined by aliens and monsters, with viewers challenging Matt Smith to answer their Doctor Who questions.

BBC Three will be home to several exciting entertainment commissions. Audiences will be encouraged to get involved and vote in 'Doctor Who: Monsters and Villains Weekend', as we countdown to the top Doctor Who monster. For those less familiar with the show, 'Doctor Who: The Ultimate Guide' will introduce fans and viewers to a wealth of archive material and act as a guide to all things Who. A further exciting commission to be announced later this year will see the celebrations finish with a bang.

Danny Cohen, Director BBC Television said:

"Doctor Who is a titan of British television and I'm incredibly proud to have it on the BBC. It's an astonishing achievement for a drama to reach its 50th Anniversary. I'd like to thank every person - on both sides of the camera - who has been involved with its creative journey over so many years."

It's not just TV where audiences will be able join in the celebrations, programming across Radio 2, Radio 1 and Radio 4 Extra will each mark the 50th.

BBC Radio 2 will ask 'Who Is The Doctor?' in a 90 minute documentary featuring newly recorded interviews and exclusive archive material. The programme will look at the lasting appeal of Doctor Who and ask how much of its continued success can be attributed to its basic formula.

In 'The Blagger's Guide to Doctor Who', David Quantick will give the iconic Doctor the Blagger's treatment. He'll be finding out the answers to questions such as why do Americans think Tom Baker is still Doctor Who? How many Doctors have there really been? Were the Daleks really named after an encyclopaedia?

Finally, Graham Norton will be broadcasting his weekly Radio 2 show live (Saturday 23 November, 10am) from the Doctor Who Celebration in London. In a special three-hour show, Graham will take a ride in the TARDIS and will also be chatting with some of the series' stars and fans.

Music is a key part of Doctor Who, from the famous theme tune to soaring melodies, but the show has also inspired a whole new phenomenon – Time Lord Rock (TROCK). Radio 1 will look at this genre of music inspired by the Doctor and his journeys through space and time with a 60 minute documentary.

Meanwhile Radio 4 Extra travels back to 1963 with a three hour special programme, 'Who Made Who?', to look at the world that inspired the television series. Doctor Who may have come from other times, but his roots were very much in the present of 1960s Britain. This distinctive programme combines audio from the archive, new interviews and extracts from audio versions of Doctor Who. Additionally, the station will broadcast readings and dramas featuring the great Doctor.

There will also be special content across the of www.bbc.co.uk/doctorwho and on the iPlayer.
Meanwhile, here's a mega-huge version of The Day of the Doctor poster. Click it to embiggen.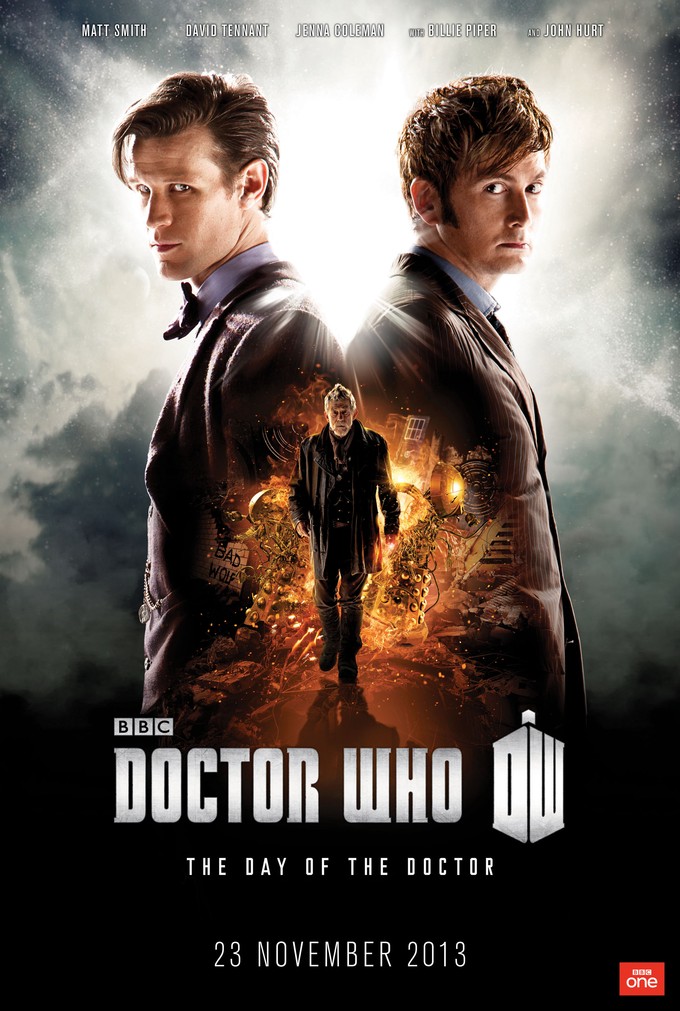 50th ANNIVERSARY 12" DALEK NOW ORDERABLE (AND IT CAN BE SHIPPED TO THE US)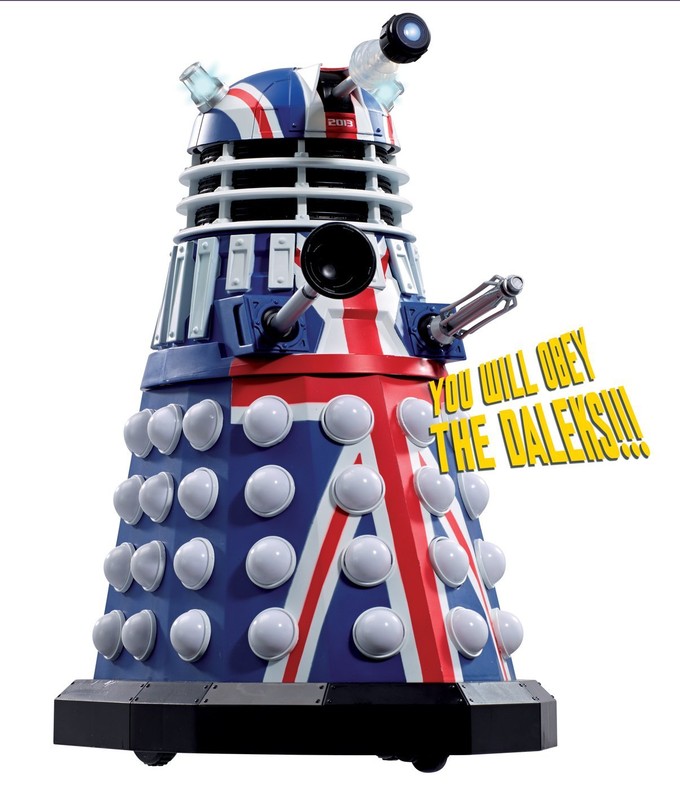 At San Diego Comic Con, I saw a prototype for an American version of this Dalek - not finding any sign of it on the Internet at this time, but if I'm missing it, feel free drop a link in the Talkback below. I'll update whenever further details become available.
US import folks can order it HERE! UK residents can find it HERE. AmazonUK usually ships to the US, but for some reason this one wouldn't work when I tried (size?). The first site linked appears to have accepted my order just fine.
HORNORSILK REVIEWS THE COLDITZ BIG FINISH AUDIO
==============================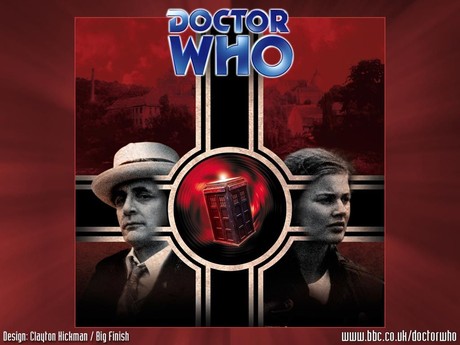 Big Finish 25 – Colditz
By: Steve Lyons
While waiting for the last story of the current 7th Doctor trilogy, I thought it might be wise to do a quick review over the first Klein story. I also chose this story because it has David Tennant in one of the Big Finish audios he did before he became the Doctor himself, which might give some new Who fans a reason to be interested in this story.
The TARDIS lands right outside of Nazi prison camp, Colditz Castle. As soon as he recognizes where he is, the Doctor tries to take Ace back into the TARDIS, but Nazi soldiers show up and capture them before they can flee. The Doctor and Ace quickly become separated. Because Ace has with her an "advanced" stereo system (for the time), the Nazis become interested in who she is and her technology. She also finds Nazi soldier Feldwebel Kurtz (played by David Tennant) has taken an interest in her, and because she rejects his advances, Kurtz becomes more and more outrageous and forceful in relation to her. The Doctor, on the other hand, finds himself involved with Klein, a Nazi scientist from an alternative universe who has taken possession of the TARDIS and learned, to a limited extent, how to pilot it.
Ace, for the most part, is the one most intertwined with the normal prisoners of Colditz Castle. Some of them show great benevolence toward her, others are not so charitable. However, in this story, we find Ace not only dealing with the Nazis, who she outright hates, but also with herself; this is the first of several stories where she does not want to be associated as "Ace" but as McShane, as a way to overcome the pains of the past. In this way, Kurtz causes all kinds of new problems for her. Yet, interestingly enough, some of the other Nazis and her co-prisoners try to find ways to help her in the face of Kurtz's advances toward her. David Tennant does this role quite well. Indeed, his Big Finish stories convinced me he would be a great when he took over as the Doctor. Kurtz is a villain, selfish, self-centered, self-seeking, who thinks he has a right to have at Ace and when she refuses him, his despicable character comes out. While we might want to think all Nazis were evil, we do find more compassionate Nazis running Colditz, keeping Kurtz somewhat in check, and helping the other prisoners as much as they could. Those who work for evil will not always lack virtue, indeed, many virtues will be revealed in them despite what evil they accept. Only a few can be said to go all the way with their evil, and Kurtz is one of them.
The story of the Doctor and Klein, while interesting as a one-off story, was not as exciting to me. I thought, when first listening to it, the story between Kurtz and Ace was the most enjoyable aspect of this tale, even if the sci-fi elements of the Doctor's tale had its points of interest. We see alternative realities are capable of interacting with each other, causing confusion. This, of course, will be taken on further when Klein is given a central role in various audio stories. Nonetheless, despite all of that, I was not desirous for a new Klein story once this audio was over. I would have liked to see more with Kurtz. The reverse is what we got, and of course now, it is unlikely anything more will be done with Kurtz. Yet, if Big Finish wanted to do something really interesting and twisted, alternative-Klein should pick up alternative Kurtz for a story, meeting the Doctor and UNIT-Klein.
I will tell anyone who likes David Tennant to get this tale. He is great in it. When Kurtz is involved, he takes center stage, and if this were on film, he would be "hogging the screen." Everyone else pales in comparison to him. And this is not to say others do their role bad: they are competent, though nowhere near as engaging as Tennant. Sophie Aldred had to work with contrived "McShane" elements, which hurts her characterization a bit, but otherwise, does a good job. I find McCoy and Tracy Childs as Klein forgettable in comparison, though I admit, this doesn't seem to be the normal reaction.
While David Tennant is an enjoyable 10/10 in this, I find the story itself an average 7/10. But even if the story isn't exceptional (and I know many disagree with me here), it is well worth listening to for David Tennant, especially now that it is reduced in price on the Big Finish website.
- HornOrSilk
==============================
DALEKS - INVASION EARTH: 2150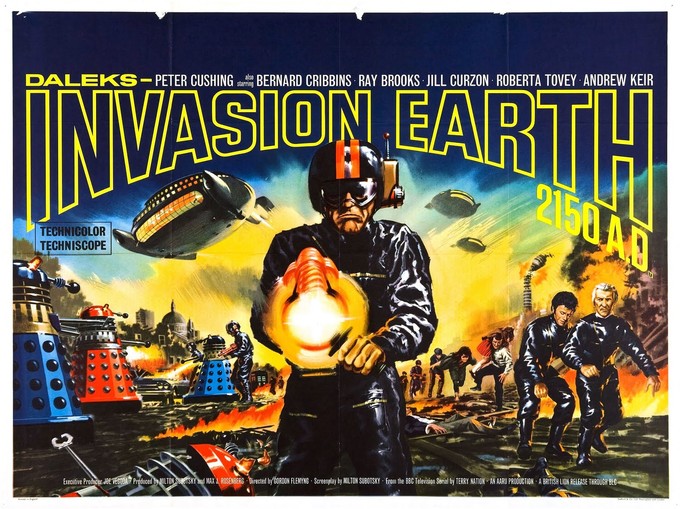 In many regards, I enjoy this adventure much more than the Peter Cushing starring DR. WHO & THE DALEKS, its 1963 bizarroverse progenitor.
While that film very deftly distilled Terry Nation's first-ever television Dalek tale into a feature picture imminently suited or family consumption, DIE2150 (based on the Hartnell era The Dalek Invasion of Earth - Story #10 ) takes itself and its subject matter a bit more seriously. This is, first and foremost, a war move - set in a war torn land and very much about a guerrilla fight for survival against technologically superior forces. While stripping down many 'proper' DOCTOR WHO conceits and qualities to their most basic essences, the film still manages to do justice to the DW franchise from which it is derived, while standing on its own as a surprisingly hard boiled Science Fiction piece.
Gordon Flemyng, helmer of the first Cushing picture, returns to forge a very different kind of movie. This one's gritter and more design intensive, and some of the DW&TD's softer edges are more jagged this time around. Colorful photographic pallets are starker and grittier here - almost as if Flemyng and returning Director of Photography John Wilcox are reacting against the style of the first film. Or, perhaps they both had more pride than to simply repeat themselves? Or, simply, they may both have been smart enough to know that the nature of this story required a 'harder' approach.
Editing by Ann Chegwidden is crisper and decidedly less meandering than the 1963 predecessor project, although consistent propulsiveness could not be claimed to be one of DIE2150s stronger qualities.
Like DR. WHO & THE DALEKS, DALEKS- INVASION EARTH: 2150 A.D. does a very nice job at evoking and honoring my memory of its television ancestor, similarly trimming away a great deal of flab and keeping matter focused and succinct. It's been a while since I've seen The Dalek Invasion of Earth - but my sense of the matter is that this movie takes a few more liberties with the source material than DW&TD - although that may just be my hazy recolection at work. One notable difference? The television story exited the Doctor's granddaughter, Susan, in one of the show' most surprising and impactful farewells...
...a move which does not happen here. Given the tighter and cleaner continuity of the movieverse, Susan was presumably retained to continue onto further cinematic adventures (an adaptation of The Chase - Hartnell, Story #16 was planned but unproduced). As stated above, this never transpired. Which makes me kind of sad, there's a highly agreeable "DOCTOR WHO LITE" quality to DW&TD and this film as well- these are like the SlamFast versions of DOCTOR WHO. Stripped to their most basic essence, yet retaining just enough familiar ingredients to make them immediately digestible. As much as I truly, genuinely love the Doctor's television journeys, I don't mind these more direct iteration of the WHOverse at all, ...even though they're definitely missing mythos and flavoring. The broad ideas are still in place here, and both of these movies make their points and get to where they're going a helluva lot faster than their TV counterparts. I wouldn't want WHO to become this streamlined as a whole, but every once in a while, cutting to the chase can feel kinda good.
DALEKS- INVASION EARTH: 2150 was recently restored - to stunning result - on THIS Blu-ray, available in the UK. It is lightyears beyond any other iteration you'll find in terms of clarity and visual richness, and a damn fine restoration job in terms of sharpness, color saturation, and audio crispness. Highly recommended if you've the ability to play a UK Blu-ray (remember some Blus are not compatible between global regions).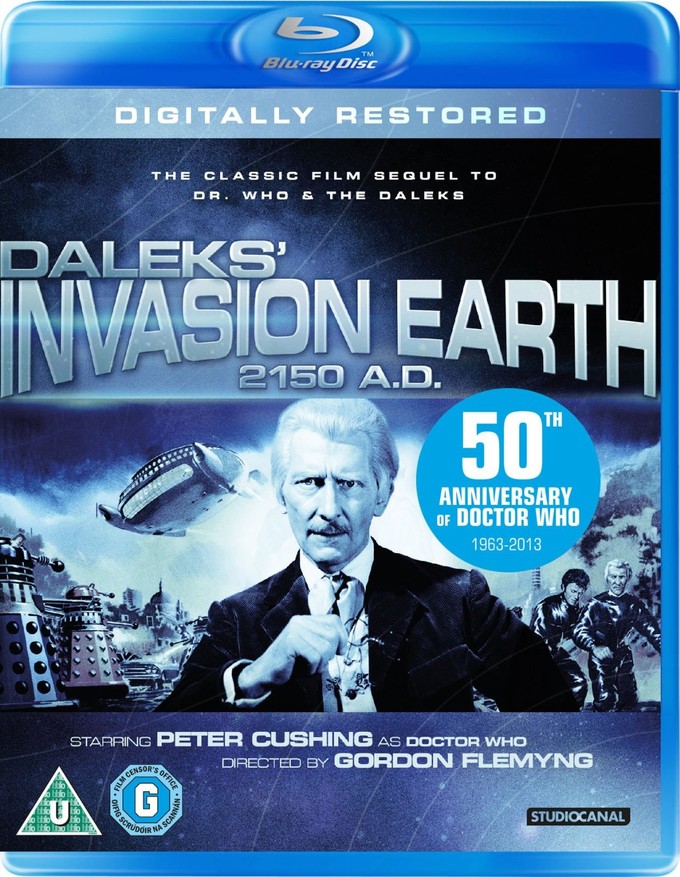 The non-restored, non-HD version is available HERE in the US, along with DR. WHO & THE DALEKS. For a few of my thoughts on the film from a while back, check THIS piece about The Dalek Invasion of Earth.
-------------------
Glen Oliver
"Merrick"
- e-mail
- Twitter
- Google +
[[[[[ A LIST OF PREVIOUS DOCBACKS CAN BE FOUND HERE!! ]]]]]
DOCBACK CODE OF CONDUCT
1) a Docback should be about completely open and free discourse regarding all things WHO with, obviously, some variation on subject matter from time to time - the real world intervenes, discussions of other shows are inevitable, etc.)...
2) matters of SPOILAGE should be handled with thoughtful consideration and sensitivity. Posts containing SPOILERS should clearly state that a SPOILER exists in its topic/headline and should never state the spoiler itself . "** SPOILER ** Regarding Clara" is OK, for example. "** SPOILER about that Motorcycle" is fine. **SPOILER** Why did everyone die?" Is NOT good.
And, above all...
3) converse, agree, disagree, and question as much as you want - but the freedom to do so is NOT a license to be rude, crass, disrespectful, or uncivilized in any way. Not remaining courteous and civil, as well as TROLLING or undertaking sensational efforts to ignite controversy, will result in banning. Lack of courtesy may receive one (1) warning before a ban is instigated. Obvious Trolling or Spamming will result in summary banning with no warning. One word posts intended to bump-up any Docback's figures on AICN's "Top Talkbacks" sidebar will be considered actionable Spam - they not only complicate efforts to access Docback from mobile devices, but impede readers' abilities to follow or engage in flowing conversation.
In short, it's easy. Be excellent to each other. Now party on...