Papa Vinyard here, now here's a little somethin' for ya...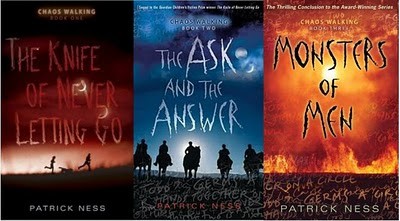 I don't believe that there's a whole lot of people who don't have a soft spot for at least one film in Robert Zemeckis' filmography. Be it BACK TO THE FUTURE, WHO FRAMED ROGER RABBIT, CAST AWAY, USED CARS, or even his mo-cap films like THE POLAR EXPRESS and BEOWULF, the dude has made something for everyone, and now, it seems that he's turning his eye onto the in vogue (and potentially highly lucrative) world of young adult novels.
According to The Wrap, Zemeckis is in talks to direct a live-action adaptation of Patrick Ness' CHAOS WALKING trilogy. The story involves a futuristic society that suffers an infection called "the Noise" that renders all thoughts to be readily audible by everybody else. Already sounds interesting, right?
Well, here's the kicker: Charlie Kaufman is writing the damn script. That's ADAPTATION, ETERNAL SUNSHINE OF A SPOTLESS MIND, SYNECDOCHE, NEW YORK Charlie Kaufman we're talking about. The dude is almost physiologically incapable of writing a derivative script, and his last literary adaptations were ADAPTATION and CONFESSIONS OF A DANGEROUS MIND. Soundin' slightly more interesting than THE MORTAL INSTRUMENTS: CITY OF BONES, eh?
If Kaufman's script (and the deal on the table) are enough to close Zemeckis, this could be the REAL next HARRY POTTER/TWILIGHT/HUNGER GAMES after the slew of almost-were's that we've gotten over the past few years. No coincidence that it's Lionsgate that's spearheading this thing; after HUNGER GAMES closes out in 2015, they're gonna want something to fill that youth-market gap, and this, with its sci-fi premise and the topical "invasion of privacy" aspect, definitely has that potential.
-Vincent Zahedi
"Papa Vinyard"
vincentzahedi@gmail.com
Follow Me On Twitter