Papa Vinyard here, now here's a little somethin' for ya...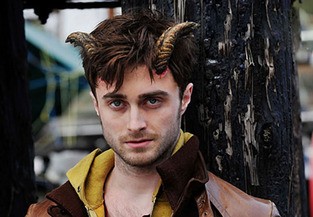 Following its premiere at TIFF, we now have our first peek at footage from Alexandre Aja's HORNS via this clip (courtesy of Collider). In the footage, we get a good look at Daniel Radcliffe brandishing the HORNS of the title while being confronted by a shotgun-toting David Morse.
I like the dead-sincere tone that we're getting a sense of here, and Radcliffe really does seem to be giving it his all in his performance. Alexandre Aja has shown, in THE HILLS HAVE EYES and PIRANHA, that he has an interesting, fluctuating way of straddling the line between comedy and horror, and I'm curious to see how that extends to his work here.
The intriguing supporting cast also includes Juno Temple, Max Minghella, and James Remar.
HORNS is still seeking domestic distribution, but I expect that it will get it (and a release date) sooner than later.
-Vincent Zahedi
"Papa Vinyard"
vincentzahedi@gmail.com
Follow Me On Twitter