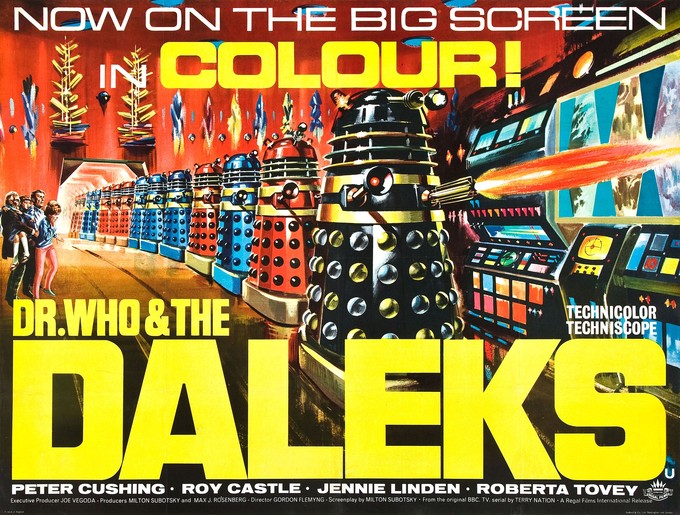 "What people are afraid of, they try to destroy..." - Dr. Who, DOCTOR WHO & THE DALEKS
Glen here...
...with a quick look at DR. WHO & THE DALEKS. No, I don't mean "DOCTOR WHO." This is DR. WHO...a bizarre-o-verse version of our favorite TARDIS driver starring Peter Cushing as a character literally, and shamelessly, named Dr. Who. He travels through time and space in a TARDIS - the anagram of which (Time and Relative Dimension in Space) remains the same, as do his companions on this particular journey. Their relation to him, however, is slightly different in this theatrical iteration.
The only roughly-accurate continuity from the TV amidst these core characters is Susan - the Doctor's granddaughter. She's played by Roberta Tovey here - although she's a much younger girl here than in the TV series (where Carole Ann Ford)had the role). On television, Barbara (Jacqueline Hill) and Ian (William Russell) worked at Susan's school and were slowly forming a relationship. Here, Barbara (Jennie Linden) is another Granddaughter of the Doctor's and Ian (Roy Castle) is her already boyfriend - with little background provided regarding either character. In the show, the Doctor is a fugitive/runaway/whatever from his homeworld. Here, the Dr. is a wizened and sometimes bumbling human adventurer and inventor who has developed a time/space device by means conspicuously unclear. A whacky mishap propels them to an alien world where robotic Daleks (close and colorful variants of the pepperpots seen on the show) are looking to exterminate the peace-mongering Thals in a plot which is extremely, extremely literal to the fabled 1963/4 television tale.
DR. WHO & THE DALEKS is one of two Dalek-centric theatrical motion pictures licensed from Dalek creator Terry Nation by producer Milton Subotsky back in the 60s, and essentially remakes the Hartnell-era The Daleks (Story #2) for the large screen. Brilliant colors abound, as does an impressive amount of earnestness from all parties concerned. This film is not a knock off, per se. Rather, it feels like a smart re-interpretation of Nation's progenitor tale which is devoted to delivering the thrust of the the author's original intent, despite tweaking some trappings of its delivery.
While it may be sacrilege to imply such things, DR. WHO & THE DALEKS actually bests its television counterpart in several key regards. One would expect the film to advance better production values, and it does on the whole. While some the picture's set work is still a tad too evident for its own good, there's also a photographic breadth and physical scale and dazzling overall color pallet evident which is impossible to ignore (it should be noted that this is the first time a version of DOCTOR/DR. WHO was available in color).
Technical betterments aside, what impresses most about DW&TD is its brevity and succinctness. All included, the original TV story was roughly 175 minutes long - almost three hours. TW&TD director Gordon Flemming trims the movie's proceedings to a mere 82 minutes. This is intriguing for two reasons: 1) While it has admittedly been a while since I watched the original television story, TW&TD doesn't...and obvious face value...appear to be missing any key movements from the 1963 televised tale - suggesting just how much padding the original episodes had; and 2) this reinforces my long-standing assertion that unnecessary padding in the early years of DOCTOR WHO compromised many of its stories. This adventure, on the big screen, is not even half as long...and accomplished just as much.
This focused delivery also impacts the fullness and efficiency with which DR. WHO & THE DALEKS' message is ultimately delivered. Perhaps it's there and I simply don't recall it, but I don't remember a thematic through line being terribly evident in the television version (forgive me if I'm wrong in this assertion). Here, though, the message is punched in clearly: the universe is a harsh and Darwinian place (a recurring theme throughout DOCTOR WHO's many years). But it's paradoxically a place where extremism has little to no purpose or value. The Thal's determination not to fight (despite the imminent threat of their extinction) is presented with the same "What the fuck is your problem!?" nature as the Dalek's fervent insistence to wipe out the Thals at any cost. DW&TD neither condones peacenikdom nor war mongering. Instead, it seems to be championing moderation of ones thoughts and the embracing of common sense...asserting that extremism of any kind (passively, or aggressively) might be our ultimate undoing. An interesting and decidedly counter altruistic message for a movie purporting to be family fare.
And that 'family fare' tone is important to note here. DW&TD beats with a greater sense of whimsy than the episode, thanks in no small part to Cushing's portrayal of his "Dr. Who" role as brilliant yet doddering and grandfatherly. His reinvented human origin (his lovable and sometimes bumbling inventor nature) brings a fanciful air to the proceedings. Factoring this into the younger age of Susan and the "all in the family" nature of the adventure as a while - DR. WHO AND THE DALEKS sometimes feels more like a science fictionalized CHITTY CHITTY BANG BANG than a post nuclear conflagration tale of extraterrestrial warfare and survival on an alien world. This is either here nor there, because enough smart moments run throughout (the Dr. has some lovely James T. Kirk moments of honesty and realization and manipulation throughout) - but it's definitely geared for a mass-consumption tone. A tactic which clearly succeeded, as a second Cushing-starring DR. WHO film was mounted shortly after this one. We'll be looking at that title...DALEKS - INVASION EARTH: 2150...next week.
While early television WHO was often backed with interesting scoring and a smattering of instrumentation - this represents the first occasion in which DOCTOR WHO would be backed by full-on orchestral maneuverings throughout. Malcolm Lockyer's music is heavy on highly-developed thematics and portends by 40 years the bigger, louder, bolder, more epic approach to scoring that would be introduced by John Debney in 1996 DOCTOR WHO TV movie (McGann), and continued by Murray Gold and Ben Foster throughout the Davies/Moffat eras subsequently. There are moments where...someone...decided to not score scenes which probably could've used a bit of musical support, and...as a result...a few action heavy sequences fall a little flatter than they should have or needed to.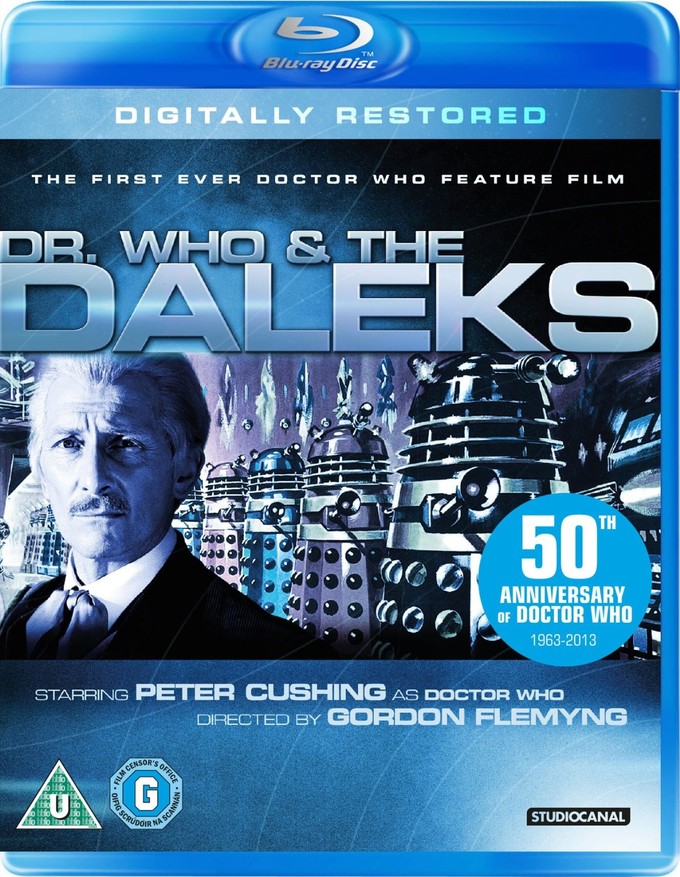 DR. WHO & THE DALEKS was recently released on Blu-ray in UK by StudioCanal. The newly HDified transfer is stunning, revealing vivid color schemes designed to take full advantage of this story's port to the bigscreen. Image is sharp and even offers a few 'wow' moments (how they mastered some of the film's more color saturated scenes without image degradation or 'noise' is beyond me), and sound is crisp and full. This movie has never looked as good as it does now (I've seen previous Home Video issuances of it) - and it's not likely to look this good anytime in the foreseeable future. You can find the Blu-ray at Amazon UK HERE. No word on its Blu-ray release here in the US, although the title is currently available HERE on DVD (NOTE: this is not the recent remastering) along with its above-mentioned sequel.
Hardcore WHOvians may well scoff at the liberties taken with the DW mythos, and this film is far from perfect to be sure. As referenced above, its pacing sometimes stumbles and the familial nature of the affair lends a fluffy, 'safe' air to the proceedings. But within these occasionally disorienting qualities lies a perfectly serviceable little ditty which sometimes (but only sometimes) reaches moments of greatness. A few of the Dr.'s more astute moments are impressively written and performed, and the staging of Ian tricking Daleks into destroying their own doomsday console is Looney Tunes comical, although not altogether out of place given the sometimes daffy nature of the WHOverse as a whole.
Perhaps the greatest treasure herein is the performance of Peter Cushing - an actor whom I've often professed to be under-appreciated and under-utilized. Over the years he's become familiar to us in harder roles like the Death Star's Imperial Governor in STAR WARS EPISODE IV: A NEW HOPE and monster wrangling badasses in FRANKENSTEIN and DRACULA titles from Hammer. Here, Cushing demonstrates a warmth and approachability and general substance which may catch many folks familiar with his work off guard. No disrespect intended towards these DR. WHO films whatsoever, but it's a shame that some of his more interesting acting work is confined to titles like these - which many people still don't know exist (trust me - many folks still don't know). On the whole, Cushing deserved better than he got on in terms of roles and projects. At least these two DR. WHO adventures are around to remind us what he was capable of...and to sharply reinforce the important truism that DOCTOR WHO survives on...and sometimes thrives on...its ability to be adapted and reinterpreted in any number of ways.
NEW DETAILS ABOUT THAT UPCOMING HIGH DEFINITION UPCONVERT OF THE ECCLESTON/TENNANT YEARS!!
From what I've seen, these episodes look fantastic in HD. Yes, the Smith Seasons/Series are included as well - but they were already available in HD.
From a BBC Worldwide issuance...
DOCTOR WHO: THE COMPLETE SERIES 1-7
LIMITED EDITION BLU-RAY GIFT SET
Fantastic, Allons-y, Geronimo… Together In One Special Blue Box
Includes 120 Minutes of Bonus Material Available on Disc for the First Time
"Do you wanna come with me? 'Cause if you do, then I should warn you, you're gonna see all sorts of things. Ghosts from the past. Aliens from the future. The day the Earth died in a ball of flame. It won't be quiet, it won't be safe and it won't be calm. But I'll tell you what it will be: the trip of a lifetime." - The Ninth Doctor
Street Date: November 5, 2013
Suggested Retail Price: Blu-ray $349.98 ($399.98 in Canada)
Length: Approx. 4815 mins + bonus materials/ 29-disc set (BD)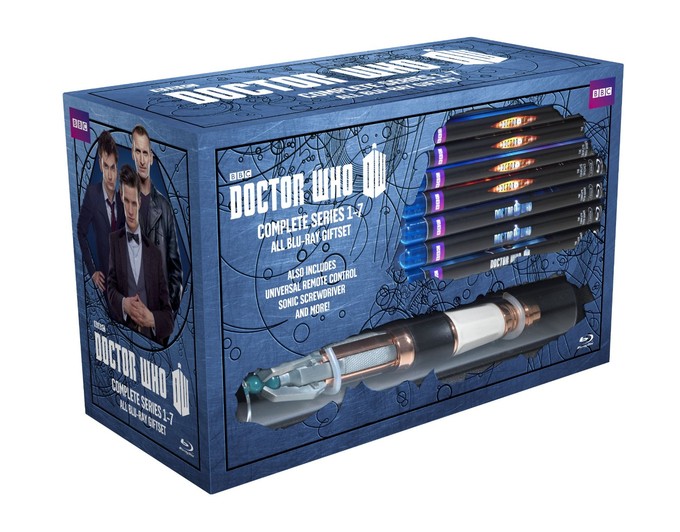 New York – September 4, 2013 – The only thing better than watching Doctor Who is watching it in high definition, which is why BBC Home Entertainment is celebrating Doctor Who's 50th anniversary with the release of Doctor Who: The Complete Series 1-7 Limited Edition Blu-ray Gift Set on November 5, 2013. The set includes the complete adventures of the Ninth Doctor (Christopher Eccleston, Thor: The Dark World) and Tenth Doctor (David Tennant, Broadchurch, Fright Night), available in newly remastered Blu-ray versions at full 1080p resolution for the first time ever, sitting alongside those of the Eleventh Doctor (Matt Smith) in this high definition collection. The Home Entertainment team has gone above and beyond to bring fans the best possible experience, and have also fully remastered the complete Tenth Doctor Specials as well as The Complete Fifth and Sixth Series (previously available on Blu-ray), to full 1080p resolution as well. Throw in the new Doctor Who: The Complete Seventh Series Blu-ray set along with hours and hours of bonus features from the past collections PLUS 120 minutes of bonus material that has never previously been available on disc, as well as more goodies than you can shake a sonic screwdriver at, and this is one blue box that just might actually be bigger on the inside.
And speaking of sonic screwdrivers…
"Who looks at a screwdriver and thinks, 'Ooh, this could be a little more sonic.'?"
- Captain Jack Harkness
Any fan of Doctor Who will be glad to tell you that all screwdrivers could stand to be a bit more sonic. And that's why we've included the original Doctor Who Universal Remote Control Sonic Screwdriver, a gesture-based remote control replica of the Eleventh Doctor's trusty tool, in the Doctor Who: The Complete Series 1-7 Limited Edition Blu-ray Gift Set. Crafted from real metals and featuring sound effects from the show, you can impress your friends when you turn on your television with a wave of your hand and feel like a Time Lord yourself.
With 29 blu-ray discs of episodes, specials and bonus features, plus the Universal Remote Control Sonic Screwdriver, 3 exclusive art cards and an exclusive comic book, this limited edition gift set will keep on giving for years to come.
Doctor Who: The Complete Series 1-7 Limited Edition Blu-ray Gift Set includes:
New to Blu-ray/ 1080p Resolution:
Doctor Who: The Complete First Series, starring Christopher Eccleston and Billie Piper
Doctor Who: The Complete Second Series, starring David Tennant and Billie Piper
Doctor Who: The Complete Third Series, starring David Tennant and Freema Agyeman
Doctor Who: The Complete Fourth Series, starring David Tennant and Catherine Tate
Also included in1080p Resolution:
Doctor Who: The Complete Specials, starring David Tennant
Doctor Who: The Complete Fifth Series, starring Matt Smith and Karen Gillan
Doctor Who: The Complete Sixth Series, starring Matt Smith, Karen Gillan and Arthur Darvill
Doctor Who: The Complete Seventh Series, starring Matt Smith, Karen Gillan, Arthur Darvill, and Jenna-Louise Coleman
Bonus Blu-ray disc includes:
· "The Doctor Who Ultimate List of Lists" from BBC AMERICA's The Brit List - BBC AMERICA's pop culture correspondent, Asha Leo (@ashaleo), is joined by special guest John Barrowman ("Torchwood," "Doctor Who") to announce the rankings of the "Top Five Companions," "Top Five Scariest Moments," "Top Five Best Monsters," "Top Five Guest Stars" and "Top Five Things You'll Only See on Doctor Who." Rankings are based on votes from readers of BBCAMERICA.com's Anglophenia blog.
· Doctor Who at the Proms 2010 - Doctor Who's own Karen Gillen and Arthur Darvill host a spectacular evening of music from the series played live by the London Philharmonic Orchestra at London's historic Royal Albert Hall. Includes video projections, appearances by the monsters and a special guest appearance from 11th Doctor Matt Smith. For the first time, the collection will include the full 90-minute concert and has been remastered in 5.1 Surround Sound.
· Doctor Who: The Best of the Christmas Specials - This previously unreleased special from December 2011 takes an inside look at the very best moments from the incredible Doctor Who Christmas specials that have captivated audiences around the world. A collection of fans from the celebrity, comedy, sci-fi and digital worlds discuss their favorite moments from both David Tennant and Matt Smith era Christmas episodes.
Other additional items include:
· The Doctor Who Universal Remote Control Sonic Screwdriver
· 3 exclusive original art cards
· An exclusive Doctor Who comic book
FOR WHOM THE CLOISTER BELL TOLLS
Matt Smith flaunted the script for this year's Christmas Special - in which his character regenerates into Peter Capaldi's version of the role - at a recent readthrough. Smith begins filming his last adventure as the Doctor thus Sunday.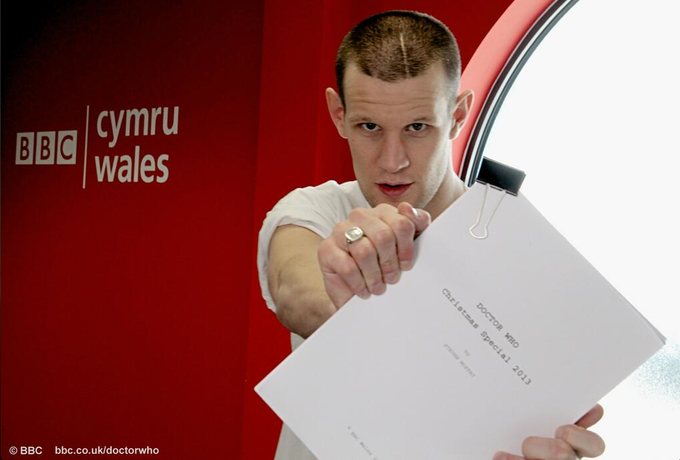 Smith's hair is short for a film he's currently working on (presumably the one Ryan Gosling is directing). He's already confirmed he'll be wearing a wig during the filming of this episode, a process he describes as "a nightmare."
-------------------
Glen Oliver
"Merrick"
- e-mail
- Twitter
- Google +
[[[[[ A LIST OF PREVIOUS DOCBACKS CAN BE FOUND HERE!! ]]]]]
DOCBACK CODE OF CONDUCT
1) a Docback should be about completely open and free discourse regarding all things WHO with, obviously, some variation on subject matter from time to time - the real world intervenes, discussions of other shows are inevitable, etc.)...
2) matters of SPOILAGE should be handled with thoughtful consideration and sensitivity. Posts containing SPOILERS should clearly state that a SPOILER exists in its topic/headline and should never state the spoiler itself . "** SPOILER ** Regarding Clara" is OK, for example. "** SPOILER about that Motorcycle" is fine. **SPOILER** Why did everyone die?" Is NOT good.
And, above all...
3) converse, agree, disagree, and question as much as you want - but the freedom to do so is NOT a license to be rude, crass, disrespectful, or uncivilized in any way. Not remaining courteous and civil, as well as TROLLING or undertaking sensational efforts to ignite controversy, will result in banning. Lack of courtesy may receive one (1) warning before a ban is instigated. Obvious Trolling or Spamming will result in summary banning with no warning. One word posts intended to bump-up any Docback's figures on AICN's "Top Talkbacks" sidebar will be considered actionable Spam - they not only complicate efforts to access Docback from mobile devices, but impede readers' abilities to follow or engage in flowing conversation.
In short, it's easy. Be excellent to each other. Now party on...