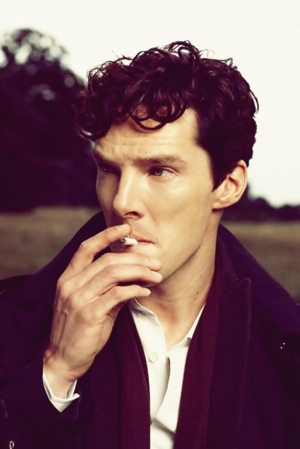 Beaks here...
And here we go: the first EPISODE VII rumor that's worth remarking on. Film Chronicles is reporting that Benedict Cumberbatch has been cast in the J.J. Abrams-directed resumption of the STAR WARS saga. They're citing "a lot of gossip swirling around", which means they've at least been paying attention to Twitter, where many of us have been dropping unsubtle hints about a significant casting announcement. This news could've dropped as early as last Monday evening (8/26), and several other sites, including AICN, were ready to go on Wednesday. So why didn't we pull the trigger?
For starters, sources inside Disney and Bad Robot were in denial mode last week, while Lucasfilm was simply refusing to comment. Though I had a rock solid source (as did others), I only had one source, and it wasn't official. Also, there was talk of having to extricate Cumberbatch from another production to which he was previously committed (not CRIMSON PEAK), and that gave me Dougray Scott/Hugh Jackman flashbacks. So I wrote my story on Wednesday evening, and decided to wait for the official announcement, which I thought was imminent. Turns out it wasn't.
That's a long time for a big scoop to sit out there, and I'm actually surprised it took until now for a site to run it as rumor. According to ScreenCrush's Mike Sampson, Lucasfilm is still in "no comment", so I feel exactly the same as I did last week: I am about 90% certain Benedict Cumberbatch will play a Sith in EPISODE VII. Do with that what you will.