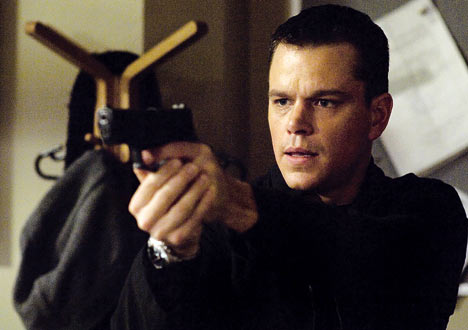 Update: Sources within Universal tell Variety they are not currently negotiating with Matt Damon and Paul Greengrass. It's worth noting that this is not an official statement from Universal, and that they'd deny this story up and down if the parties have yet to agree in principle. Twitch has solid sources. I trust their story.
Beaks here...
Our pals at Twitch are reporting that Universal is currently attempting to lure Matt Damon and director Paul Greengrass back to the BOURNE franchise. This comes a few weeks after Deadline broke the news that Anthony Peckham will write the screenplay for a sequel to THE BOURNE LEGACY. Two interesting things going on here: 1) neither article suggests LEGACY writer-director Tony Gilroy will be involved, and 2) Peckham has at least a tenuous connection to Damon, having scripted Clint Eastwood's INVICTUS. The former could be the key to Damon returning, as the star was quite vocal about his displeasure with Gilroy's first draft for the third movie. If Gilroy is off, then things are basically set up for Greengrass - who had a highly contentious creative relationship w/ Gilroy on SUPREMACY and ULTIMATUM - to return.
This makes perfect business sense. THE BOURNE LEGACY was the lowest-grossing and most poorly reviewed film in the series. As a result, it's unclear as to whether there's an appetite for more Jeremy Renner/Aaron Cross adventures. Meanwhile, the last Damon/Greengrass entry, THE BOURNE ULTIMATUM, remains the highest grossing and most positively reviewed film in the series. Universal is desperate for viable franchises (look at how they're rushing FAST AND FURIOUS 7 into production for a May 2014 release), so why not bring back Jason Bourne if the star has said repeatedly that he'd like to return to the series?
Only catch: Damon's involvement is contingent on Greengrass directing - certainly a nice position from which to negotiate if you're Greengrass's agent!
Twitch's story says that Universal would like to continue with the Aaron Cross character, but aside from crossing him over into the fourth Damon/Greengrass movie, I just don't see it happening.