Ahoy, squirts! Quint here with today's Behind the Scenes Pic!
Terminator 2: Judgment Day was one of my youthful obsessions. It was the first film I saw more than once in a theater and it was a family favorite. When you're 10 years old it becomes crucial that your parents like an R-rated movie if you're going to see it theatrically. At least if you were like me and didn't have an older brother to tell you about the buying a ticket to a PG movie and sneaking in trick.
I wore out my T2 VHS, dreamed about having my own Terminator and all the stuff little geeky boys of my era did, so it feels a bit nostalgic posting BTS pictures from the film. It feels especially weird since I've had the opportunity to converse with both men in today's picture.
At the recent AICN screening of The Last Stand I got to ask Arnold Schwarzenegger a question about returning to Conan, which made my day, and I talked a bit with Shane Mahan after Stan Winston passed. Shane was one of Winston's closest partners at Stan Winston Studios and has been running Legacy Effects since.
Shane's a good guy and yes, he does look shockingly like Kenneth Branagh in person. Anyway, the picture we have today is of Shane helping the severely battle damaged T-800 into his messed up arm rig.
Thanks to Michael Heintzelman and the Practical Effects Group for the image. Enjoy!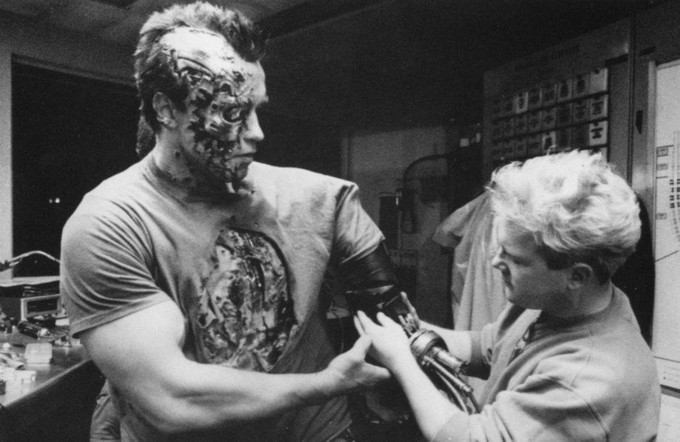 If you have a behind the scenes shot you'd like to submit to this column, you can email me at quint@aintitcool.com.
Silly rabbit, tomorrow's behind the scenes pic is for kids.
-Quint
quint@aintitcool.com
Follow Me On Twitter
I've got a lot of maintenance work to do on the previous BTS articles, but you can visit two pages worth of images (beware of some broken links thanks to the last server shift): Click here for Page One and Click here for Page Two!