Hey guys! Horrorella here...
Photos of car concepts from TRANSFORMERS 4 have been dropping all summer long, but we haven't seen much from the actual production. Until now that is. Michael Bay has released the first official still from the set via his official website.
Here you see the director (front and center, looking like he just scaled Everest), along with stars Mark Wahlberg and Jack Reynor and various crew members, atop some sort of piece of alien tech or landmark. Little has been revealed about the plot of the film, but since Bay has gone with an entirely different cast from the first three films, it's probably safe to say that the fourth installment will be a bit removed from the previous entries.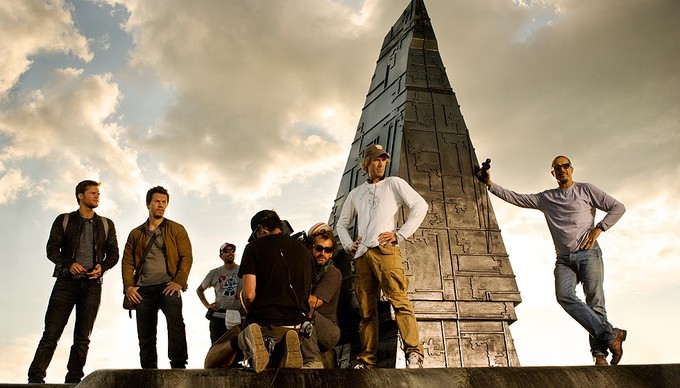 Pictured left to right: Jack Reynor; Mark Wahlberg; 2nd Assistant B-Camera Casey "Walrus" Howard; 1st Assistant B-Camera John Kairis with back to camera; B-camera Operator Lukasz Bielan; Director Michael Bay; and Director of Photography Amir Mokri.
Follow me on Twitter