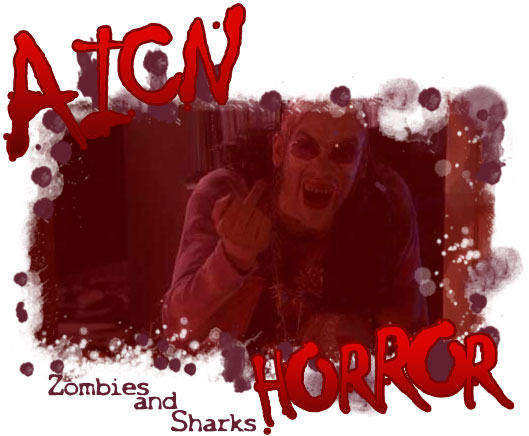 Logo by Kristian Horn
What the &#$% is ZOMBIES & SHARKS?
---
Greetings, all. Ambush Bug here with another AICN HORROR: ZOMBIES & SHARKS column. This week we've got tentacles, bad dreams, garden tools, John Carradine, hot lava, serial killers, dark tunnels, and a bit of horror porn…yeah, that's right. I go there. On with the horror reviews!
Today on AICN HORROR

(Click title to go directly to the feature)
Retro-review: THE HOUSE OF SEVEN CORPSES
Short Cuts: LEAF BLOWER MASSACRE (2013)
LUCID (2013)
EVIL HEAD (2012)
SUPER ERUPTION (2011)
CARL PANZRAM: THE SPIRIT OF HATRED & VENGEANCE (2013)
ABANDONED MINE (2013)
GRABBERS (2012)
And finally…Patrick Rea's WRONG NUMBER!
---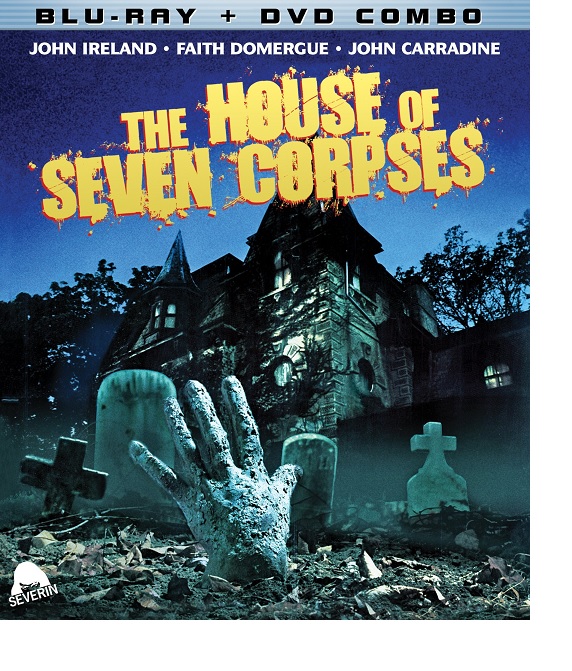 Retro-Review: New on BluRay/DVD this week from Serverin Films (Find this film on Netflix here)!
THE HOUSE OF SEVEN CORPSES (1974)
Directed by Paul Harrison
Written by Paul Harrison, Thomas J. Kelly
Starring John Ireland, Faith Domergue, John Carradine, Carole Wells, Charles Macaulay, Jerry Strickler, Ron Foreman, Dennis Record, & Wells Bond as the Ghoul
Retro-reviewed by Ambush Bug
Full of all things hokey, HOUSE OF SEVEN CORPSES still is able to convey a sense of creep that cannot be denied. Though this feels like a throwback to the Hammer House of Horror days, there's also a feeling of the Italian giallo era, making this whole film experience one of the more peculiar and unique ones to come out of the early Seventies.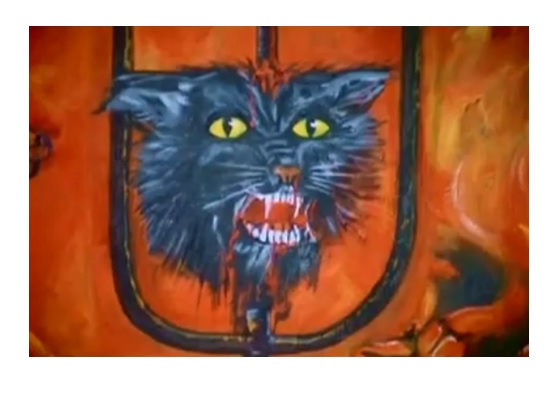 The story follows a production crew, a cast of actors, and a director trying to film a satanic witch film inside a house where seven murders were committed. While the cast obliviously tries to act out the clichéd story in front of the camera, real strange happenings occur behind the scenes leading to a gory climax where many fall (ok, seven fall) at the hands of specters from the past.
What makes this film laughable is how serious everyone is taking things. Everyone from the director to the actresses involved are treating this film as if it were one of the classics, with melodrama oozing from every scene. Still, despite the cast's tendency to over-emote, director Paul Harrison fills the film with many weird moments such as a weird game of push over an open grave between two characters and a cat being compelled to attack a human by staring into a painting of a cat head on a devil's trident. The construction of the latter scene is actually pretty hilarious to watch, as it is obvious the cat's paw is being manipulated off camera by someone over the hand of one of the actors to simulate a scratch. Goofy fun.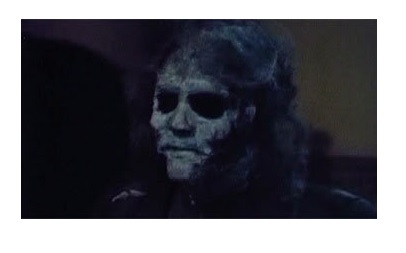 Still, the tone is dark as a ghoul rises from the grave in order to claim a lost love and wreak vengeance. These final scenes are actually pretty effective, as is the makeup on said ghoul. It sort of looks like the kind of living dead thing one might see as an extra in the THRILLER video.
HOUSE OF SEVEN CORPSES has nothing to do with Rob Zombie's film, which houses 993 more corpses, but it still is a pretty effective littler schlocker. John Carradine hams things up pretty well as the caretaker of the home who lived through the first seven person massacre, and is more than willing to ruin the movie within a movie's scene when it gets any of the details wrong. The rest of the cast doles out the ham like an Easter soup kitchen. HOUSE OF SEVEN CORPSES is one of those films that will make you laugh, but will more than likely give a shiver or two down the spine in the final moments.
---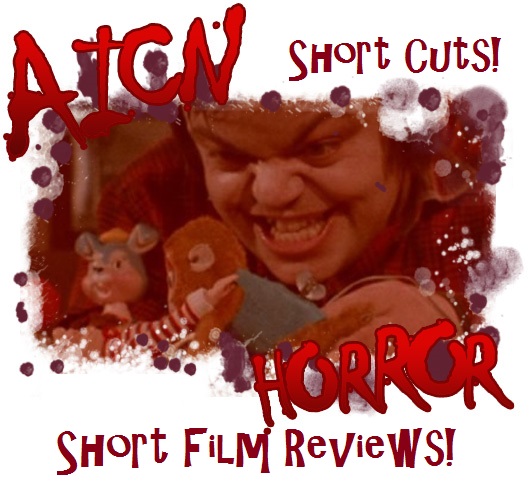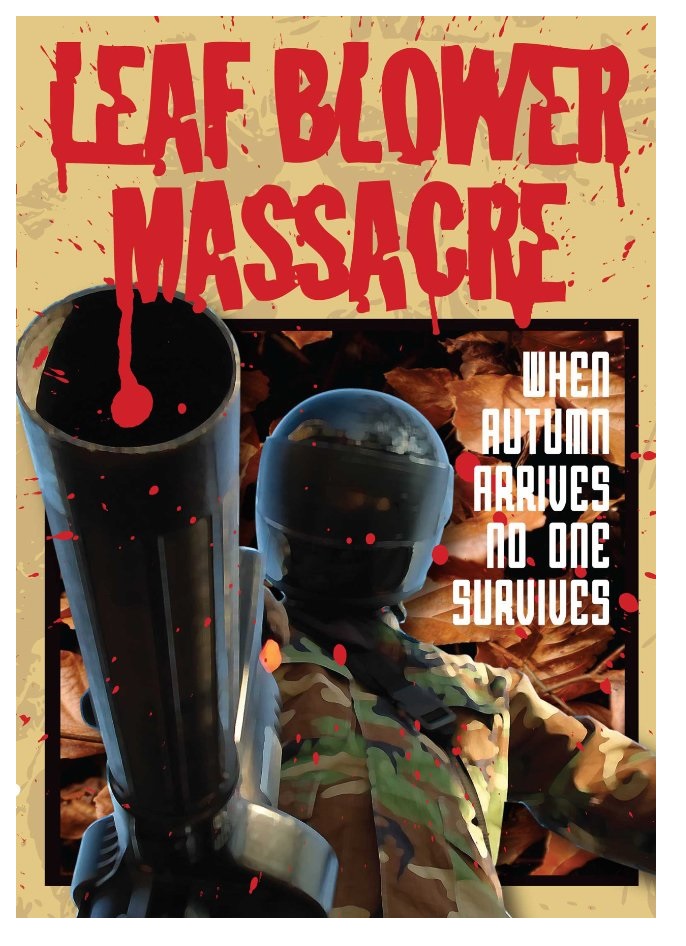 Short Cuts: Short Film Review!
LEAF BLOWER MASSACRE (2013)
Directed by Anthony Cooney
Written by Anthony Cooney & Josh Stephenson
Starring Anita Nicole Brown, Shavar D. Clark, Anthony Cooney, Martin Sean Cooney, Patrick Anthony Hozjan, Miguel Perez, Karla Shaw, Mariel Taren
Find out more about this film here and on Facebook here
Reviewed by Ambush Bug
This 12 minute little goodie shines brightest when it plays as a spoof on TEXAS CHAINSAW MASSACRE. Seeing the unnamed leaf blower operator wearing a black helmet and camouflage do the chainsaw dance from the original classic horror film made me laugh quite a bit.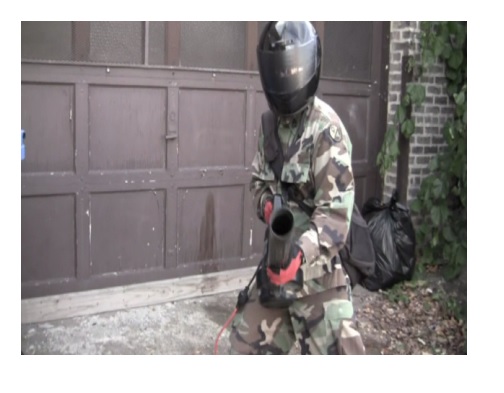 The rest of the film is sort of a by the numbers stalk and kill flick with some amateur acting throughout. The highlight is definitely the well-choreographed scenes of leaf blower mayhem as the killer wafts leaf after deadly leaf over and on innocent victims only guilty of crossing over the leaf blower's path.
I'd have liked a little backstory as to why the leaf blower is so angry and attacky all of the time, but there's only so much one can do in 12 minutes and you've got to leave (pardon the pun) some questions for the inevitable sequel. As is, this little short is directed capably by Anthony Cooney, who has an obvious regard for Tobe Hooper's classic. Here's hoping the next time Fall comes around, more leaf blowing massacring can continue with a bit more about the man behind the blower.
---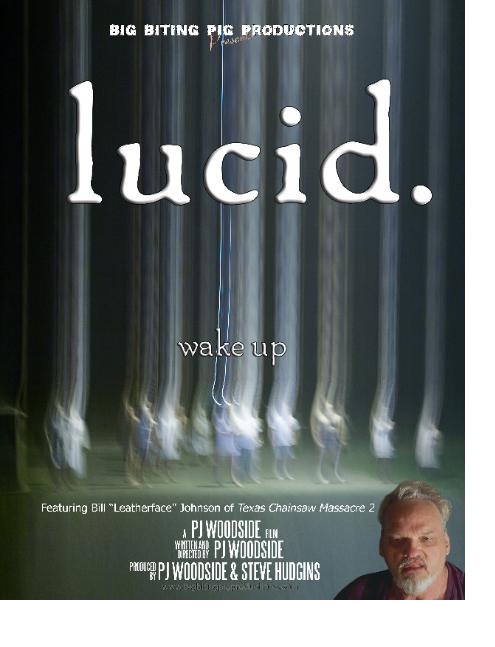 Available now on DVD and digital download from Big Biting Pig Productions!
LUCID (2013)
Directed by P.J. Woodside
Written by P.J. Woodside
Starring Brittney Saylor, Bill Johnson, P.J. Woodside, Michael Coon
Find out more about this film here and on Facebook here
Reviewed by Ambush Bug
Another low budget goodie from the folks at Big Biting Pig Productions, the folks responsible for the fun indie stab at ghost hunting shows SPIRIT STALKERS (
reviewed here
) and the haunting THE CREEPY DOLL (
reviewed here
). This time around dreams and nightmares are explored in a way that reminds me of some classic nightmare dissections of the past.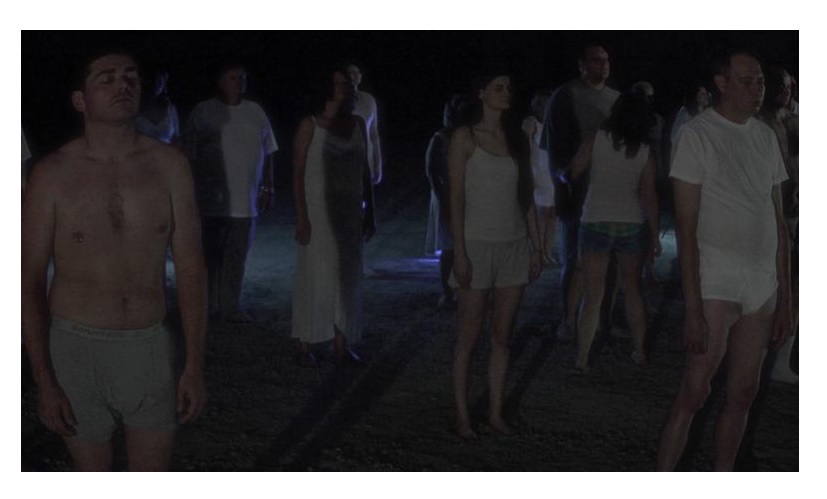 A young woman is plagued by dreams that seem to be getting worse from one night to the next, keeping her boyfriend from getting a good night's sleep and escalating beyond night terrors and into sleepwalking and even sleepkilling. As the dreams escalate in intensity, the woman's relationship deteriorates and she is drawn to a mysterious self-help guru for answers.
Though there are a lot of contrivances going on here, I like this play on the establishment's warping of the unconscious souls of the world. Reminiscent of both THEY LIVE as well as BAD DREAMS and some of Cronenberg's early body horror, specifically RABID, SCANNERS, and SHIVERS, PJ Woodside plays with the vulnerability one experiences while one sleeps and adds a good dose of conspiracy to make us all look over our shoulders with caution. The machinations at work behind the scenes in this film are fun, though sometimes relying on heavy contrivances, but ones that go hand in hand with paranoia such as the relationship one has with a therapist somehow being tied with the forces working against you. In mixing these elements, Woodside is able to convey a nice sense that all forces are converging against the main character, which makes for the most compelling aspect of this film.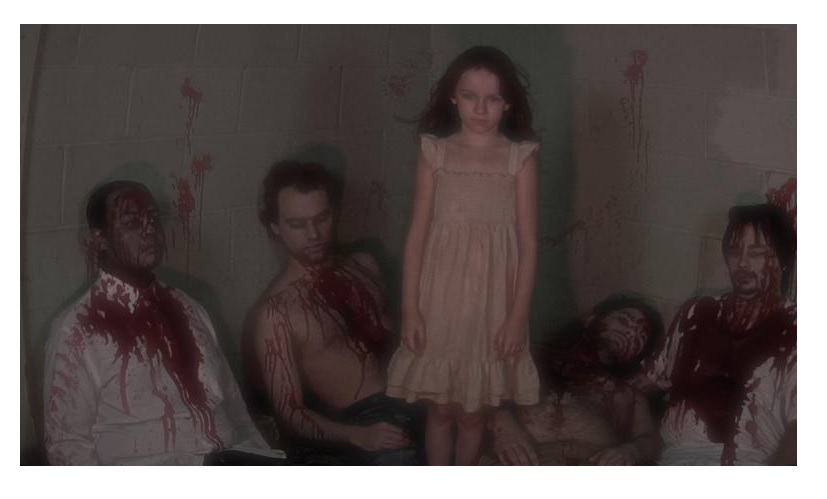 There are some well done dream sequences, though the imagery and lines repeated throughout the film tend to get a bit tedious after sitting through them for the run time of the film. I also liked the imagery of an army of somnambulists lurching through the streets and doing the evil organization's bidding (themes explored in both HALLOWEEN 3: SEASON OF THE WITCH, PRINCE OF DARKNESS, and THEY LIVE). All of these make LUCID one of the more visually compelling in the Big Biting Pig collection of low budget horrors.
If you're looking for a palpable sense of dread and paranoia, LUCID has it in spades. The acting is surprisingly good for such a low budgeter, as is the editing and creativity behind the dream sequences. Done on a shoestring, LUCID packs a lot of creep and scares within a tight budget.
---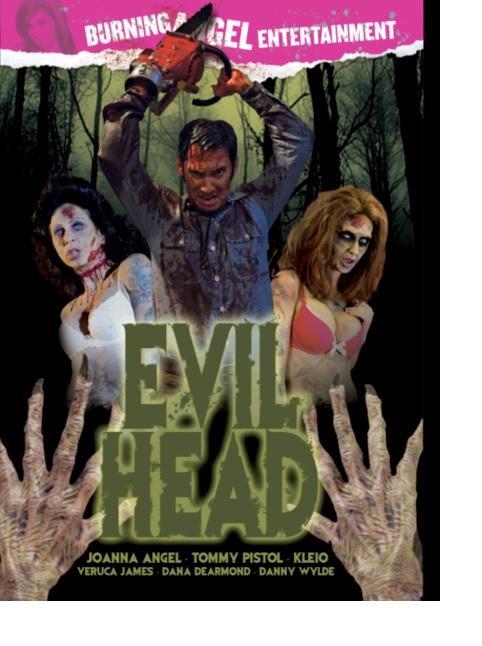 Available on DVD from Burning Angel!
EVIL HEAD (2012)
Directed by Doug Sakmann
Written by Joanna Angel & Doug Sakmann
Starring Joanna Angel, Aramis Sartorio (Tommy Pistol), Veruca James, Kleio Valentien, Dana DeArmond, Danny Wylde, Lloyd Kaufman
Find out more about this film here
Reviewed by Ambush Bug
Believe it or not, this isn't the first time I've reviewed horror porn. A while back on a special Valentine's Edition of AICN HORROR, I checked out one of Joanna Angel's other porno-horror films entitled THE SICK & TWISTED HORROR OF JOANNA ANGEL (
reviewed here
), a double feature which featured REPENETRATOR and THE XXXORCIST, which of course were bloody and porny versions of REANIMATOR and THE EXORCIST. So while I'm no virgin when it comes to the schmelding of horror and porn, I can't say it's something I really am dying to see.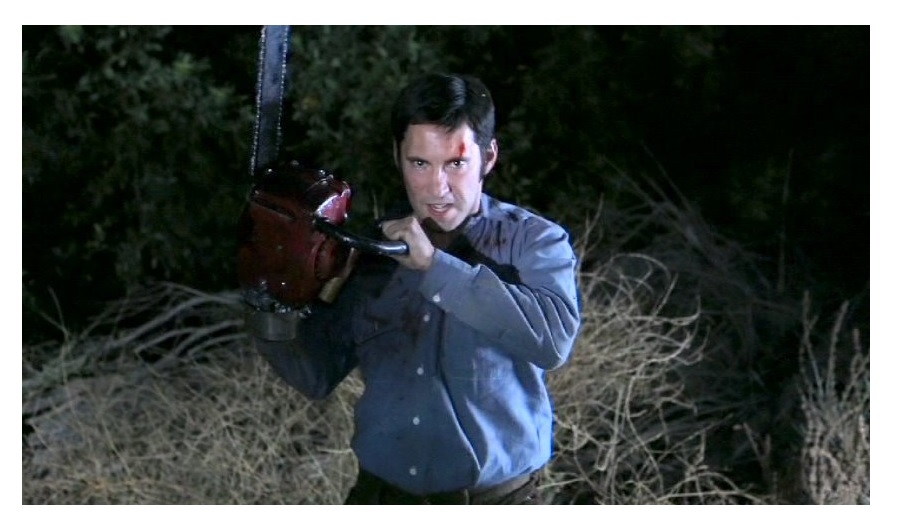 Still, being the dedicated reviewer that I am, when I was given the opportunity to review EVIL HEAD, a more adult oriented version of the Sam Raimi classic, who was I to say no?
For the most part, the story follows the original EVIL DEAD storyline with about 10 minutes of the two and a half hour opus actually dedicated to story while the rest is filled with, you know, the sex.
With lines delivered by Ash (played by Tommy Pistol, who starred in the indie grossout comedy, THE GRUESOME DEATH OF TOMMY PISTOL -- (
reviewed here
), the story bits, what little there are, are pretty entertaining. Pistol is able to keep his sense of humor even while doing the deed; adding a bit of something else to all of that somethin-somethin' going on. Classic Ash-isms such as "Gimme some sugar, baby.", "Give me back my hand!" and, of course, "Swallow this!" take on a whole new meaning in this version of the EVIL DEAD and delivered by Pistol, it makes for a humorous homage.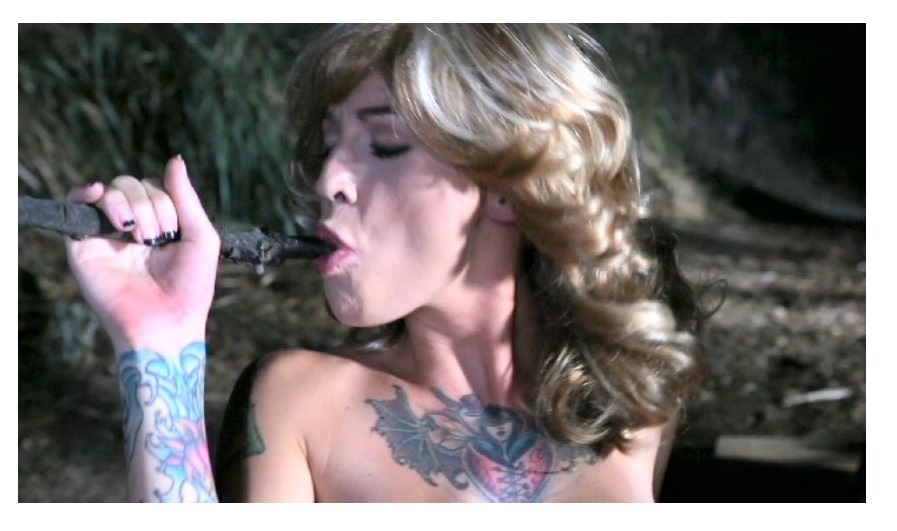 Though I haven't seen EVIL DEAD in quite a while, I don't remember so many three-ways, four-ways, and girl on girl action. And I don't remember the tree-rape sequence to be so…enjoyable for the girl involved in the original. But hey, my memory's not as good as it used to be.
There's copious amounts of blood and other fluids splattered about, some decent rudimentary animation, and horror makeup that stays on pretty well during all of the action. Pistol, Angel and crew at least are trying something different with these porn versions of horror films. Though seeing all of that growling and ugly makeup didn't really do it for me, I guess I can see where some might find this arousing. The alterna-girls, all tattooed and fit, are always nice to see, but having their faces all done up in Halloween putty is sort of turn off for me. I do give the makers of this film credit for going all out in terms of over the top gore, a dedication to the original material, a tree-rape scene that is something I will never be able to unsee, and lest we forget, all of that sex, which felt as if it went on for way too long, but maybe that's more of a comment on my sex life than the movie itself.
Sure, there will be those who will turn their noses up to EVIL HEAD, but in this wide world of horror, surely there is room for the porn horror subgenre; especially in this case when it apes the original so well.
Surprisingly, this trailer is safe for work!
---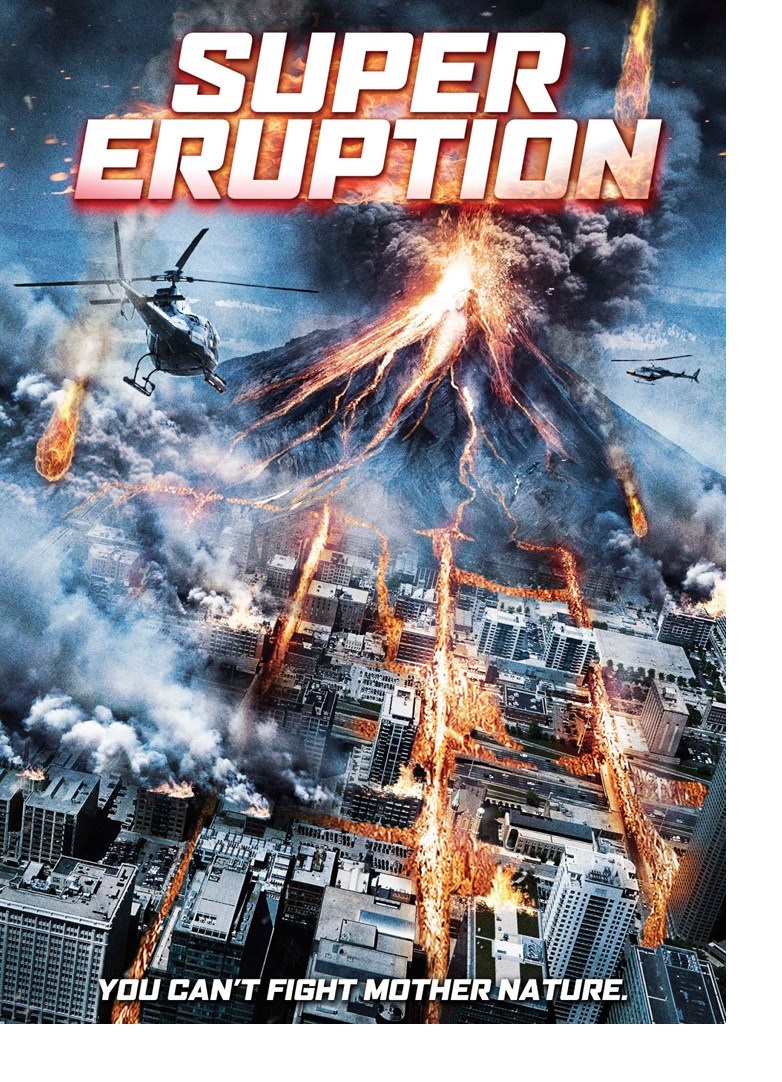 New this week on DVD and Video On Demand!
SUPER ERUPTION (2011)
Directed by Matt Codd
Written by Rafael Jordan
Starring Richard Burgi, Juliet Aubrey, MyAnna Buring, Alex Wyndham
Find out more about this film here
Reviewed by Ambush Bug
WARNING: Although the title might suggest it and despite the fact that this film comes after a review of horror porn EVIL HEAD, SUPER ERUPTION should not be mistaken as porn.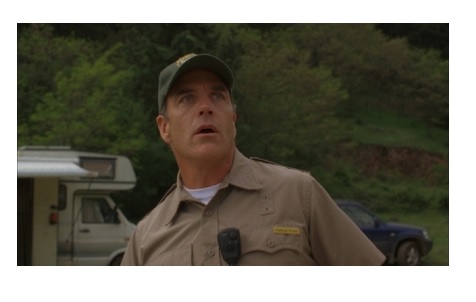 That said, if you're looking for a goofy disaster movie with unnecessary elements such as time travel and hokey physics, SUPER ERUPTION is going to be right up your alley.
A volcano erupts in the middle of Yellowstone National Park and though Yogi and Boo Boo are nowhere to be found, their hindquarters are bound to be singed by the waves and geysers of lava pouring out and spreading in all directions. As with most disaster movies, this disaster is the mother of all disasters, making the last disaster look like child's play. A brave sheriff (DESPERATE HOUSEWIVES' Richard Burgi), a sultry scientist (Juliet Aubrey), and a damsel in distress (THE DESCENT's MyAnna Buring) hold the key to stopping this natural disaster when the Army, Navy, Air Force, Marines, the Village People, and the cast of the Laugh Olympics cannot.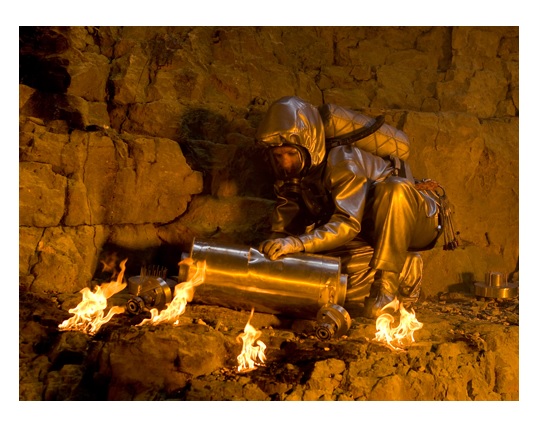 Expect ash floating through the air like snow. Expect a lot of people looking off screen, then cuts to scenes of volcanic activity that barely match up in film stock. Expect a cop who really, really hates volcanoes bucking up and parachuting into one. Expect scientists in aluminum foil suits doing science stuff. Expect a poor script, bad effects, and contrived solutions, and you'll find all of those needs met with SUPER ERUPTION. I'm not even going to get into the time travel element of this film, where converging realities and messages from future selves are utilized for no damn reason other than prolong this story to an hour and a half's length.
This is a SyFy movie, of course, the new low in horror films these days, and while SUPER ERUPTION doesn't happen upon the accidental genius/stupidity that befell SHARKNADO, it's not as bad as some of the other shitty films like SEATTLE SUPER STORM or DINO-CROC VS SUPER GATOR. It is what you've come to expect from a SyFy movie: a waste of an hour and a half that you don't mind sitting through when you've seen everything on your DVR and you've lost both the remote and the will to pry yourself from the couch to turn the channel. Big and dumb, the film would be fun if it didn't seem as if everyone was trying to pass it off as Oscar-worthy material. To reiterate: SUPER ERUPTION is not porn, but maybe if it was it'd be a bit more interesting.
---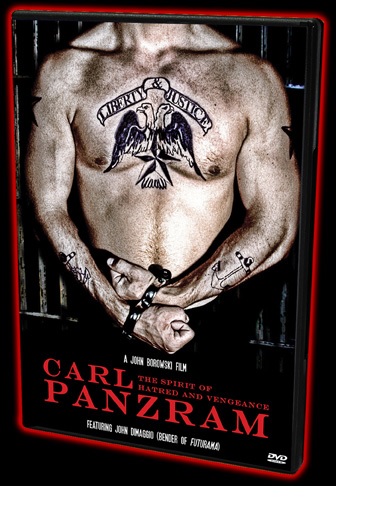 Recently played at Flashback Weekend in Chicago (Purchase this film here)!
CARL PANZRAM: THE SPIRIT OF HATRED & VENGEANCE (2013)
Directed by John Borowski
Written by John Borowski
Starring Tom Lodewyk, David Weiss, Brett Jetmund, David Salmonson, Henry Lesser, Joe Coleman, Katherine Ramsland, Scott Christianson, Joel Goodman, Ken Lamaster, Dr. Thomas Gitchoff, Mark Gado, Robert Ray, narrated by John DiMaggio
Find out more about this film here
Reviewed by Ambush Bug
Reviewing a documentary about a serial killer gives me a bit of the creeps since, unlike the fake blood and grue we are used to in films of the horror variety, the deaths that occur and are talked about in this film are all too real. Still, understanding the unwell mind is a fascination of mine and the cinema of true crime is an expansive one that often creeps into the genre of horror, so coverage of a film like this doesn't feel like too far of a leap out of the boundaries. I talked with documentary filmmaker John Borowski at least weekend's Flashback Weekend of horrors, and his passion about the making of his latest doc CARL PANZRAM: THE SPIRIT OF HATRED & VENGEANCE was palpable. Though I missed the showing of the film at the con, I was able to check it out afterwards and was surprised at both the sordid story of Panzram himself as well as the quality of the documentary focusing on him.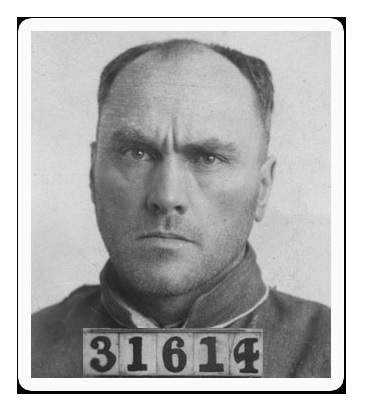 Borowski pulls no punches in describing Panzram as most likely one of the most cruel men ever to walk the planet. The story is told mostly via voiceover from John DiMaggio (the voice of Bender from TV's FUTURAMA) acting as Panzram as he tells his brutal story to a prison guard named Henry Lesser who became one of Panzram's only known friends and confidantes. This story proves to be a harrowing account of Panzram's crimes and a rare glimpse of what soul the man had.
The story told here is one of an older Panzram, one who seemed to want to communicate his story to others as well as, surprisingly, talk about how the creation of people like him can be avoided. That's what surprised me the most about this film. Panzram is able to describe what his life lacked and the support he was not given in his early years and how that created the monster that he became. This level of insight is fascinating from someone who seemed to feel no real guilt over the horrible crimes that he committed.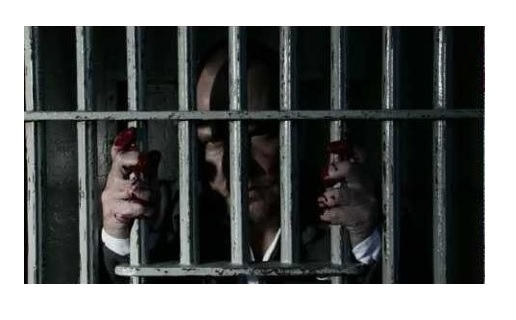 This documentary covers all of the bases as it step by step goes through the early to later years of this man-monster who basically spent his entire life in one form of institution or another, be it reform school or prison. Borowski keeps the judgment to himself, rather letting Panzram show us himself through his own words as transcribed by Lesser. Interviews with psychologists, prison officials, and historians fill in the gaps with some of the details Panzram leaves out, including an accusation from one prisoner who says that Panzram's stories of crime and horror are all prison-house bravado.
Nevertheless, CARL PANZRAM: THE SPIRIT OF HATRED & VENGEANCE is a compelling look into the words and mind of someone who seemed to experience as much torment as he doled out, choosing to inflict the pain he felt on anyone around him rather than learn from the abusive mistakes of others. It's a sad cycle, and one depicted with a steady and thoughtful hand by documentarian Borowski. Those looking to delve deep into the dark soul of Panzram would benefit from seeking this documentary out.
---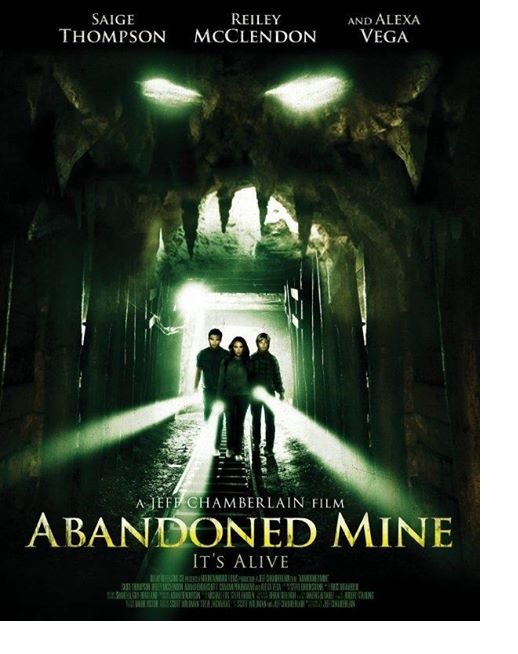 Opens this weekend in limited theatrical release and Video On Demand!
ABANDONED MINE (2013)
Directed by Jeff Chamberlain
Written by Jeff Chamberlain & Scott Woldman
Starring Alexa Vega, Reiley McClendon, Saige Thompson, Charan Prabhakar, Adam Hendershott, Valerie C. Walker, Joseph Batzel, Cody Walker
Find out more about this film here and on Facebook here
Reviewed by Ambush Bug
Things often associated with horror are buckets of blood and gore, four letter words and variations of these words, the occasional drug usage, and we can't forget the sex and the boobies. Now, just because these elements often walk hand in hand with horror films doesn't mean that every horror film should have these elements. That's why I found ABANDONED MINE to be so refreshing, since none of these elements show up, yet still it turned out to be a surprisingly spooky little film.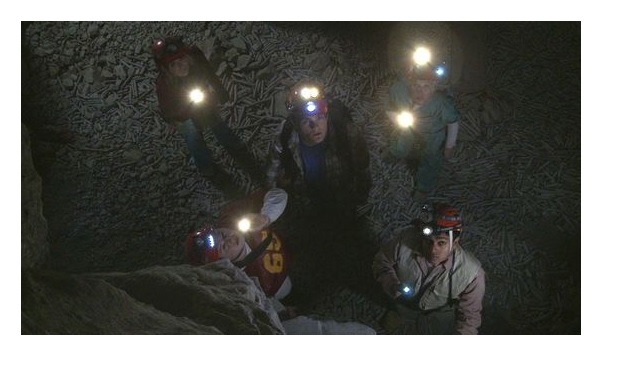 The setup is something we've seen quite a few times before. A group of kids decide to get together on Halloween night and party in a locale that has been the site for quite a few ghost stories in the small town's history. In this case, it's an abandoned mine which is said to be haunted by the ghost of a miner and his children, all of whom died 100 years ago. While the leader of the pack is all gung-ho about spelunkering through the tunnels and getting creeped out, his friends are not so hot to the idea, but since it looks like this group of kids are looking to go their separate ways once high school is over, they decide to go through with the plan. Of course, all things go pear-shaped with a quickness.
The thing that impressed me the most about ABANDONED MINE is not the clichés which happen in rapid succession in regards to characters, dialog, and story ideas. And yes, there are a lot of these that weigh the story down. There's the typical dumb jock. There's the foreign exchange student who gets American sayings all wrong. There's the montage set to pop music as the girls try on outfits before the big date. And there's the Bieber-haired quarterback leading the pack saying things like "This game's not over!" Everything about this film screams Disney GOOSEBUMPS episode and thus bends over backwards trying to make me loathe it.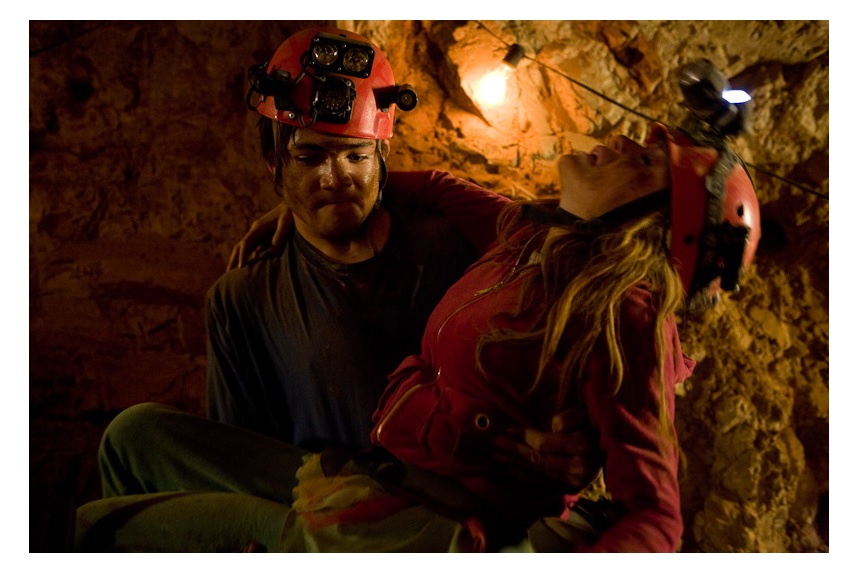 But still, despite all of that, in the last few moments of this film, there are quite a few solid scares. Sure you have to sit through some painfully PG rated stuff to get there (I swear to god, ketchup is used for fake blood on numerous occasions), but despite it all, there are some downright spooky moments redeeming this film in the end. For instance, there's a scene early on as the kids have to squirm their way through a tight tunnel. Sure it's reminiscent of THE DESCENT, but it's done so in a way to communicate a real sense of claustrophobia. Other instances involving what looks to be the ghost of the old miner is done so in a way that really are effective.
So though there are no boobies, no drugs, no blood other than the Heinz variety, and no swears, ABANDONED MINE managed to give me some starts here and there and to do that without checking things off of the aforementioned list takes talent that deserves some kind of recognition. Looking for solid PG rated scares you most likely can watch with your teenager? ABANDONED MINE just might do the trick.
---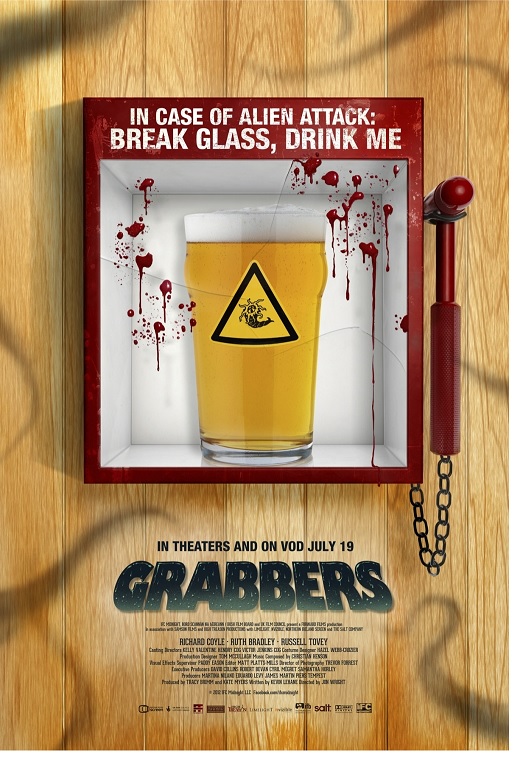 Available on Video on Demand, digital download, & in select theaters from IFC Midnight!
GRABBERS (2012)
Directed by Jon Wright
Written by Kevin Lehane
Starring Richard Coyle, Ruth Bradley, Russell Tovey, Lalor Roddy, David Pearse, Bronagh Gallagher, Pascal Scott, Clelia Murphy, Louis Dempsey, Micheál O'Gruagain, Ned Dennehy
Find out more about this film here and on Facebook here
Reviewed by Ambush Bug
Horror films that take themselves seriously are great. I love it when winks and nods to the audience are shunned and you get a film that concentrates more on tingling your spine and actually experiencing the thrill of fear. But I also know that not all horror has to be this way. Sometimes, you just have to have fun and shining that fun through the lens of horror is as good as any way to go. GRABBERS, for instance, shines that fun brightly, setting its luminosity on "blinding" in terms of laughs and horror set against the backdrop of those classic monster run amok movies of old.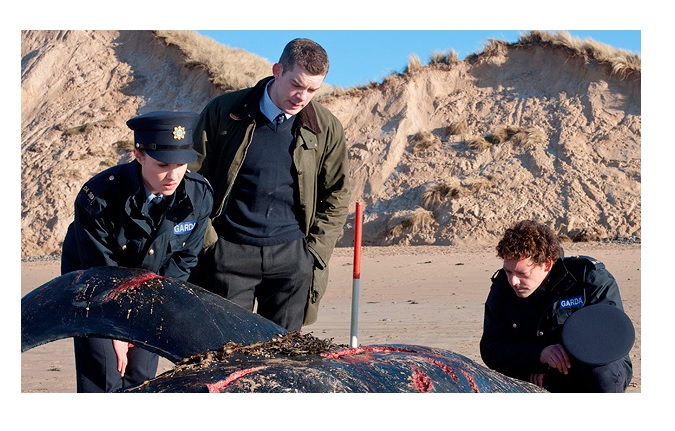 Most of this fun comes in the form of the premise which is most definitely contrived, but also leading to a whole bunch of comedic moments you don't normally see in horror films. Much like SHAUN OF THE DEAD and more recently THE WORLD'S END where the cast imbibes in alcohol in order to deal with the horrors around them, through a series of wonky events, the humans living in the small Irish fishing village which is being overrun by multi-tentacled space squid uncover a weakness in this otherworldly menace—namely, alcohol-laced blood. While the grabbers are out for the humans' blood, blood mixed with alcohol kills them, so what do the humans do? They get shit-faced, of course!
Seeing the cast, among them lightweight non-drinker Ruth Bradley who plays rookie cop Lisa, take on the interstellar beasts out of their mind squiffy on suds is a beauty to behold. Laughs aplenty come right and left as these drunk geezers and geezettes, impaired in their thinking by the drinking, try one bone-headed scheme after another to get rid of the menace. A comedy of errors, this one is a winner. I found myself laughing quite a bit at the drunk cast who were either really shit-faced or do a damn fine job of acting it throughout the entire second half of this film.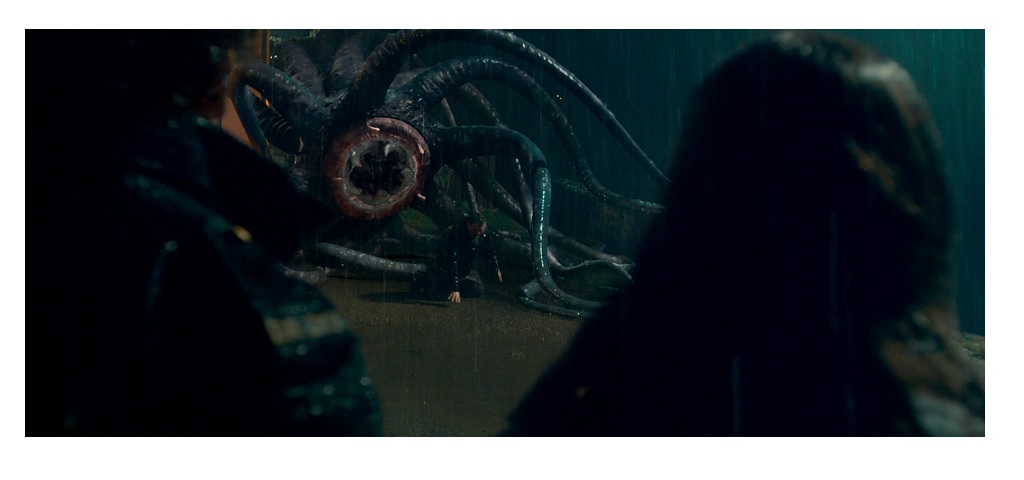 Jon Wright directs from a clever script by Kevin Lehane, both of which make sure to include classic monster film tropes such as the initial landing of the beastie in the middle of the ocean via comet (reminiscent of THE BLOB), the discovery of the monster by some crab fishermen, and the all-out rampage of the giant monsters through the town (reminiscent of giant monster movies of old and GREMLINS as baby squiddly-diddlies terrorize the town as well). Sure, the premise has been used before, but douse it with alcohol and it turns out to be a damn fresh take. There's not a lot of scares throughout the film, but there are some fantastic and thrilling sequences of drunken adventure as the cast stumble and bumble around to save the say. The CG effects with the wriggly creatures are well done too.
Seek this out for some damn fine comedic performances by the aforementioned Bradley, as well as Lalor Roddy as the town drunk who ends up being the key to everyone's survival, Russell Tovey as a nerdy scientist who finds he rather likes liquor, and an especially great performance by unlikely hero Richard Coyle, who is normally drunk on the job as a cop but stays sober in order to maintain the peace among the sauced up township. All in all, you're bound to get a whole lot of laughs, especially if you drink right along with the cast while watching this one with friends. GRABBERS doesn't take itself seriously, but not all horror has to do so in order to be worth checking out.
---
And finally…here's another short from Patrick Rea, the director of the awesome NAILBITER (reviewed here) about a pair of strangers meeting over a…WRONG NUMBER. Enjoy!
Wrong Number from Patrick Rea on Vimeo.
See ya next week, folks!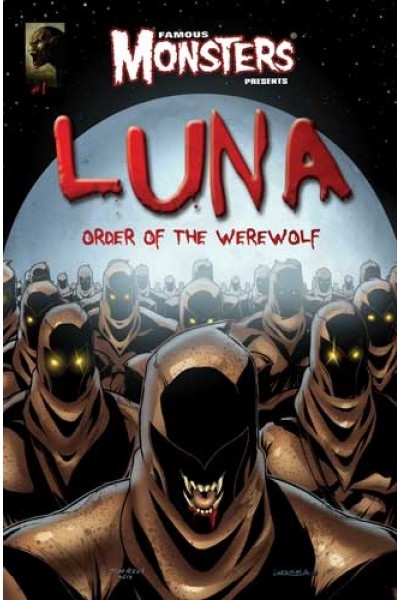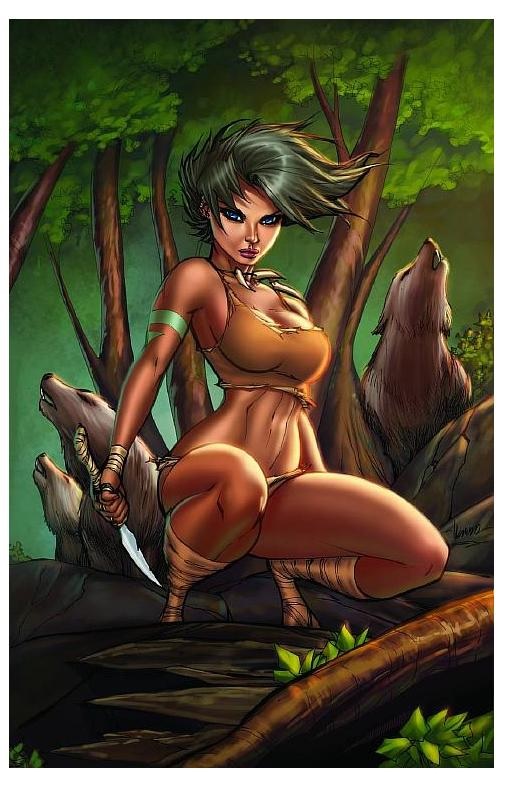 Ambush Bug is Mark L. Miller, original @$$Hole/wordslinger/writer of wrongs/reviewer/interviewer/editor of AICN COMICS for over 12 years & AICN HORROR for 3. He has written comics such as VINCENT PRICE PRESENTS THE TINGLERS & WITCHFINDER GENERAL, THE DEATHSPORT GAMES, & NANNY & HANK (soon to be made into a feature film from Uptown 6 Films). He has co-written FAMOUS MONSTERS OF FILMLAND's LUNA: ORDER OF THE WEREWOLF (to be released in 2013 as a 100-pg original graphic novel). Mark wrote the critically acclaimed GRIMM FAIRY TALES PRESENTS THE JUNGLE BOOK from Zenescope Entertainment & GRIMM FAIRY TALES #76-81. Look for GRIMM FAIRY TALES PRESENTS THE JUNGLE BOOK: LAST OF THE SPECIES available in February-July 2013 and the new UNLEASHED crossover miniseries GRIMM FAIRY TALES PRESENTS WEREWOLVES: THE HUNGER #1-3 available in May-July 2013! Follow Ambush Bug on the Twitter @Mark_L_Miller.
---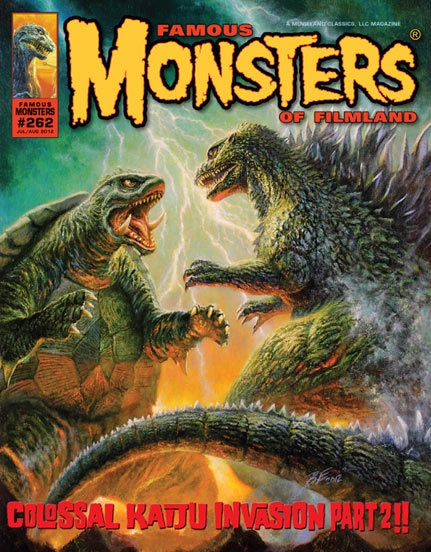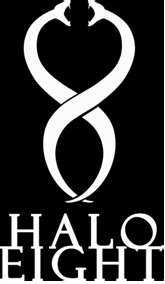 Check out the FAMOUS MONSTERS OF FILMLAND Website for all things horror!


Interested in illustrated films, fringe cinema, and other oddities?
Check out Halo-8 and challenge everything!



---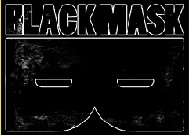 Find out what are BLACK MASK STUDIOS and OCCUPY COMICS here and on Facebook here!





---
Find more AICN HORROR including an archive of previous columns on AICN HORROR's Facebook page!