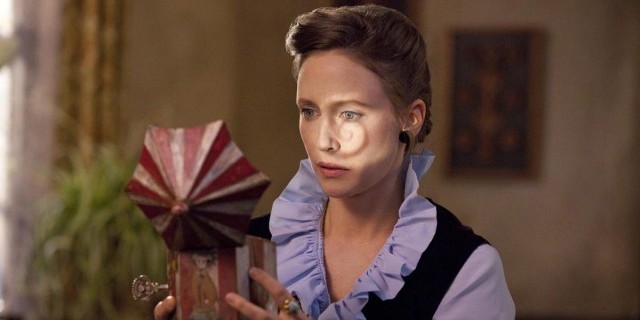 Ahoy, squirts! Quint here. We've gotten word from someone who attended an intimate gathering at Lorraine Warren's home recently that could reveal the events of the Conjuring sequel.
Because of the hints dropped towards the end of the film some fans have thought the next Conjuring (and we know there's going to be one… the movie's made over $100 million now) will center around the Amityville case, but if this report is accurate then that's not the case at all.
According to our tipster, Warren discussed how The Conjuring doubled predictions on opening weekend box office and the studio's fast-tracking the script right now.
The case file they're looking at occures in the late '70s and centers on two sisters in Enfield, England, who were allegedly possessed. Warren said she personally saw them levitate and even saw one of the sister dematerialize in front of her only to be found 20 minutes later stuffed into an oversized fuse box, contorted in such an unnatural way that they couldn't have replicated it if they tried. She also said that the demon spoke directly to her husband on many occasions. Warren cited this case as one of the most terrifying experiences of her career.
Doing a little bit of research on it, this is widely considered a youngsters-playing-pranks case by most paranormal investigators, but already the imagery described above gives me the heebie-jeebies, so true or not I think it could make a great scary movie.
I really dug The Conjuring… it didn't blow me away like it did a lot of people, but it's a damn solid haunted house flick with some great actors giving great performances. I'm so on board for a string of these following Patrick Wilson and Vera Farmiga as they add more possessed trinkets to their shelves. Yeah, it's a little Friday the 13th: The Series, but that ain't a bad thing.
So, take the above with a grain of salt since it's so early on in the process, but that's what we're hearing. Thanks to "Aladdin Sane" for the heads up!
-Eric Vespe
"Quint"
quint@aintitcool.com
Follow Me On Twitter