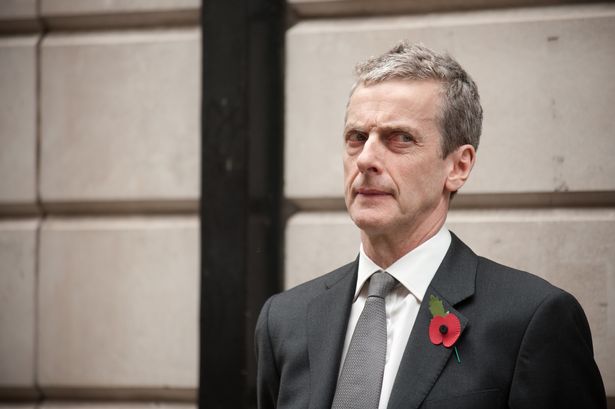 The BBC announces who plays the new "Doctor Who" lead in a few hours. He may be a bigger deal to U.K. residents than that prince who shot out of Kate Middleton a couple weeks ago.
And I keep seeing press reports suggesting Peter Capaldi will play the new Doctor.
Capaldi plays "W.H.O. Doctor" in "World War Z." W.H.O. stands for World Health Organization, and in the movie the W.H.O. is based in Cardiff, Wales, where the "Doctor Who" studios have long been situated.
That's got to be how the rumor got started. Right?
A much less likely explanation is Capaldi knew he was getting the "Who" role so long ago that "World War Z" director Marc Forster hired Capaldi to embed a bizarre, elaborate "Doctor Who" casting clue in a Paramount tentpole.
Thing is, I love Peter Capaldi, loved him since the first time I saw him chasing around a fabulous mermaid -- and escorting "Animal House" icon Peter Riegert around Scotland -- in 1983's "Local Hero." (In "Northern Exposure" terms, Capaldi played the Ed Chigliak to Reigert's Joel Fleishman. If you've never seen Bill Forsyth's "Local Hero"? Run, don't walk. Genius!)
Capaldi's 55 now, but he still seems to possess that childlike, overanimated quality I associate with all but one of the "Who" Doctors. Also? He dropped LSD with TARDIS-loving chat-show host Craig Ferguson a quarter-century ago when they were both in a rock band together.
One can make the weakish argument that Capaldi can't be a Doctor because he already played another role, Caecilius, in the 2008 "Who" episode "The Fires of Pompeii." But lookie here, Karen Gillan played a soothsayer in that same "Fires of Pompeii" episode two years before she took on the role of Companion Amy Pond! (And, of course, Freema Agyeman played Adeola Oshodi in 2006 before she began playing Adeola's cousin, Companion Martha Jones, the following year.) So, if anything, Capaldi's prior association with "Who" actually makes the rumor slightly more plausible, at least to my lizard brain.
Capaldi's big-screen supporting-player career is heating up – "World War Z" aside, he's also in the Julian Assange movie with Cumberbatch and "Malificent" with Jolie – but the "Who" gig would mean a lot more screen time and a much steadier paycheck.
Still, I'll be shocked if we learn Sunday that Capaldi got the gig. But keep in mind also I'm also the guy who was convinced last year's "Who" season premiere was delayed five months to facilitate a secret 50th-anniversary "Who" movie.
Stay tuned.