UPDATE 4 AUGUST 2101 - 3:23 PM CST USA
A Special Edition WHOTININNIES podcast with myself and @KenPlume is now online HERE, featuring Capaldi casting, STAR WARS, and more!
===================
UPDATE 4 AUGUST 2013 - 1:34 PM CST USA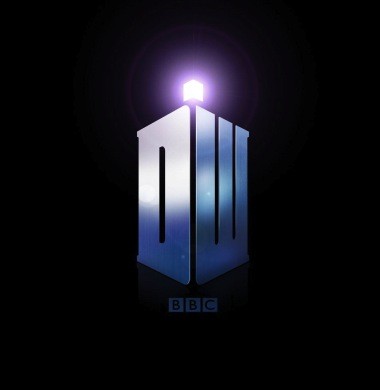 After many months of rumors, speculation, false leads, and no small portion of hopes and fears, the moment of truth is at hand!
A few days ago, folks were SOOOOOO certain Peter Capaldi would become the new Doctor on DOCTOR WHO that bookies stopped taking bets.
This assertion now turns out to be...
CORRECT.
Petet Capalid was announced a few moments ago on a BBC live special.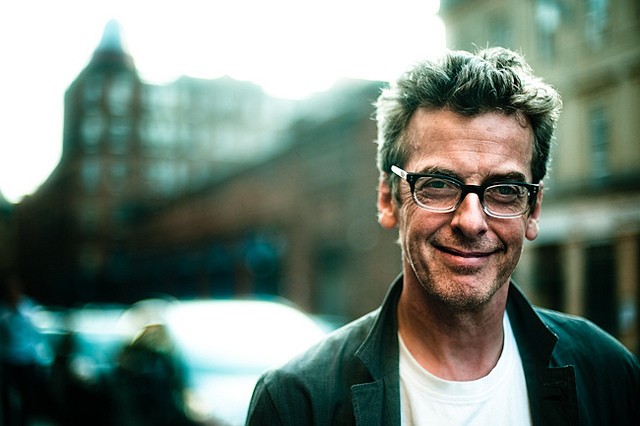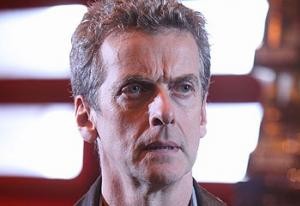 Capaldi conspicuously (or happenstantially) appeared as a character credited as 'W.H.O. Doctor' in this Summer's Brad Pitt-starring zombie epic WORLD WAR Z (W.H.O. in this case being an acronym for World Health Organization). He's no stranger to the DW franchise, having previously appeared as Caecilius in the Tennant-era Fires of Pompeii...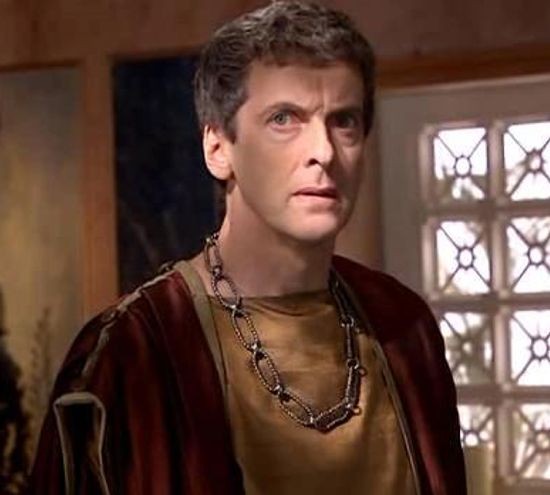 ... which, by the way, had Karen Gillan in it.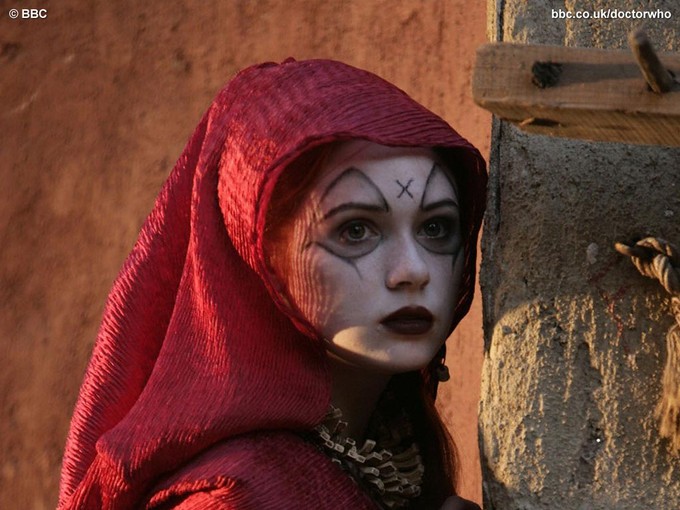 Gillan, of course, later went on to become Amelia (Amy) Pond, the Doctor's fiery companion for two and 1/2 Seasons/Series of the show.
Capaldi also appeared as John Frobisher in Russell T. Davies' WHO spinoff TORCHWOOD, although he may be best known for his stint as Malcolm Tucker on THE THICK OF IT...
DOCTOR WHO will return this November with a 50th Anniverary special episode which looks to feature the dastardly Daleks and will bring us John Hurt as a previously unknown regeneration of the Doctor - all of which will segue into the 2013 Christmas special, and the Smith ---> Capaldi regeneration.
Current, super-hot companion Clara (Jenna Louise Coleman) will return for further adventures, now alongside Capaldi, in an eight Season/Series to be once again headed by Steven Mofffat in 2014.
PREVIOUS ARTICLES FOLLOW
===================
UPDATE 11:59 AM CST USA FRIDAY AUGUST 2 2013
BBC One has posted information about how you can submit questions to be answered by whomever will play the next Doctor (questions which could apparently to be read on this Sunday's show announcing the new Doctor, details below).
You can find the easy-to-follow details on how you can submit your question HERE.
ORIGINAL ARTICLE FOLLOWS
===================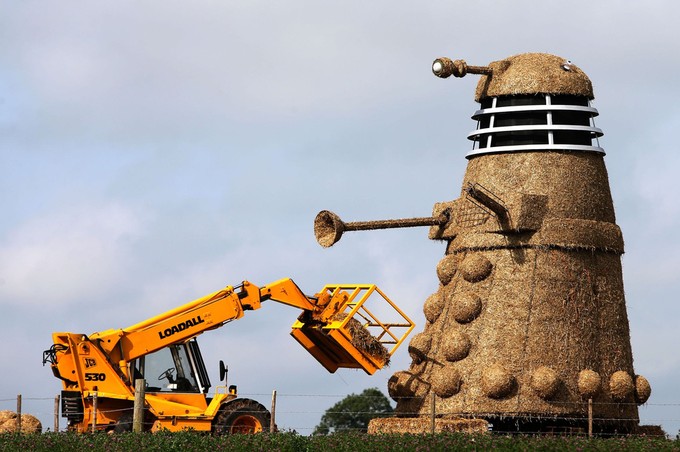 Hay, it's a Dalek!! [via iO9, thanks Tom!!]
Glen here...
So, yeah.
One important lesson I've learned in my many years doing the kind of work I do here on AICN is: NEVER post a lesser story you've spent a lot of time on when you know you're about to be eclipsed by inarguably larger news. I can't tell you how many perfectly good articles on this site have been overlooked - or banished to the Phantom Zone - when unfortunately timed and far more prominent and spectacular news came along.
As such, the Docback I prepared for this week will be held for next weekend - as THIS weekend will bring us the reveal of the man/woman/person/thing who will succeed Matt Smith on DOCTOR WHO.
This will be accomplished via a simulcast transmission which'll be viewable at 2pm EST on BBC America - mirroring a UK broadcast on BBC One at 7pm UK time.
Here's a BBC One press release on the matter:
===================
The news about the announcement has been delivered in the following press release:

Doctor Who Live: The Next Doctor

In a special one-off live television event on BBC One this Sunday 4th August at 7pm, the next Doctor will be exclusively revealed to the nation.

Widely regarded as one of the most hotly contested roles in British television, the show's host Zoe Ball will unveil the 12th Doctor in the first ever interview in front of a live studio audience set against the backdrop of a swirling vortex, amongst Daleks and the TARDIS.

The half hour show will include live special guests, Doctors old and new, as well as companions and celebrity fans.

Excitement will reach fever pitch as they speculate and recall their favourites, plus feature clips and moments from across the show's 50 year history.

Current Doctor Matt Smith and lead writer and executive producer Steven Moffat will both give interviews about one of the biggest roles in TV and set out just what it takes to be the Doctor.

Steven Moffat says: "The decision is made and the time has come to reveal who's taking over the TARDIS. For the last of the Time Lords, the clock is striking twelve."

Charlotte Moore, Controller BBC One says: "BBC One is the home of big live events and this special live show is the perfect way to reveal the identity of the next Doctor and share it with the nation. The Doctor is a truly iconic role and I'm more than excited about the booking."

Ben Stephenson, Controller, BBC Drama Commissioning says: "We can't wait to unveil the next Doctor with everyone live on BBC1 on Sunday night. Amongst all the speculation and betting, there has been lots of fun and intrigue at work as we've been using the codename Houdini as a decoy! It's the biggest secret in showbiz, even those working with the new Doctor on other projects at the moment have no idea they are in the presence of the 12th incarnation."

Keep up to date with all the latest news about the show and special guests as we build to the big climax over the next few days and follow www.facebook.com/BBCOne, @ BBCOne and @bbcdoctorwho and bbc.co.uk/doctorwho

The special live show is made by BBC Entertainment and Events for BBC One, Guy Freeman is Executive producer and Pinki Chambers is Executive Commissioning Editor. Commissioned by Charlotte Moore, Controller BBC One.

The show will be simulcast live on BBC America. Doctor Who is produced by BBC Cymru Wales.

Before the announcement we'll bring you lots more exciting news, including how you can be part of the big reveal!
===================
PLEASE NOTE that the press release indicates more news will be coming before this announcement, so be sure to stay tuned throughout the weekend for further details. When the announcement is formally made on Sunday, it will be reflected as an UPDATE to this article first - but also as a separate post on the Coaxial sidebar on AICN's main page.
In other tangentially related news: the first four Series/Seasons of 2005+ DOCTOR WHO will apparently be issued on Blu-ray in the not too distant future...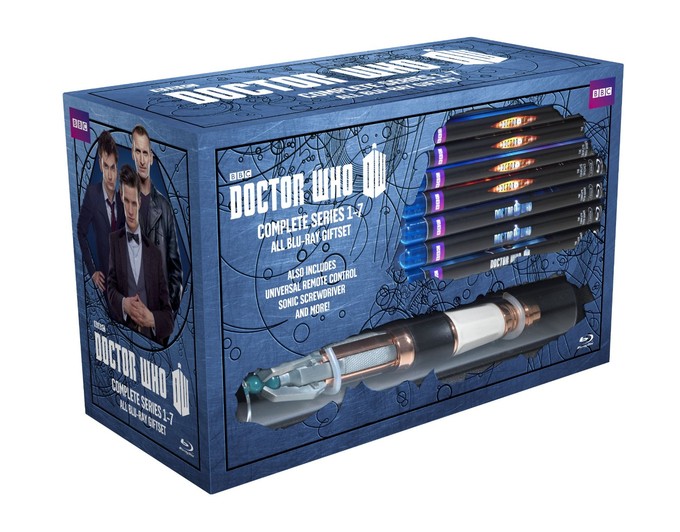 [embiggenable]
...featuring HD remasters of episodes (seasons/series) which were previously only available in standard definition. If my understanding is correct, these seasons/series will be presented in a 16x9 format similar their current formatting on BBC America HD. And if you've seen them presented in 16x9 and HD on BBCA? You know they look very, very good. You can get a sense of the 16x9 presentations by checking out any 2005+ presentations via Netflix or Amazon, or on your DVD sets, although remember that the show did not convert to native HD until sometime 'round the Tennant specials which lead into Matt Smith's tenure (so streaming services and the DVD sets only offer Standard Def presentations for the moment).
Seasons 5, 6 and 7 (already available organically in HD) will also be folded into one super-giganto-uber-set - which is already pre-orderable HERE.
Speaking of remastering - the current DOCTORS REVISITED set (HERE) offers 4 episodes in their original serialized format (and 'classic' TV aspect ratio of 4x3), as well as a feature-length format which drops episodic credit sequences (except for the very beginning and end), tweaks editing to smooth the areas where these eps would've entered and exited originally, and presents the shows in a new 'widescreen' format which works nicely (although shows some artifacting from the trickery used to transform this original image to a wider variant). This effect is often very subtle, but eagle-eyed observers may be able to note a slight 'stretching' / 'flattening' effect in some shots (especially characters) - or a 'warping' effect around the edges of the image, not dissimilar to what a Cinerama presentation looks like on television (example HERE). You can see this effect slightly in the below ratio comparison of the standard (above) and widescreen (below) versions of Tomb of the Cybermen (Troughton, Story #37 )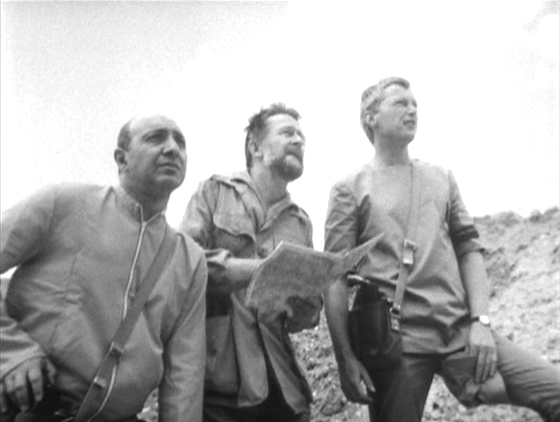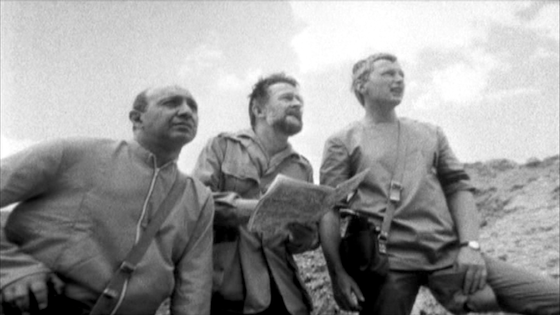 These efforts don't look 'bad' per se, and I do believe this type of tweaking serves a vital purpose in terms of broadening DW's appeal to an increasingly picky potential viewer base, but some audience may struggle to see past the very slight image degradation prevalent in these widescreen versions (I'm presuming this is byproduct of the widescreen conversion process), or shake the sense that 'these don't quite look right.'
More on the above-mentioned utlra-giganto-super-snazzy mega-set of S1-7 in the coming weeks. Until then...stay tuned next week for a look at Silver Nemesis (McCoy, Story #150), and be sure to check in throughout the weekend for potential updates on Sunday's big announcement.
-------------------
Glen Oliver
"Merrick"
- e-mail
- Twitter
- Google +
[[[[[ A LIST OF PREVIOUS DOCBACKS CAN BE FOUND HERE!! ]]]]]
DOCBACK CODE OF CONDUCT
1) a Docback should be about completely open and free discourse regarding all things WHO with, obviously, some variation on subject matter from time to time - the real world intervenes, discussions of other shows are inevitable, etc.)...
2) matters of SPOILAGE should be handled with thoughtful consideration and sensitivity. Posts containing SPOILERS should clearly state that a SPOILER exists in its topic/headline and should never state the spoiler itself . "** SPOILER ** Regarding Clara" is OK, for example. "** SPOILER about that Motorcycle" is fine. **SPOILER** Why did everyone die?" Is NOT good.
And, above all...
3) converse, agree, disagree, and question as much as you want - but the freedom to do so is NOT a license to be rude, crass, disrespectful, or uncivilized in any way. Not remaining courteous and civil, as well as TROLLING or undertaking sensational efforts to ignite controversy, will result in banning. Lack of courtesy may receive one (1) warning before a ban is instigated. Obvious Trolling or Spamming will result in summary banning with no warning. One word posts intended to bump-up any Docback's figures on AICN's "Top Talkbacks" sidebar will be considered actionable Spam - they not only complicate efforts to access Docback from mobile devices, but impede readers' abilities to follow or engage in flowing conversation.
In short, it's easy. Be excellent to each other. Now party on...