Papa Vinyard here, and I got somethin' for ya...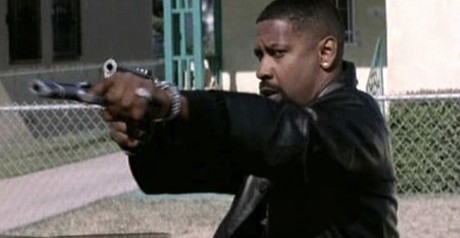 In a piece about the state of franchise-focused filmmaking in Hollywood, Deadline dropped the tidbit that Denzel Washington was offered, and passed on, the villain role for the 8th FAST & FURIOUS movie. He would've been introduced in a similar fashion to the villain of the 7th FURIOUS flick (spoiler for those who haven't seen FURIOUS 6 here), introduced towards the end of the upcoming film to set up his much-larger role in the 8th installment. Mike Fleming, Jr.'s exact words were:
The studio is now looking for another big star to join the next film in a small role and then be a big part of the film that follows. Denzel Washington just turned down that opportunity, but they'll undoubtedly get somebody important by the time The Conjuring helmer James Wan starts shooting the seventh film.
So even though Denzel has passed, Universal (along with director James Wan) is looking for a similarly massive star to keep the franchise going, even bigger than the current heavy-hitter that Dom and his buddies are pitted against in FURIOUS 7. We're talking Oscar-caliber, people, forget about Cole Hauser, John Ortiz, and Luke Evans. As a huge fan of what this series has morphed itself into, I love that Universal is still pushing the gas on the level of spectacle they aim to provide with these movies. The Rock, and then (...), and now Denzel is an awesome trajectory that I can't wait to see them continue (if they even can).
Who will they get that can match up to what Denzel would've brought to the table? If the lips are as loose as they were with that last film's scoop, we should hear news about the next FAST & FURIOUS villain before the next film comes out next July.
FAST & FURIOUS 7 (or whatever it ends up being called) hits the ignition on July 11th, 2014.
-Vincent Zahedi
"Papa Vinyard"
vincentzahedi@gmail.com
Follow Me On Twitter